Keong Saik's latest dining destination: Pasta, craft beers and an elBulli chef
Six new F&B concepts with a focus on well-priced, quality dishes occupy KeSa House, the new "flexible living concept" in the heart of Chinatown's foodie enclave.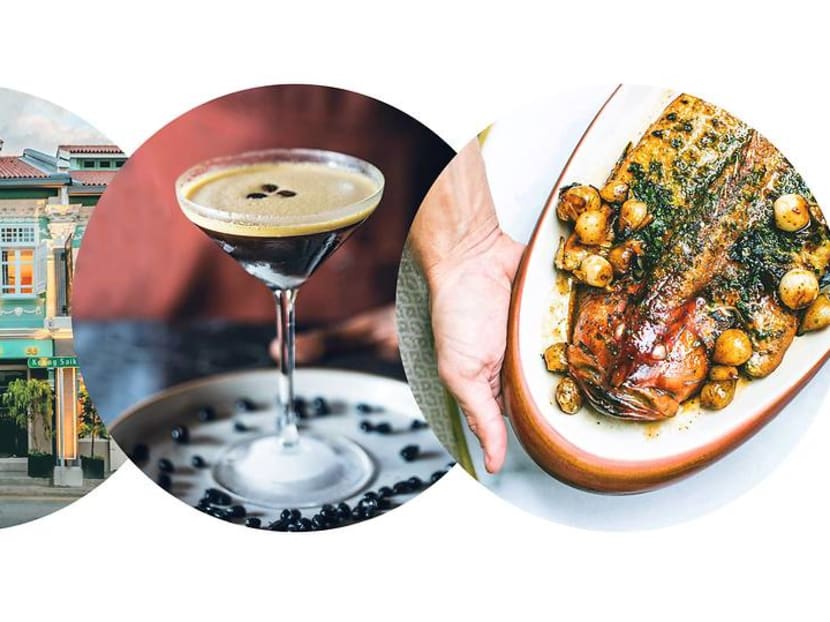 It'll be the hottest address on Keong Saik Road when it's officially launched later this month. And that's because the 60-room flexible-living concept that is KeSa House is also home to a group of six new food and beverage concepts, many of which are already open for business.

If you're wondering, "flexible-living concept" in this case is a slight deviation from the usual hotel experience, targeted at guests looking to stay a little longer, and / or those who enjoy the social nature of communal living spaces.
KeSa House isn't look-down-your-nose fancy – and neither are the F&B options in the line-up. There's something for everyone, which was the plan all along, said Ashish Manchharam, founder and managing director of 8M Real Estate and 8M Collective, the boutique real estate investment company that owns and manages the property.

"We don't want to 'just fit in' to the neighbourhood's already dynamic character," said Manchharam. "We want to enhance its existing charm and create a long-standing destination."

The focus, said Manchharam, is on offering well-priced, quality dishes that appeal to a wider band of consumers.
Olivia Restaurant & Lounge, for example, is ideal for those seeking well-executed Mediterranean cuisine, while the Pasta Bar is designed to be a casual neighbourhood Italian restaurant that brings the culture of counter dining to life.
The former is a partnership between elBulli alumni, chef Alain Devahive, and fellow Spaniard Miquel Sabria, who is the restaurant's chief operating officer and sommelier.

"We wanted this to be an all-day destination," said Sabria, who feels that too many restaurants in the area are appealing to the dinner crowd. The menu, Devahive explained, celebrates the inspired, cosmopolitan culinary tapestry that the Catalan city of Barcelona is known for.

The Pasta Bar, in turn, helmed by Genovan native Alessandro Giustetti, pairs handmade pasta with recipes passed down through generations. It's as unfussy as it sounds. But you don't really need to oversell a good Italian restaurant – its appeal is universal.

INTERNATIONAL APPEAL

According to Manchharam, over a year was spent curating the ideal mix of concepts for KeSa House, which occupies a stretch of 10 shophouses.

"I've had a passion for shophouses for a long time. Their architecture and historical and cultural significance, combined with their central locations, create attractive opportunities for businesses to set themselves apart – and for us at 8M Real Estate to create unique spaces for consumers to enjoy," he shared, before stressing that "the inherent nature of conservation shophouses is attractive to F&B operators because they are able to create strong individual identities for their concepts".

This is particularly advantageous for brands that thrive on having a unique environment; concepts that also aim to be destinations. The Guild, for example, is a project by one of Hong Kong's largest independent craft breweries. A craft beer bar and restaurant headed by chef Vincent Lauria, it pairs comfort food with a comprehensive offering of independent craft beer labels, cocktails, and natural wines.
True to its endorsed ethos, The Guild works with small-scale, artisanal producers, including farmers, distillers and winemakers, and in building a community of like-minded consumers.

Now, if you're into the trendy concepts that have helped put Hong Kong's drinks culture on the world map, you'd probably already know that the founders behind the city's feted cocktail bar, The Old Man – ranked No 5 and No 10 on the Asia's 50 Best Bars and The World's 50 Best Bars lists, respectively – have opened its first overseas branch in Singapore, at KeSa House.
The reason, they shared, was simple: "Singapore is Asia's cocktail capital, so there's no better place to be."

Led by partner and head bartender Andrew Yap, The Old Man Singapore carries over its Hong Kong counterpart's unique concept, which pays homage to Ernest Hemingway's Pulitzer Prize-winning fictional work, The Old Man and the Sea.
In the spirit of the famed author's sophisticated taste for a well-made drink, the bar specialises in experimental cocktails inspired by his preferred libations and works. From the "Best Of The Old Man" list of drinks, which take their name from Hemingway's classics, there is one to try called The Sun Also Rises that features a tropical concoction of coconut oil fat-washed applejack, curry leaf-infused gin, sweet vermouth, sous-vide pandan leaves, and kaffir lime.

LOCAL INSTITUTIONS
Of course, it wouldn't be an inclusive line-up without at least a couple of homegrown names. Serving modern French bistro-styled fare, Mag's Wine Kitchen, for one, is almost an institution, spending 23 years on Circular Road before moving its operations to this buzzy Keong Saik address.

"The premise behind our cuisine will always be simplicity, using the freshest ingredients in the market," said its owner, banker-turned-chef Magdalene Tang. Its dishes will no doubt go well with its extensive wine selection of mostly Old World winners, some New World alternatives and even sake.

Ultimately, the selection of F&B concepts at KeSa House plays an important role in championing two key ambitions: The preservation of a local architectural legacy that is the Singapore shophouse, and the affirmation of the island's reputation as a destination brimming with uniquely scrumptious wining and dining experiences.