Be spirited away by prized casks with Johnnie Walker Blue Label Ghost and Rare Port Dundas
Incredibly rare whiskies – including those from dwindling stocks of ghost distilleries – come together for this limited release.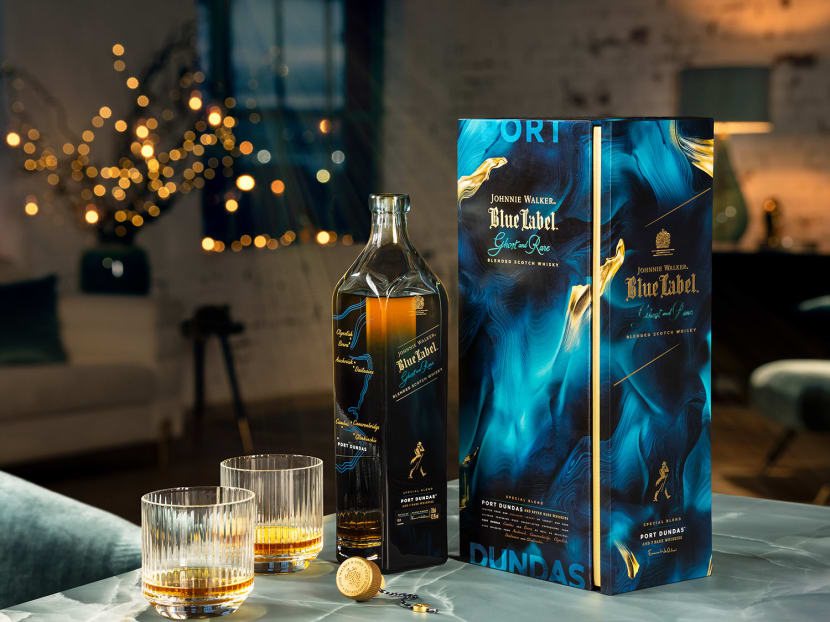 Whether viewing an old photo or catching a familiar scent, our senses often carry us beyond our visceral reactions to evoke memories long forgotten. In the case of Johnnie Walker Blue Label Ghost and Rare Port Dundas, a sip of the precious dram can send us to a bygone era, one where some of the best whiskies were made.
The latest limited edition takes one to the four corners of Scotland with extraordinary drams from celebrated distilleries, some of which have since shuttered, creating a lush profile that combines orchard offerings of juicy fruit, the sweet heft of cellar casks and a dose of unique heritage.
FROM GLASGOW TO THE WORLD
The year was 1811. Rising tall above the city of Glasgow, beside the Forth and Clyde Canal, Port Dundas was a monument of a distillery – a production powerhouse that grew to be the biggest in Scotland by the turn of the century. While the building itself is no more, its legacy still resides in precious ghost casks, renowned for their sweet and delicate grain flavour.
In the fifth release of the Johnnie Walker Blue Label Ghost and Rare series, expert whisky makers led by master blender Emma Walker artfully meld the Port Dundas whisky with other rare expressions, inviting the world to re-visit a Scottish icon through a sip.
Said Walker: "Port Dundas was one of the finest grain whisky distilleries in the world and the rare expressions that we have chosen from our reserves are some of the most distinctive it has ever produced."
For Johnnie Walker Blue Label Ghost and Rare Port Dundas, Walker introduces a luxurious touch of creamy vanilla using whisky from aged second-fill American oak casks and layers it with subtle wood spice, courtesy of Scotch from highly-charred first-fill American oak casks.
These irreplaceable ghost whiskies from Port Dundas are paired with a bevy of rare drams from the Johnnie Walker reserves – some from other ghost distilleries themselves. Cambus and Brora bring in supporting notes of vanilla and soft smoke, while Cameronbridge and Glenkinchie deliver hints of spiced apples. The ripe aroma of peaches and berries comes forth with whiskies from Clynelish, Dailuaine and Auchroisk.
"These rare whiskies highlight how the distillery character of Port Dundas blossoms over a mellow maturation, perfectly showcasing the wonderful depth of flavour that this distinctively sweet and delicate grain whisky brings to Johnnie Walker Blue Label," explained Walker.
This is Walker's first contribution to the multi-award-winning Johnnie Walker Blue Label Ghost and Rare series, and the anticipated release will have an individually-numbered limited run.
A SERVE TO REMEMBER
With three historic ghost whiskies and five incredibly rare expressions, Johnnie Walker Blue Label Ghost and Rare Port Dundas makes a prestigious gift, and an indulgent sip enjoyed alone or with cherished friends.  
Only one in 10,000 casks in the reserves of 10 million maturing Scotch whiskies is chosen for Johnnie Walker Blue Label, allowing those in the know to discover the exceptional with each special release.
Limited bottles of Johnnie Walker Blue Label Ghost and Rare Port Dundas are available at 1855 The Bottle Shop. 
Drink responsibly. DrinkIQ.com.