Beyond luxury gourmet: Johnnie Walker Blue Label re-imagines the future of fine dining
AI art and a trio of esteemed chefs deliver innovation to the table.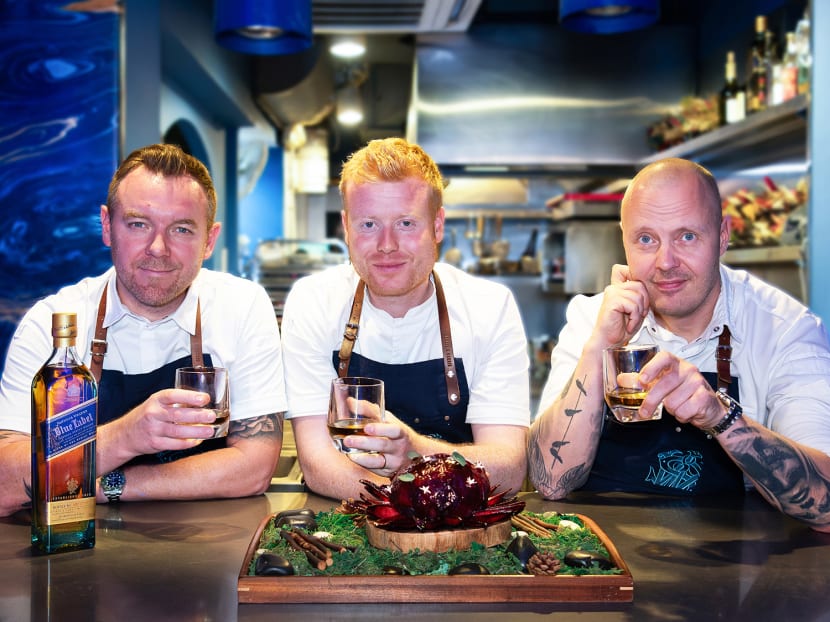 In an audacious undertaking, Johnnie Walker Blue Label set out to envision the future of luxury dining, 200 years from now. The challenge: How else can seasoned diners be wowed amid today's lavish offerings?
To unlock the essence of fine dining, Johnnie Walker collaborated with some of today's most forward-thinking culinary talents: Andrew Walsh, Mickael Viljanen and Mark Moriarty. Renowned for their inventive finesse in modern fine dining, the trio embarked on a voyage into the future of gourmet cuisine.
What emerged was a revelation – it wasn't just about rare ingredients or costly cuts, but about approaching the entire experience with innovation and ingenuity. The result was a remarkable menu that paid homage to the heirloom ingredients of tomorrow, artfully brought to life through a digital canvas.
ELEMENTAL EXAMINATIONS
The epicurean expedition coincided with the 8th-anniversary celebration of Cure, a one-Michelin-starred restaurant helmed by Walsh, located at Keong Saik Road. This felicitous timing made Cure the ideal venue to present the conceptual meal, themed "Air. Land. Sea."
Finnish chef Viljanen brought his wealth of experience as the chef-patron at two-Michelin-starred fine dining establishment Chapter One in Dublin, Ireland; while Moriarty is a TV host, author and chef who recently worked at two-Michelin-starred Greenhouse in Dublin and is also Diageo's chef in residence.
"As we came together to envision fine dining in 200 years, we started reflecting on ingredient availability, changes in the food chain, evolving luxury perceptions, wild and plant-based options, and the impact of technology on ingredients," said Walsh.
The chefs' ardent curiosity mirrors that of the artisans at Johnnie Walker Blue Label, who are persistently in pursuit of remarkable flavour. Just as the blend of aged whiskies reflects a mix of investigation and investment (only one in 10,000 casks makes the cut for Johnnie Walker Blue Label), these chefs applied the same measure of adroit calculation in crafting their menu, handpicking ingredients and techniques that may achieve rarefied status in the future.
"We want to celebrate the heirloom ingredients and techniques – real treasures that might be with us already, but overlooked, yet will withstand the test of time and become extremely valuable as the world around us changes," explained Walsh.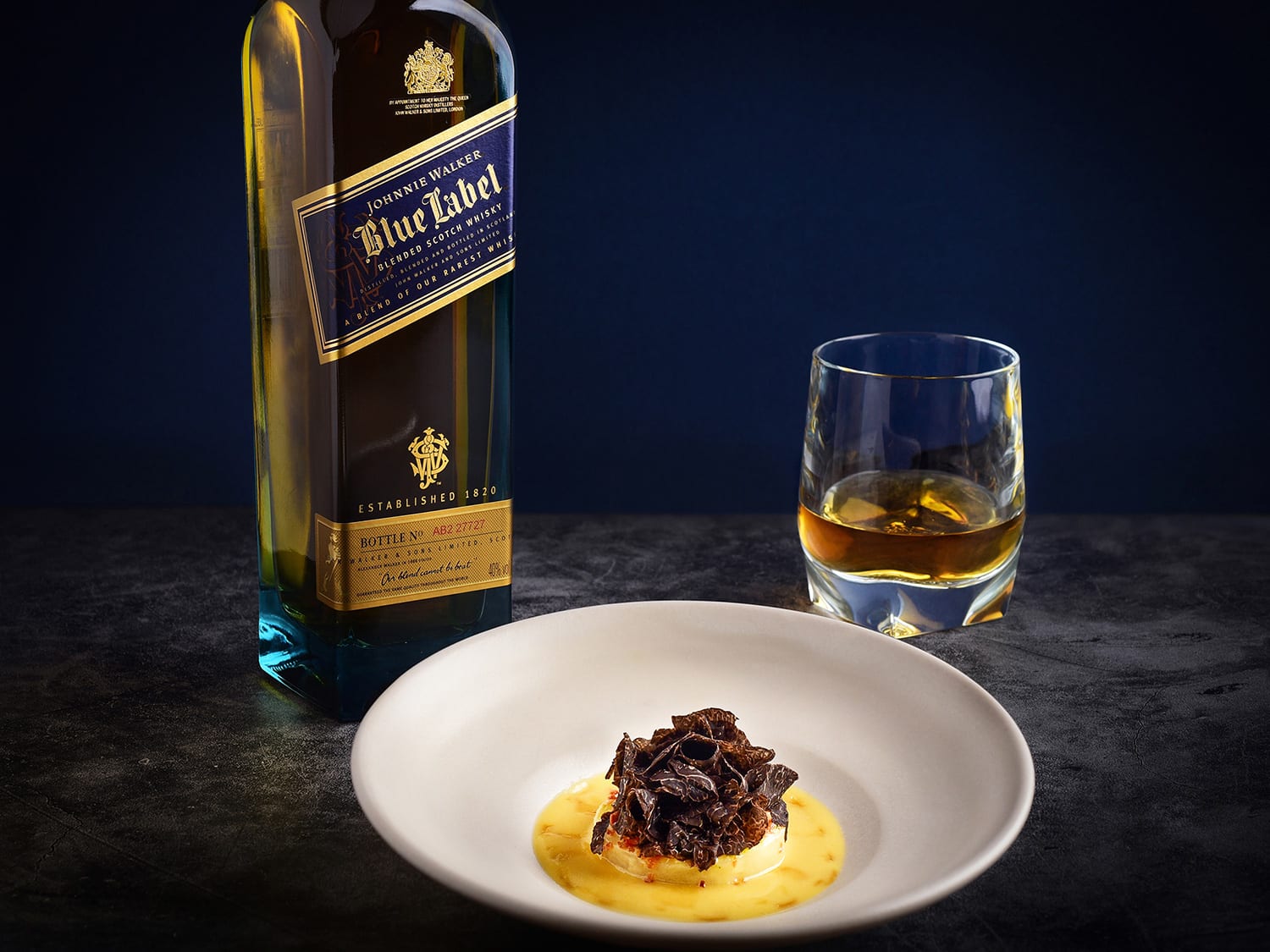 The visionary approach was evident in the six-course menu. Representing Sea was a cured mackerel dish dressed in charcoal cream, heirloom tomato and seaweed gelee, and buckwheat caviar. For Land, there was red earth cabbage, laced with shards of beetroot and chicken fat butter. The ethereal experience of Air found its expression in a wild strawberry souffle with violet chartreuse.
These elemental themes came alive through a hypnotic visual display on a digital tabletop – an AI-generated artwork with 2D and 3D animations that are timed to each course, adding another layer of storytelling to the experience.
Whisky pairings brought forth another dimension to the future of fine dining. Crafted to emphasise different aspects of Johnnie Walker Blue Label, the cocktails that accompanied each dish offered a spectrum of taste profiles ranging from spicy to citrusy.
RAISING PRIORITIES WHILE PRESERVING LEGACY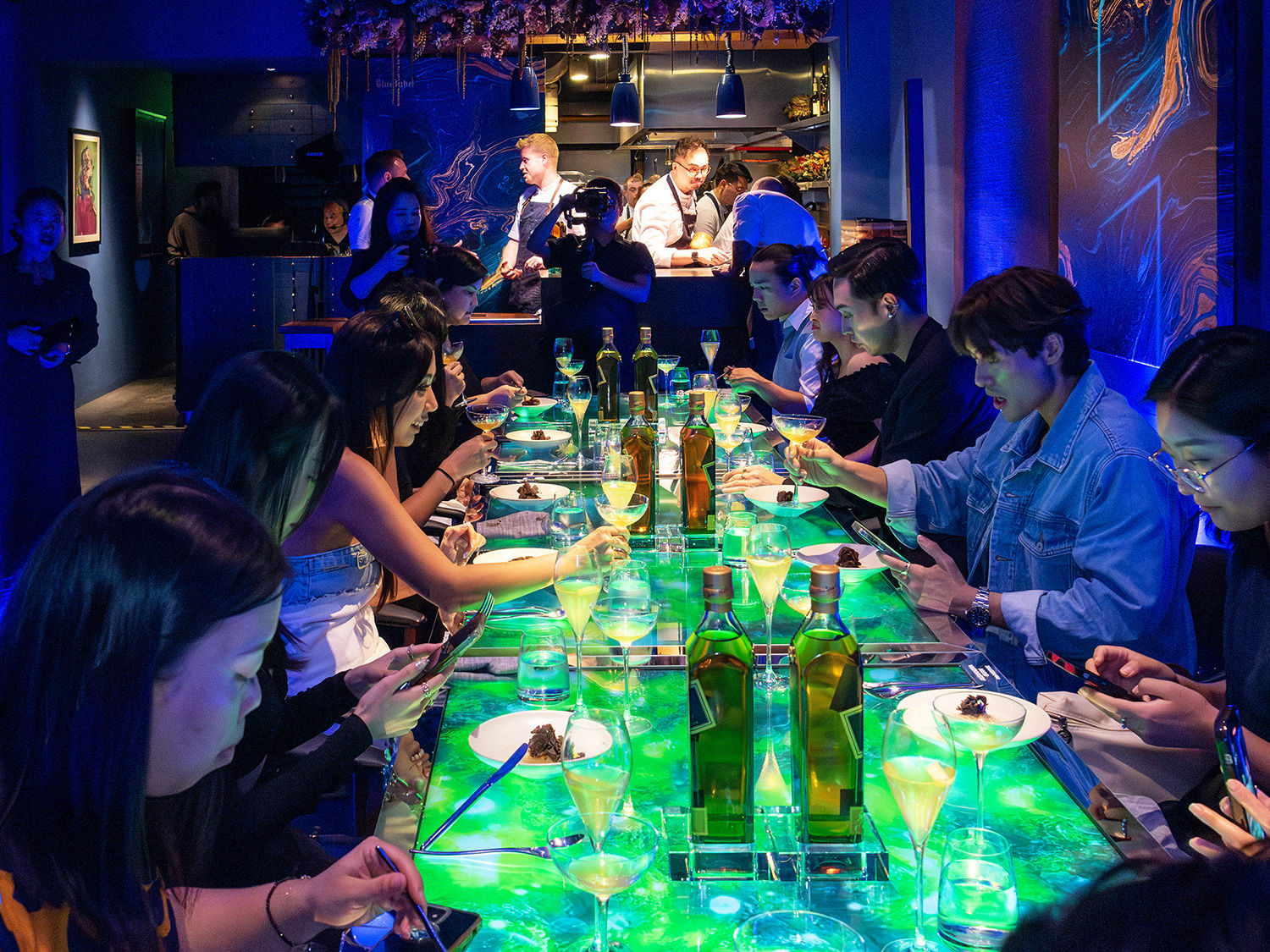 "Like Johnnie Walker Blue Label, we as chefs are defined by our craft, the techniques we hone and the produce we choose to work with," shared Walsh, reflecting on the collaborative journey.
Beyond merely celebrating legacies through the menu, the dinner roused contemplation about the future of these experiences and the importance of preserving them. Paying homage to the three environments of air, land and sea also fostered conversation on sustainability, reminding diners of the direct impact their choices have on the plate. The intersection of technology, craft and ingredients sparked dialogue – one that Johnnie Walker Blue Label seeks to continue with culinary talents in future episodes.
"We have a strong commitment to sustainability and continued innovation, and Johnnie Walker Blue Label genuinely believes in the power of connecting great minds to initiate positive change," said David Dang, luxury director at Diageo for Southeast Asia. "As we look ahead, we believe culinary arts and luxury spirits have the potential to shape a better future together. This marks the start of many more collaborations this year with progressive chefs across the world."
Purchase your personalised engraved bottle of Johnnie Walker Blue Label to celebrate legacy, craft and innovation.
Drink responsibly. Visit DRINKiQ.com to find out more.