Cairnhill 16: An exclusive freehold luxury oasis at the heart of Orchard
True upmarket living means having both the conveniences of the city and the tranquility of a lush sanctuary all at once.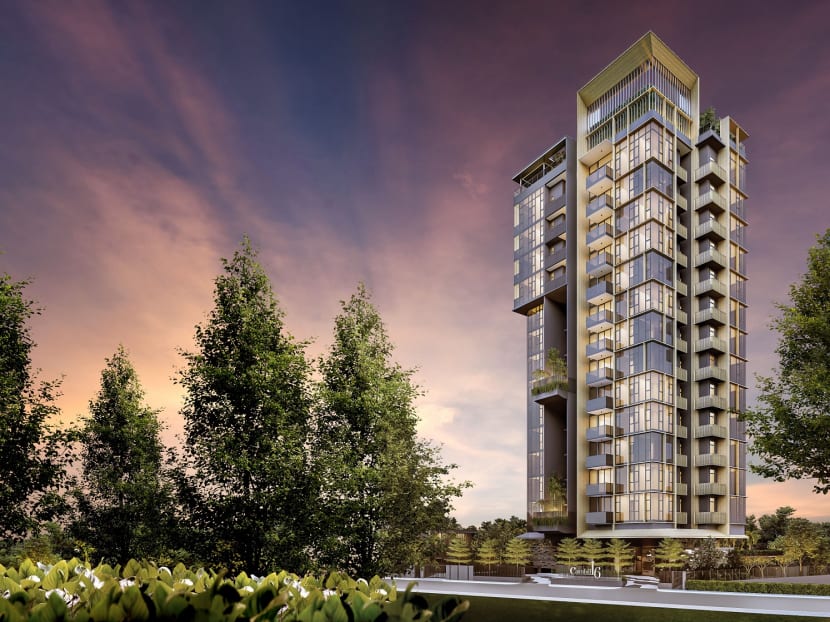 Cairnhill has long been one of Singapore's most prestigious addresses. Bounded by Scotts, Newton and Orchard Road, its name originates from Charles Carnie, the owner of a nutmeg plantation whose home once stood in the heart of this hilly district. Over the years, the area became home to other notable residents who built large mansions and terrace houses.
These days, Cairnhill's popularity owes much to its proximity to the world-famous Orchard Road shopping district – itself lined with malls, medical centres and plenty of offices – and continues to be highly sought after in the property market. The latest addition to the neighbourhood is Cairnhill 16, a luxury freehold condominium.
Freehold properties are often favoured by homebuyers for their good value preservation, higher en bloc value and scarcity, as well as the absence of property age restrictions on loans and CPF withdrawal. Additionally, Cairnhill 16's location in Orchard is another long-term advantage given that Singapore's main shopping belt holds lasting value and prestige.
BALANCE IN ALL THINGS
Located in the prime District 9 enclave of Cairnhill Rise, Cairnhill 16 offers residents the best of both worlds: All the conveniences of city living but without the hustle and bustle of daily foot traffic.
Residents will never be short of retail and entertainment options as the 15-storey condominium by TSky Cairnhill is just a short walking distance to the main strip of Orchard Road. It is also within the 1km boundary mark to prestigious schools such as ACS Junior and St Margaret's Primary school.
Renowned medical centres like Mount Elizabeth Hospital and Paragon Medical Centre are all only a short walk away. And for those wishing to venture further out, the condominium has excellent transport links by road and public transport with easy access to the CTE and PIE.
While Cairnhill 16 offers all the advantages of city-centre living, its unique elevated location on a hill in a quiet environment away from the bustling throughfare also allows residents to retreat from the buzz. And with just 39 units, the property offers an exclusivity and privacy that is rare to come by in a district with such high demand.
NATURE-INSPIRED HAVEN
Designed with the intention of providing residents a relaxing escape, the Cairnhill 16 property boasts an abundance of verdant greenery to bring nature closer to home. There are many green spaces to enjoy on site, such as the covered ground garden on the first storey, sky terraces and a roof terrace that offers expansive views and a casual setting to host guests.
In addition to these carefully landscaped spaces, Cairnhill 16 has adopted a number of sustainable initiatives in a bid to create an eco-friendly environment. This includes a dedicated refuse recycling chute and an eco-friendly electric vehicle charger on the property, as well as the use of energy-efficient air-conditioning systems, appliances and fittings such as LED lighting. The development is also working towards attaining a BCA Green Mark Gold Plus certification that rates how environmentally-friendly a building is.
MAKINGS OF A MODERN HOME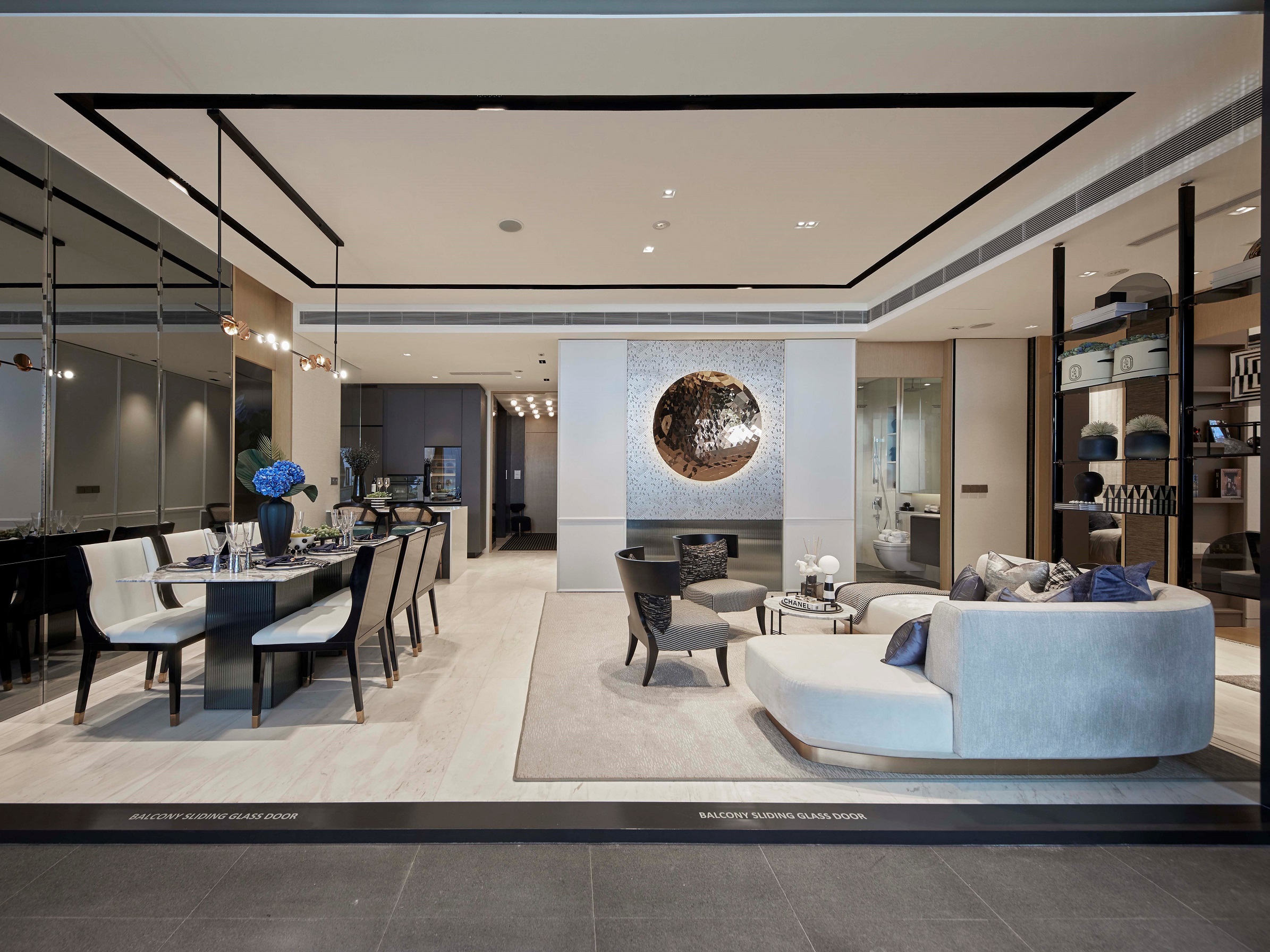 Thanks to intelligent space planning, the interiors of the residential units in Cairnhill 16 are efficiently laid out. All units have the convenience of private lifts and the luxury of a wide frontage, with unobstructed views from the living and dining areas. They also have high ceilings ranging from 3.2m to 4.275m high, and a generously-sized balcony that makes the homes feel open and spacious.
Only high-quality, durable materials, fittings and appliances are used in each unit. The private foyer, bathrooms, living, dining and kitchen spaces are all designed with elegant European marble flooring. Kitchens are fully fitted with appliances from premium Swiss brand, V-ZUG, while the sanitary fittings and kitchenware are from trusted German manufacturer, Grohe.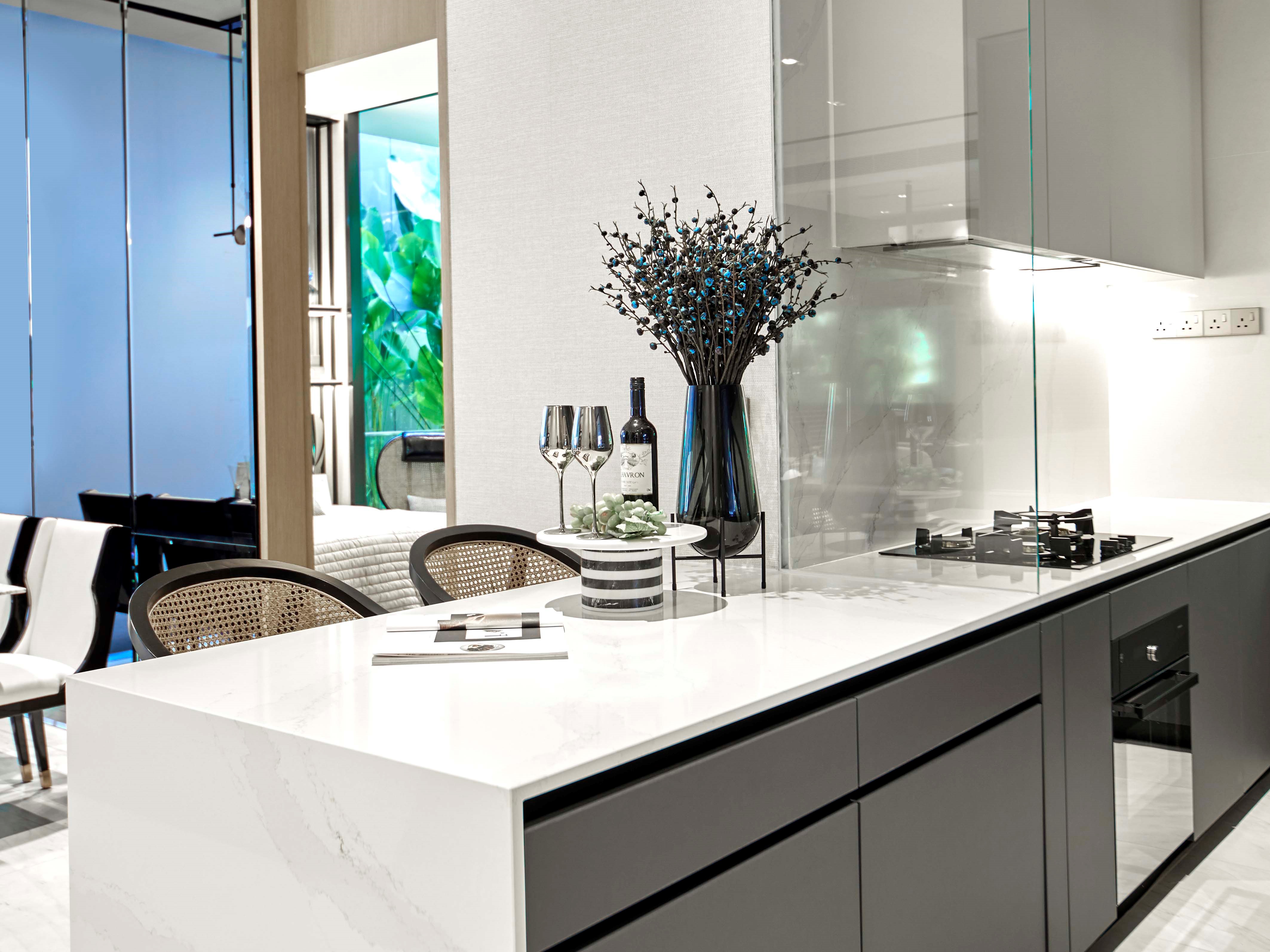 These days, a modern home is also a smart home, and every Cairnhill 16 unit is equipped with security and home features that can be easily controlled from a mobile app. And to make life a little easier, residents also have exclusive access to a concierge, who can assist with requests like dining reservations, booking transportation, arranging for home management services and more.
A NEW LEASE OF LIFE
With Orchard Road set to undergo a transformation in the next decade or so, Cairnhill 16 aims to be both a promising investment and an ideal place to stay. Proposals include offering differentiated experiences to bring out the identity of each sub-precinct, such as a focus on arts and culture in Tanglin, and family-friendly spaces in Dhoby Ghaut. To add to the vibrancy of the area, there are also plans to transform Orchard Road into a lush green corridor by creating a 6km-long green connection stretching from the Singapore Botanic Gardens to the Singapore River.
With an exciting future ahead, residents of Cairnhill 16 will have front row seats to the rejuvenation of Orchard Road as it strengthens its position as a must-visit lifestyle destination.
Cairnhill 16 previews run from Nov 13 to 25. It will launch officially on Nov 27. Visit the Cairnhill 16 sales gallery at 1 Peck Hay Road. Visits are by appointment only. Call or Whatsapp 8511 8888 to book a slot.
TSky Cairnhill is owned by TSky Development, Ocean City Global, Seacare Property Development and Min Ghee Investment (2018). TSky Development is a joint venture between Singapore-listed Tiong Seng Holdings and Ocean Sky International.