Deep dive: How Blancpain's Fifty Fathoms became the ultimate dive watch
Embodying Blancpain's passion for the underwater world, the Fifty Fathoms has set the standard for all modern dive watches with innovative technical solutions and avant-garde aesthetic features.
The Fifty Fathoms is not just an icon of Swiss watchmaker Blancpain, but also a pioneer in the world of dive watches. Presented in 1953, it was the first modern dive watch and one that notably defined the characteristics of all dive watches that followed.
Its origins lie a little further back when Captain Robert "Bob" Maloubier and Lieutenant Claude Riffaud, founders of the French Navy's frogmen or naval divers unit, approached Blancpain for a purpose-built mechanical watch that would suit their specific, extreme needs. Coincidentally, Blancpain's then-CEO Jean-Jacques Fiechter was an avid diver and had already been working to create a functional and reliable dive watch.
Together, the brand consulted with the French Combat Swimmers unit to develop a dive watch unlike anything that had come before it.
INNOVATION AT THE FOREFRONT
As the pioneer modern dive watch, the Fifty Fathoms introduced several innovations on its debut, earning it its legendary status today.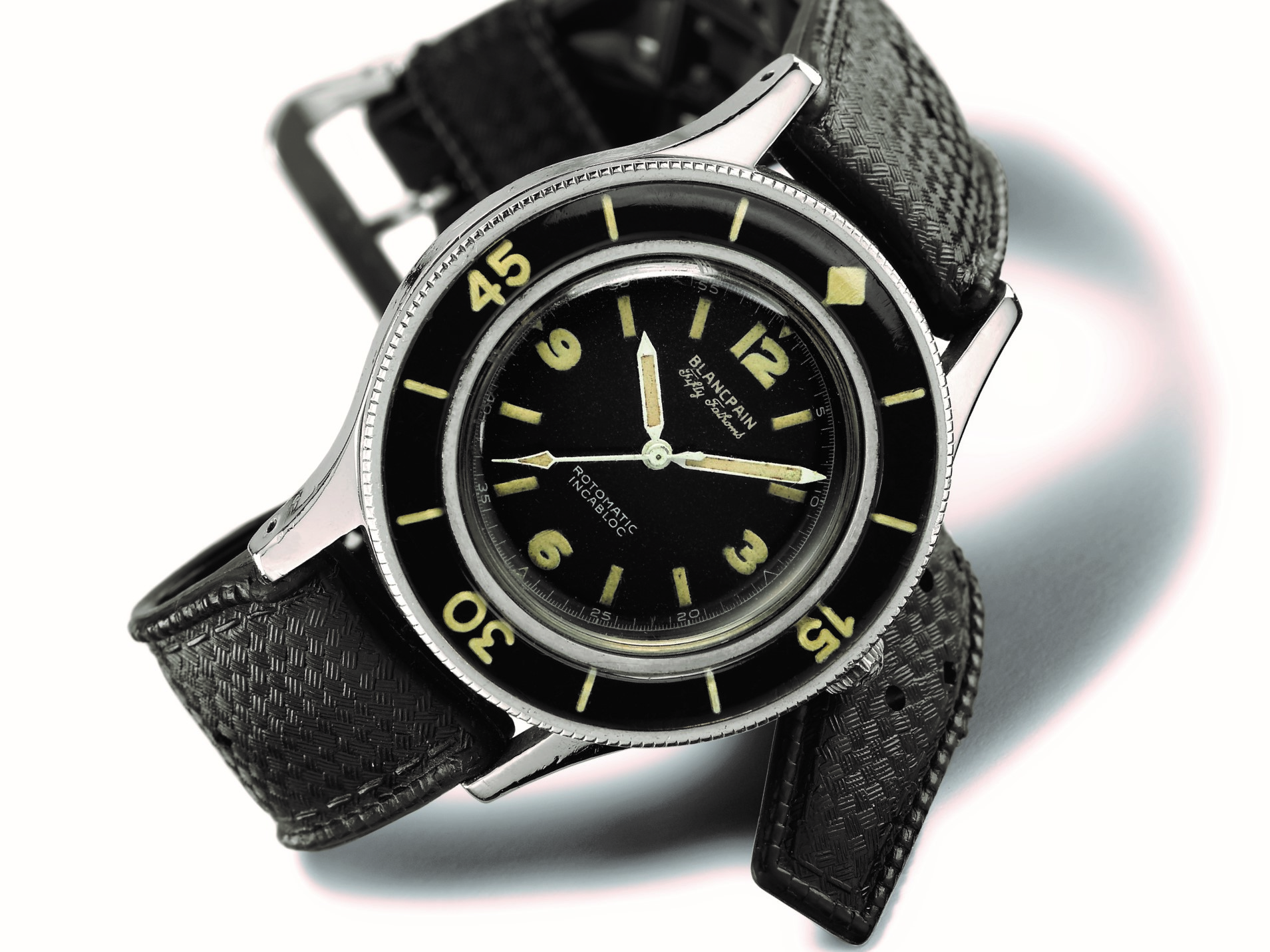 One of the most significant features was a secured rotating bezel (that later became uni-directional) with a graduated luminescent scale – a first of its kind, which has since become a must-have tool for dive watches. Unidirectional bezels offer safety to divers because these rotating markers of time can only go one way as its name suggests. This means that divers who are tracking the elapsed time during a dive cannot accidentally rotate the bezel in an opposite way to reflect an inaccurate reading.
Another first was the special double-sealed crown, a system that has since been patented, to ensure water resistance. To maintain the watch's water resistance, Blancpain also opted for an O-ring caseback sealing system, along with an automatic movement to minimise wear on the waterproofing system from winding the watch.
Additionally, Fifty Fathoms models offered perfect legibility by way of their broad white luminescent hands, numerals and indexes contrasting with a dark dial. Finally, Fifty Fathoms were equipped with a soft iron inner case to protect the movement from magnetic fields. This would prevent inaccuracies in timing, crucial to the military missions the divers would go on.
TESTAMENTS OF TIME
Not only was Blancpain's Fifty Fathoms the watch of choice for the French navy, it was also soon adopted by naval diving forces around the world like the American, German, Spanish and Israeli navies, just to name a few.
In fact, the United States Navy-commissioned Fifty Fathoms came to be known as MIL-SPEC watches. Introduced to the US Navy in the late 1950s, the Fifty Fathoms MIL-SPEC 1 boasted an additional feature – a circular water-tightness indicator. If any liquid leaked into the watch's case, a disk at 6 o'clock would change colour from white to red.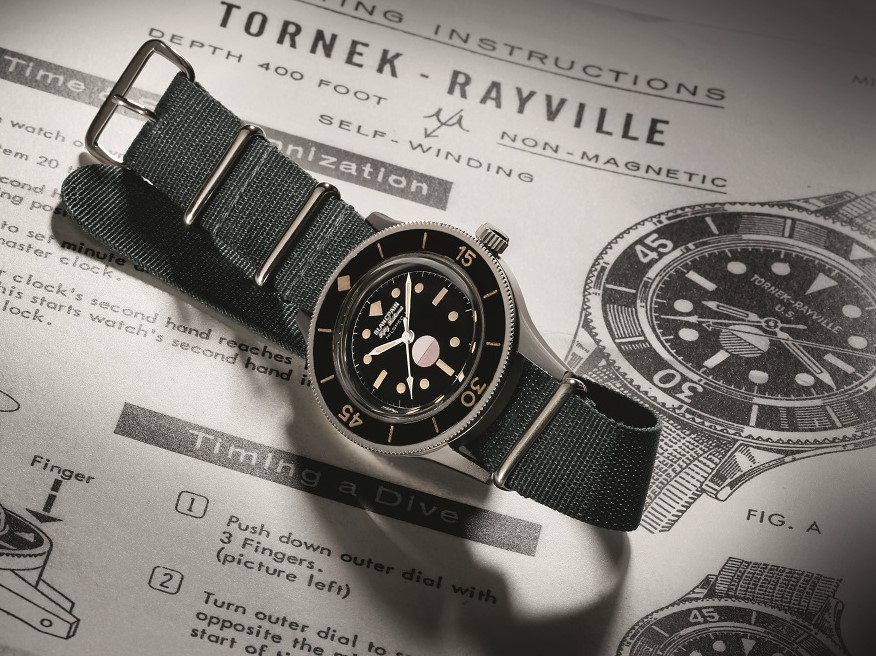 Unsurprisingly, the timepiece was chosen as the standard-issue watch for American combat swimmers, namely members of the elite Underwater Demolition Team (UDT) and Navy SEALs. While the watches are considered some of the most coveted Fifty Fathoms watches in the vintage market, Blancpain released a new limited-edition MIL-SPEC model in tribute to the original on its 60th anniversary in 2017.
The first reinterpretation of the vintage model, the Tribute to Fifty Fathoms MIL-SPEC is a modern dive watch with a classic look, featuring a stainless steel 40mm case, clear sapphire case back and the signature water-tightness indicator.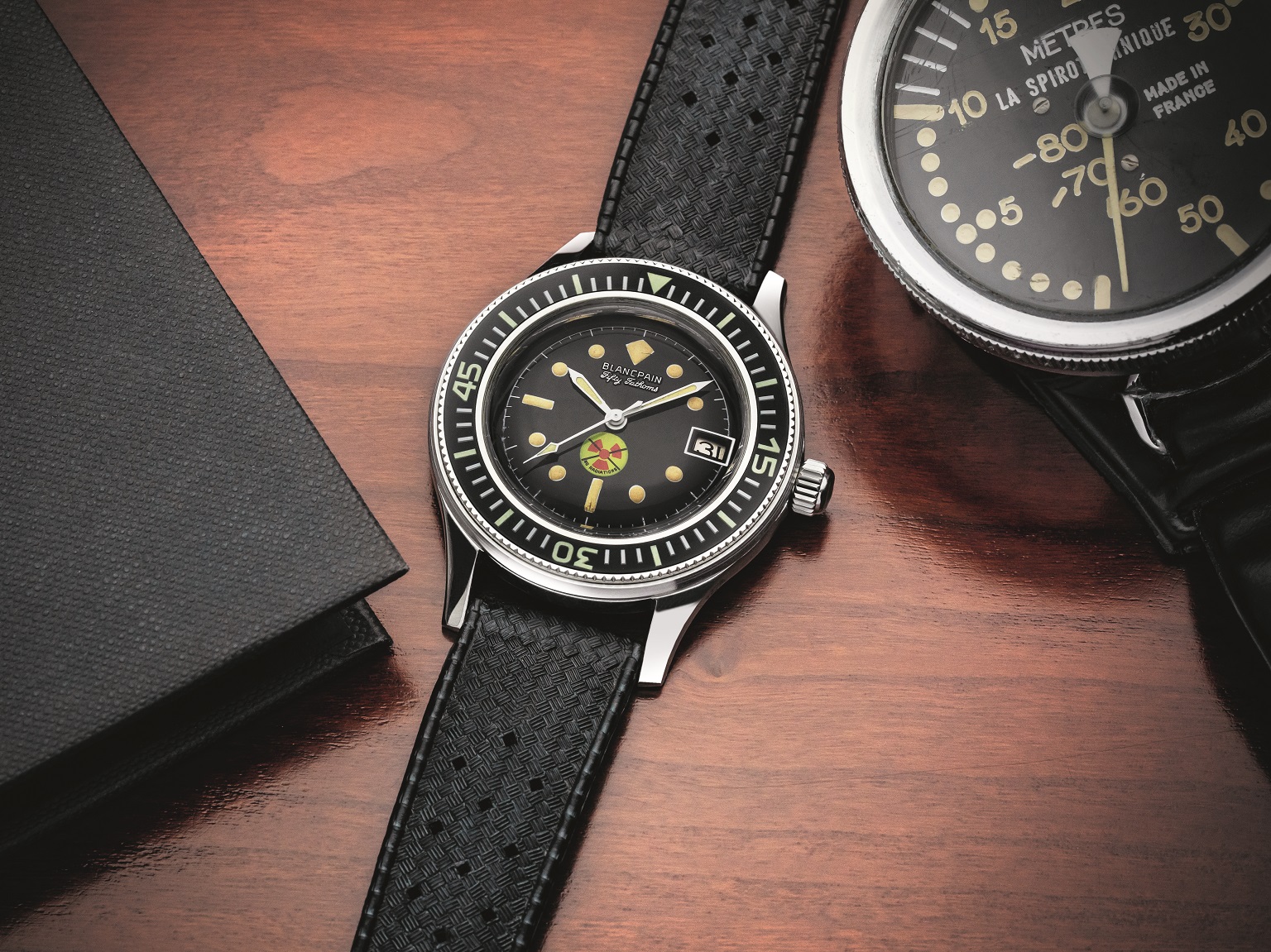 Similarly, the Swiss manufacture reinterpreted another one of its iconic historical Fifty Fathoms timepieces earlier this year: The Fifty Fathoms No Rad. The original mid-1960s diving instrument was adopted by the German Navy and bore the distinctive "no radiations" logo, indicating that Blancpain did not use luminescent materials composed of radium. This characteristic element on the watch dial has been re-incorporated on the successful new Tribute to Fifty Fathoms No Rad 500-piece limited series.
A MODERN LEGEND
In addition to the MIL-SPEC and No Rad timepieces, one of the most loved Fifty Fathoms models today is the Bathyscaphe. Continuing to be inspired by its storied past, Blancpain introduced the contemporary line of the watch in 2013 as a reinterpretation of the first Bathyscaphe model launched in 1956.
Born out of a desire to offer a reliable dive watch suited for everyday wear, the Bathyscaphe has a vintage-inspired aesthetic with design cues found in the original, like rectangular hands and lines and dots as hour markers, combined with modern watchmaking technology.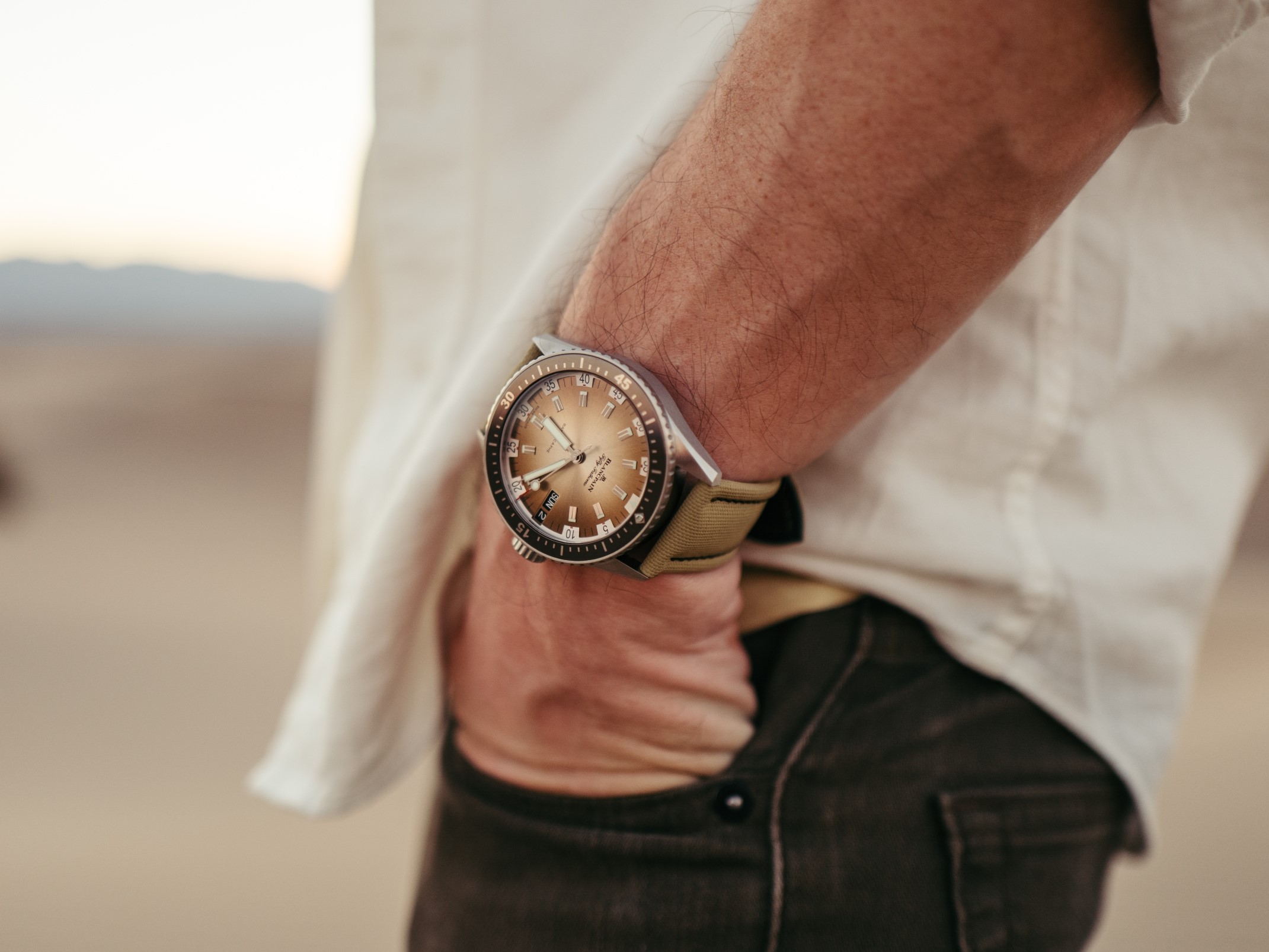 Testament to its popularity, there have since been many variations of the Bathyscaphe. The models have been enriched with numerous complications and functionalities, including flyback chronographs, annual calendars, moon phases and day-date indications.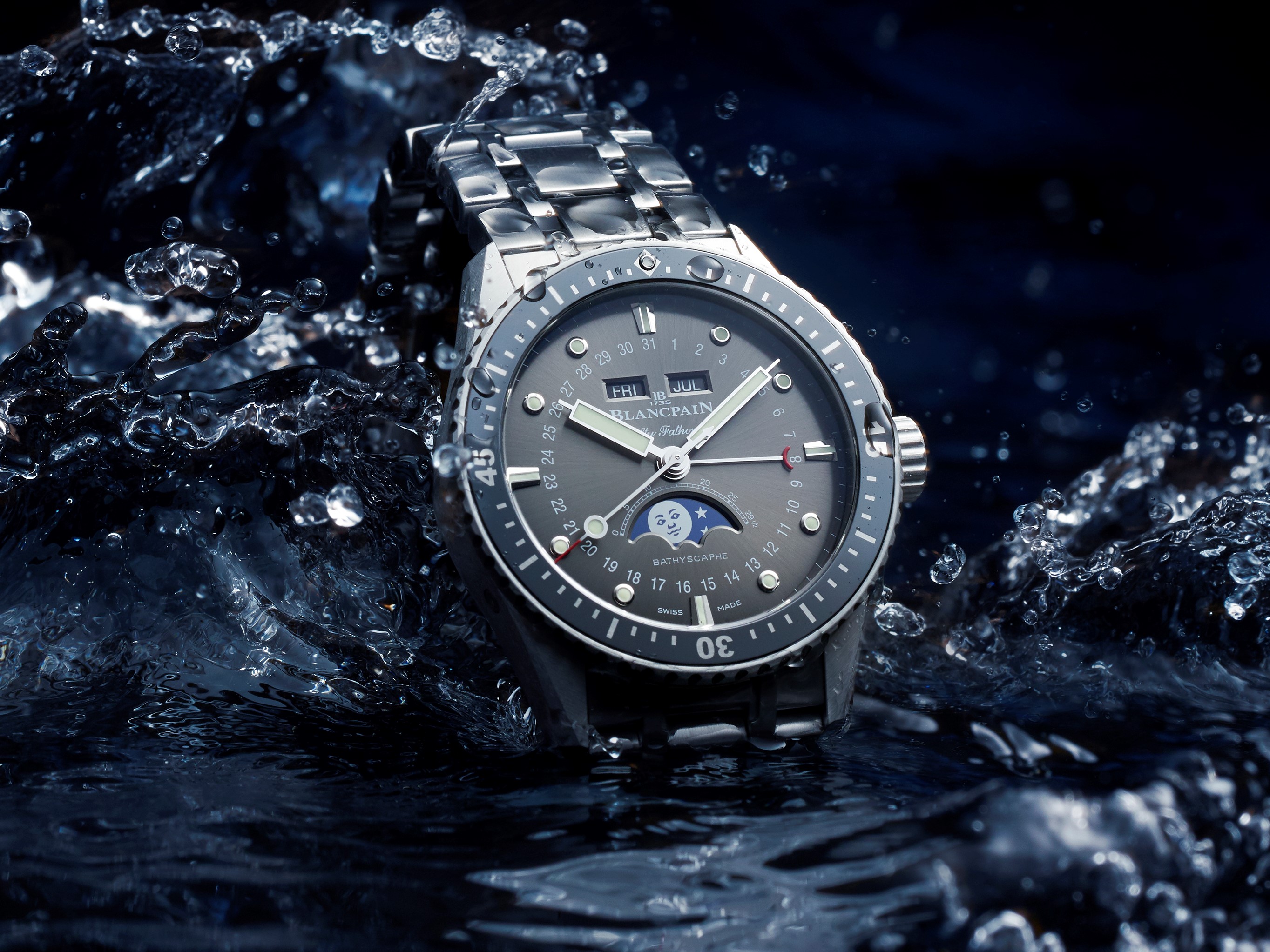 SAFEGUARDING THE SEAS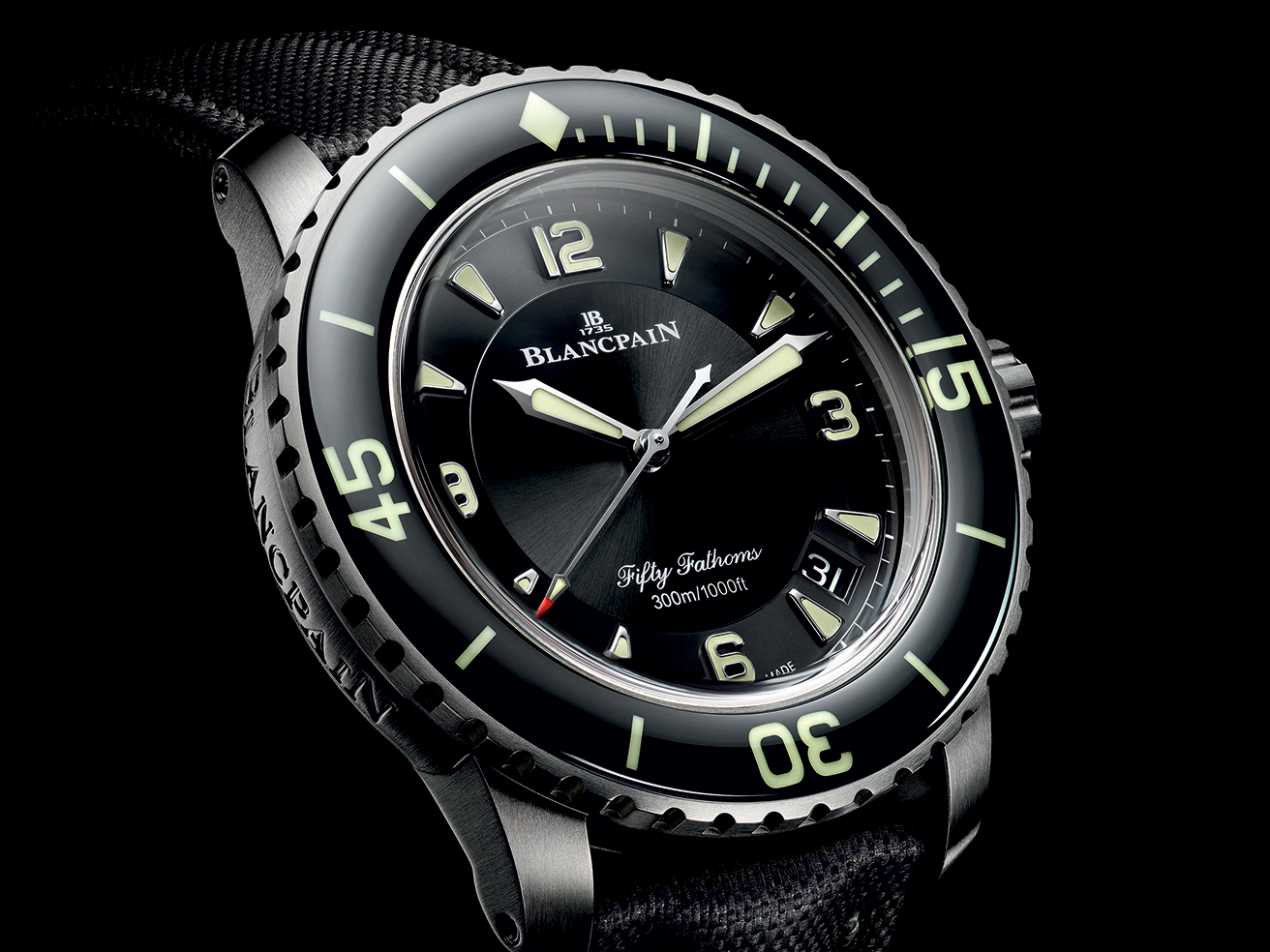 These contemporary versions of Blancpain's classic timepieces do not only illustrate the brand's commitment to its roots, but also trace back to its passion for the sea and serve as a reminder of its long-term commitment to ocean conservation.
While the Swiss manufacture has been supporting ocean preservation projects for years and forging close ties with ocean explorers since the creation of the first Fifty Fathoms, it officially committed itself to protecting the world's oceans with the establishment of its Blancpain Ocean Commitment program.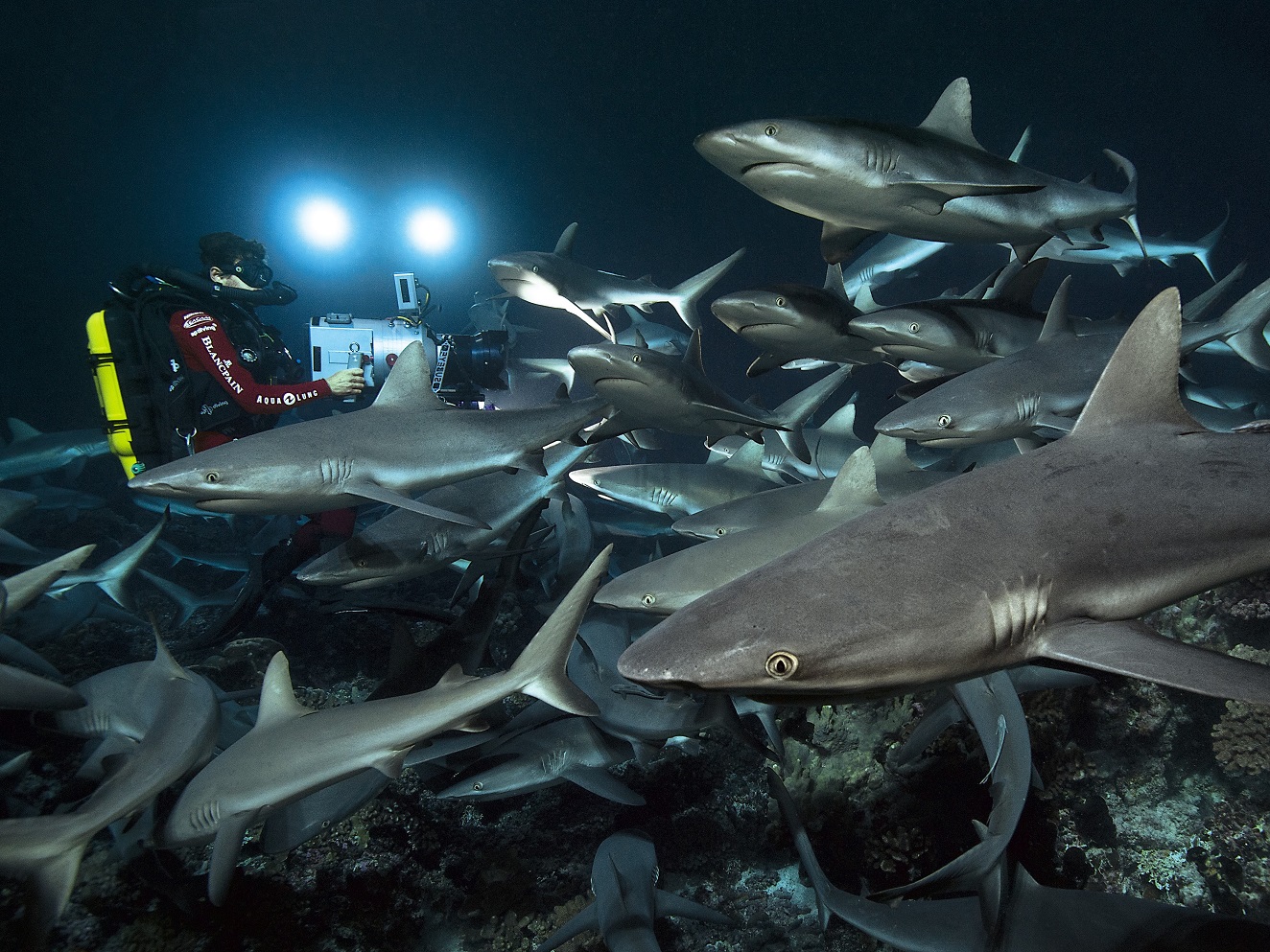 Through a series of partnerships with various leading organisations, Blancpain aims to share its passion for diving, exploration and ocean preservation and build awareness for the cause. Some of these initiatives include the Gombessa expeditions, exploration missions backed by Blancpain to study some of the rarest marine creatures and phenomena; supporting World Oceans Day annually; as well as the World Ocean Initiative organised by The Economist.
In addition to Blancpain's regular funding, a further €1,000 (S$1,587) per piece from the sale of "Blancpain Ocean Commitment" limited-edition watches go towards ocean preservation initiatives. To date, Blancpain has contributed to extending the surface of marine-protected areas worldwide with an addition of more than 4 million sq km.
Discover more of the Fifty Fathoms collection.