The A-game: Michelin-starred kitchens showcase their best in specially curated dining menus
The chefs behind Odette, Les Amis and Basque Kitchen by Aitor give a sneak peek at culinary highlights guests can look forward to.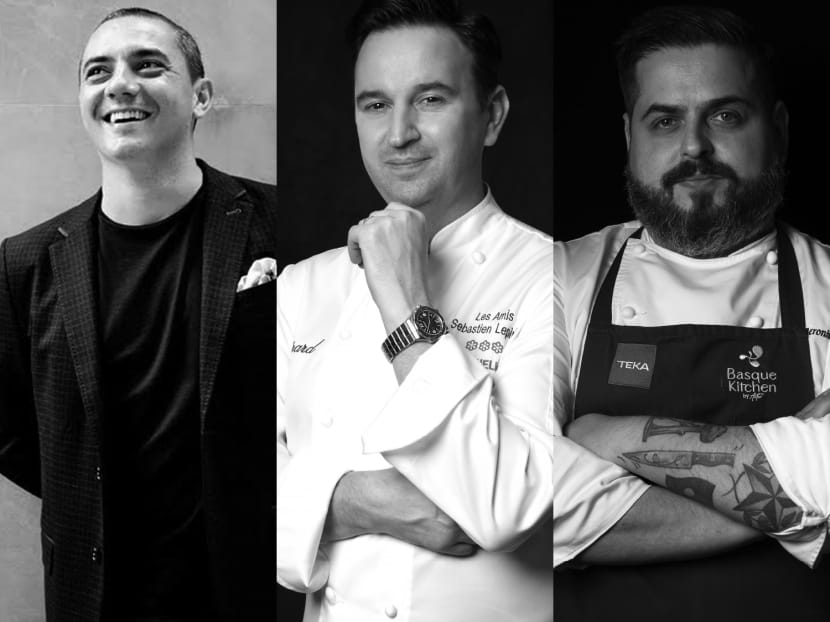 Singapore's growing presence on the global culinary map is built on the back of an incredibly diverse pool of chefs. The little red dot has emerged as a formidable port of call for gastronomes worldwide, thanks in part to a bevy of Michelin-starred restaurants such as Odette, Les Amis and Basque Kitchen by Aitor.
 
How do the master chefs of these establishments dish out top-notch fare year after year? Julien Royer from Odette, Sebastian Lepinoy from Les Amis, and Aitor Jeronimo Orive from Basque Kitchen by Aitor share more about their approaches to gastronomy that have made them so well-loved by many. These restaurants are part of the Gastronomic Dining Collection, presented by Michelin Guide and Citi ULTIMA, where chef-curated dining menus take centrestage. 
AN INGREDIENTS-FIRST APPROACH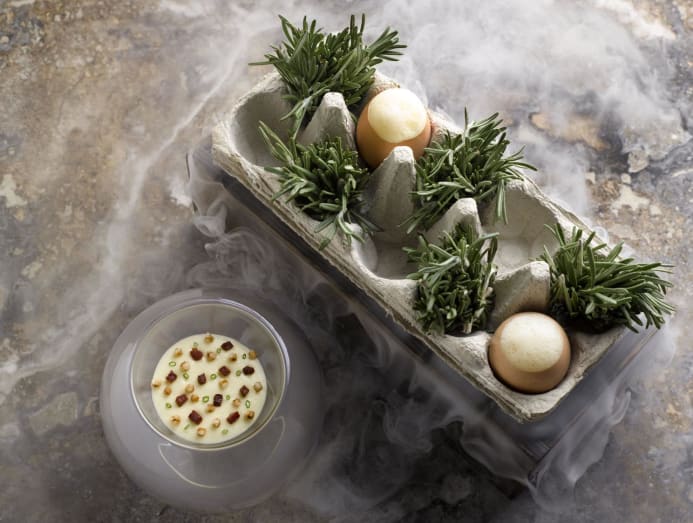 Odette is the crown jewel in Singapore's fine dining landscape. The only establishment to consistently feature in the local Michelin guide since its advent, it has garnered three stars in the prestigious red book since 2019.
Royer's "essential cuisine" approach – a culinary style that celebrates seasonal ingredients and "honest cooking" techniques that hark back to his upbringing in a rural Auvergnian farm in France – underpins the Odette experience. "My grandmother, Odette, showed me how the most remarkable dishes can come from the most humble ingredients. She taught me the importance of adding a special touch to create dishes that excite the palate and fill the heart," he said.
One such example is the restaurant's perennial signature dish, Kampot Pepper Pigeon, which is part of the Citi ULTIMA curated menu. The dish features sustainably raised pigeon from Brittany, France, crusted with Kampot pepper from Cambodia. "We use this pepper because of its spicy, sweet and aromatic profile that complements the fullness of pigeon meat," shared Royer.
DELIVERING AN AUTHENTIC FRENCH EXPERIENCE
Three-Michelin-starred Les Amis is arguably the pioneer in Singapore's independent fine dining scene. Its storied legacy has seen the restaurant evolve through the years, but it has never once lost sight of its haute cuisine roots. This has been maintained, and lovingly refined by Lepinoy, who has been charting the direction of Les Amis since he took over the reins in 2013.
The chef's passion for his heritage inspires him to deliver "an experience that offers a truly authentic French taste" to Les Amis' patrons. For instance, his team understudies with producers to enhance their product knowledge beyond mere taste profile and provenance.
Diners can expect an exclusive showcase of the finest French produce at Les Amis this spring, including three new dishes dreamed up by Lepinoy for Citi ULTIMA cardmembers. Each dish is designed to celebrate the arrival of spring, such as the crispy seared amadai fish fillet basted in a thyme-laced jus. 
"I drew inspiration from French seasonality, the premium produce and the wonderful stories that surround each ingredient," he said. 
SPOTLIGHTING TRADITIONS
Basque Kitchen by Aitor's debut in the Singaporean food scene was met with equal measures of fanfare and fascination. It swiftly acquired its Michelin Star in 2019 – just a year after its debut. The restaurant has maintained its accolade since, largely due to Orive's ability to deftly straddle the line between tradition and innovation. 
With his focus on fusion and seasonality, the chef-owner introduced and elevated Basque cuisine to suit local palates. "Basque cuisine has a strong presence within French and Spanish cuisines and is highly regarded for its charcoal cooking approach, as well as the produce used from land and sea," shared Orive.
Though the restaurant does not have a fixed menu, traditional Basque culinary techniques and seasonal ingredients anchor its culinary brand. Orive and his team go to great lengths to acquire produce that is as true to what one gets in the Basque country as possible. This includes purchasing fish from a small Basque fishmonger. 
Citi ULTIMA cardholders are in for a treat as Orive has designed a tasting menu that highlights Basquian charcoal grilling applied to ingredients such as aged beef and line-caught turbot and hake. Given Orive's firm belief in cooking from the heart, guests can expect a gastronomic tour through the flavourful wonders of his native land.
Odette, Les Amis and Basque Kitchen by Aitor are among the 10 Michelin-starred restaurants featured in Citi ULTIMA's Gastronomic Dining Collection, an exclusive year-round partnership with Michelin Singapore. Besides enjoying priority booking at selected Michelin-starred restaurants, ULTIMA cardmembers also receive invitations to indulge in monthly chef-curated menus and meet the chefs behind the creations.