Gucci Gift Giving Collection: A little sparkle for everyone this festive season
Alessandro Michele serves up some of this year's most glamorous pieces, inspired by retro office parties. Brought to you by Gucci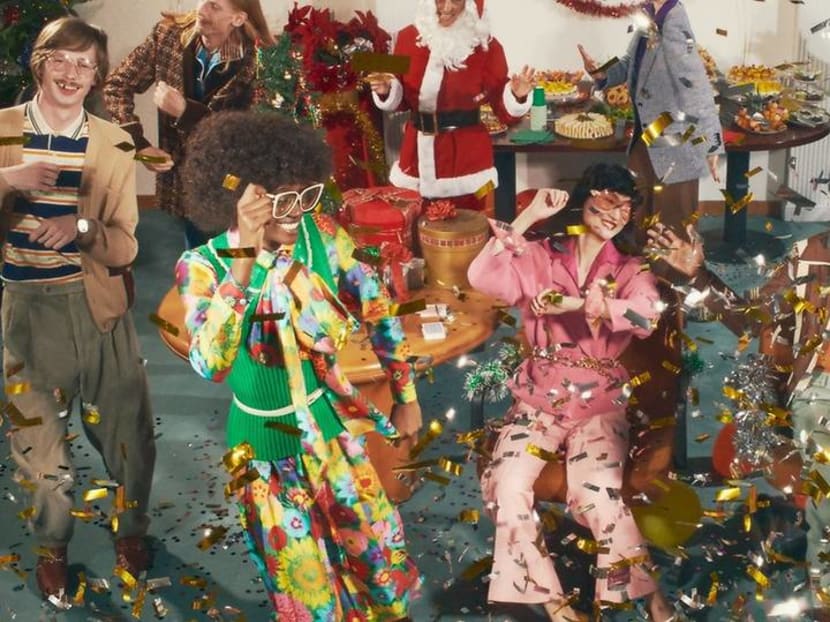 Gucci adds magic to the mundane with this year's Gift Giving campaign, taking inspiration from office parties of yesteryear. Parties may be a little subdued this year with restrictions in place but the new collection's vibrant colours and sequins more than makes up for it.
Set amongst photocopiers and desks in an office, the campaign sees a cast of corporate co-workers waiting for the end of the work day – so they can finally let loose for some holiday merrymaking. As they get down to '80s pop tunes, everyone is decked out in chic Gucci outfits and toting fun, sparkly accessories from the Gift Giving Collection like the sequin GG Marmont bags.
The bag emblazoned with Gucci's iconic GG plaque on its front has quickly become one of the Italian house's most recognisable designs and this season, it gets the ultimate festive treatment.
The GG Marmont mini and small chain shoulder bags as well as mini bucket bags are covered with sparkling 3mm micro sequins that have been sewn onto a quilted silk panel, creating the effect of a shiny, shimmery fabric – perfect for those who'd like to embrace their inner magpie.
These party-ready bags come in a variety of colours – black, silver, gold, pastel pink, pastel green and even in a striped multicolour version. Each one has a chain strap so you can party hands-free, and also bears a Double G motif – all in polished silver-toned hardware.
And because there's no such thing as too much sparkle during the holidays, go all out and complement the bags with even more sequin-covered pieces from the collection. Go wild with slides, heels, loafers and Gucci Tennis 1977 sneakers applied with sequins in hues matching the bags. Top it all off with sequined accessories like a hairband and beret in a kaleidoscope of colours.
CARTOON APPEAL
For the young and young at heart, Gucci has once again collaborated with Disney for a selection of pieces in the collection. The house's creative director Alessandro Michele is known for his passion and incorporation of pop culture into his designs, like the Chinese New Year collection of ready-to-wear and accessories featuring Mickey Mouse launched earlier this year.
This time around, it's Mickey's best friend Donald Duck and his triplet nephews Huey, Dewey and Louie Duck who adorn the men's and women's looks as well as bags, accessories and shoes.
A particular print that features on many of the pieces, especially on the bags and shoes, is taken from the artwork of '80s Walt Disney Mickey Mouse comics and depicts Donald Duck and his nephews in outer space. This motif is printed on a beige and ebony GG Supreme base material for a playful vintage vibe.
A rather extensive collection of Donald Duck bags and luggage means there's something for everyone – from backpacks to messenger bags, and belt bags to totes. Each bag features either an all-over pattern of the retro ducks in outer space print, or a single placing of it. There are also luggage options like rigid suitcases, a rigid beauty case and a medium duffle bag with the same print style.
All bags have an oval interlocking GG brown leather tag on their exteriors as well as a brown leather tag with gold lettering detailing the Gucci and Disney partnership on the inside.
Other Donald Duck-decorated accessories are available, too, like a baseball cap, bucket hat and printed silk carré – all bearing the same '80s Donald Duck and nephews print – as well as slides, Gucci Tennis 1977 slip-ons, Ace sneakers and chunky Rhyton sneakers.
Shop the collection in Gucci boutiques or reach out to Gucci client services via phone or Whatsapp at 31382024.