Home is where Romeo's heart is: How a bachelor pad at Marina One Residences checks all the right boxes
An up-close-and-personal look at having a home at the luxury development, with its unbeatable location (and even better views) in the Marina Bay precinct. Brought to you by Marina One Residences.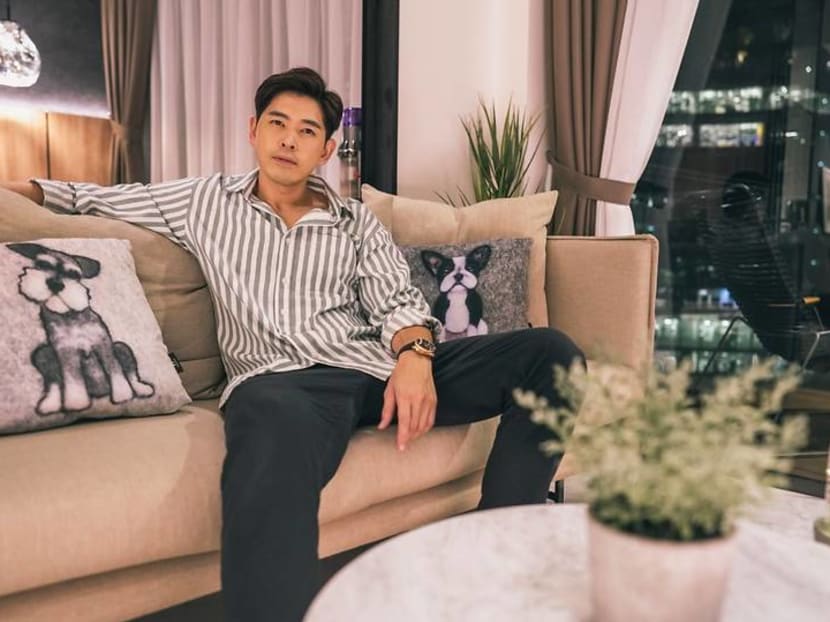 Since moving into Marina One Residences in September, actor Romeo Tan's new home has been a sanctuary for him in more ways than one – with designated corners to relax, work and entertain.
Stunning views are part of the reason why Romeo is drawn to Marina One Residences. Find out more about his other favourite parts of the development.
"There's my comfy couch where I chill and catch movies and dramas, the window area where I can just sit back and relax or use my laptop, and my multi-purpose breakfast-cum-dining table for four where I have my brunch and coffee and read my scripts," shared the house-proud homeowner.
Romeo – who has taken part in celebrity cook-offs – likes to whip up his own dishes when he has a spot of free time. He appreciates how the kitchen is equipped with top-of-the-range appliances and fittings from brands such as Miele and Poggenpohl.
"I usually cook simple dishes like fried rice and pasta," he said.
It's not just Romeo who's been revelling in the joys of his new home. His beloved dog Tigger has quickly adapted to her new environment. When the inquisitive schnauzer is not sniffing around her new space, she's chilling out at her favourite spot on the sofa.
WEALTH OF FACILITIES
Outside of his unit, Romeo has been exploring and enjoying the comprehensive raft of facilities at Marina One Residences.
With coffee joints such as Mellower Coffee and Jewel Coffee at the expansive retail podium, heading out for a coffee run is a breeze for the 35-year-old coffee aficionado.
And as a fitness buff, it's no wonder that Romeo spends a fair bit of his time working out at the gym.
He said: "I love how spacious the gym is. In addition to its new equipment, I like how the space has an exclusive hotel-like feel to it."
The development's 50m lap pool has found a fan in Romeo's niece Stacy, whom he shares a special bond with – she was the first "VIP" to stay overnight at his new abode.
"There was a sparkle in her eye when she saw the swimming pool!" he recounted.
Beyond recreational facilities, one of Marina One Residences' most outstanding features is the Green Heart, a garden paradise resembling a green valley boasting 386 species of plants and trees, a 13m waterfall and reflecting pools, ensconced by four towering blocks.
"The Green Heart has a very beautiful landscape from a top perspective. It has a calming effect, and provides tranquillity and quietude in the midst of the hustle and bustle of the modern world," mused the actor from his balcony overlooking the Green Heart.
A JEWEL IN THE RIGHT SETTING
Like a jewel that shines brightest when it is at its finest placement, Marina One Residences is set in one of the most prime, well-connected spots in Singapore.
That is why Romeo counts the balcony as one of his favourite spots in the apartment.
"It has a bird's eye view of the iconic architecture of Marina One, which drew me to this place," he said. "With its greenery and serenity, it can be very therapeutic just looking out in the evenings or on weekends."
He also enjoys bringing Tigger on scenic walks in the vicinity. The furthest the dynamic duo have ventured to is the Marina Bay Waterfront Promenade.
In fact, Marina One Residences is within walking distance to world-class dining and shopping options like the Marina Bay Sands, Gardens by the Bay and the Esplanade.
A CONFLUENCE OF CONNECTIVITY AND AMENITIES
Nestled in the new downtown of Singapore, Marina One Residences embodies the vibrant live-play-work concept by way of the integrated development that comprises luxury residences, 140,000 sq ft of retail and dining options, as well as two 30-storey prime Grade A commercial towers.
Marina One Residences boasts seamless connectivity, with access to three MRT stations: Marina Bay, Downtown and the upcoming Shenton Way. It's also easily accessible via major expressways, with islandwide connectivity. This makes travelling by car or public transport a cinch for residents who may call the luxury development home.
In the near future, an air-conditioned underground pedestrian network will connect pedestrians seamlessly to Raffles Place. 
Coming from humble origins, Romeo's experience with his first home has given him opportunity for reflection and gratitude.
"I feel a great sense of achievement and groundedness now that I have my first home. I've always been drawn to the lifestyle and exclusiveness of the Marina One area, and am grateful that I can experience it first-hand. I believe in the investment potential of the area over the next decade, with plans for the Greater Southern Waterfront in the works," he shared.
Register your interest to find out more about Marina One Residences, or call +65 6327 1011 for more information.