In a time of disruption, connection is key to driving innovation
Innovative technologies have allowed consumers to be heard on an unprecedented level – and these female entrepreneurs are listening closely. Brought to you by Samsung.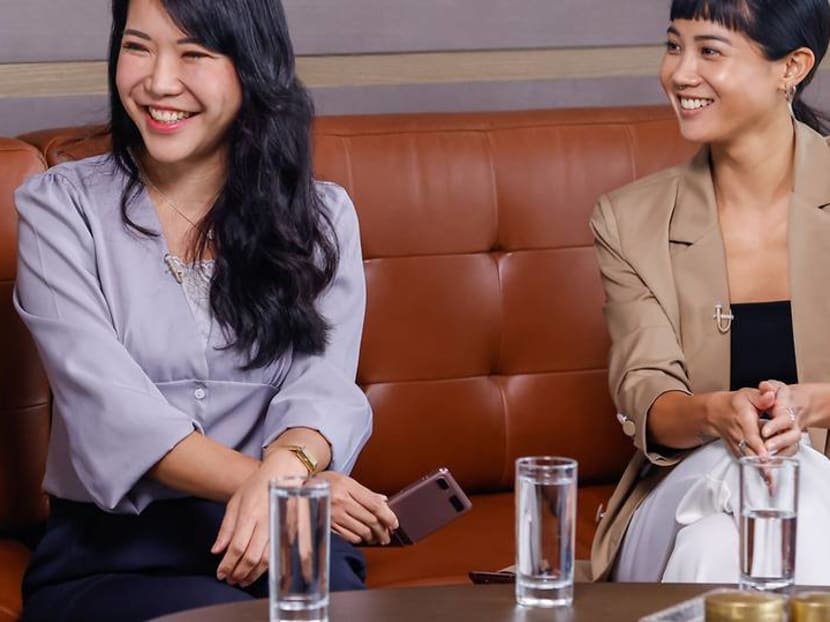 Innovation is more than just a tech buzzword – it's central to driving change in modern society. Innovation is also an attitude, a creative and curious way of looking at the world.
Consumer technology has been shaped by creativity, with an emphasis on openness, connectivity and ease.
Female entrepreneurs discuss helming tech-first companies at the panel.
The latest generation of mobile devices – such as the Samsung Galaxy Z Flip 5G phone – has been designed to meet the needs of consumers who lead globally connected lifestyles, and who aren't afraid to embrace the new and exciting.
Recent years have also seen the emergence of female entrepreneurs, who lead a new generation of companies driven by innovation and connectivity.
A PLATFORM FOR PARENTS, AND MORE
At the tender age of 24, Ms Roshni Mahtani was certain that millennials were approaching parenting knowledge differently.
"I grew up in a digital world and knew that if I were a young mom, I wouldn't buy or borrow a textbook – I'd read it online," she explained at CNA Luxury's Changing the Shape of the Future panel discussion in partnership with Samsung. "I want to hear viewpoints from around the world, connect with different people, and then decide on the philosophy I believe in."
Ms Mahtani's insight into the growing democratisation of parenting content turned out to be spot-on. Today, theAsianparent is the largest digital platform for Southeast Asian mothers, spanning over 12 countries with over 30 million monthly active users.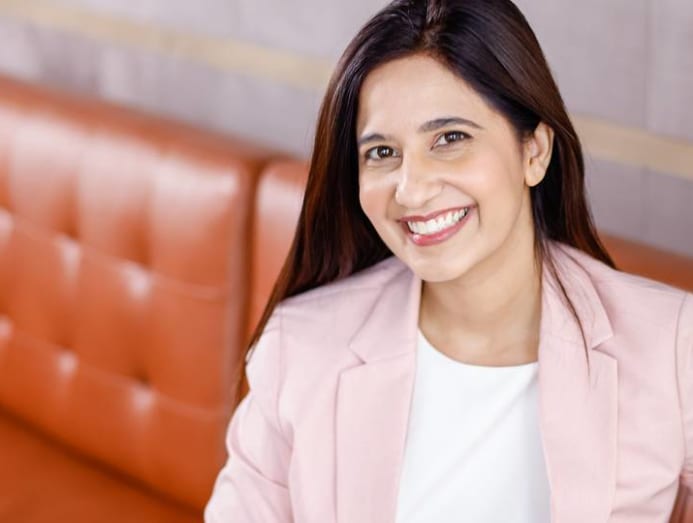 Ms Mahtani's four-year-old daughter is even more of a digital native, keeping in touch with extended family by way of video calls.
"She does one-hour mandarin classes every day with her 'nai nai' (grandmother) in Hong Kong, which would not have been possible without technology," said Ms Mahtani. "And of course, she's just enamoured with the Samsung Galaxy Z Flip 5G phone. I've become the coolest mom in the world because the phone can 'piak'!"
The Galaxy Z Flip 5G features a custom-built user experience via its unique forward-folding form factor. When the device is free-standing, the display automatically splits into two four-inch screens, allowing users to view content on the top half, and control the phone's functions on the bottom half.
Ms Mahtani shared: "I can put it down and do live-streaming. It's so convenient."
The Galaxy Z Flip 5G's ultra-fast 5G speed also enhances the video quality of Ms Mahtani's family video calls. By partnering with Singtel, Samsung gives users in Singapore the ability to enjoy full 1080-pixel high-definition video chats with loved ones.
LISTENING TO YOUR AUDIENCE
Just as Samsung is always pushing the boundaries of 5G smartphone development, Ms Mahtani is future-proofing her business by continuing to innovate, transforming theAsianparent from a digital platform to a creator of reproductive health-tech products, powered by user-sourced data. For example, a stretch mark cream was developed based on consumer research involving a million mothers, right down to its pink product packaging.
As an entrepreneur, Ms Mahtani knows the value of listening to customers' preferences, whether that means offering maternity products that are halal-certified or chemical-free, or offering smartphones in customer-approved colours like Mystic Bronze and Mystic Gray – the two options for the Samsung Galaxy Flip 5G.
"You have to really listen to your audience and know them," she said. "You have to follow the trends, but be a little bit ahead of the curve."
DECODING INSURANCE FOR ALL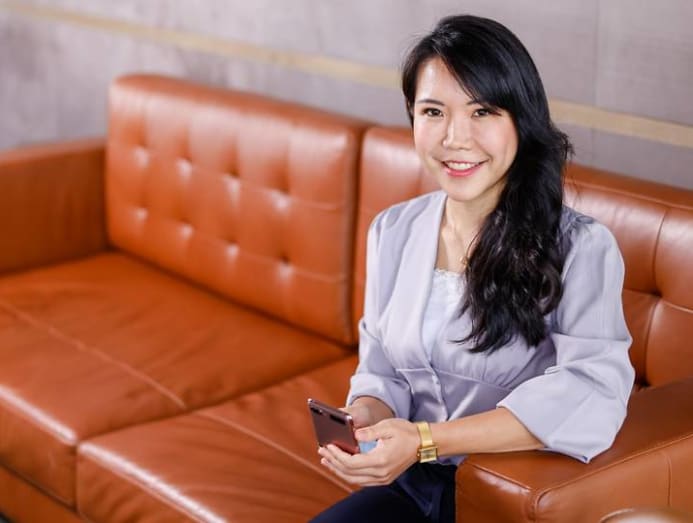 Ms Val Yap's experience with filing insurance claims led her to starting PolicyPal four years ago. In one year, her mother had cancer and her father passed away unexpectedly from a heart attack. The experience of dealing with the claims for insurance payouts spurred her to help others who might also be overwhelmed by the insurance industry.
"The idea was to empower consumers to first understand insurance, and next, the protection gap," said the chief executive officer and founder of PolicyPal, which is one of Singapore's top insurance-based tech companies today with over 100,000 organic downloads.
PolicyPal – part of the Monetary Authority of Singapore's FinTech sandbox – consolidates users' existing insurance policies in one place and analyses them with data-driven artificial intelligence tools to provide comparisons. For instance, users are privy to how much coverage one has in comparison to one's peers, offering insight into one's insurance needs.
The app simplifies insurance jargon for easier understanding, and lends access to one-on-one consultations with financial advisors. PolicyPal also works with insurance companies to co-create products that suit users' needs, thus catering to a generation of young people who want to take control of their own financial planning.
"It has been pretty challenging because insurance is a traditional, male-dominated industry," shared Ms Yap. "When we first started, a lot of customers rejected us. But we believe that everyone should have the ability to start doing their financial planning instead of waiting for something bad to happen."
FUTURE-FORWARD SHIFTS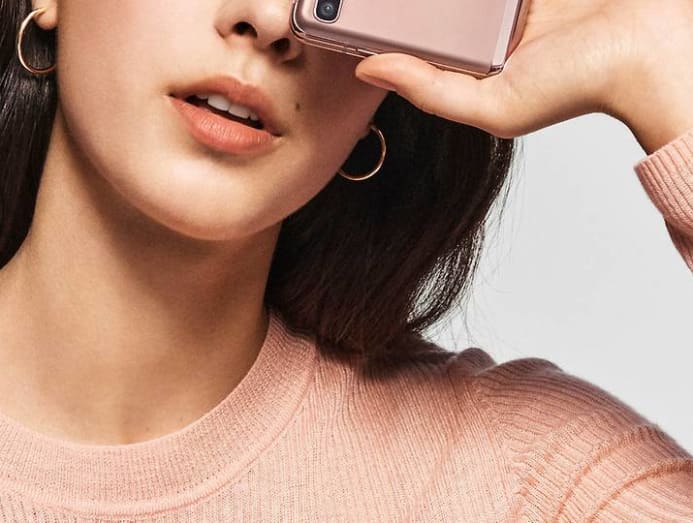 Apps like PolicyPal are part of a wider generational shift, as consumers increasingly turn to technology to plan or develop far more aspects of their lives than before. Industry game changers like Samsung have accelerated this change in behaviour, offering users more reliable and seamless video calls with hyper-fast 5G connectivity, featuring low latency and improved bandwidth.
Having launched the world's first commercialised 5G smartphone last April, Samsung has since shipped over 6.7 million Galaxy 5G smartphones globally and dominated 53.9 per cent of the global 5G smartphone market – proof that consumers are eager for more speed, connectivity and innovation.
As a young female entrepreneur, Ms Yap is no stranger to how quickly things can change,  and she's hoping to create even more positive change in the tech industry. She's written a memoir – titled Balls Inc. – aimed at encouraging more young women to join the tech industry, as well as getting companies to embrace a more diverse style of leadership.
She said: "I read a lot of leadership books and many of them are written by male leaders, so I thought leaders had a certain persona that you needed to put up. But over the years, I've learnt that you just need to be yourself – and be a lot more open. Now I share a lot with my team about how I feel and how the company is doing."
For more insights on how Ms Roshni Mahtani, Ms Val Yap and other female game changers are navigating the future amid a rapidly transforming digital landscape, tune in to CNA Luxury's Changing the Shape of the Future panel discussion in partnership with Samsung.