BEIJING: Located about an hour's drive from Beijing's city centre, in the west of the Chinese capital, sits what used to be one of China's largest steel mills.
Important as its past was, Shougang industrial park now represents part of China's future.
The facility has been transformed into a recreational space and is set to be one of the sites for the Winter Olympics in Beijing next year.
It is also where China is testing some of its most advanced technology - part of a goal to make the 2022 sporting extravaganza the most technology-driven Games in history.
Playing a central role in that: Driverless cars.
MILESTONE IN COMMERCIALISATION
For US$5, you can hitch a ride around the park in an autonomous vehicle developed by Chinese tech giant Baidu.
Using a mobile app, passengers fill in their personal details and book a ride. When the car pulls up at the pickup point, they scan a QR code to unlock the vehicle.
The car will not move until passengers close the door, fasten their seatbelts and push the start button on a screen.
There is an officer on board, but he is not sitting in the driver's seat, and neither is he controlling the car. He is only there to provide assistance to passengers if needed. Everything else is monitored remotely by Baidu.
Available since May, this is the first paid, driverless service in China and seen as a milestone in commercialisation.
"I heard of such a car for the first time and I brought my son to experience it," said 50-year-old Beijing resident Sun Yueqin.
"It would bring a lot of convenience, for example, to those with disabilities. It's an electric car so it's also very environmentally friendly."
If the trial is successful, such driverless vehicles, from cars to shuttles, could be used to transport visitors during the Winter Games.
"Along the way we encountered someone riding a bicycle. I was worried and was hoping the cyclist would dodge, but instead the car slowed down," said 52-year-old Li Lijun who signed up for a test ride.
"This was my first time (in a driverless vehicle). It was amazing. I feel that these cars are safe."
AGGRESSIVE MOVES
The growing number of such trials in Beijing and other cities is a testament to China's big push to deploy driverless vehicles on its roads.
Baidu, one of many Chinese companies taking part in these trials, has 500 "robotaxis" in operation. It has set its sights on ramping up that figure to 3,000 over the next three years, spread out across 30 cities. 
Analysts say that tech companies are leading development and investments in the autonomous driving field, encouraged by the relaxation of regulations in the last few years.
In January, Chinese authorities announced a new law that would allow testing on highways. The government also wants to scale up production and has set a target of 2025 for half of all new cars to come with partial self-driving features.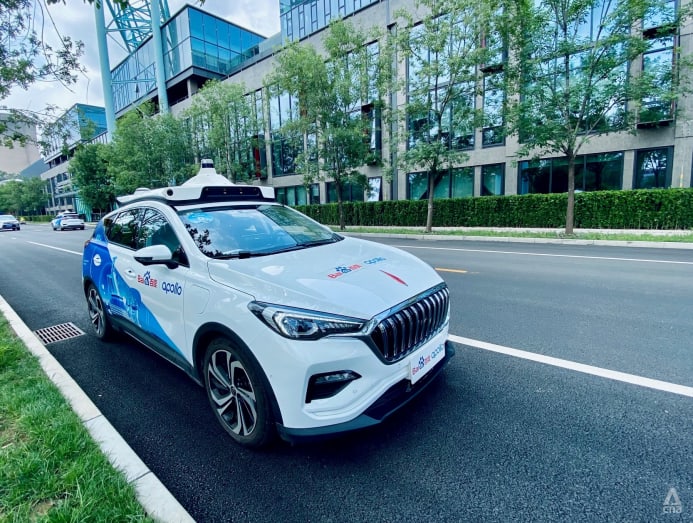 These are aggressive moves, which experts say are allowing China, despite a late start, to catch up with frontrunners like the US and Europe.
"Chinese automotive brands have not been very visible on the international stage compared to the American, European or Japanese manufacturers," said Jonathan Spear, transport policy adviser with Atkins Acuity.
"So if you take autonomy and, particularly if you combine it with electrification, this is a chance really to reset the playing field on an international kind of competitiveness."
It could also bring about domestic benefits as China continues to grapple with longstanding urban problems like air pollution and congested roads in its big cities.
"Having said that, I think we need to recognise that these benefits are only going to come when we've got autonomous vehicles on the road at scale. We mean, at least 60 to 70 per cent of the overall traffic flow is autonomous," said Mr Spear.
ADDRESSING URBAN PROBLEMS
Autonomous vehicle technology has also been envisaged as a way to tackle the problem of China's shrinking workforce, the result of a rapidly ageing population and falling birth rates.
Last year, at the height of the COVID-19 pandemic, China's largest food delivery platform Meituan embarked on the first driverless vehicle trial on public roads.
The project was made all the more urgent as Meituan looked to address concerns over transmission fears, seeking solutions to reduce human contact as its riders delivered goods.
From an initial three residential communities, 20 estates in Beijing's Shunyi district are now served by Meituan's driverless vehicles. Close to 40,000 orders have been completed and there are plans to expand the trial in the coming months.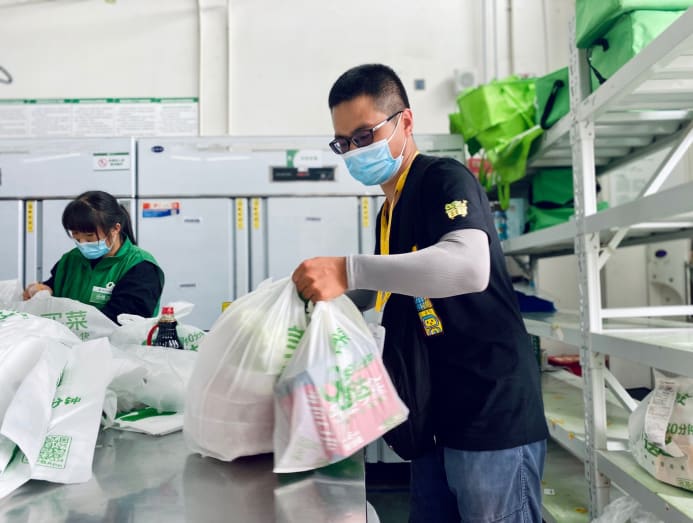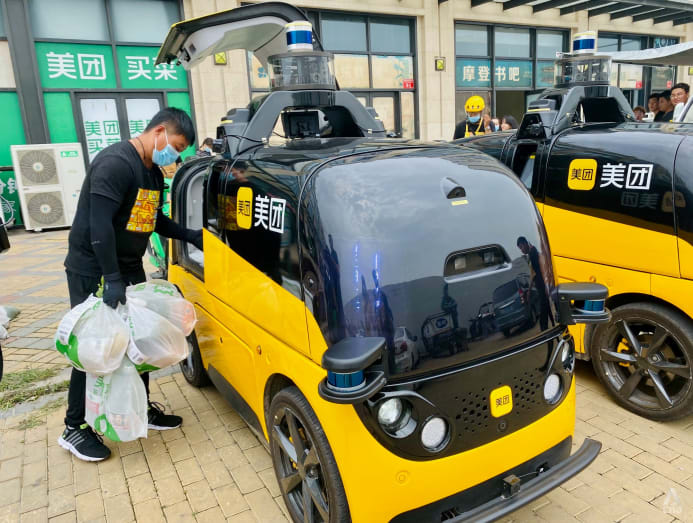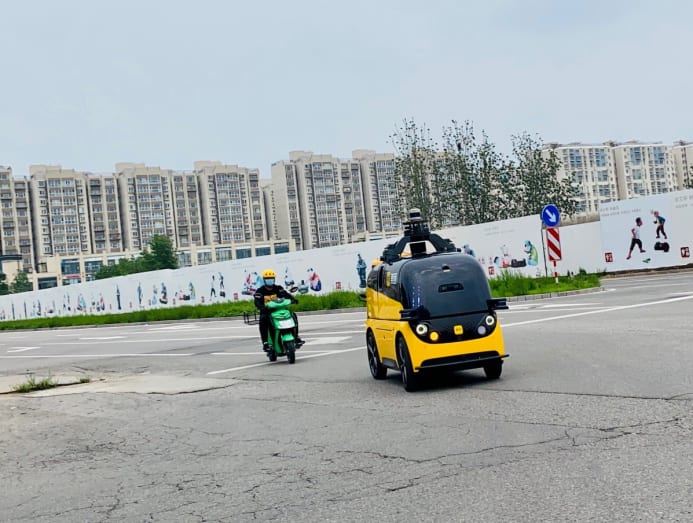 For now though, the driverless vehicles are not allowed on the roads on their own and riders have to make the last mile delivery to customers' doorsteps.
"We are trying to resolve the pain points of the delivery riders," said Mr Han Xiao, the head of operations at Meituan's autonomous delivery unit.
"When it comes to heavy goods or bad weather … or in the future if there's flooding and it's dangerous, we can get the vehicle to make the delivery."
Would such vehicles put delivery riders out of work? For now, no, said Mr Han.
"At the moment, the driverless developments are inseparable from the delivery riders," he said."(The riders) will always bear the responsibility of the last mile to the customers. What we are doing at present and our main responsibility is to let the driverless vehicle take on more of (the load in the) middle portion - in the transportation process."
BEYOND THE TECHNOLOGY
But even with such developments, experts say fully driverless vehicles are still a fair distance away. Part of the challenge is managing the implications for drivers, traffic rules and other regulations.
"It's quite challenging if you were to deploy autonomous driving cars directly on (regular roads) because they are mixed together with the traffic," said Mr Kevin Li, the director of China market research at Strategy Analytics.
Mr Li, who studies the China automotive market, added that implementation is likely to take place in stages - from a controlled environment to public roads.
"I think (public roads) probably will be the final stage for deploying autonomous driving. By that time, the people will know how to interact with them," he added.
"The technology seems fine. It's more of a 'human' problem," 20-year-old undergraduate Zhang Ze told CNA. "When it comes to regulations or traffic rules, or if there's an accident, how will this be handled by the different departments?"
Infrastructure development would also have to keep pace. 
"The signs will need to be changed in a way that allows the (autonomous vehicle's) onboard sensors or lidars to understand how to interact with (the signs)," said Mr Li. The same goes for street lamps and cameras.  
"Also, to help the non-autonomous driving vehicles, current vehicles, to understand how to interact with autonomous driving cars."