Every Sunday, thousands of domestic workers flock to Hong Kong's public squares, parks and whatever open spaces they can find among the city's skyscrapers and towering apartment buildings.
Known as "'helpers" to locals, these groups of mostly Filipina and Indonesian women are the silent core of Hong Kong's US$345 billion economy, with 400,000 providing live-in child care, cooking and cleaning to more than 10 per cent of households before the pandemic.
With the government pushing on with its COVID-zero ambitions, that number has dwindled to 350,000 and is leading residents to reckon with a worsening labour crunch.
For those who remain, about 10 per cent of Hong Kong's entire labour force, it's a chance to demand better pay and conditions for a job that sees them work as many as 16 hours a day, six days a week, for a minimum wage of HK$4,630 (US$590) per month. 
But they face a system historically stacked against them.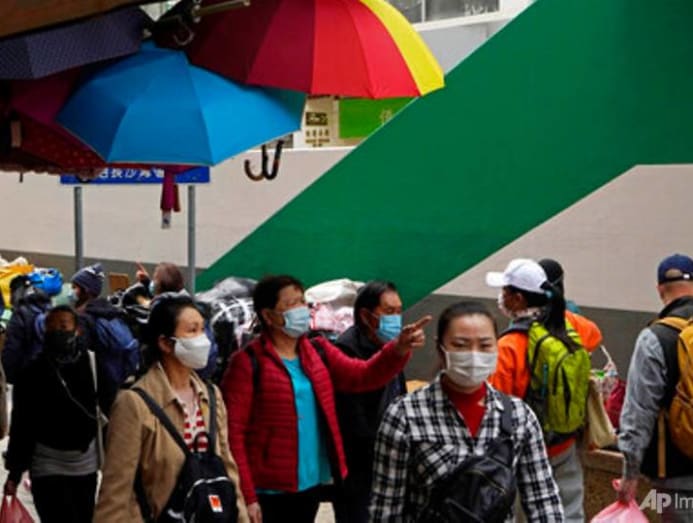 They risk drawing scrutiny from authorities for ending two-year job contracts early, the law dictates they reside with their bosses, and they're denied permanent residency no matter how long they live in Hong Kong.
The workers must also contend with employers who have grown used to a steady supply of low-wage labour under a program that's brought in foreign domestic workers since the early 1970s.
"Many are too afraid to ask for more money because the employers still have power over domestic workers," said Dolores Balladares, a domestic worker and spokeswoman for Asian Migrants Coordinating Body, an advocacy group.
"The fear of losing jobs is inevitable. Asking for a wage increase can be a fuel for contract termination."
At the heart of the helper shortage is a Hong Kong system straining under the pressure of an Omicron outbreak and some of the harshest containment measures in the world.
The city currently bans flights from eight countries, including the Philippines, where the majority of helpers come from. 
Even for those who can make it to Hong Kong, there's a dearth of rooms available to serve the mandatory 21-day quarantine.
The government has designated a total of 11,500 hotel rooms for incoming passengers but approved just 2,138 rooms for helpers after ending a program that allowed them to stay at the main Penny's Bay quarantine centre.
While that will rise by 150 from Feb 1, it's "simply not enough," said Raly Tejada, the Philippines' Consul General in Hong Kong, who has lobbied for more.
A further increase would easily resolve the labour crisis, he said. 
The Labor Department said in a statement to Bloomberg News that it must vigilantly uphold the policy of preventing imported virus cases and the admission of foreign domestic helpers into Hong Kong should be done in a gradual and orderly manner.
The government will consider the global and local coronavirus situation as it weighs providing more designated quarantine facilities, it said. 
The constantly changing system has left some like Mimi Rios Ysulat, who worked in the city as a helper for a decade, stuck overseas without a job. 
She went back to the Philippines early last year after her husband died of cancer in March.
Ysulat was due to return to Hong Kong the following month, but the city enacted a flight ban and then her entry visa expired in June.
She pleaded with her employers to renew it, but a new visa didn't arrive until mid-October, by which point her bosses had terminated her contract. 
It was the second time she'd been caught by restrictions, after being blocked from returning in early 2020 before eventually making her way to Hong Kong via Singapore.
To return again, she'll need to use an employment agency. 
"I can't find work here and I have to take care of three kids," she said from Quezon City.
"But if I apply to go to Hong Kong again, I'd have to pay almost HK$10,000 to the agency. Where can I find the money?"
It's a substantial sum when the minimum wage for foreign domestic helpers is roughly a quarter of the Hong Kong median salary of HK$18,400.
The lack of income reverberates through families that rely on money sent back home, total remittances to the Philippines are about US$30 billion a year, according to the government, and account for roughly 8 per cent of its gross domestic product.
It's also a hit to the typically thriving industry in Hong Kong that matches workers with bosses, with one agency saying the business had dropped to just half of the normal levels.
Karishma Sakhrani, a 41-year-old interior designer seeking someone to take care of her teenage children, says everyone she's spoken to recently has requested a monthly salary of at least HK$6,000.
She's been surprised that some have a list of requirements, including not sharing a room with others, and said she's troubled by stories of workers ending their contracts early to take better-paid jobs in other households.
"I can't judge people for wanting more money, but I think there should be a system," she said.
"Even if you're in a company, you have to work a few years before a raise. You can't just demand higher pay in the middle of the contract."
Domestic workers say they're being singled out for doing what's accepted in other professions. 
"Everybody else in Hong Kong can freely switch jobs, why not us?" said Eni Lestari, a helper, advocate and chair of the International Migrants Alliance.
"The Hong Kong government is promoting modern-day slavery."
The Immigration Department declined to comment beyond referencing a Jan 19 response from Secretary for Security Chris Tang that the department has been "proactively" combatting job-hopping, workers deliberately underperforming so they're fired.
It refers suspicious cases to a special team that considers factors such as the conduct of foreign domestic helpers, records from workers and their former employers and the reasons behind the premature termination of a contract, he said. 
In Hong Kong, both helpers and bosses can end a contract early. 
Authorities rejected 2,833 visa applications last year due to job-hopping, meaning workers can't legally enter or work in the city, up from 319 in 2020.
Even as the growing labour crunch offers a potential rebalancing of power, fear of being labelled a job hopper and having a visa revoked, or of getting stuck outside Hong Kong when fulfilling a requirement to exit and re-enter between contracts, is one of the biggest barriers to seeking out higher salaries.
"They stay because they have no better alternative," said Lestari.