'We don't know if we'll survive': Thailand sex workers left struggling as COVID-19 lockdown drags on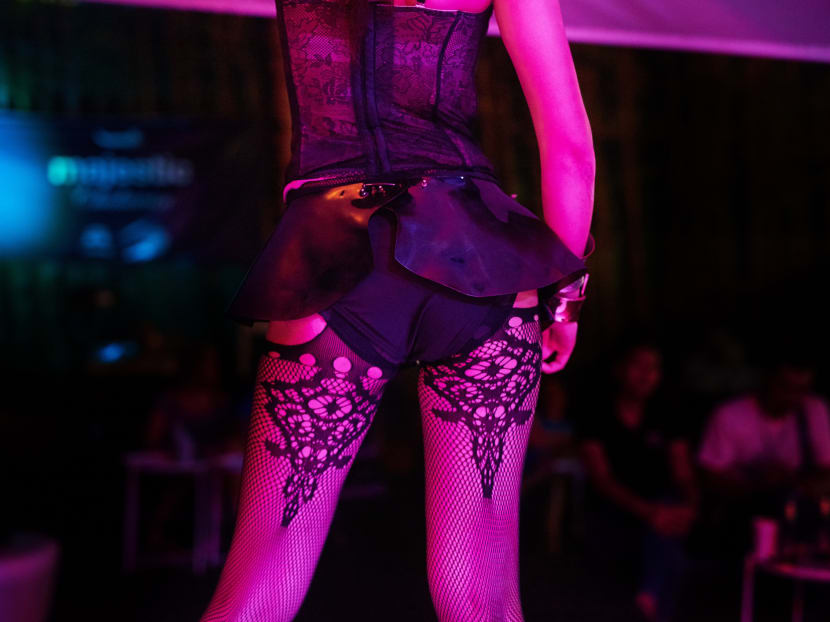 BANGKOK: For Anna, the Walking Street of Pattaya is more than just a famous red-light district. It was her workplace for the past 12 years.
It was here, among the rows of nightclubs, bars and massage parlours, that she and other sex workers welcomed tourists from around the world. Many people have built their lives here and others came to seek a better future.
Today, the Walking Street of Pattaya City in coastal Chonburi is no longer a place of entertainment and opportunities. Night entertainment venues that had provided jobs for many sex workers are shut. There are no bright neon lights at night and no pumping music. Tourists have vanished since last year when the COVID-19 pandemic hit Thailand.
"It's so depressing," said Anna, who is known along the Walking Street by her moniker.
"Nowadays, by 6 pm, Pattaya looks like an abandoned city. There is hardly any sign of life on the Walking Street. This makes me want to cry. This place used to generate income and build the future for so many people."
Anna is among the hundreds of thousands of sex workers in Thailand believed to have lost their main source of income to the health crisis.
According to SWING, a local foundation that works closely with people in the industry to promote their rights and well-being, the pandemic has seriously impacted sex workers.
Many of them worked at night entertainment venues. However, the government has ordered the venues to close several times since last year, believing that they could potentially spread infections.
"Hundreds of thousands of people working as sex workers to support themselves and their families suddenly became jobless. They haven't been taken care of by the state or received any relief money for more than a year now," said Surang Janyam, director of SWING.
"It's hard to imagine how they can survive without any income, given that most of them live on daily earnings."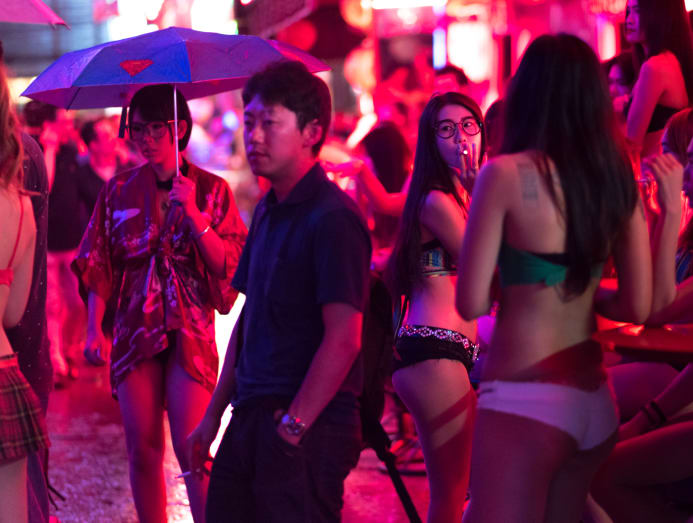 Sex work is illegal in Thailand. Yet, the country has long been known for its thriving red-light districts in popular tourist destinations such as Bangkok, Pattaya and Phuket. 
According to Surang, there are about 200,000 sex workers in Thailand. Many of them have fought for sex work to be legalised, which would guarantee them basic labour protection and welfare enjoyed by other professions. 
"If the state listened to us, sex workers would become legal labour. So when a crisis like this occurs, there would be money from the social security fund to help them," she said.
Most sex workers are not registered in the social security system because of the criminal nature of their job, Surang noted. This means they cannot access social security benefits, including relief money for insured employees who became jobless due to the government's COVID-19 measures.
"We've been pushing for acknowledgment from the state that sex work is work and should be included in the labour law," Surang said.
Thailand's Prevention and Suppression of Prostitution Act of 1996 punishes whoever solicits or introduces themselves for prostitution with up to a 1,000-baht fine (US$30).
Sex workers can also face a jail sentence of up to two years and a fine of 10,000-40,000 baht if they advertise themselves for prostitution to the public by any means.
STARVING AND HOMELESS
Thailand is battling a persistent wave of COVID-19. Its daily new cases surged above 20,000 this month as the highly contagious Delta variant spread across the country. 
Nightclubs and bars have remained shut for several months due to restrictions to control the pandemic. Many provinces with high infection rates such as Bangkok and Chonburi have been placed under curfew between 9pm and 4am, making it even harder for sex workers to find clients.
A number of workers have struggled to survive with no income while still having to pay for food and rent and support their family. 
According to SWING, some of them have to go for days without any food. Many have unavoidably used up their savings over the past year and were forced to borrow money from loan sharks to stay afloat.
"Some sex workers who lost their job and didn't have enough money to pay rent have been locked out of their room and have to sleep on the beach," Anna said, adding they also risk being arrested for violating the curfew.
"So, they have to sleep in pubs and bars that have been shut, lying behind the counters at night, getting bitten by mosquitoes or getting wet when it rains."
These days, she works part-time for SWING and helps to liaise with sex workers who need help.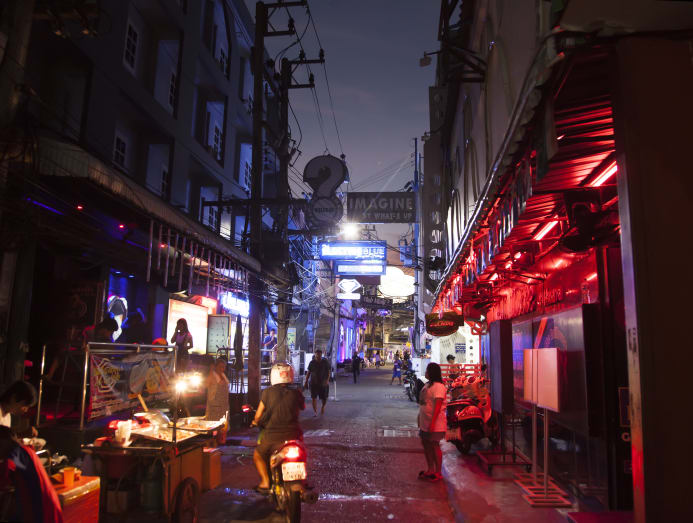 Meanwhile, the Ministry of Social Development and Human Security has offered financial help to low-income families and helpless persons. 
"Each family will receive help worth no more than 3,000 baht, depending on the assessment of social workers or officials who pay a visit to their house for examination," the ministry said in response to CNA's queries on Aug 11. 
"This is offered no more than three times per financial year." 
According to SWING, which has around 8,000 sex workers in its network in Bangkok and Pattaya, only a few of them have received help from the ministry. For those who got assistance, they only received between 1,000 baht and 2,000 baht.
"The Thai government should stop working like a charity. This should be part of their rights and state welfare benefits. To work by giving something as charity is to look down on people's value of life," Surang stated.
"WE DON'T KNOW IF WE'LL SURVIVE"
Since last year, SWING has provided those in need with food, water and medicine. It has also helped sex workers infected with the coronavirus to seek medical treatment.
Its headquarters in Phat Phong – one of the most renowned red-light districts in Bangkok – has transformed into an ad-hoc kitchen, where staff members prepare food handouts three times a week. 
The area, which used to come alive at night with colourful neon lights, entertainers and tourists, is now dark and empty. For Surang, the sight is heart-breaking.
"It's not just the neon lights that went out. So many lives went out too. These lights brought them income," she said. "We have to face the reality that it'll never be the same again."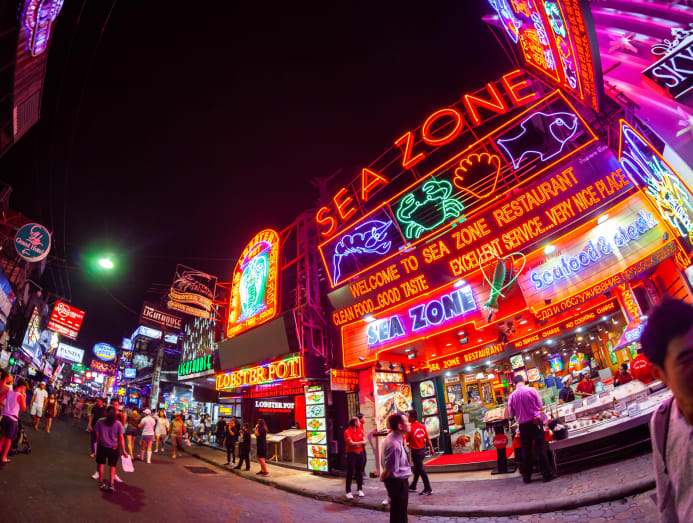 In northern Thailand, Empower Foundation's drop-in centre has been busy providing assistance to both Thai and migrant sex workers affected by COVID-19. 
The foundation has advocated sex workers' rights, education and welfare for more than 30 years and has more than 50,000 members in its network covering different parts of Thailand.
"Sex work helped us survive," said Arsio Laechoe who used to work in a bar in Chiang Mai before it was ordered to shut. 
"Right now, everyone is struggling to find a job, whatever we can do. Some have become shop assistants, waitresses or employees at petrol stations. Others have joined food delivery companies or construction sites. Still, there are those who can't find any job," she added.
Empower Foundation led a group of workers in the night entertainment industry to the Government House in Bangkok on Jun 29 to voice their frustration. They demanded monthly compensation worth 5,000 baht for every worker affected by COVID-19 until the businesses can reopen. 
They also brought with them complaint messages and high-heels belonging to their colleagues who can no longer work at night entertainment venues due to the government's restrictions.
Asked if there has been any response from the government, Mai Junta from Empower Foundation said: "Silence".
"Right now, many people can still fight to survive for a while but if the crisis drags on to next year, we may see what we haven't experienced and never want to," the member of the foundation told CNA. 
"We don't know if we'll survive."