New Mercedes-Benz S-Class ups the luxury stakes, driven by innovation
The new Mercedes-Benz S-Class is packed with groundbreaking automotive advances – a philosophy that's become routine for one of the world's leading luxury saloons. Brought to you by Mercedes-Benz.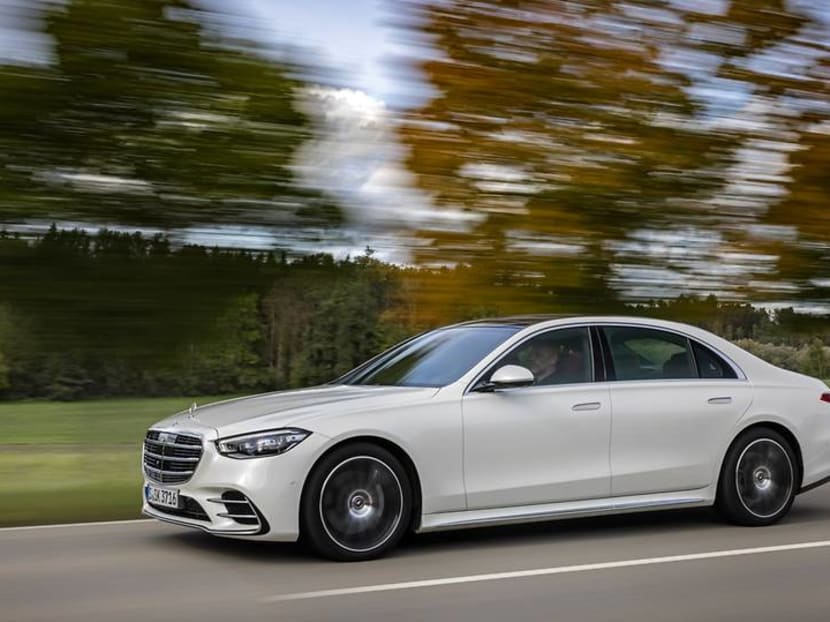 The S-Class is renowned for innovation, especially in the area of safety. For instance, the W116 generation, which was manufactured from 1972 to 1980, became the first mass-production car to offer anti-lock brakes in 1978.
Other S-Class innovations include protective airbags (W126) and ESP Electronic Stability Program (W140). The W220 was produced from 1998 to 2005 and introduced innovations like the DISTRONIC proximity-controlled cruise control system the COMAND control and display system. In 1999, it introduced Active Body Control and the PRE-SAFE preventive occupant protection system in 2002.
But like every S-Class before it, the new Mercedes-Benz flagship brings something new to the table. Occupants can experience automotive luxury with all their senses – sight, touch, sound and smell – while benefitting from numerous innovations in the areas of driver assistance, protection and interaction.
THE S-CLASS, MADE MORE INTUITIVE
The S 450 L 4MATIC, the first new S-Class model to reach our shores, introduces the second-generation MBUX (Mercedes-Benz User Experience) system.
MBUX is more than a way to control the many functions in an S-Class.
Voice control works in tandem with touch controls on a bright new 12.8-inch central OLED display. Overhead cameras enable a new feature: MBUX Interior Assist. This uses machine learning to anticipate occupants' needs and respond to hand and natural body movements.
For example, if the driver reaches over to an unoccupied front passenger seat in the dark, the new S-Class interprets this to mean that the driver might be looking for an item, and switches on an interior light automatically. Withdrawing the hand switches the light off again.
Adjusting a wing mirror? By watching your head movements, the S-Class knows whether to select the left or right mirror for adjustment.
Eye-tracking cameras enable a new 3D driver display for the first time. At the touch of a button, the new assistance display generates a spatial 3D view of the car's surroundings showing information like lane markings and other road users — minus those awkward 3D glasses.
The same system also enables "microsleep warning" by recognising signs of fatigue and severe inattentiveness. It then issues visual and audible warnings to help maintain driver alertness.
SAFETY AND COMFORT, ELEVATED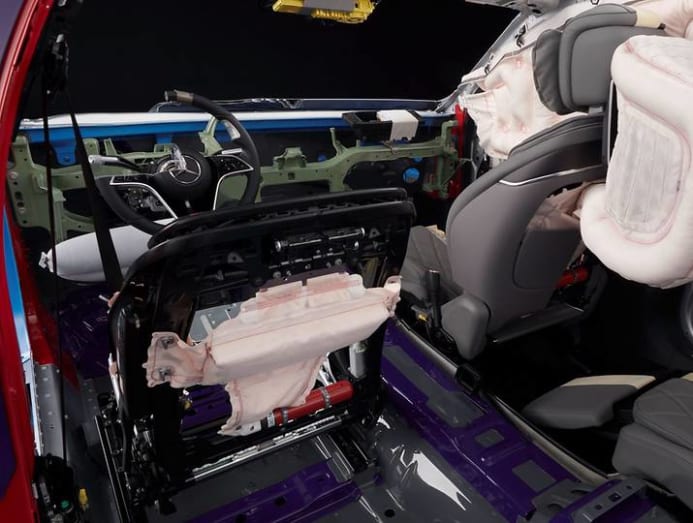 The S-Class has always put occupant safety and comfort front and centre of its engineering, and the new model is no different.
It features the world's first rear airbags, which help to reduce the load on the head and neck of rear passengers in a heavy frontal impact. And because clear visibility and safe driving are intertwined, it is now equipped with DIGITAL LIGHT – new high-resolution headlamps with 2.6 million pixels that adapt to other road users and surroundings – that provides the most precise illumination possible.
As before, the ENERGISING COMFORT programmes for front and rear occupants combine lighting, music, fragrance and massage chair settings for the ultimate in mood enhancement. On a sweltering day, for example, the Freshness programme delivers a short blast of cold air, engages the seat ventilation and activates a soothing massage while the cabin lighting switches to a cooling green-blue and the ioniser fills the cabin with refreshing clean air.
The massage function integrates the car's Burmester 4D sound system. This includes structure-borne sound converters – which Burmester calls Exciters – integrated in the seat. This makes it possible for occupants to feel musical rhythms through their entire body, contributing to a soothing experience.
Interior lighting has also been taken up by another notch – the car's optional active ambient lighting feature adds another layer of light which is integrated into the driving assistance systems to reinforce alerts visually.
Clearly, the whole point of being in the new S-Class is to travel in comfort, not merely to travel.
DRIVING WITH GUARDIAN ANGELS ON BOARD
One sure way to reduce stress is to prevent it in the first place. That's why the S-Class has been engineered to be easy to drive, especially for a car its size. One example: Rear-axle steering provides up to 10 degrees of movement to make the S-Class more agile, especially in tight city traffic.
Active Parking Assist with PARKTRONIC, in conjunction with a 360-degree camera, offers an expanded side view and is now able to slot itself smoothly into marked areas as well as parallel and end-on parking spaces.
In fact, reducing the driver's workload to make things safer and more pleasant is something that seems to be a new S-Class specialty. That's largely because its cameras and many sensors constantly monitor traffic conditions to keep an eye out for danger.
For example, the Active Blind Spot Assist system now looks out for obstructions so it can warn occupants before they exit the car. Evasive Steering Assist helps the driver take evasive action if the S-Class detects pedestrians in front of the car, after the driver initiates avoiding action.
Its new steering wheel with capacitive hands-off detection works with the Driving Assistance package and has slick Touch Control buttons. Sensors detect whether the driver's hands are actually holding the wheel, so it can engage driver-assist and safety systems if needed.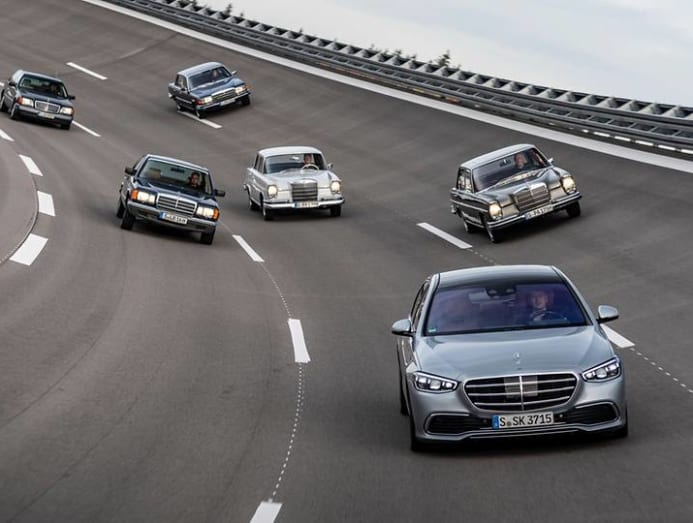 The PRE-SAFE Impulse Side system offers an added layer of protection. If it detects a potential side impact, air chambers in the side bolsters of the front seat backrest are inflated to offer the driver or front passenger additional protection.
These are just some of the abilities that can make it seem as if there are guardian angels onboard the new S-Class, watching for danger so they can alert you or even swoop in with an unseen, helping hand.
Of course, it's purely technological assistance that the new S-Class offers, no matter how otherworldly the rest of the car seems in its ability to pamper occupants.
Combine that dedication to safety with comfort, outstanding agility and timeless elegance, and the new Mercedes-Benz S-Class makes one thing clear: One of the best cars in the world has just gotten better.
Find out more about how the new Mercedes-Benz S-Class' innovations protect drivers and passengers even as it cossets them in greater luxury.
For sales enquiries, please call Cycle & Carriage at 6298 1818 or visit the Mercedes-Benz Center for a test drive today.