Seafood and sake: The elevated pairing you never knew
Surf meets turf in the form of sake, and this duo is stirring up an haute cuisine storm at top restaurants in Singapore.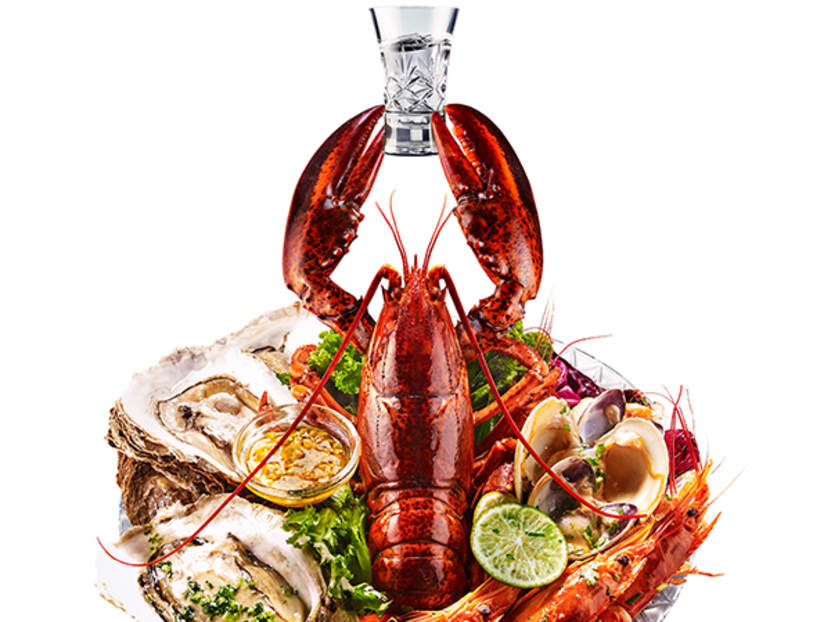 Singapore's vibrant food landscape has benefited greatly from the meeting of great chefs and traditions. Not only does it invite the invention of new menus, but the opportunities to find new pairings can give rise to an entire realm of discovery.
Long reserved for Japanese cuisine, the diminutive cup of sake has been guarding a flavour gateway little known beyond the island. As it turns out, the spirit is a super partner to seafood.
With plenty of amino acids in each sip, sake brings out that most desirable yet elusive of flavour profiles – umami – with every bite of fresh seafood you take. And when the inosinic acid in the food meets the glutamic acid in the drink, flavours become bolder and more defined.
From Oct 1 to Nov 30, experience this exquisite meeting of seafood and sake at renowned restaurants in Singapore. JFOODO, a newly-formed organisation within Japan External Trade Organization, is working with epicurean superstars to offer a pairing menu available exclusively during its "Seafood Loves Sake" Restaurant Campaign. Expect outstanding seafood entrees paired with exceptional sake flown in from different prefectures of Japan.
Beni
Chef Kenji Yamanaka's reinterpretation of French cuisine has won diners over at his intimate chef's table experience at Beni, and for the campaign, his finesse is clear.
Homemade ravioli plump with sea urchin is topped with Antonius oscietra caviar from Poland. A Mutsu Hassen Hanaomoi 40, ripe with pear and apples, has been chosen to elegantly embrace the entire dish. Beni's signature scallop, with its delicate profile, is matched with ZAKU Kanade No Tomo, which boasts great acidity and refreshing whiffs of pineapple and melon.
BURNT ENDS
The rambunctious modern Australian barbecue outing in Chinatown is helmed by Perth-born chef Dave Pynt, who works the custom-made grills and ovens in the open kitchen with panache.
He has chosen the acidic ZAKU Gen No Tomo to slice through his meaty kingfish collar, cooked with miso and lemongrass, and accompanied by small sides. The hearty flavours are relieved by the refreshing sake – just so you can enjoy more of that fish.
CURATE
One can't miss the showy entrance at CURATE, and its flair for theatrics has won the restaurant Best Dining Experience at the Singapore Tourism Awards last year.
Find its glazed Hokkaido scallop sitting under a trio of pork terrine, sauerkraut consomme and parsley oil brought to a bubbly finish with the award-winning John Sparkling IWC Trophy 2016. Looking picture-perfect is the pan-seared pike perch with verdant dots of smoke beurre blanc sauce and Le Puy lentils. It's paired with a bright Tatenokawa Seiryu, chosen for its luminous body that lifts the firm fish.
FOC RESTAURANT
FOC Restaurant delivers plenty of Barcelona's passionate cuisine via its culinary director Jordi Noguera. Hailing from a family of chefs stretching back six decades, Noguera is all about bringing authentic Spanish and Catalan fare to his growing fan base, and layering a refined treatment to his dishes.
His prawn, scallop and sweet potato ravioli is supported by the crisp Sanzen Daiginjo  that adds bite to the smooth and meaty trio. Then, there's the smoky grilled Galician octopus and pork belly skewer that goes down perfectly with the dry Hatsukame Tokubetsu Junmai Homarefuji. But the ultimate sea-meets-sake combo has to be the squid ink paella and Shimazaki Junmai Yamahai Uroko. Robust with seafood flavours, the signature dish is balanced delightfully with the aged and nutty sake.
IGGY'S
The legendary Iggy's needs no introduction. A seasonal menu rotates in this elegant and intimate restaurant, and owner Ignatius Chan does double-duty as its sommelier.
Hokkaido scallop tartare is paired with the extra-dry Kinryo Junmai Yamahai, accompanied by flourishes of the earthy and savoury from the Bafun uni, oscietra caviar and coriander oil. Dancing with colours is the grilled amadai, a glistening smoky cut next to an emerald roll of cabbage-wrapped luffa in seaweed-butter sauce. The rich Hideyoshi Junmai Daiginjo holds its own in the pairing, with sweet flavours of citrus aromatics and tropical fruits.
MORSELS
Chef Petrina's Morsels at Dempsey plays the rustic card with a barnyard-style vibe.
Bi-valve lovers will enjoy the oyster paired with the lively Mutsu Hassen Pink Label. The sake's acidity endears itself to the fruity inclusion of mangosteen shrub and berry jam in the starter. For mains, the umami experience is best exemplified by the aged wild NZ tarakihi and Hanahato Kijoshu aged eight years. A savoury sip seals the deal from the generous flavours delivered by the red wine lees sauce and a touch of burnt smokiness from the fish on the plancha.
NOURI
Already an ambassador celebrating global food culture, chef Ivan Brehm joined Heston Blumenthal in his Experimental Kitchen at The Fat Duck for four years before leading The Kitchen at Bacchanalia to its first Michelin Star in 2016. Nouri celebrates his love for the eclectic, and delivers an outstanding menu that is at once novel yet familiar.
Boosting his sprightly offering of a parsley and hazelnut fish is the Kamoizumi Aged Junmai Ginjo Sachi 1997 – a wonderfully nutty complement. For the scallop coconut, he's chosen the fragrant Keigetsu Cel24 Junmai Daiginjo 50 to match the herbaceous and floral dish. Fans of pepper crab can try his take paired with the Shimazaki Junmai Yamahai Uroko that softens the rich flavours with its fermented acidity.
PRELUDIO
Moving through dining chapters every 12 to 18 months, chef Fernando Arevalo tells his growth through compelling cuisine stories. The unconventional approach comes from his career in Michelin-starred kitchens with the likes of Daniel Boulud inspiring his creative talent.
At Preludio, the chef pairs monkfish with Kamoizumi Aged Junmai Ginjo Sachi 1997. A stack of truffle slivers floats on the cloud of fish and sits in a sauce with a touch of vin jaune to meld it with the fascinating sake. Adding a tropical element to his sweet obsiblue prawn is the Keigetsu Cel24 Junmai Daiginjo 50. The juicy pineapple notes complement the fresh mangosteen in this dish perfectly.
PUNJAB GRILL
A modern-day Maharajah would fit right in at Punjab Grill. The chic restaurant helmed by corporate chef Javed Ahamad may steal your gaze, but his take on traditional Indian dishes also enjoys a contemporary twist that finds itself geared for the Singapore palate.
With the bevy of aromatic spices in his menu, he has chosen the Uzume Tokubetsu Junami to pair with chargrilled basil and mustard barrumundi fish tikka, and the Kinryo Junmai Yamahai to go with his pan-seared tellicherry pepper prawn. The cultural meeting of flavours is a dance on the palate, finished with clean, fragrant notes. The tandoori barramundi fish tikka also delights, especially when the light and smooth Sanzen Junmai Daiginjo lifts the light fragrance of the spiced fish.
RESTAURANT JAG
With a selection of 40 indigenous herbs curated and flown in from Savoie, France, chef Jeremy Gillon introduces the flavours inspired by the mountainside to the one-Michelin-star Restaurant Jag. Every dish is born from the traits of an herb, and is usually paired with a selection of over 230 wines.
But just for the festival, you'll find sake coming to the fore. For his verveine, carrot and goose barnacle, the nutty Kamoizumi Aged Junmai Ginjo Sachi 1997 complements the salinity of the protein and earthiness of the vegetable perfectly. For his sea urchin, Gillon's brought in fresh Savoie juniper to lift the seafood, then matched it with a sweet Mutsu Hassen Hanaomoi 40 for that elegant finish.
WHITEGRASS
Head chef Takuya Yamashita is all about delivering the essence of his ingredients to its full potential, fulfilling the principle of la cuisine naturelle.
A steak of vinegared mackerel is brought to life with fennel and Fuji apple, and the accompanying ALPHA Kaze no Mori TYPE 3 sake lends the dish a light herbaceous sweetness. In his other pairing, the Hanahato Kijoshu aged eight years plays a condiment role to the Hokkaido crab – an audacious execution featuring hand-pulled somen from Nara.
ZEN
Sister restaurant to the three-star Michelin Frantzen in Stockholm, the big shoes are easily filled by the talented Tristin Farmer. The Scottish chef steers Zen with Bjorn Frantzen and Marcus Jernmark to deliver some stunning interpretations of Nordic and Japanese cuisine. 
Begin your sake adventure with pork belly dashi chawanmushi and Tamagawa Junmaishu Vintage. The sake works well with the meat stock and presents nutty notes that magnify the golden Osetra caviar. Or go sparkling with the Tosa Brewing Company John Sparkling IWC Trophy 2016, this time joined by Norwegian scallop and bafun uni crudo. With such a refined dish, the journey is enhanced at all stages by the spirit, pulling savoury with its melon tones before moving into citrus with the sweet seafood and finishing with a crisp, dry verve and effervescence.
This epicurean opus featuring some of the island's most acclaimed chefs celebrates the stellar coupling of seafood with sake. Visit the JFOODO website to find out more.