Commentary: Could inflation end the US-China trade war?
Inflation is hurting Americans. Withdrawing Donald Trump's tariffs on China imports might look like an easy move, but it's not a straightforward decision for Joe Biden, says Charles Hankla.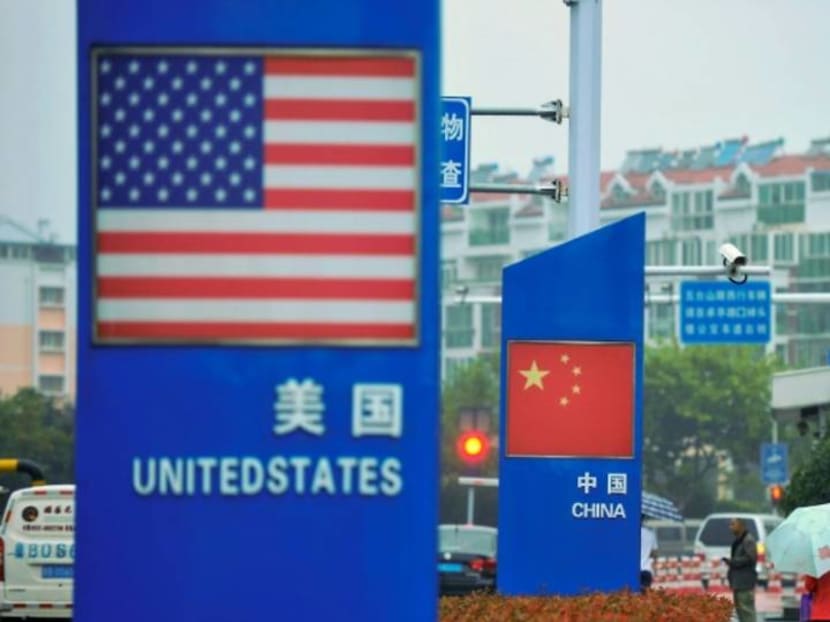 ATLANTA, Georgia: With rising prices hurting Americans on everything from gas to groceries, some think there's one easy action the United States government can take to ease the pressure – withdraw former president Donald Trump's China tariffs.
Inflation has shot up to an estimated 8.5 per cent annualised rate in March – the highest level seen in the US since the infamous "stagflation" of the 1970s.  
Economists attribute the spike to a mix of several coincident factors on both the demand and supply sides. First, pandemic relief, the recovering job market, record demand for labour and growth in the value of real estate have all contributed to a rapid increase in US aggregate demand.
At the same time, Russia's invasion of Ukraine and the consequent sanctions have reduced the supply and driven up the cost of energy and food. And this is exacerbated by pandemic-induced bottlenecks, loose monetary policy and ageing infrastructure, among other issues.
Whatever their cause, higher prices have put the US government in a bind. By most economic indicators, the American economy is simply booming, but these successes are offset, politically at least, by rampant inflation. 
President Joe Biden said in May that he "can taste" the frustration of the American people.  He clearly knows that he must do something about inflation before the November midterm elections, or Democrats risk losing control of the House and Senate.
Why hasn't Biden – who criticised Trump-era tariffs during his presidential campaign – jumped at the chance to ease both tariffs and inflation?
WOULD REMOVING CHINA TARIFFS REDUCE INFLATION?
Because of the trade war, tariffs on imports from China are six times higher than before 2018, covering roughly US$335 billion of trade from diapers and eggs to metals and machinery. 
Ending Trump's tariffs on China appears to be an obvious – and easy – way to cool rising domestic prices. Price increases due to tariffs tend to be passed on to consumers. And with the tariffs covering almost two-thirds of US imports from China, the increases are likely to compound through the supply chain.
Doing so would ease the supply crunch and, according to a recent study, could reduce inflation by 1.3 percentage points.
Biden has said that he would consider dropping some of the tariffs to help control rising consumer prices. Indeed, the US government has recently launched a study of the China tariffs, some of which will automatically expire over the summer, and Treasury Secretary Janet Yellen has said that their inflationary effect will be part of the discussion.  
But US Trade Representative Katherine Tai has shown some reluctance to end the tariffs, fearing a loss of leverage over China. She seems to fear that if the US unilaterally reduces or eliminates the tariffs, China will have little incentive to cede any concessions in future trade negotiations.
Of course, fighting inflation isn't straightforward. Every tool the government could use comes with a cost.
The Federal Reserve has started raising interest rates and projects further hikes in quick succession this year. Such a policy risks weakening growth and sending the economy into recession. Given the unique role of the dollar in international transactions, a rapid tightening of US monetary policy could have deleterious consequences outside the United States, as happened during the 1980s debt crisis.  
Even if Biden wanted to hike interest rates any faster or higher, he has little policy leverage to force the Federal Reserve's hand. But China tariffs are within Biden's power to rescind unilaterally. The measures were implemented by executive order under the 1962 and 1974 Trade Acts.
TRADE IS ALWAYS POLITICAL
The critical factor in Biden's tariff calculations is surely the politics ⁠– both domestic and international.  
Domestically, Biden must balance his desire to curb inflation with the need to win over working-class voters, labour unions, some manufacturers and "rust belt" states ⁠– constituencies that often favoured the Trump tariffs as the best chance to preserve US competitiveness in their industries. An April poll by a Washington think-tank showed that 71 per cent of respondents indicated support for the trade war tariffs. 
Internationally, the US faces more challenges in removing the tariffs. There are ongoing complaints about China's economic policies, including that it has manipulated the yuan and overlooked or encouraged intellectual property theft. American policymakers are also increasingly nervous about China's growing international influence through the Belt and Road Initiative, the Asian Infrastructure Development Bank and other initiatives.
Then there are the US concerns about China's human rights record and its security policy. Such concerns include, of course, Beijing's aggressive tone towards Taiwan and tightening grip on Hong Kong, as well as its behaviour in the South China Sea and towards the Uyghurs in Xinjiang.  
Backtracking on the tariffs could be seen as condoning China's actions and might risk reducing America's credibility in its future critiques of Beijing.
CHINA, RUSSIA, AND UKRAINE
The war in Ukraine has not made things easier for the Biden Administration. In a way, inflation has some hallmarks of a self-inflicted wound: America's support for energy sanctions against Russia is, of course, one of the key causes of rising prices.  
More than that, China's unwillingness to condemn its Russian ally complicates any potential US initiative to offset inflation by dropping Trump's tariffs. It might look like the US is going "soft" on China at a time when Beijing is seen as the closest to Moscow.
It is clear why Russia needs China, especially at this moment. Putin is surely looking to its southern neighbour as a market for exports and a source of imports that can operate outside the sanctions regime.
Indeed, trade between the two countries has jumped 28 per cent in 2022 over last year. China could also provide financial and military support to Russia, though there is no clear evidence that it has done so yet.  
The harder question is what Beijing expects to receive in return. Will a new alliance be forged between Russia and China, one that will challenge the ongoing dominance of the United States and its allies?
Surely this is Putin's hope, but Xi seems more cautious. Despite its geographic scale and nuclear weapons, Russia is by most measures no longer a first-tier power. Bucking the global condemnation of Moscow is risky for Beijing, which is surely the reason that Xi has yet to "go all-in" with Putin.  
That said, backing Russia fits into China's ongoing efforts to assert its independence from the rules of the international system, and, more concretely, it may also pay dividends for energy access – something China is grappling with after the power crunch last winter.
WHAT'S NEXT FOR JOE BIDEN?
So it is against this global and domestic political backdrop, not just the backdrop of high inflation, that Biden must consider whether to withdraw or reduce the Trump tariffs. Without a big policy "win", taking action on tariffs would be politically costly for Democrats and could provide Republicans with a cudgel during the upcoming midterms.
So, while slashing tariffs might ease Biden's greatest vulnerability – rising prices – right now, it could just create a whole new conundrum. With that in mind, what's next?
The administration has already started an extensive review of the tariffs. It could identify tariffs of limited utility – those with an especially problematic impact on prices, little backing from unions and producers, or which otherwise serve no strategic purpose – and eliminate them, or at least allow them to expire.
For example, a White House advisor suggested in April that tariffs could be lowered on non-strategic goods like bicycles and clothing. 
But the chances that Biden will withdraw all the tariffs at once are close to nil. We can be sure that Trump's legacy on China trade is not going away any time soon.
Charles R Hankla is an Associate Professor of Political Science at Georgia State University in Atlanta.