commentary Commentary
Commentary: Johor-Singapore tolls and the impact on commuters on both sides of the Causeway
The removal of the Eastern Dispersal Link toll is a welcome move for commuters who have seen new fees, charges and tolls over recent years, says Segi Enam Advisors' Khor Yu Leng.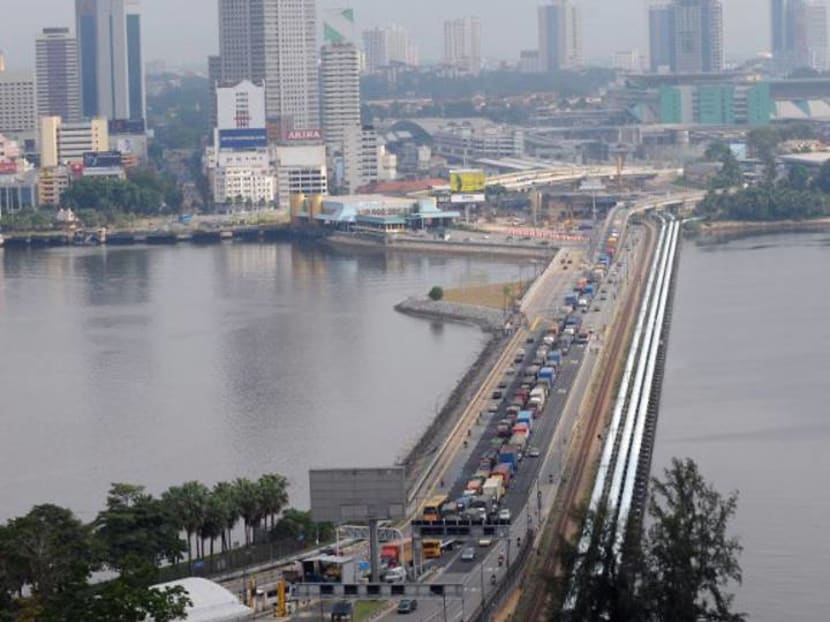 SINGAPORE: Malaysian Prime Minister Najib Razak announced last week that Malaysia will scrap the highway toll at the Johor Causeway for the Eastern Dispersal Link. It will no longer charge this fee from Jan 1, 2018 onwards.
This piece of news has generated great interest to populace on both sides of the Causeway, if only because so many cross the border each day.
Johor authorities reported an average of about 296,000 daily pedestrians in 2015 traveling to and fro across the Causeway and Second Link. This figure excludes those travelling on motorcycles, cars, vans, lorries and buses.
The data is a bit patchy, but reports point to 126,000 vehicles daily, including 4,000 trucks and lorries entering Singapore, on the kilometre-long Causeway alone, and the Second Link has capacity for 200,000 vehicles per day. The motorcycles registered for an auto-clearance crossing number some 100,000 and most would likely use the Causeway.
What these data points suggest is about a quarter million commuters make the land journey between the two countries each day.
Compare this with the US-Mexico San Ysidro border crossing that connects San Diego and Tijuana, which has 50,000 cars and 25,000 pedestrians entering the US daily.
While it may be faster to cross San Ysidro, which is often thought of as the busiest land crossing in the world, the statistics suggest that the Causeway and Second Link have it beat.
THE DAILY COMMUTER AND THE WEEKEND VISITORS
Many on a daily commute are Malaysians seeking higher paying jobs in Singapore.
To earn incomes that can be three times higher than if they worked in Johor, hundreds of thousands of Malaysians make daily commutes that can last up to three to four hours in total both ways across the congested Causeway and Second Link bridges.
This includes additional 60-minute wait times at immigration in recent years, as detailed by widespread anecdotes.
Adding to the massive commuting traffic are Singaporeans whose strong currency goes a long way in Johor. Weekend and holiday car traffic unleash thousands eager for shopping, foot massages and a car wash.
No surprise then that some Johor workers in Singapore say they don't bother to return home until late every Friday night.
Despite the grumbles over the hassle of complying with Malaysia's Vehicle Entry Permit (VEP) scheme that began in July 2015, requiring all foreign-registered vehicles entering Johor to hold a permit that now costs RM25 (S$8), by November 2016, the scheme was reported to have already registered 200,000 Singapore cars.
For all the complaints on higher crossing fees and talk about reducing trips, Johor experts report no impact on traffic and mall owners seem to agree. It seems Singapore drivers get used to paying a bit more within a month or two, and things are "business as usual" for those catering to these customers.
Property gurus point to more attractive offerings by new retail outlets in Johor including a new Aeon in September, IKEA and Paradigm Mall in November and Mid-Valley at South Quay tempering complaints about the extra fees.
Johor observers think the increase in Malaysia's VEP rates 2016 is not a significant cost in the grand scheme of things. 
But one thing is clear – the costs of crossing the border has steadily risen since 2014 with the addition of the EDL toll and the increase in road charges for foreign cars on both sides.
WHO BEARS THESE COSTS?
Malaysians say things are to the relative benefit of Singaporeans.
Before the announcement that the EDL toll would be removed, Johor's Senai State Assemblywoman Wong Shu Qi had said that this "toll hike competition" has led more Johor workers to use motorbikes. "Singapore cars pay RM56.80 round trip while a Malaysian car pays RM165.80," she said. Think also of the cost of having a family dinner in Johor versus Singapore.
Johor residents however point to a segment of Malaysians who work in Singapore and drive Singapore-registered vehicles as the ones bearing the greater cost increase of about RM400 per month (RM20 road charge for 20 work days).
Many can afford this, and others defray costs by carpooling to their Singapore jobs instead.
As the extra charges appear to be largely borne by a relatively small segment of well-off Johor residents, there is limited sympathy in Johor and negative sentiments for those who drive Singapore registered cars.
Assemblywoman Wong once said: "Many locals reckon that Singapore vehicles that are driven rudely and recklessly in Johor are actually driven by Malaysians with Singapore permanent residency who are proud of owning a Singapore-registered car."
Perhaps the ones to sympathise with are the 100,000 motorcyclists who have to endure stressful daily commutes. While they do not face higher charges, fights arising from the frustration of waiting and having to deal with congested peak hour traffic are not uncommon.
According to one Johor resident I spoke to: "Many have added spikes to their motorbikes. The police have gotten good at breaking up the fights, and they don't arrest them."
So while Singapore shoppers may shrug off rising charges, and the better-off Johor commuters receive no sympathy, other Johor residents face motorcycle angst or have to turn to carpooling as a solution.
This is exacerbated by the long-term decline of the Malaysian Ringgit against the Singapore dollar, which has driven even more to seek jobs in the island state.
So the scrapping of the EDL toll, while a seemingly small amount, will certainly be welcomed by all motorists.
But more importantly, travellers wishing for a reprieve from the heavy road traffic are watching and waiting for the completion of the Rapid Transit System currently under construction.
Khor Yu Leng is a political economist at Segi Enam Advisors.