Commentary: Hong Kong's zero-COVID policy an opportunity for Singapore to become Asia's leading international air hub
Changi Airport and Singapore Airlines could potentially benefit from the challenges faced by Hong Kong International Airport and Cathay Pacific due to Hong Kong's strict zero-COVID policy, writes aviation analyst Brendan Sobie.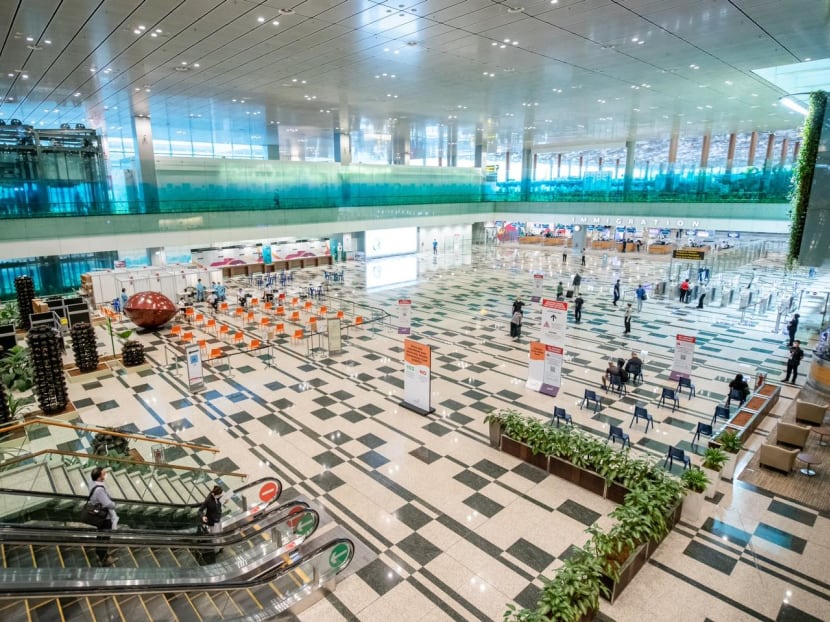 SINGAPORE: The pandemic has had a decimating impact on international hub airports with Asia Pacific particularly hard hit due to border closures and travel restrictions.
Changi Airport handled only 3.05 million passengers in 2021, or 4.5 per cent of the 68.3 million passengers handled in 2019.
Changi has slipped completely out of the rankings of top airports globally after having ranked seventh in 2019 for international passenger traffic and eighteenth for total passenger traffic.
Changi is hardly alone as all Asia-Pacific airports have slipped out of the top 20 international rankings. 
Airports outside Asia have done much better, having benefited from a much earlier and broader reopening of their regions and neighbouring regions. Amsterdam, Dubai and Istanbul each handled over 25 million international passengers last year.
However, Changi has performed better during the pandemic than most of its peers in Asia.
It handled more international passengers in 2021 than five of the other six main international hub airports in Asia – Bangkok Suvarnabhumi, Hong Kong International (HKIA), Kuala Lumpur International (KLIA), Taipei Taoyuan and Tokyo Narita.
Seoul Incheon, which handled 3.19 million international passengers or 4.5 per cent of the 70.6 million it handled in 2019 – therefore matching Changi's 4.5 per cent recovery rate – was the other exception.
HONG KONG IS CHANGI'S BIGGEST COMPETITOR
Changi's biggest rival is arguably HKIA given they have nearly identical profiles – they do not have domestic markets and are major financial centres.
The two also have similar traffic breakdowns in terms of inbound (roughly 40 per cent), outbound (30 per cent) and transit (roughly 30 per cent).
Both also have been investing in the future with third runways and new or expanded terminals to support growth over the next few decades.
HKIA was slightly bigger than Changi prior to the pandemic, handling 71.5 million passengers in 2019.
Since the start of the pandemic Changi has handled about twice as many passengers as HKIA. This gap widened significantly after Singapore started reopening with vaccinated travel lanes (VTLs).
Singapore currently permits quarantine free travel from 27 countries through VTLs while seven to 10 days home quarantine options are available for about another 60 countries.
The VTL scheme has boosted passenger traffic, which reached 7 per cent of pre-COVID levels in November 2021 and 13 per cent in December 2021 (compared to November 2019 and December 2019).
Meanwhile, Hong Kong has kept its borders shut and is currently requiring 14 days of hotel quarantine for all travellers as part of its zero-COVID strategy.
HKIA's passenger traffic was at 2 per cent of pre-COVID levels in November 2021 and 3 per cent in December 2021; for the full year it was at only 1.9 per cent compared to the 4.5 per cent for Changi.
WILL GAP BETWEEN SINGAPORE AND HONG KONG WIDEN FURTHER?
Changi's monthly traffic is expected to decline in the first two or three months of 2022 due to restrictions imposed since the emergence of Omicron, including a 50 per cent reduction in Singapore's VTL quota.
But this decline will likely be relatively modest as the original VTL quota was not being fully used and Changi continues to handle non-VTL traffic including transit.
Meanwhile, HKIA passenger traffic will decline from an already very low base due to new restrictions as Hong Kong tries to clamp down on Omicron.
The city introduced new crew quarantine restrictions at the end of December and earlier this month banned transit passengers from 153 countries, including Singapore.
Both measures have significantly impacted Cathay Pacific and Hong Kong's hub status.
Cathay Pacific Group's passenger capacity is currently at about 2 per cent of pre-COVID levels, compared to 11 per cent in December 2021, and is expected to stay at this extremely low level until crew quarantine requirements, unique to Hong Kong, are eased.
Cathay Pacific Group passenger numbers were already very low, at 3 per cent of pre-COVID levels in December 2021 compared to 17 per cent for SIA Group.
SIA Group continues to increase passenger capacity, which is currently at about 50 per cent of pre-COVID levels, despite Omicron.
This is indication that SIA is hopeful demand will be on the upswing as international travel restrictions are eased – with Hong Kong and China being notable exceptions.
Even if Hong Kong eases its crew quarantine restrictions in the coming months, demand for air travel will continue to be a tiny fraction of pre-COVID levels until Hong Kong drops its zero-COVID strategy and starts to reopen but there are no indications this will occur this year.
CAN CARGO UPLIFT CATHAY?
Cathay Pacific may therefore carry even less passengers in 2022 than 2021.
Cathay Pacific Group carried only 700,000 passengers in 2021, including 92,000 in December, while SIA Group carried 2.1 million passengers in 2021, including 596,000 in December.
Cathay Pacific also faces a challenging year for its cargo operation, which has been a lifesaver during the pandemic, enabling the group to be cash positive in the fourth quarter of 2021 despite very weak passenger demand.
Cathay Pacific has had to slash cargo capacity this month to about 20 per cent of pre-COVID levels due to new quarantine requirements for crew of cargo flights.
Cathay Pacific is planning to add back about 5 per cent of cargo capacity by increasing crew resources and introducing mitigation measures, but it will still not be able to operate at even half the level it was in late 2021.
In terms of cargo volume or tonnes carried, Cathay Pacific was at 76 per cent pre-COVID levels in December 2021 while SIA was at 90 per cent (compared to December 2019).
Changi's overall cargo traffic was 5 per cent above pre-COVID levels in December 2021; for the year Changi handled 1.95 million tonnes, a decrease of only 3 per cent compared to 2.01 million tonnes in 2019.
COMPETITION FOR CARGO WILL HEAT UP
Changi could benefit from a cargo traffic decline in Hong Kong due to the crew restrictions.
HKIA has been a significantly larger cargo hub than Changi traditionally, handling 4.81 million tonnes or more than double Changi's throughput in 2019.
HKIA was the world's largest cargo airport in 2019 while Changi was the fifteenth largest.
HKIA has been able to maintain this distinction, handling 5.03 million tonnes of cargo in 2021 or 4 per cent more than 2019, including 477,000 in December 2021 or 6 per cent more than December 2019.
Singapore in terms of air cargo is not about to overtake Hong Kong, which has the advantage of being at the doorstep of mainland China and closer to North America.
However, Changi can close the gap as it invests in expanding its cargo capabilities and tries to diversify in the post-pandemic era.
Overtaking Hong Kong in terms of passenger traffic is a feasible scenario for Changi.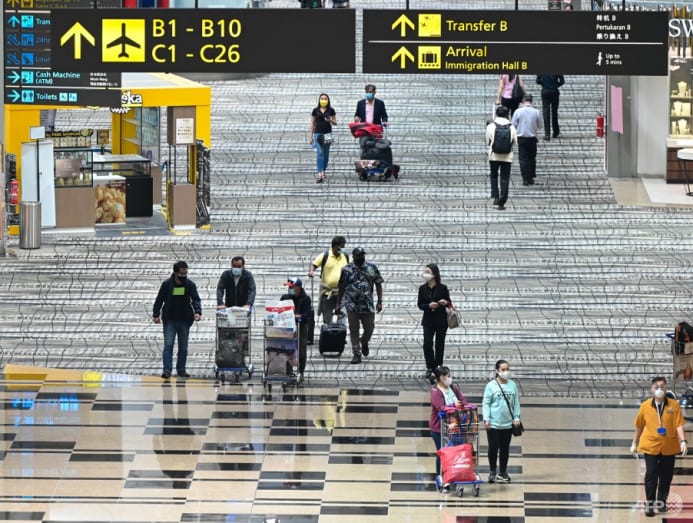 It is too early to say if there will be permanent implications from Hong Kong's prolonged zero-COVID strategy, but this is a concern for Cathay Pacific, HKIA and Hong Kong's aviation industry.
The longer Hong Kong maintains the current policies and restrictions the harder it will be to recover its hub status.
This is not only about the current restrictions, but the potential broader impact as expatriates decide to leave Hong Kong and multinational companies reduce their presence or move out entirely.
Singapore, which also has experienced a significant reduction in the expatriate population so far during the pandemic, could potentially attract some of Hong Kong's expatriates or companies and permanently benefit from an air hub as well as financial centre perspective.
However, Singapore may need to accelerate its reopening and become more appealing as a destination and place to work in the post-pandemic environment.
By these metrics, Singapore has been falling behind rival cities in other regions such as Dubai.
While Singapore has a golden opportunity to benefit from the current situation in Hong Kong and become the leading Asian hub, the window for seizing this opportunity could be short and the outcome is hardly certain.
Brendan Sobie is the founder of Singapore-based independent aviation consulting and analysis firm Sobie Aviation. He was previously chief analyst for CAPA - Centre for Aviation.