Commentary: Hong Kong's travel restrictions are destroying its airport's competitive edge
Hong Kong's refusal to lift travel restrictions as part of its zero-COVID approach is making its airport less financially attractive to many airlines, says the Financial Times' Primrose Riordan.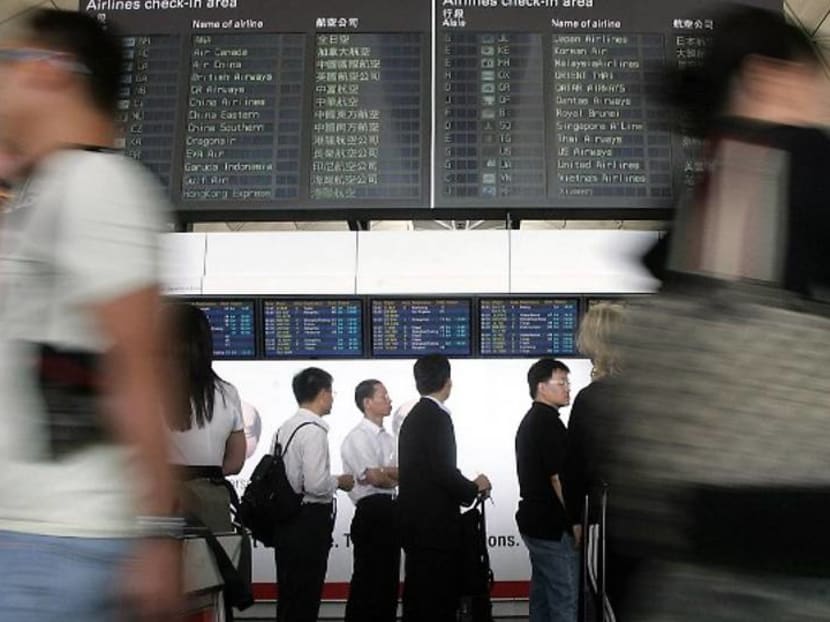 LONDON: Hong Kong's airport has been a spooky place through much of the pandemic as traveller numbers have dwindled, leaving cavernous arrival halls devoid of their usual bustle.
The rest of the world is now opening up to international travel but in Hong Kong, which has some of the toughest COVID-19 quarantines in the world, the airport remains largely empty of incoming passengers.
The city has for many years claimed the title of the busiest airport in Asia and is set up as a vital air bridge to the rest of the Asia Pacific for those coming from Europe, and a passage for business travellers into south China, the country's economic nucleus.
But last Tuesday, when leader Carrie Lam said that the ban on flights from nine countries would stay until at least April 20, a now-unremarkable trickle of 229 passengers arrived, down from the typical tens of thousands daily before the pandemic.
IS HONG KONG STILL FINANCIALLY ATTRACTIVE?
The local government says that the isolation is necessary as it races to control an Omicron outbreak and keep the city in line with Beijing's zero-COVID policy, but airline bosses in Asia said that the measures are not only having a disastrous impact on business.
"A lot of airlines are thinking very hard about the future for Hong Kong — do we still need to fly to Hong Kong?" a North American airline executive said, adding that it was becoming "career suicide" to continue to advocate their head office for flights to be sent to the Asian financial hub.
"I'm quite worried Singapore will replace Hong Kong not just as a financial centre but also as an aviation centre," the executive said, pointing to Singapore Airlines' move late last year to add new routes, including to Vancouver and Seattle.
Singapore's Changi Airport and Seoul's Incheon International Airport have overtaken Hong Kong in terms of traffic, and many airlines, including Lufthansa, British Airways and Air France, have paused direct flights to Hong Kong altogether. 
The situation could worsen because of the war in Ukraine. Finnair said, over the weekend, that it could be economically unviable to continue to fly to Asia.
Hong Kong's travel market first hit a hurdle in 2019 when the city was engulfed by pro-democracy protests, which at one stage even took place at the airport.
But its pandemic policies have gone much further to transform the once-vibrant aviation hub, after compulsory incoming passenger quarantine was introduced in 2020.
More recently, the government banned flights from nine nations to stem the flow of Omicron into Hong Kong. Even before this, the airline was looking at a net loss of HK$5.6 billion to HK$6.1 billion (US$717 million to US$781 million) for 2021.
Hong Kong has also repeatedly changed restrictions on incoming crew members and is forcing some to wear tracking devices while in the city after two Cathay employees were accused of seeding part of the city's current Omicron outbreak by eating out when they should have been isolating under the rules for flight staff.
Cathay crew said that working is now like being in "permanent quarantine". 
A rival airline executive said while Cathay was the city's "biggest corporate casualty", the relentless changes to crew conditions were "a nightmare", causing global airline unions to become hostile toward the city, a situation that will be hard to reverse.
IS ALL HOPE LOST FOR HONG KONG'S AIRPORT?
However, two people close to Cathay — which has long faced speculation that it might be taken over by a Chinese company — argued that whatever the city's current troubles, airlines would be mad to bet against a Hong Kong comeback.
The airport is still perfectly positioned to cater to the greater bay area, a ring of cities in Guangdong province across the border, including the technology powerhouse of Shenzhen. 
The area is home to the most Fortune 500 companies in the world and makes up at least 12 per cent of China's gross domestic product.
In preparation for the potential boom, Hong Kong airport is constructing a third runway and the government has just handed a licence to a new airline start-up, Greater Bay Airlines, which has taken on former Cathay staff.
A person with direct knowledge of Cathay's affairs added that the airline founded in 1946 had a sentimental value for its owner Swire and it, like Hong Kong property developers, had the reserves to get through the pain.
"I've never got a sense they want to find a way out at all," they said. "Hong Kong has lived through these sort of crises. Those who survive will come back even stronger, it's the same with Cathay."
Source: Financial Times/geh