Commentary: Is it okay to speak a non-English language at work?
In multicultural Singapore, English has officially been the working language since the mid-60s and yet, it is not uncommon to hear a different language spoken at the workplace. When is it acceptable and when does it become a problem that could, in some cases, be regarded as a "microaggression"? Mayank Parekh offers a view.
SINGAPORE: The online retailer, Shopee came under fire recently when allegations about discrimination and toxic work culture surfaced on social media. One of the complaints was that Chinese was spoken during meetings or used in internal documents, according to a Glassdoor review.
Since 1966, Singapore's bilingual policy requires all students in the national schools to learn English as the first language in addition to an official mother tongue as the second language.  
The bilingual policy has successfully transformed Singapore into an economic powerhouse and that has shaped how dominant the language has become, even at home. Census information shows English was the most spoken language at home for nearly half of Singapore residents.
Another study, published in 2020 by the Institute of Policy Studies (IPS) on race, religion and language showed up to 71 per cent of respondents across ethnic groups in 2018 indicated inter-ethnic interactions in the public space should be in English.
It's a "no-brainer" for English to be the preferred language at the workplace and yet every now and then complaints surface.
WHEN IS IT A PROBLEM?
To illustrate when the use of non-English in the workplace can be problematic, we can use two common scenarios.
The first goes something like this: There is a team of four engineers with three foreigners from the same nationality. They brainstorm or chat in the office in their own language and only speak English when giving out necessary information to their local teammate.
The second scenario is when a department meeting is yet to start, and a group of managers speak animatedly in a non-English language. And because the majority are from one ethnic group, sometimes participants use a word here or there during the meeting without translation.
It is important to note that these are in formal work settings – teamwork discussion and official meetings.
Both scenarios are entirely plausible and may even appear to be innocuous. But the effect is exclusion and alienation on staff who don't speak that language.
When people don't understand what is being said, they assume the worst – that perhaps they are the subject of discussion. Which may be totally untrue, but why create this impression in the first place?
For some at the receiving end, these can veer towards workplace microaggressions. Although subtle, they add up and create greater conflicts over time.
CHANGING DEMOGRAPHICS
Over the years, as Singapore became a hub for global companies attracting talent from all over the world, the number of non-native English speakers also increased.
This meant, offices were made up of Indians, Chinese, Europeans and other nationalities who set up businesses here or have work passes.
Language can be a polarising influence on interactions between foreigners and locals. Especially when employees of similar nationalities choose to banter in their non-English native languages in and around workplaces.
The importance of English as the common working language in Singapore is highlighted in the OneWorkplace.sg Starter Kit, a resource to help employers better integrate employees from different backgrounds in the workplace.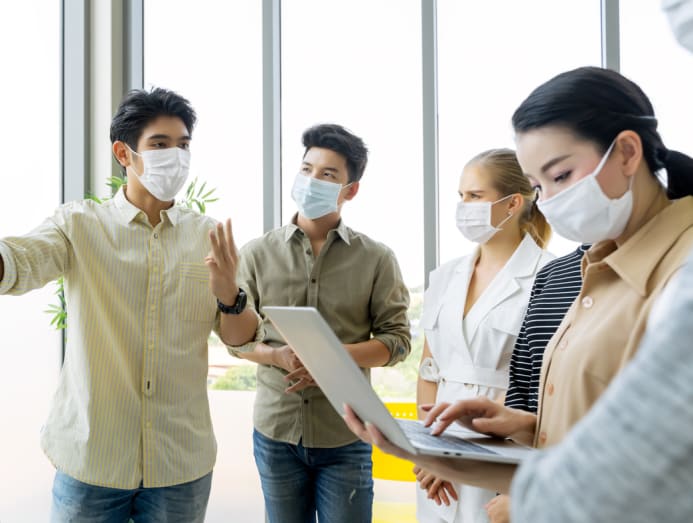 Developed in February 2019 by the National Integration Working Group for Workplaces (NIWG-W) the Starter Kit recommends employers to provide support for the use of English at the workplace by providing training to those less proficient or pairing them up so they can practise.
Only in sectors with a large number of foreign workers for example, construction, marine and process sectors where for safety and other reasons, non-English languages are used so that work orders are more easily understood.
GREY AREA OF LANGUAGE USE IN CASUAL SETTINGS
How about language use in casual settings? It's natural for people with the same mother tongue to use it, whether at workplace or on WhatsApp. Should an English-only rule for work-related conversations no longer apply for casual chats at the workplace?
From a HR perspective, this distinction in language use between work and casual is superfluous and comes across as splitting hairs. Work settings do have social elements – like pantry chats, lunch groups and colleagues who are close friends.
These holistically influence work norms, and entrench the organisation's culture especially in a multi-cultural setting like Singapore's.
I worked for French and German global companies where the use of English was actively promoted across locations both inside and outside of company HQ.
Both these companies recognise the importance of English to attract global talents and remain inclusive in their overseas locations.
Expatriates and managers in global positions receive English training, reminded on the importance of assimilating to the local work norms and warned against creating language-based cliques within their teams.
Institute of Policy Studies' Dr Mathew Mathews, SMU's Eugene Tan and Roses of Peace founder Mohamed Irshad speak about race, social media, and sensitive areas
GOOD PRACTICES FOR EMPLOYERS
A formal language policy at the workplace is essential to set clear rules of engagement. This should be reinforced by management in their daily interactions and communicated widely during town halls.
HR should diligently resolve complaints knowing the sensitivities over use of language that emasculates efforts to foster inclusive and harmonious workplaces. HR must also implement good practices to deter microaggressions or waving them away as insignificant.
Finally, provide training to employees (including managers) to level up the use of English and show how the widespread use of foreign languages in work settings breeds mistrust and have a negative impact on those around them.
THE IMPORTANCE OF SPEAKING UP
On their part, employees must take the initiative to speak up if they feel something is not right, instead of just complaining or letting it fester.
But do so with care as colleagues may not realise the effect of their non-English communication on others.
Find out from other similarly affected employees if they feel the same and then address the situation in a professional manner without belittling the perpetrator.
Keep to the facts, such as saying, "I found what you said/did was uncomfortable/unacceptable to me and ask you to please not let it happen again as a friend/co-worker." 
By adopting a neutral attitude, you also show that you value the relationship enough to give the benefit of the doubt and avoid future misunderstandings.
As an open economy rooted in Asian cultures and located at the crossroads of global trade, Singapore has prospered by promoting English as the working language while drawing from different cultures and ideas.
Likewise, businesses stand to gain when their employees from different backgrounds work and interact well at the workplace.
It is notable therefore that in response to the allegations, Shopee Singapore swiftly issued a Facebook statement on Nov 26 emphasising a "zero tolerance for discrimination or any form of workplace harassment".
Although the impact of language is innate, it is nevertheless a significant enabler to truly connect the organisation and create a sense of belonging and well-being that is crucial to employee engagement and sustainable business outcomes.
Mayank is the CEO of the Institute for Human Resource Professionals (IHRP) which aims to professionalise and strengthen the HR practice in Singapore. He also serves as a member of the National Integration Council and the National Integration Working Group for Workplaces.