Commentary: A milder but more transmissible Omicron can still kill more people
With the variant already spreading at an unprecedented pace outstripping the Delta's, the Financial Times' Anjana Ahuja says a large spike of Omicron cases could be on the cards in the UK.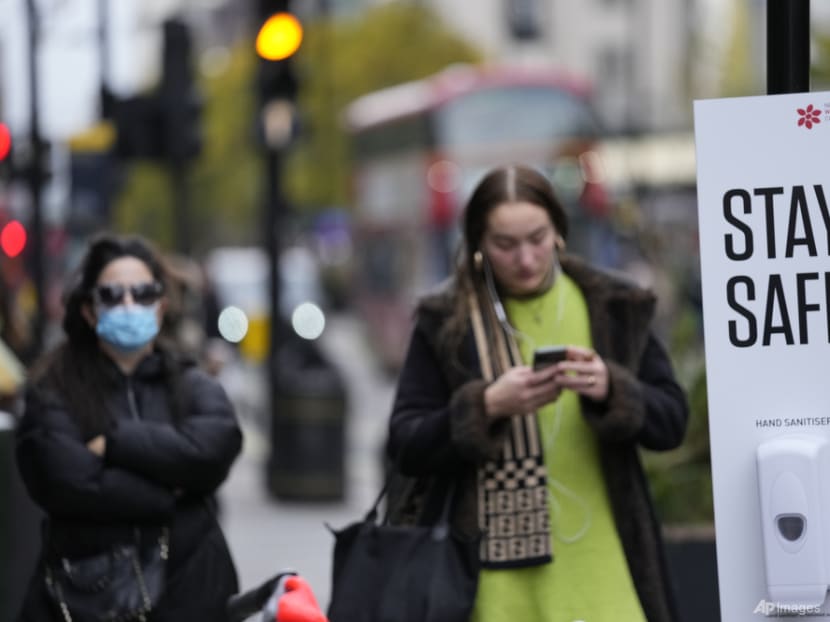 LONDON: Three spikes and it's out. That is the hopeful message emerging from studies into how well vaccines are holding up to Omicron, the fifth and latest COVID-19 variant of concern.
Three doses of a vaccine, or two doses plus immunity gained from infection may produce sufficient antibodies to quash this unwelcome viral newcomer.
Omicron, found in 57 countries as of Wednesday (Dec 8), has sparked deep concern since it was reported to the World Health Organization in November. More than 30 mutations are clustered on the spike protein, the portion of the virus on which most vaccines are based.
Rapidly filling hospital and paediatric wards in South Africa's Gauteng Province, home to the first major outbreak, compounded those fears. The surge pointed to greater transmissibility, including among the previously infected or vaccinated, and among children.
Dispatches from the wards, however, are painting a portrait of a somewhat milder disease, with shorter hospital stays, fewer patients needing oxygen and fewer children progressing to severe illness. There is still an outside chance this could prove a mirage: The early wave was mostly in younger people, including university students.
The full clinical picture will only become clear once the new virus has cycled through the successive stages of infection, illness and death in all age groups. Even so, the WHO has not reported any deaths specifically due to Omicron.
VACCINES CAN ELIMINATE OMICRON, BUT OMICRON CAN STILL KILL MORE PEOPLE
Laboratory studies now show that vaccine-induced antibodies can blunt the Omicron onslaught. Professor Alex Sigal of the Africa Health Research Institute reported last week that, while antibodies produced by the Pfizer vaccine were not as effective against Omicron as against the original virus, antibodies produced by people who had been vaccinated and previously infected showed relatively high neutralisation.
"This was better than I expected of Omicron," Sigal said, describing the new variant as a "tractable problem with the tools that we have already got".
Pfizer offered a similar analysis, stating that three doses of its vaccine could neutralise the virus — but also that two doses produced far fewer antibodies.
"It's been very hard to calibrate things over the past two weeks but I am cautiously optimistic because the vaccine studies are all tending to the same result," says Danny Altmann, professor of immunology at Imperial College London.
The message, he says, is that three exposures to the spike protein — whether via vaccine doses or two doses plus natural infection — looks protective. "Personally, I don't think Omicron represents a quantum leap in horror." 
In addition, Altmann says, antibody tests do not take account of a second line of defence, called cellular immunity. This back-up immunity, mustered by T-cells and B-cells, can remember past infections and prevent infection from turning into severe symptoms.
A milder disease can still end up killing more people if it is more transmissible than its predecessor. As infections soar, even a tiny fraction translating into illness can scale quickly into unsustainable hospital numbers.
Are booster shots really necessary? Two infectious diseases specialists break it down on CNA's Heart of the Matter podcast:
OMICRON CASES DOUBLING EVERY TWO, THREE DAYS
This explains the counter-intuitive logic of applying tighter restrictions against a clinically similar or milder illness, according to Graham Medley, a professor of infectious disease modelling at the London School of Hygiene and Tropical Medicine and chair of a group advising Boris Johnson's government.
"There is no evidence that Omicron is any more dangerous than Delta but it appears to be far more transmissible, so all the cases are more likely to be concertinaed into a shorter space of time," Medley says.
Omicron's transmissibility advantage, he says, could mean "we could have the next four months of the epidemic by the end of the year".
On Tuesday, scientists suggested Omicron was doubling every two to three days, faster than Delta spread. By Thursday, the UK's Health Security Agency had already recorded 817 cases.
That calculus, and the realisation that those cases are the tip of an Omicron iceberg, prompted the UK government to announce tighter COVID-19 restrictions this week, such as homeworking and vaccine passports.
Without such action, scientists warned, the country was likely to reach 1,000 to 2,000 hospitalisations per day. It is also time to address other gaps in the public health response, such as mitigations in schools and child vaccination.
Medley offers a striking analogy as we head deeper into the Omicron wave: We were already on a bumpy journey and this new variant "makes the road a bit icier, which makes wearing seat belts more important".
The risk of any driver crashing still remains low but exercising caution today on vaccines, boosters, testing, ventilation and masking might prevent a devastating pile-up closer to Christmas.
Source: Financial Times/ep