Commentary: Travellers and tourism providers frustrated after countries 'overreacted' to Omicron
In just three weeks since the new coronavirus variant was first reported, the damage has been done to the travel industry and the tourist experience, writes business and travel journalist Raini Hamdi.
SINGAPORE: I was packing for my trip just before news of the Omicron outbreak threatened to upend travel.
Arriving in Thailand from Singapore on Nov 30, it felt like catching the last train to my destination, as countries began announcing closures of borders and fresh restrictions to stem the spread.
I heaved a sigh of relief when immigration waved me through after checking all my documents, including my negative pre-departure polymerase chain reaction (PCR) test result, vaccine certificate, COVID insurance and one-night quarantine hotel booking, complete with a PCR test on arrival.
It was complicated paperwork. But once I was out of the airport, I felt a great sense of satisfaction, as if I had just completed some obstacle course.
Others were not so lucky. Wrisney Tan, a director at a consulting firm in Singapore focusing on investor and financial media relations, was planning to take her two children to the Maldives in March, with Singapore opening a Vaccinated Travel Lane (VTL) with the Maldives from Dec 16. 
But with countries changing rules since Omicron reared its head, she has postponed the trip until June.
Caught off-guard, she was worried that costs would rise astronomically, with countries likely to want more PCR and antigen tests to be done before allowing entry.
"I've also read reports of tourists in (South) Korea caught by sudden changes in COVID-19 regulations, which led them to be refused entry to restaurants and more. This is the last thing I want happening on my holiday."
HOW NECESSARY ARE TIGHTENING TRAVEL RULES REALLY?
Omicron is the first test of what countries would do if faced with a new variant of concern when they have already vaccinated people, picked up lessons on how to treat COVID-19 and said they would learn to live with the virus.
Many failed miserably and reacted prematurely even as scientists are still trying to figure out how severe Omicron is since it was first reported to the World Health Organisation on Nov 24. Israel and Japan were the quickest to buy time – with bans on incoming travel altogether.
"It's a huge overreaction," said Air Asia Group chief executive officer Tony Fernandes in a virtual address on Dec 2 at Bangkok Post's International Forum 2021. "We don't know anything about this variant yet. Let's wait and see before we jump the gun."
Mr Fernandes pointed out how the world is more equipped to deal with Omicron than with previous strains. "There are Merck pills, and Pfizer pills are coming out. We're vaccinated. There are boosters available," he said. "Governments need to use common sense and see what's needed."
Yet now, travellers must navigate a new mixed bag of rules - bans on visitors from certain places, additional PCR tests, quarantine reinstatements, rearrangements of green, yellow and red lists or categories, you name it.
There was confusion when South Korea announced a 10-day quarantine for all inbound travellers from Dec 3. It then retracted a little, saying VTL passengers from Singapore were an exception, relieving the agony of those with bookings.
Malaysia too announced on Dec 2 a temporary ban on travellers from 26 countries under its Langkawi tourism bubble. The next day, it clarified the ban was only on eight African countries.
This is a sorry turn from two months ago when signs were strong that the world, bar Fortress China, was taking steps to make travel normal again.
Governments have reasoned that tightening entry rules in the wake of Omicron would "buy time", that this is "temporary and necessary" until there is clear information about the variant. But if countries chop and change entry rules at the drop of a hat, travel and tourism would be in deep trouble.
UNCERTAINTY CHOKING TRAVEL REOPENING
The reality is it may take more time to confirm Omicron's true colours, though health experts are veering towards the view that Omicron is highly transmissible, but not a cause for panic.
Top United States scientist Anthony Fauci said on Dec 7 that Omicron "almost certainly is not more severe than Delta" and "there's some suggestion that it might even be less severe".
The best-case scenario, Fauci said, is a more transmissible virus that does not cause more severe illness and does not lead to a surge of hospitalisations and deaths.
But can countries stay shut for a final verdict? Not really. The WHO has said that vaccination, not travel curbs, is the key to battling Omicron.
Is global travel reaching a turning point with more vaccinated travel lanes opening up? CNA's Heart of the Matter explores what's behind "travel hesitancy":
KEEPING BORDERS OPEN THE EXCEPTION NOT THE NORM
The damage has been done. No industry likes uncertainty, but for travel and tourism, uncertainty is an anathema. There are already too many intertwined factors in a journey to begin with — a flight delay or cancellation can impact a whole value chain comprising transfers, hotels, tours and more. 
The thing is, Omicron can only undo carefully laid travel plans if countries let it.
Close shaves demonstrate the ramifications one rule change can make.
CEO of Diethelm Travel Group Stephan Roemer was fortunately already in the air when his point of departure, Switzerland, was declared a "red" country, from "yellow" when he boarded his flight to the Philippines. Had his departure been the day after, it would have nullified a five-month effort to obtain an exemption permit needed for his visa.
Thailand reopened on Nov 1 and was on the verge of replacing PCR tests with antigen tests but scrapped the plan owing to Omicron.
Still, the country is an exception in that it has no intention of undoing a long and arduous process of welcoming tourists back safely. It simply cannot afford another year of a collapse in tourism.
In 2019, almost 40 million foreign tourists visited Thailand, generating nearly two trillion baht (US$59 billion), 11 per cent of gross domestic product. Travel and tourism employed more than 7 million people, or 20 per cent of total employment, a Visa and Bank of Thailand paper shows.
Even so, bookings have slowed "considerably", said Mr Roemer. "We have only about a third of the daily booking volume we had in mid-November. At the end of last week (Dec 3), we even received some cancellations," he said.
It's clear global reactions and fresh restrictions have dampened overall demand for travel in Thailand. "It's frustrating … Governments are frightening people and risking an even bigger tragedy as people run out of financial resources,"Mr Roemer added.
Business was previously recovering well, enabling Mr Roemer to recall more staff from furlough last month. His strategy since the start of the pandemic was to keep staff on minimal salary, which covers social benefits and insurance, but allow them to accept other intermediate jobs.
Manpower in his Thailand operation was back to 30 per cent of 2019 levels last month. Plans to raise this to 50 per cent from this month onwards are now on the backburner thanks to the slowdown in bookings.
Although countries cannot resuscitate travel by themselves, he points out how those that stayed open saved jobs. "The Maldives was the first destination to be profitable again, with all our staff back at work. We even increased the workforce by 10 per cent; then Sri Lanka, where more than 50 per cent of the workforce is back; and Thailand, with 30 per cent," said Roemer.
Another Thailand-based inbound travel company, Asian Trails, also saw a slowdown in new bookings for the kingdom. "I hope the Thai government will persevere and keep borders open," said group CEO Laurent Kuenzle.
"Most travellers will accept a PCR test before departure and a rapid test on arrival. Complicated paperwork should be abolished."
CROWDS NOT A WORRY, NEW RULES ARE
It was sad to see both Changi and Suvarnabhumi airports largely empty. Even my Singapore Airlines flight to Bangkok was only 30 per cent full. In downtown Bangkok and in malls, tourists were few and far in between.
Governments overreacting to Omicron seem to forget that arrival numbers such as 20, 30 or 40 million visitors are in the glorious past and that it will take time to rebuild tourism.
The limiting factor may be travellers' confidence that travel can remain a certainty and that the risk of getting caught somewhere is miniscule.
Thailand, Southeast Asia's top destination, had only 133,061 arrivals last month – compared to 3 million tourists each month before the crisis. With its liberal approach, the country is already struggling to win back visitors, what more other destinations?
While pent-up demand for leisure travel is real, knee-jerk reactions freak people out. Only essential business travel and trips to see family will take place if this open-shut dynamic persists each time a new variant rear its head.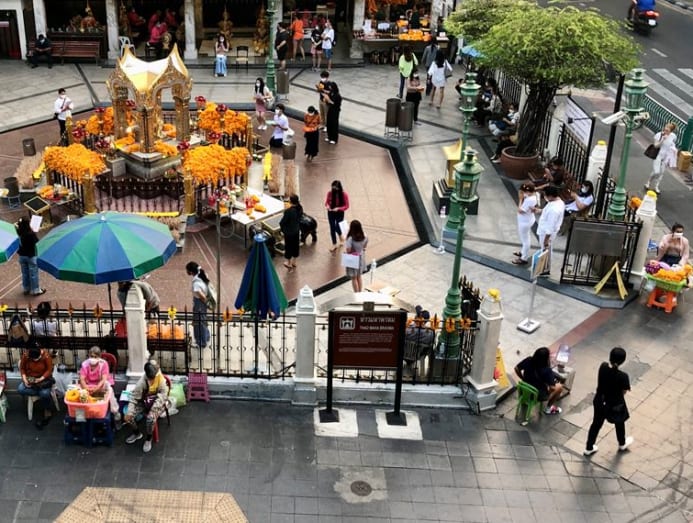 Andreas Birnik, the Singapore-based founder of the Modern Wine Group, had not seen his ageing parents in Sweden for two and a half years. When he finally could, he went ahead as booked on Dec 2.
But he is concerned Singapore will re-impose quarantine or introduce new travel restrictions when he is due to return next month. "With COVID-19, everything's in a (state of) flux. You can fly out on one set of rules and return on totally different rules," Birnik said.
With the huge costs to the tourism sector, jobs and so much more, perhaps it's time countries commit to quit changing travel rules at the drop of a hat.
Raini Hamdi is a Singapore-based business journalist recognised for her articles on hospitality, travel and tourism in Asia. She is Pacific Asia Travel Association Journalist of the Year and has authored two books on hospitality.