Commentary: South Korea prepared to ease COVID-19 rules. Then Halloween parties happened.
South Korea authorities are coming under pressure to keep the economy open after an uptick in cases. They'll need some gumption to press on with plans to live endemically with COVID-19, says Steven Borowiec.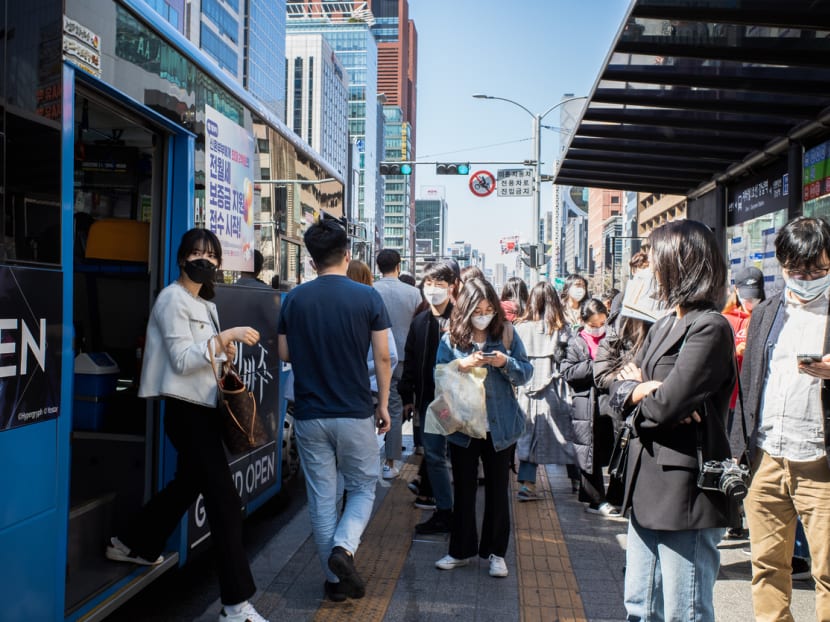 SEOUL: This year, Halloween in South Korea was scary for reasons that have nothing to do with ghosts or goblins.
Falling on a Sunday, the Oct 31 holiday was celebrated on a Saturday night -- perfect timing for Halloween parties.
While South Korea doesn't follow the custom of kids in costume going door-to-door trick-or-treating, the nightlife districts of big cities tend to swell late into the night with boozing revellers.
These gatherings were held at a critical time for the country's long battle against COVID-19. Since Halloween took place before rules were loosened, bars had to close at 10pm and there were caps on the number of people who could gather indoors. Nevertheless, images of crowded streets caused some amount of nervousness.
HALLOWEEN PARTY-GOERS MAY THROW NEW SPANNER IN THE WORKS
In October, the South Korean government announced the country had passed the threshold of having more than 70 per cent of its population fully vaccinated and would therefore start a process of lifting COVID-19-related social distancing restrictions, getting back to normal life.
For a population that, while never having endured a full-blown lockdown, had lived under some level of restrictions for well over a year and a half, the news was a welcome relief, a glimmer at the end of a long, lonely tunnel.
This new era started on Monday (Nov 1). Among the changes would be a lifting of limits on the hours of operations at bars, restaurants and indoor sports facilities.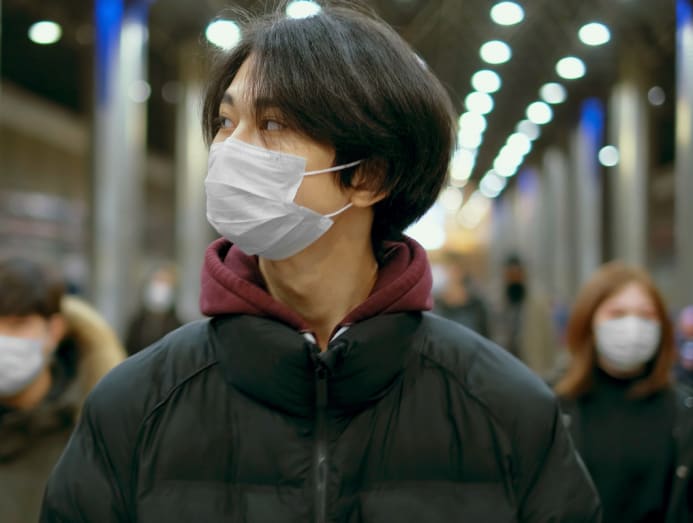 Groups of up to ten people are now permitted to dine together at restaurants, provided at least six are fully vaccinated. More spectators are allowed to attend sporting events and late-night subways and buses would get back on normal schedule.
But dressed-up revellers congregating in bars and clubs over the Halloween weekend threatened to throw a wrench in these plans.
The large numbers of people out and about on Saturday night sparked public anxiety, prompting Interior Minister Jeon Hae-cheol to issue finger-wagging warnings that partiers who violate anti-virus rules would be punished and that law enforcement authorities would conduct patrols in high-density areas on Sunday.
He knew many South Koreans are fretting the opening would lead to cluster infections and another wave of the virus. On the day the revised standards took effect, the front page of the Donga Ilbo newspaper yelped "Masks are our last remaining protection," a reference to how the wearing of masks both indoors and outdoors would remain mandatory.
The Halloween weekend also conjured bad memories of previous pandemic inflection points in South Korea tied to large gatherings.
In May 2020, an outbreak tied to the party district of Itaewon, where the most raucous Halloween parties were held this year, led to a large cluster infection.
In August 2020, a mass of infections was tied to a church that held a political rally in downtown Seoul on the 75th anniversary of Japan's World War II surrender. Church members returned to their hometowns across the country after gathering in the capital, bringing the virus back to their communities, in what was seen as a catalyst to a subsequent nationwide outbreak.
GROWING NUMBER OF INFECTIONS
As of Wednesday, a few days after the events of Saturday, when symptoms of coronavirus would have presented and people would have a chance to get tested, the number of new infections are a cause for concern but not alarm.
That morning, public health authorities announced 2,667 new cases of COVID-19, an increase of more than 1,000 from the previous day and the highest figure since September.
Authorities said they expect to discover more cluster infections tied to the preceding weekend's festivities. Thursday saw a continuation of that trend with 2,482 new cases and a 10-month high of 24 deaths.
Would the spike in infections mean policymakers should U-turn on plans to gradually lift social distancing measures?
A Maekyung Economy news outlet survey showed South Korean infectious disease experts were divided, with roughly half saying the government ought to revise the easing of rules and even wait until next year. However, others highlighted that there was little reason to believe rules such as limits on business hours operations can significantly tackle the spread of the virus.
At this point in the pandemic, with the economic wreckage arising from social distancing piling up, policymakers are coming under great pressure to stay open.
While the South Korean economy has avoided recession and fared better than many developed countries thus far, consumers avoided shopping and dining, with many shuttered stores and eateries dotting the landscape as a result. About 54,437 restaurants in the country went under last year according to official data.
Many more managed to keep afloat while desperately waiting for rules to lift so they can operate at full capacity, while carrying on with measures like restraining numbers and logging customers' QR codes for contact tracing.
The national daily Hankyoreh newspaper said what many are thinking when it described the government's move as a "desperate measure," adding that the country could no longer afford to wait until COVID-19 is eradicated and that the country must tolerate the coronavirus as a part of life.
The new protocols do have emergency stipulations where strict distancing will come back into effect if daily cases breach the 5,000 mark. So far the highest mark ever in the country was 3,273 on Sep 25.
Experts say there is little chance that will happen, especially considering how many more people are vaccinated now, when infection numbers have stayed relatively subdued, never exceeding 5,000 new infections.
Is it time to stop persuading people to take the COVID-19 vaccine and consider mandates in Singapore? Two infectious diseases expert weigh in on CNA's Heart of the Matter:
HICCUPS TO LIVING WITH ENDEMIC COVID-19
After nearly two years of the pandemic, South Korea expects hiccups in returning to normal life. But if clubbing in crowded bars on a Saturday night was a pre-pandemic norm, South Korea should factor those dynamics in to successfully transition back to normality and ensure the healthcare system can handle such routine spikes.
South Korea has one of the highest ratios of hospital beds per population among Organisation for Economic Co-operation and Development countries. And officials have said non-severe cases of COVID-19 will be treated at home whenever possible, giving the government confidence in the transition.
The political backdrop also makes it unlikely the administration of President Moon Jae-in will abandon course. In March 2022, South Koreans will vote in a presidential election, and the current ruling party will want decent economic numbers to campaign on.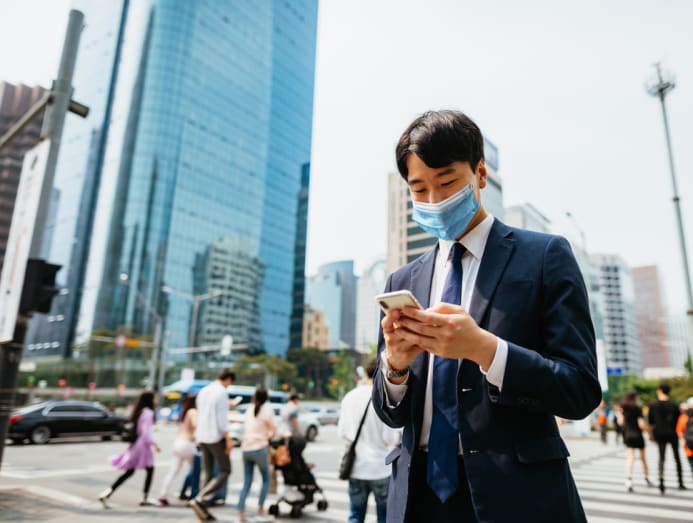 The political leadership is therefore incentivised to continue loosening restrictions, in the hope that more South Koreans will go out and spend, boosting consumption and improving the fortunes of the street-level businesses that have suffered throughout the pandemic.
The Halloween tremour will wane before long and the benefits of resuming normal life will become apparent, the thinking goes.
While independent businesses have been the most vocal proponents of easing social distancing, ordinary South Koreans too are hoping to ditch the isolation of the pandemic and get out of their house to see friends and colleagues. According to one October Seoul National University opinion poll, 76 per cent of respondents favoured the eased regulations.
The sense in South Korea that protecting people from COVID-19 came at a high price. With vaccinations and safety measures in place, people are hoping for a semblance of normality.
With Friday showing a slightly moderating number of 2,344 new infections and 20 deaths, let's all hope Halloween didn't endanger that.
Steven Borowiec is a journalist based in Seoul.