Commentary: Biden wants Asia to trade with the US as an 'alternative to China' but details are scant
The new Indo-Pacific Economic Framework for Prosperity (IPEF) signals Washington's intent to re-engage Asia economically. But it hasn't brought trade concessions to the table yet, say ISEAS-Yusof Ishak Institute researchers.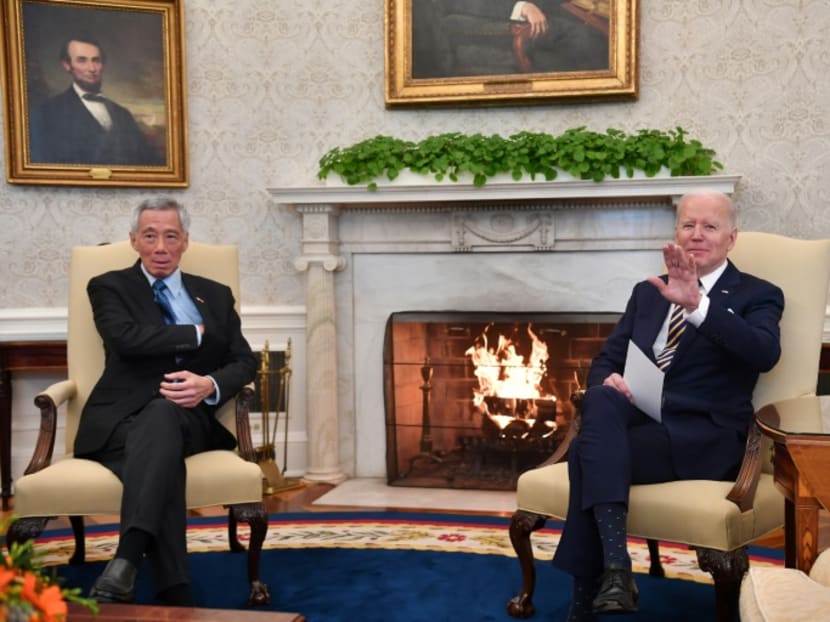 SINGAPORE: After a hiatus under the Trump administration, Washington is looking east again now that United States President Joe Biden has embarked on his first trip to Asia.
In a bid to re-engage economically with the region, he launched the Indo-Pacific Economic Framework for Prosperity (IPEF) in Tokyo on May 23.
Singapore joined six other Association of Southeast Asian Nations (ASEAN) members – Brunei, Indonesia, Malaysia, the Philippines, Thailand and Vietnam – to sign on as participating countries, together with Australia, Japan, India, the Republic of Korea, New Zealand and Fiji.
The framework comprises four policy pillars: Trade, supply chains, clean energy, decarbonisation and infrastructure, and tax and corruption. Member countries can choose which policy pillar to sign up for but have to abide by all the commitments within the selected pillars. The price for this flexibility is possible "cherry-picking", which would leave difficult reforms behind.
While the US-led framework was welcomed by countries in the region such as Singapore, details on the nature of the agreement remain scant. The White House stated countries are invited to participate in collective discussions that would lead to future negotiations on the four policy pillars.
Participating countries are only committed to an initial round of discussions, which does not necessarily mean seeing the negotiations through to the end. Nor is it clear that the negotiations will lead to binding commitments.
It is thus difficult to gauge how meaningfully the IPEF will contribute towards US engagement in the region.
IPEF IS UNLIKE A FREE TRADE AGREEMENT
Certainly, the trade pillar has attracted the most attention. It is the first trade initiative from the US after withdrawing from the Trans-Pacific Partnership (TPP) in January 2017. The trade pillar aims to set rules and standards in areas such as labour, environment and regulatory practices.
However, it does not come with any compensating increase in market access, which might make it less attractive for ASEAN's developing countries. They are still predominantly engaged in agriculture and manufacturing, so goods market access in those sectors is of paramount importance to them. 
The IPEF is therefore a new type of economic cooperation arrangement quite unlike traditional free trade agreements in the region, which commonly focus on the exchange of concessions.
IPEF's rules and standards will require participating countries to make painful short-term adjustments, unattractive to those struggling to recover from the COVID-19 pandemic. But members anticipate long-term gains, such as the promotion of regional peace and security, which are critical for sustaining growth.
In addition, participating countries would hope that enhanced economic cooperation and integration would attract more foreign direct investment (FDI) from the US. This is especially important for ASEAN since the US was the largest source country for FDI in 2020, accounting for US$34.7 billion, a quarter of the investments received in that year.
Developing economies in ASEAN aspire to tap into FDI for areas such as digitalisation, biotech and renewable energy.
NOBODY WANTS TO CHOOSE BETWEEN CHINA AND THE US
While ASEAN could stand to gain from IPEF, it must, as always, find the right balance between the two superpowers, given that IPEF is intended as an alternative to China.
Since the US and China are important economic partners of ASEAN, ties with both countries are important for the region's recovery from the pandemic and future prosperity.
All ASEAN IPEF signatory countries are also members of the Regional Comprehensive Economic Partnership (RCEP), the world's largest free trade agreement. RCEP includes China, but not the US or India. 
Although RCEP does not include standards on labour and environmental protection like the IPEF, it will likely continue to be a driver of growth and trade in the region. It is estimated that in 2030, RCEP will add US$174 billion to member countries' GDP and account for about three-quarters of the increase in global trade.    
Thus, jumping on the IPEF bandwagon now may be part of ASEAN member states' "balancing" strategy as nobody wants to be cut off from either the US or China.
The hard negotiations on IPEF could come later. In the meantime, IPEF must avoid precipitating and intensifying US-China bifurcation in areas such as technology, financial services and supply chains. For example, IPEF's potential standards on data privacy, cross-border data flows and 5G procurement might not suit the region's existing practices or could diverge from those of China's.
There's a risk that IPEF could force ASEAN member countries to choose sides in future negotiations, balkanising the region. China has already been courting ASEAN countries through its Belt and Road Initiative and Global Development Initiative, while RCEP, albeit not China-led, has China as the largest economy in the trade bloc and could strengthen East Asian interdependence.   
STILL EARLY DAYS
It remains unclear how IPEF will evolve as it is still early days. The fact that only 13 other countries (besides the US) from such a vast region have indicated interest is not a promising start – there is only one Pacific Island nation and one from South Asia.
The diverse nature of the current participating countries means that consensus will not be easy. Expanding the number of participating countries to promote inclusion will likely prolong the negotiation process.
Making binding commitments will also require protracted negotiations. Although negotiations are slated to last between 12 to 18 months, it will not be surprising if they last a lot longer.
Although there is potential for IPEF to play an important role in moving the region towards a more rules-based trading system, there is a good chance that it may not actually amount to anything significant.
This would be a pity, especially with the waning role of the World Trade Organization since the Doha Round collapsed and left its dispute settlement mechanism in paralysis. But it is a difficult time to try and sell an ambitious programme for the long-term future of the region when there is so much short-term uncertainty.
On the US side, the long-term prospects of IPEF may be impaired if it remains a presidential executive order rather than a US Senate-backed treaty. Support in the Senate for its ratification may shift following the mid-term elections in November, but only time will tell.
Dr Jayant Menon is a Senior Fellow, Dr Tham Siew Yean is a Visiting Senior Fellow and Dr Maria Monica Wihardja is a Visiting Fellow at ISEAS – Yusof Ishak Institute.
Editor's note: This commentary has been amended to reflect Fiji's participation after the framework was launched.