4 reasons why Sentosa Cove is making a comeback in 2021
Homeowners and investors are once again making a beeline for the sunny shores of Sentosa, thanks to the resort-like atmosphere and waterfront lifestyle it offers.
When we think "Sentosa Cove", we think of an ultra-wealthy enclave. It's the only place where well-heeled foreigners who aren't Permanent Residents can buy landed property in Singapore. And if you're local, the prestige of having a Sentosa Cove address as a second "holiday" home (after getting a Good Class Bungalow, of course) is a sign of having "made it".
After a period of disinterest and speculation that Sentosa Cove properties are past their prime, the appetite for these luxury properties seems to have returned. This time, it's likely that the pandemic is fuelling demand.
The growing desire for Sentosa Cove bungalows and properties reached new heights in August. Till Aug 16, 2021, there were 103 transactions for 85 condos and 18 landed homes, up 84 per cent from the whole of last year.
So, the question remains: Why are Sentosa Cove properties making a comeback? Here are four reasons that could explain this trend.
Browse all Sentosa Cove properties for sale on PropertyGuru.
DESIRE FOR COMFORTABLE HOMES AWAY FROM THE CITY CENTRE
Despite the presence of boutique bungalows and other freehold properties available on the Singapore mainland, "investors are drawn to Sentosa because of the resort-like and waterfront lifestyle it offers, which cannot be replicated elsewhere in Singapore," said List Sotheby's International Realty's research director Han Huan Mei.
And that's just it, isn't it? After a year-and-a-half of dealing with a raging pandemic, we're just looking for an escape.
It's a fact that having to work from home has changed the way we shop for properties. Less importance is placed on living in a prime or central location because we don't have to travel into the city centre as much as we used to. And with social restrictions in place and leisure travel curbed, we're spending more time than ever at home.
When life gives you lemons, make lemonade. We've all transformed our homes into a space that is as comfortable as possible. For those with means, their juicing of the proverbial lemonade is to turn Sentosa's white pristine beaches into their backyard.
With the need for daily commute removed, living on Sentosa island no longer becomes too much of an inconvenience.
Between the choice of dealing with human congestion, noise pollution, and the rising number of COVID-19 infections on the mainland and waking up to seafront views and fresh ocean air in a quiet, tranquil neighbourhood, the latter does seem to be the preferable and safer option.
What's curious is how PropertyGuru users seem to agree. The interest in Sentosa Cove properties increased whenever cases of COVID-19 infections were picking up.
Here's the search volume data for Sentosa Cove sales for landed and non-landed private properties from January 2019 to August 2021.
In 2019, the Sentosa Cove volume of searches on the PropertyGuru website stayed constant and at a relatively low volume. Then, everything changed when COVID-19 reached our shores. On Jan 23, 2020, the first case of COVID-19 was recorded in Singapore. The searches for Sentosa Cove properties began picking up. Coincidence, maybe? Sure, but read on*.
Shortly after, we went through the Circuit Breaker "lockdown" from Apr 7 to Jun 1, 2020. Commensurately, we saw Sentosa Cove searches steadily increase. While measures were gradually eased from June through December, this was likely when we realised the pandemic wasn't going away any time soon.
Singapore was in Phase 3 from Dec 28, 2020 until May 7, 2021. But the number of cases spiked again due to the outbreak of the Delta variant from April through May 2021. Funny thing: Interest in Sentosa Cove saw the most significant jump during this period, almost tripling to 21,172 searches in April and 21,701 searches in May.
After much collective grumbling on social media platforms and online forums, we went back to living with the Phase 2 Heightened Alert restrictions, which were in effect from May 16 to Jun 13, 2021.
Searches in June 2021 (18,721) and July 2021 (15,538) dropped slightly as the COVID-19 situation improved. Restriction measures eased during the Phase 3 Heightened Alert from Jun 14 to Jul 21.
But before anyone could say, "Social gatherings in groups of eight," new COVID-19 clusters formed at the Jurong Fishery Port and several KTV lounges in the second half of July. And we went back into Phase 2 Heightened Alert from Jul 22, 2021 to Aug 10, 2021.
Guess what happened to the volume of searches in August 2021? It went up!
* From April to September 2020, most new cases were at foreign worker dormitories and construction sites, while imported cases formed the bulk of new cases from early October 2020. When there are few locally transmitted infections, it seems there isn't any impact on the interest in Sentosa Cove properties.
MID-SIZED SENTOSA COVE PROPERTIES ARE ATTRACTIVELY PRICED COMPARED TO THOSE IN THE SAME DISTRICT AND RCR
Part of owning a comfortable home is having enough space. When you live in a concrete jungle like Singapore, space is luxury.
With the new normal of WFH, more HDB buyers and non-landed private property buyers have gone for bigger properties to accommodate a home office. In our Singapore Property Market Index Q3 2021 report, we noticed this to be true too.
Typically, transactions for private non-landed properties in Singapore costing S$2 million or more make up 20 per cent or lower of total transactions. But in Q2 2021, it was 27.5 per cent, with 20.3 per cent of all transactions occurring in the S$2 million to S$4 million range. At this price point, it's likely buyers are going for three- or four-bedroom condo units over shoebox units.
In Sentosa Cove, this inclination for larger homes was similarly reflected.
From 2019 to 2021, the number of transactions for 2,000 to 2,500 sq ft units increased by 7.5 times.
In 2019, units that were 1,500 to 2,000 sq ft were the most popular. But by 2020, the trend was shifting towards larger units between 2,000 to 2,500 sq ft units. The natural train of thought would be, "If more people want 2,000 to 2,500 sq ft properties, the psf prices for these units will go up too." But no, that's where we were proven wrong.
From 2020 and 2021, the median psf for these units barely increased, from S$1,520 to S$1,549 psf. What's more, the median psf prices over three years remained stable (so stable that if we plotted a graph, you would ask us why we bothered showing you a straight line).
Here's a visual representation of the transacted volume and median psf prices of the eight condos found in Sentosa Cove from 2019 to 2021 (so far).
That's all fine and dandy, but aren't Sentosa Cove homes more expensive than those on the mainland? Plot twist: Not quite.
COMPARING NON-LANDED PRIVATE PROPERTIES ON SENTOSA COVE AND THE MAINLAND
Let's look at the top three condos with the most considerable increase in the number of transactions from 2020 to 2021. They are:
| Sentosa Cove Condos | No. of transactions in 2020 | No. of transactions in 2021 |
| --- | --- | --- |
| The Oceanfront @ Sentosa | 8 | 23 |
| Turquoise | 3 | 17 |
| Seascape @ Sentosa Cove | 2 | 10 |
The Oceanfront @ Sentosa was transacting units at S$1,539 psf and Turquoise at S$1,489 psf. These two properties are considered to be priced at the lower-end of Sentosa Cove condos. But who are we kidding? It's Sentosa Cove – lower-end condos are still nice.
We think they were popular choices because they hit the sweet spot for affordably priced premium living.
Sentosa Cove is part of District 4. The median transacted price for the district and the Core Central Region is about S$1,800 psf. Already, you know you're not paying a significant sum more for properties found in the same area.
To double-check this statistic, we looked up listings on the PropertyGuru site and browsed properties with a floor area between 1,500 to 2,500 sq ft. We also filtered for properties priced between S$1,480 to S$1,550 psf.
We discovered that a potential buyer mainly had older freehold or newer 99-leasehold properties for that budget and size. These options were located in the RCR and OCR districts (primarily District 5 and 15). Newer launches include Normanton Park, Kent Ridge Hill Residences, and Parc Clematis in District 5, and Affinity At Serangoon in District 9.
So if you do the math, you're not paying significantly more for a property that can afford you the same, or we daresay, a better standard of living. In some cases, you're paying less.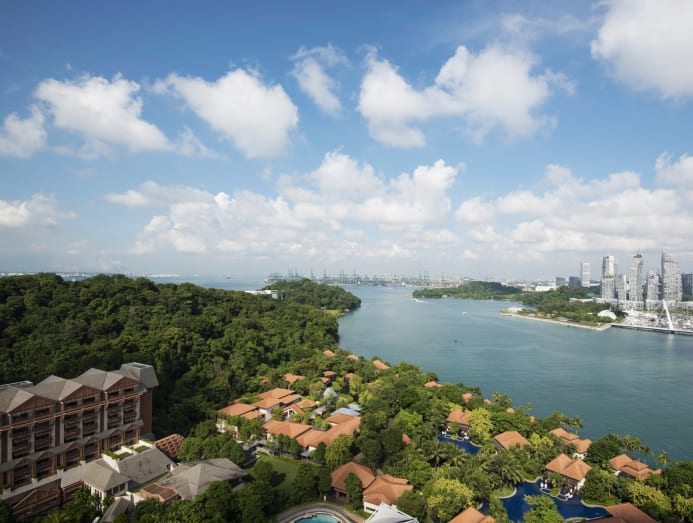 Seascape @ Sentosa Cove may be the most expensive condo in Sentosa Cove, transacting at a medium psf of S$2,049. But when you compare prices to the mainland, it does seem you are getting bang for your buck.
According to the PropertyGuru Singapore Property Market Index Q2 2021, the median psf asking prices for District 1 (Boat Quay, Raffles Place and Marina) and District 10 (Tanglin, Holland, Bukit Timah) are S$2,424.26 and S$2,456.16 respectively.
At this point, if you're interested, you can browse all Marina Collection, Seascape @ Sentosa Cove, Seven Palms Sentosa Cove, The Azure, The Berth by the Cove, The Coast at Sentosa Cove, The Oceanfront @ Sentosa Cove, and Turquoise properties for sale on PropertyGuru.
SPILLOVER EFFECT FROM THE LUXURY PROPERTY MARKET
So far, we've gathered that Sentosa homes are priced more affordably than the same type of properties within the same district and other similarly "luxurious" properties. You can put two and two together to see how attractive the relatively lower Sentosa Cove prices are to potential buyers.
You can say that the GCB market is sizzling. It's clear that the luxury market in mainland Singapore is booming and there is rising demand for luxury homes in the RCR. Now, let's talk about landed property.
Tech CEOs have recently made news for snapping up Good Class Bungalows (GCBs) faster than aunties "chionging" for seats on the MRT.
However, Steve Tay, senior associate vice-president of List Sotheby's International Realty, mentions Sentosa Cove bungalows are "undervalued". The "same absolute price quantum fetches a freehold bungalow with a smaller land size of 5,000 – 7,000 sq ft in the Bukit Timah vicinity".
He goes on to say that locals in their 40s to 60s recognise this. This group of Singapore citizens now comprise more than half of the potential buyers who have taken to viewing villas in Sentosa.
Both non-landed and landed Sentosa Cove properties are the lucky beneficiaries of this spillover effect from the luxury property market. Seems like regardless of how much we have in the bank, we all love a good deal, eh?
THE SINGAPORE GOVERNMENT HAS HANDLED COVID-19 WELL, FOREIGNERS ARE LOOKING TO SET UP SHOP HERE
Say what you want, but Singapore is the world's best place to be during the pandemic. The successful way the Government has handled the crisis has been used as a model for other countries. Add low tax rates and Singapore's market position as the most stable in Asia into the mix, and our city-state becomes an extremely attractive place to set up shop.
That's why despite the 20 per cent Additional Buyer's Stamp Duty (ABSD) tax foreigners have to pay, trophy homes in areas like Sentosa Cove remain highly coveted, and the interest in luxury homes has boomed.
If you're a pleb like most of us, you might not know that you typically have to be a Singapore citizen to buy a Good Class Bungalow or landed property on our sunny shores. Unless you're a Singapore permanent resident who has "made exceptional economic contributions to the Republic" (read: You're Crazy Rich Asians rich), you'll probably be denied approval.
Sentosa Cove remains the only place where foreigners who are not PRs can buy a bungalow for owner-occupation. With only 350 available landed properties on Sentosa, it's no surprise competition is fierce!