10 restaurants to head to for abundant Lunar New Year family feasting
Gather your kith and kin: It's that time of year again when restaurants break out the suckling pigs, Sichuan pickled peppers, babi buah keluak, and yusheng of every ilk.
This year, the Lunar New Year comes just in time to challenge that New Year's resolution to lose weight or eat more sensibly.
If you're dining at a Chinese restaurant this month, odds are the regular menu is off limits and you'll have to order from a special and extravagant Lunar New Year menu.
We did the hard work of over-indulging between the Gregorian and Chinese new years to bring you a diverse list of Lunar New Year dining options, from classic Peranakan and Teochew, to an American riff on yusheng and noodles.
ADRIFT BY DAVID MYERS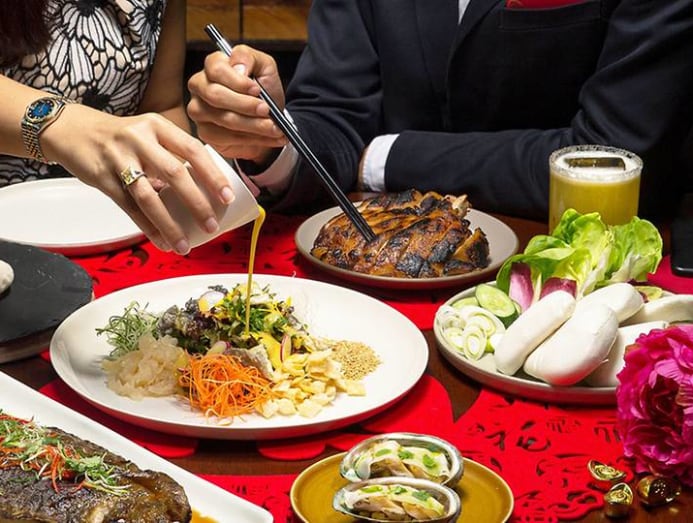 It may be a modern Californian restaurant, but Adrift by David Myers has gotten into the spirit of Chinese New Year with a five-course omakase dinner priced at S$198 for two.
Naturally, the meal begins with a platter of yusheng before segueing into decadent delights like a whole grilled dover sole, abalone with pickled lemon and lardo, and a unique suckling pig with cucumber and bitter leaf bao.
If you'd rather graze from the a la carte menu, you can still order the yusheng platter at S$15 per person, with a minimum party of two. Available from January 24 to 27.
CANDLENUT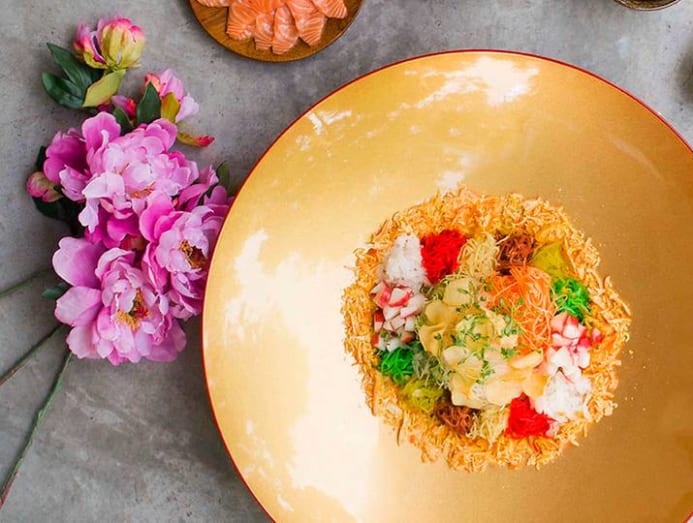 The regular Ah-ma-kase menus (starting from S$88 per person) at this Michelin-starred Peranakan restaurant are hearty enough to rival any special Chinese New Year set menu.
The lunch menu alone features five main courses, a soup, three appetisers and dessert. So fans of the elegant Nonya food here need only order an additional Lo Hei Platter (S$68, feeds about four to six people) to evoke that inimitable festive feeling.
Candlenut's version is chock full of homely favourites like shredded iceberg lettuce, carrots, dried orange peel and ginger strips. It's also given a Southeast Asian spin with a plum sauce dressing spiked with gula Melaka and ginger flower. The Lo Hei platter is available from January 23 until February 8 and must be ordered a day in advance.
CHUI HUAY LIM TEOCHEW CUISINE
Teochew classics are the order of the Lunar New Year at this dependably excellent restaurant.
Situated within the clan building of the same name, Chui Huay Lim has a bevy of Reunion Sets starting from S$328 (available only on January 24), of which the highlights are the Teochew Prosperity yusheng and five-spice roasted suckling pig. From now until February 9 (except on January 24), Celebration Sets starting from S$248 present the likes of braised fish maw soup with conpoy and crabmeat, and baked live Boston lobsters with fermented bean and garlic.
FAT CHAP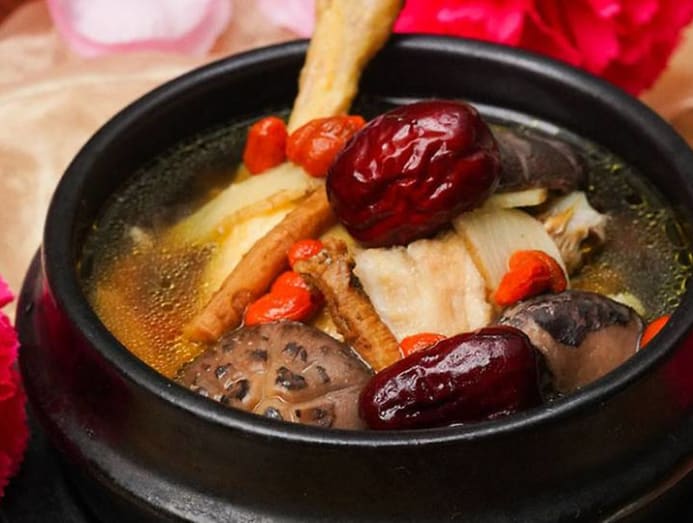 The six-course Chinese New Year menu (S$48 per person, minimum four to dine) at this casual eatery hopes to channel feel-good family vibes.
The crispy Taro-Taro yusheng is bright with citrus-cured salmon, while savoury snacks like hae bee hiam (spicy dried prawn floss) on sesame crackers and Bang Bang Sichuan pickled cucumbers make for fun starters.
Warm your spirits with a double-boiled Fortune Chicken Soup before digging into a balsamic-braised pork belly and Thai-style fried golden snapper. There's also Treasure in a Lotus Leaf, in which fragrant Hokkaido rice is cooked with XO Chinese sausage and crispy ebi (small prawns). Available from now until February 8.
GRAND SHANGHAI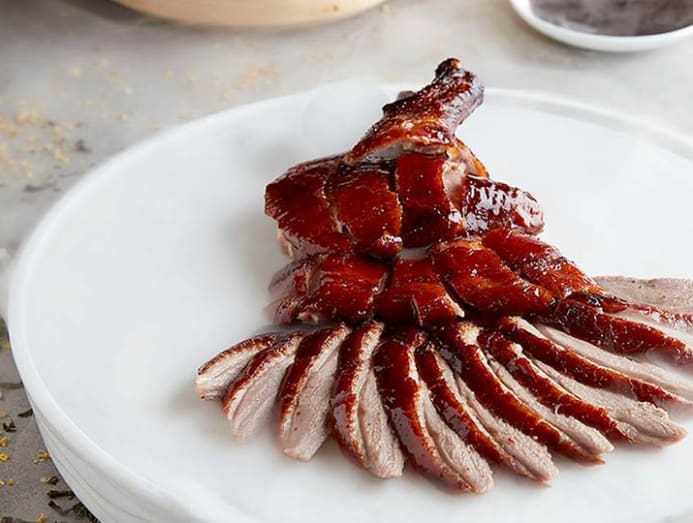 Recently refurbished to evoke 1930s' Shanghainese opulence, this stalwart restaurant ushers in the Year of the Rat with lavish Shanghainese specialities.
There are the likes of a dramatically presented crispy smoked duck infused with osmanthus tea; yusheng with Australian lobster and three-head abalone; and a six-head abalone Fortune Pot heaving with sea cucumber, prawns and pork knuckle. These come as part of festive sets that range from S$588 to S$2,888 for groups of four to 10 respectively, available from January 17 until February 9.
KIN
For chef Damian D'Silva, Chinese New Year was always about spending time with his late Peranakan grandmother, watching her whip up a welcoming feast for a hungry crowd.
His Five Blessings menu at Kin, then, is an ode to her and his favourite dishes that graced their family's festive table. These include a tangy garam assam snapper (S$34); hati babi bungkus (S$30), a rare delicacy comprising spiced minced pork and liver wrapped in caul fat; buah keluak babi tulang (S$46), pork ribs braised in a mildly spicy gravy with the ambrosial Indonesian black nut; and udang masak nanas (S$48), where fresh prawns are cooked in a piquant pineapple soup.   
MADAM FAN
A fabulous spot for indulging in a bit of Art Deco glamour, complete with chanteuse belting out vintage-style reworks of jazz, swing, pop and doo-wop hits from a dimly lit stage.
Set menus are available for a minimum of two (S$138 per person), so you can come for a special treat with your paramour or clan and enjoy an Abundant Eight Treasures yusheng that lives up to its name with lobster, geoduck, sea urchin, abalone, scallop, salmon and ikura, all topped with gold flakes. Also part of the set are braised six-head truffle abalone, charcoal-grilled wagyu, and braised kind prawn cheese vermicelli. Available until February 8.
MIMI AT THE RIVERHOUSE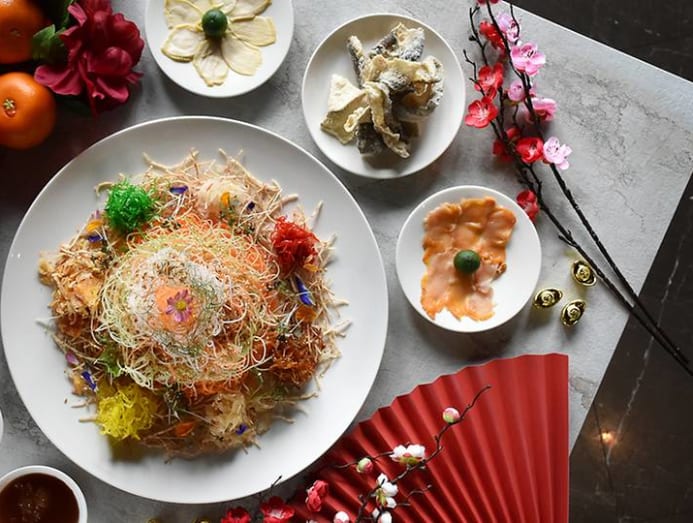 This swish modern Chinese restaurant is serving three festive menus that start from S$68 per person. Each features the Prosperity Akagai Yusheng (from S$48) laden with delicious things like Akagai ark clams, deep-fried yam, pickled red ginger and crispy salmon skin tossed in a truffle and yuzu dressing.
Among the ambrosial selection are Mimi's Signature Flaming chicken, which is flambeed in rose wine; braised abalone with mushrooms; and truffle fried rice with scallops. Available from January 17 until February 9.
NEW UBIN SEAFOOD CHIJMES
At the decidedly upscale branch of this beloved zichar purveyor, three set menus ranging from S$688 to S$1,288 feature premium live seafood, glistening-skinned suckling pig and Emperor Chicken cooked long and slow.
All sets come with the Salmon Prosperity yusheng which has a plum sauce proudly made from scratch by a blind man, whom the owners have roped in every year since New Ubin's first Chinese New Year in 1979. There's also good value premium whisky add-ons like a bottle of Glenfiddich 12 Year Old for S$128 and The Balvenie 17 Year Old for S$298. Available from now until February 8.
YAN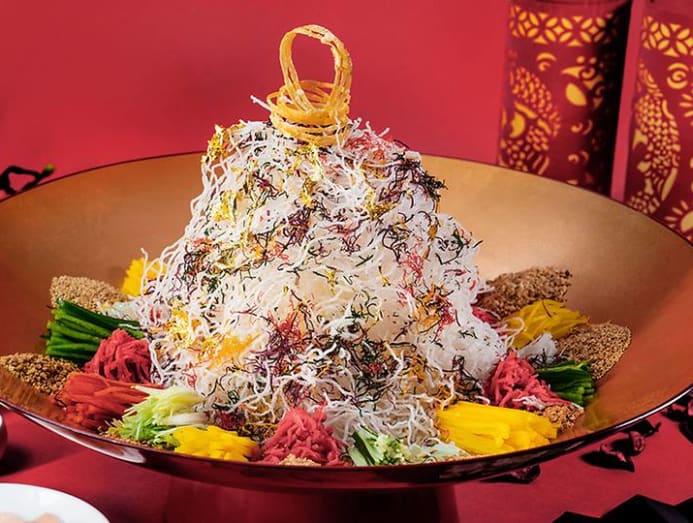 Exceptional Cantonese fare is the order of the day at this spacious establishment within the National Gallery. For the Lunar New Year, Yan's chefs have created six set menus that range between S$98 and S$198 per person.
Expect wholesome dishes like double-boiled Peru maca soup with dried seafood, steamed star grouper with Yunnan preserved vegetables and cordyceps flowers, as well as wok-fried local lobsters with ee fu noodles.
This year's yusheng represents a Kaleidoscope of Prosperity, with lots of crispy vermicelli and shredded sweet potatoes, fresh yellowtail, and a medley of vegetables topped with gold flakes and crunchy mee pok.
YARDBIRD SOUTHERN TABLE & BAR
When traditional Chinese New Year feasting fatigue hits, an American take on Chinese food can be a welcome change.
Over at this buzzy restaurant better known for its Southern fried chicken, Lunar New Year specials include a smoked salmon salad (S$22) served with crispy quinoa and cheese toast, and Deep South Ramen featuring noodles in a dark and smoky chicken broth served with collared greens, chow chow (a pickled relish), pickled okra and devilled egg with smoked trout roe.
To really get into the festive spirit, sip on Yardbird's Old Fashioned (S$15), made with bacon-infused whiskey, maple syrup and bitters. Available from January 24 until February 2.
YUN NANS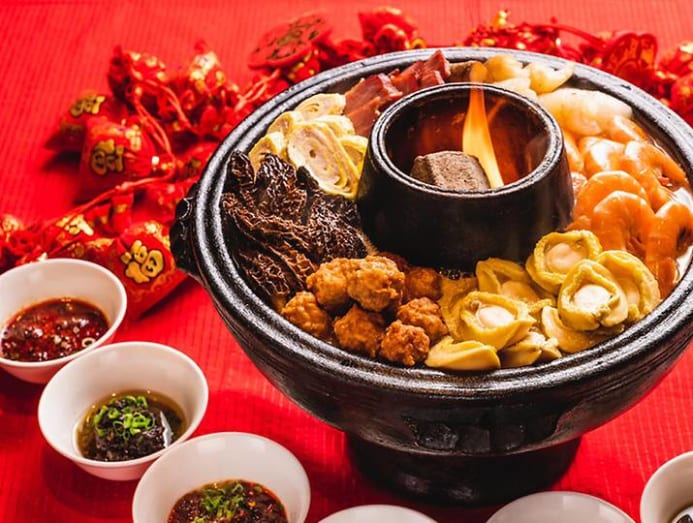 The Prosperity Treasure Hot Pot (starting from S$168 for six people) at this popular Chinese Highland restaurant is a hale and hearty affair cooked and presented in an earthen pot imported from its eponymous province.
The soup base comprises aged hen, duck and pork bones, as well as dry-cured ham, all of which are steeped for six hours to yield a fragrant, full-bodied broth. Premium ingredients then go into the hotpot, including Yunnan wheat pumpkin, pig skin, sea cucumber and abalone.
This is just one of many unique traditional Yunnan Lunar New Year offerings, which include stewed chicken with lemongrass, braised pork ribs with Yunnan mushrooms, and braised seafood bisque with fish maw. They are all part of Yun Nan's eight Chinese New Year menus priced from S$268. Available from now until February 8.