From simple to sumptuous: Iftar options to enjoy with loved ones this Ramadan
These restaurants are poised to serve up iftar meals with a side of convivial vibes, ranging from the simple and authentic to generous buffet spreads.
The most sacred month of the Islamic calendar, Ramadan – which falls between May 5 and Jun 4 this year – sees Muslims fast from sunrise through sunset in remembrance of those suffering in need and to purify their minds, bodies and souls.
Nightfall, however, heralds an opportunity for families, friends and communities to gather for evening prayers and sumptuous spreads. In that spirit, we've put together a list of restaurants at which Muslims and their friends of every ilk can sit down to iftar (the evening meal that ends their daily Ramadan fast).
From lavish buffet spreads to simple and authentic Indonesia fare, and even a joyful platter of chicken wings and burgers, these restaurants are well-poised to serve up iftar meals with a side of convivial vibes.
21 ON RAJAH
The flavours of the Mediterranean and Asia meet at 21 On Rajah's Mediterrasian Bazaar buffets. You might find yourself eschewing the salads to snack on epok epok, fish crackers and onion crackers dipped in kecap manis pedas and sambal belacan, though you should have a go at the hard-to-find kerabu salad with fresh coconut and shrimps. The list of mains include lamb moussaka, chicken in harissa sauce, eggplant and okra tagine, chilli crabs with deep-fried mantou, and assam pedas fish. As with all good buffets, there's also a noodle and pasta station, a Singapore rojak stall, and seafood on ice. From S$48++ per person.
BLUE JASMINE
Iftar brings with it two menus at Halal Thai restaurant Blue Jasmine. Seafood Nights run from May 13 to 19, when dishes like seafood lemak chilli api, Thai crab cakes, and seafood tom yum fight for your stomach space with a smorgasbord of the ocean's bounty grilled with a bevy of tasty marinades. From May 20 to 26, the focus turns to the Grill & Roast. That means offerings like devil wings, grilled beef, lamb chops and chicken satay. S$58 per person.
parkhotelgroup.com/en/farrerpark/blue-jasmine
CAROUSEL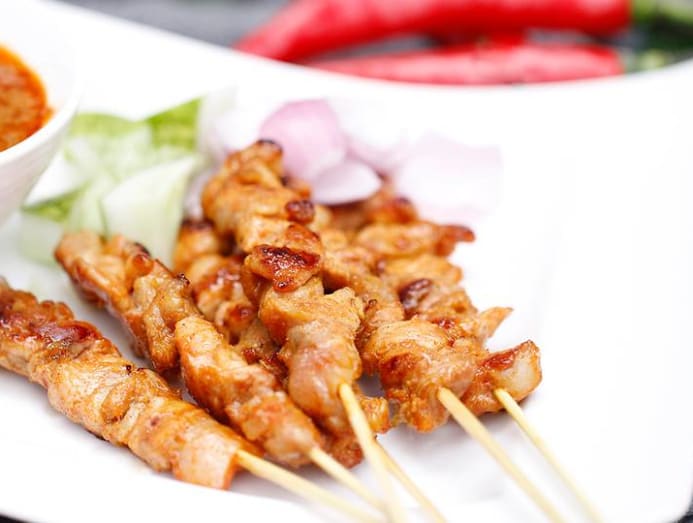 One of Singapore's most popular Halal buffet restaurants, Carousel is dishing out a scrumptious selection of Singapore heritage fare for Ramadan this year. Expect the likes of chicken rice balls, Hakka yam abacus seeds, a kueh pie tee live station, laksa, grilled stingray with sambal and chincalok, and chilli crab with mantou. To add delight to the experience is an assortment of nostalgic Singaporean biscuits like iced gem cookies, spiral five-spice biscuits and chocolate wafers, alongside a spread of Nonya kueh. Available from May 6 until Jun 4. S$58 per adult for lunch and S$80 per adult for dinner on weekdays; S$68 and S$88 respectively on weekends.
FATBURGER
Get down and dirty with your friends and family over a 50-piece Chicken Party Platter at Halal-certified LA-import Fatburger. Good for five to six people, the platter comes in a choice of bone-in wings for S$42.50 or succulent boneless chicken for S$45. Of course, there is the cheap and cheerful option of Fatburger's popular customisable burgers, which start from S$7.90, or a Classic Hot Dog for S$6.90. Then wash it all down with the special edition Pandan Milkshake (S$6.50). Or better yet, get the lot delivered to your doorstep.
HALIA
Halia's indulgent Ramadan Communal Feast (S$240) is a lavish spread of elegant eats meant to be shared among four to six people. In keeping with the restaurant's signature Asian-inflected modern European cuisine, the menu purveys dishes like goat cheese mousse with truffle honey and cream cheese on toasted baguette, and Blackmore Wagyu spare ribs with puffed rice and jerk spice barbecue. The meal also comes with a jug of Halia's popular Herbarium mocktail for the table to share. Available for dinner only, from May 6 until Jun 4.
KATONG KITCHEN
For its Ramadan dinner menu, Katong Kitchen is serving a spread of local dishes that run the gamut from lobster kueh pie tee and satay, to mains like ayam buah keluak, mee goreng, ikan assam pedas and beef rendang. There's also a selection of seafood like scallops, prawns and snow crabs on ice, as well as a carving station featuring the likes of satay-marinated roasted leg of lamb with roasted potatoes or steamed tapioca. Available from May 5 until Jun 5. S$50 per adult from Monday to Thursday and S$60 per adult from Friday to Sunday.
RUMAH RASA
Chick kut teh (the chicken version of Singapore's beloved pork bone soup), ayam woku belanga (marinated chicken seasoned with spices from Manado), and bebek cabai ijo (braised duck with green chilli sauce) are just some of the good eats available in Rumah Rasa's Ramadan Iftar Buffet. From Sunday to Thursday, diners can graze through live stations featuring laksa ayam and roti john, before moseying over the platters of crayfish in chilli crabmeat and egg sauce, and calamari in squid ink sauce. On Fridays and Saturdays, a live barbecue station gets thrown into the mix, serving marinated seafood. Available from May 16 until Jun 14 at S$38 per adult from Sunday to Thursday, and S$45 per adult on Friday and Saturday.
bayhotelsingapore.com/dining-promotions/ramadan-buffet2019
SAMA SAMA BY TOK TOK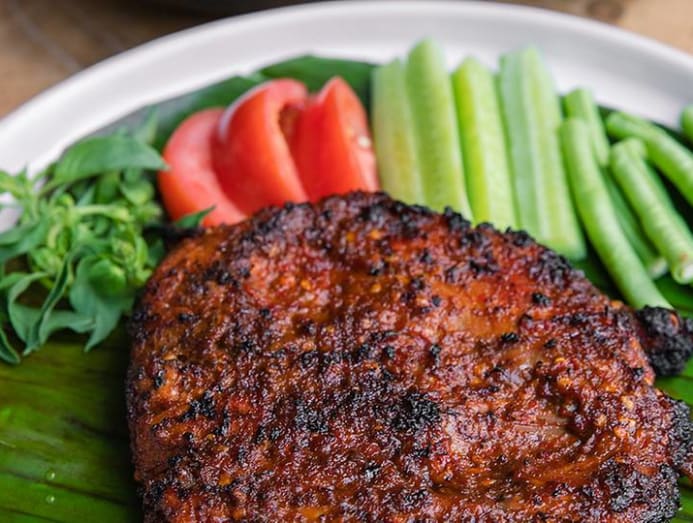 Make an evening of it with dinner at Sama Sama by Tok Tok followed by a leisurely stroll around Jewel Changi Airport's impressive indoor gardens. This newly minted eatery serves a menu of Indonesian delights like ayam bakar Taliwang (S$29), a Lombok-style grilled chicken spiced with freshly ground black peppercorns and purified sea salt; and kakap merah bakar Jimbaran ($39), a whole red snapper grilled Balinese-style with Balinese shrimp paste and Javanese soy sauce. At the time of writing, the restaurant is awaiting its Halal certification.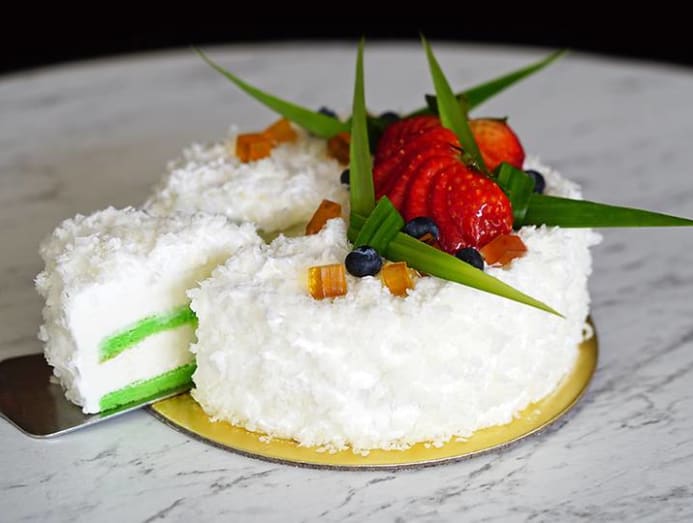 Comfort food from the Straits make up this Ramadan buffet. For starters, there is gado gado, prawn and mango kerabu salad, and chicken satay, on top of cold seafood like poached shrimps, snow crabs and short-neck clams. A laksa station warms bellies, along with the likes of Ipoh hor fun, mee siam, soto ayam or beef hor fun, depending on the day. There are also soups and a carving station that dishes out delights like ikan bakar sambal and ayam goreng berempah. And all that before you get to the street food station and selection of mains that include ikan masak singgang, nasi minyak, assam laksa, lok lok and Penang fried carrot cake. And did we mention dessert? Think ondeh ondeh cakes, durian pengat, jemput jemput and bubur cha cha, among a host of other sweet endings. Available from May 5 until Jun 5. S$54 per adult from Monday to Thursday and S$62 per adult from Friday to Sunday.
STRAITS KITCHEN
The ever-popular Straits Kitchen celebrates Ramadan with a Date Bazaar section that features a mind-boggling array of fully ripened dates. Pick from varieties like mabroum and ajwa from Saudi Arabia, diget nour from Tunisia, amary from Egypt, falastine from Palestine, and pressed figs from Syria. When you've broken fast with these sweet treats, hit the buffet spread that includes specialities like biryani of the day, slow-cooked Arabic spiced lamb shanks on oriental nut rice, a selection of mezzeh and breads, plenty of cold and grilled seafood, and sweet pastries such as baklava, basbousa, and halvas. Don't miss the pistachio and golden milk soft serve too. Available from May 6 to Jun 4 at S$78 per adult for lunch and dinner.
singapore.grand.hyattrestaurants.com/straitskitchen.html