Paradise Found? Escaping reality with a trip to the Maldives amid the pandemic
Hong Kong-based writer Chris Dwyer, who recently journeyed to the Maldives, explains the reality of leisure travel in extraordinary times and reveals how ancient Chinese wisdom has influenced one of the world's most exclusive resorts.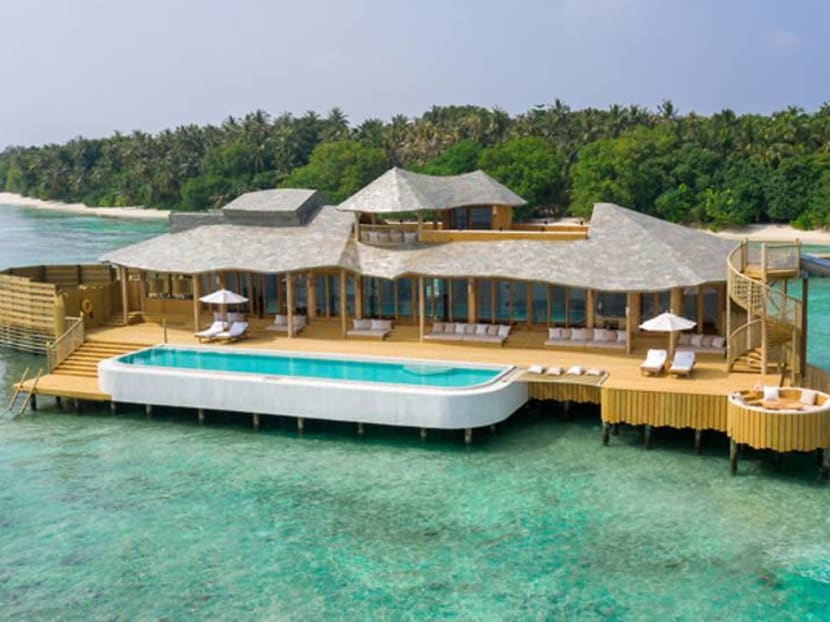 Such is the surreal nature of travel these days that our checklist for a simple trip from Hong Kong to the Maldives ran to three pages.
We used to jump on planes like buses, hopping away for a weekend without thinking. But now a trip takes weeks of planning, scanning the headlines daily for changes in protocol, policy, quarantine details and case numbers, and checking with airlines and hotels, ensuring that everything is in place – simply to get on a plane and end up in a different country a few hours later.
A certificate confirming that you are COVID-19-free is mandatory for any visitor entering the Maldives, part of the quid-pro-quo which has seen them open their doors to any and all global visitors, regardless of their passport. As a result, the archipelago nation has become a magnet for high-end travellers seeking to escape the grim day-to-day elsewhere.
The PCR test needed to be taken no less than 72 hours before our flight, so US$180 (S$240) poorer and a couple of gargles of saliva down, we finally had the key green light.
Hong Kong airport was so deserted that it felt like the set of 28 Days Later, for those that remember the cult British post-apocalyptic movie from 2002. Literally no one else was at the drop-off for departures, while check-in, security and the one Cathay Pacific lounge were almost equally empty.
Under a visor and a mask, both mandatory upon boarding our flight, we quickly realised we were only two of five passengers in 44 business class seats, while Economy was even less populated. Social distancing had never been so easy.
After a short stop in the Gulf – there are currently no direct flights from Hong Kong to the Maldives, nor indeed from Singapore – in our second leg we found ourselves glued to the airplane windows, wide-eyed at the aquamarine waters of the Indian Ocean below.
To see a completely different horizon after almost a year of lockdown was pretty emotional.
SMOOTH LANDING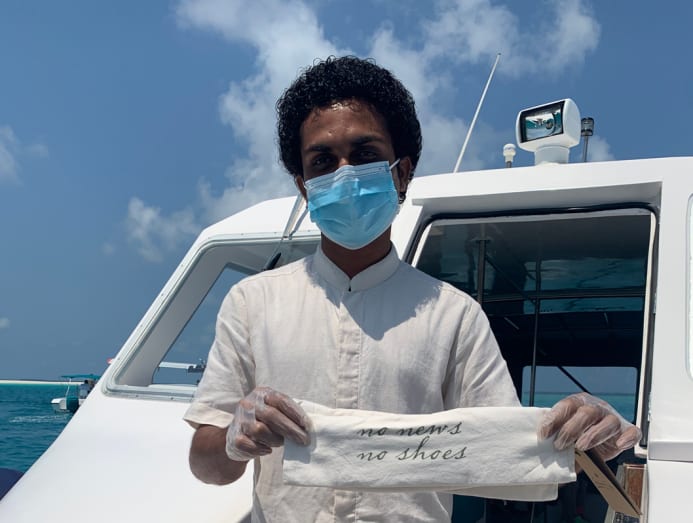 On landing in the Maldives, the arrival process couldn't have been smoother or easier. After immigration and a check on our documents, we were met by a representative from luxury resort group Soneva and taken to their private lounge to await our short flight to Soneva Fushi with Trans Maldivian Airways.
As the seaplane gently skimmed the waves on landing, with flying fish following our wake, the resort slowly revealed itself through the jungle-covered island. Our welcome at the deck came from one of the only people at Soneva Fushi wearing a mask, namely our "Miss Friday" – the name Soneva gives to its staff who take care of guests' needs. She drove a golf buggy to our villa where we were to have our PCR test, the second in our 72 hour-window.
It was a remarkable decision for Sonu Shivdasani, Soneva's co-founder, to invest hundreds of thousands of dollars in a COVID-19 testing machine from Roche. Everyone visiting the Soneva islands, staff and guests alike, are tested.
As he revealed later, "I asked 100 industry people what they thought about purchasing a machine and testing all our guests and staff – only one person said it wasn't a good idea."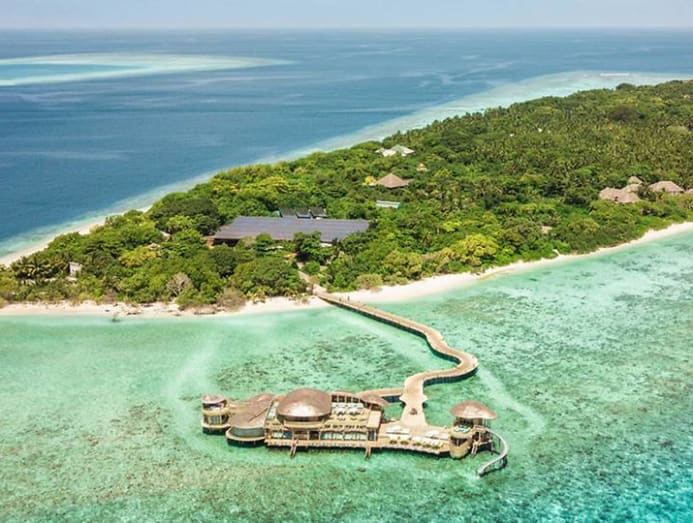 Vindication came quickly in the form of record bookings at Soneva properties for November and December 2020, an extraordinary feat in a year of carnage for the travel industry. Indeed, Soneva Fushi didn't close for a single day in 2020, while the general manager told me that he had been on the property since November 2019.
Once checked in to the world's largest overwater villa, which Soneva calls a Water Retreat, we realised that there could hardly be a better place to quarantine on the planet, especially with the Indian Ocean, room service and a vast private pool at our disposal.
The in-villa PCR test from a nurse – the only other person wearing a mask – took all of five seconds, before we were then left to relax and try and believe where we had actually arrived, exploring the vast 9,200 sq ft two-bedroom property like giddy kids.
The negative results were returned under the door by 6am the following morning – 16 hours later, a quicker turnaround time than our Hong Kong hospital – leaving us free to pack away our masks and mingle freely with staff and guests alike, revelling in the freedom of being in paradise, free from the stresses of urban life in lockdown.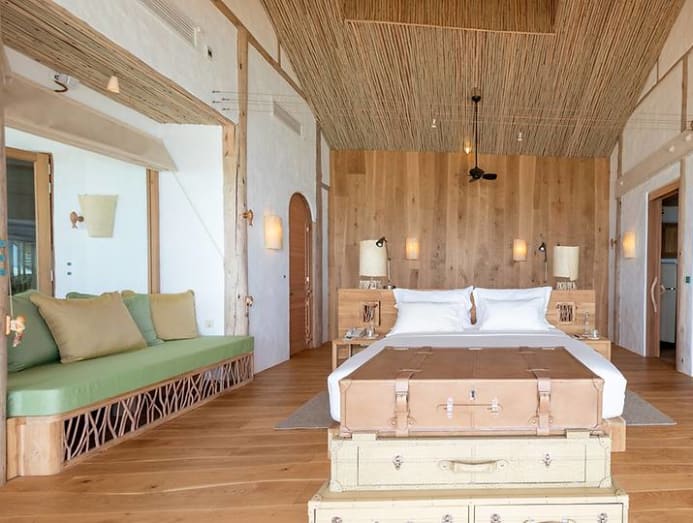 PRIVACY ENSURED
Set along a jetty, the new overwater villas clearly target family travel from Asian markets like China, Hong Kong and Singapore, as Shivdasani explained: "There are only eight low-density water retreats, which are totally private. The design is also based on feng shui, as if you looked at the island before, it looked like a fish – now we've added a tail to the fish."
Indeed, when I asked him to look back on a tumultuous year for travel, he again focused on China: "There's a lot of great wisdom from China. I like the wisdom of Lao Tzu who said that good fortune has its roots in disaster. That's certainly been my experience with my health crisis two years ago (Shivdasani was diagnosed with stage four cancer).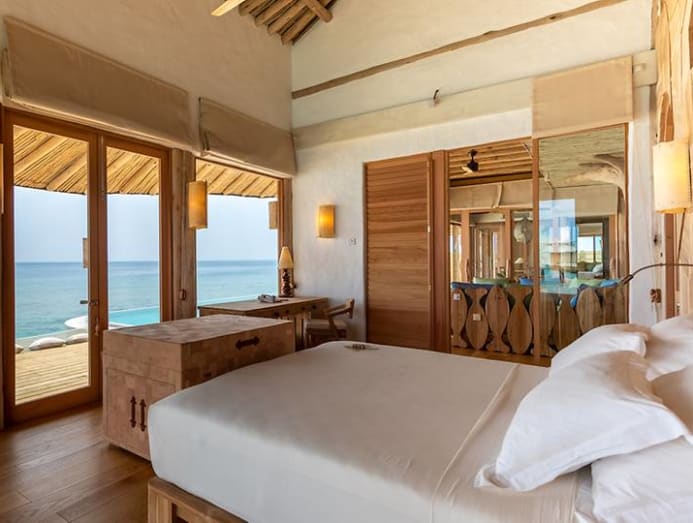 "If one approaches a crisis with the right solution-oriented frame of mind, then there are opportunities to grow and evolve. The Chinese character for crisis combines two symbols, one for danger but also one for opportunity and change."
Back at villa 88, clearly an auspicious number in Chinese culture, the most pressing question every day was how to relax in sustainable luxury.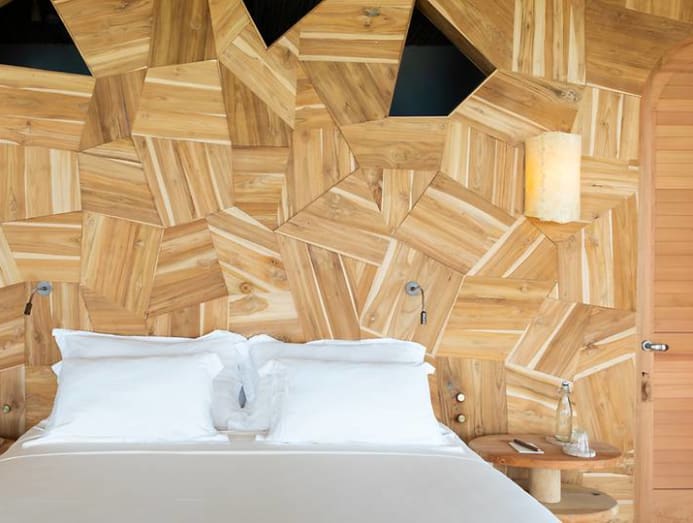 Having celebrated their 25th anniversary in 2020, Soneva Fushi's sustainable credentials are still frankly unmatched in super-luxury resorts: There's no plastic to be seen anywhere, every wooden plank and piece of furniture is made on the island, while any metal used comes from drink cans melted on the island. Throughout the villa there are glass panels – upcycled in their glass workshop, naturally – which let you watch the mantas and baby sharks swimming below.
Speaking of marine life, we observed dolphins frolicking on the reef just metres away. It's called a Water Retreat with good reason, so there's your personal snorkelling deck for easy access to the ocean, multiple other ladder entry points, but most of all an insanely fun 19m water slide that heads in a spiral from the villa's second floor straight into the warm water below. Just make sure that you check the tide level first.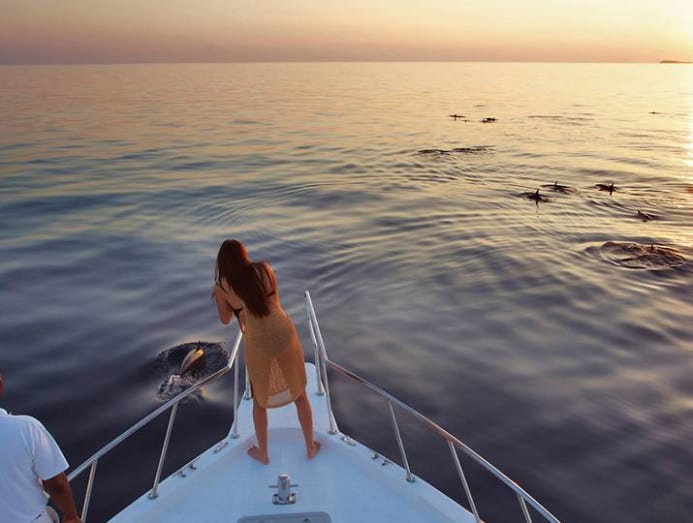 Rivalling the slide in the fun factor is the roof above your bed which retracts at the touch of a button, letting you sunbathe or sleep under the stars. But if you really want to rub it in to those back home – when you're not constantly posting on Instagram, that is – then the villa's workspace has a desk with drawers facing the ocean. Why? So that when you're on a Zoom call you have the real waters of the Indian Ocean as your backdrop.
Your kitchen and huge SMEG fridge are filled with epicurean treats that somehow largely remain healthy, while a coconut-rich Maldivian tuna curry with hot chapati is there at the press of a button, part of a tempting and extensive in-villa dining menu. But then you also have a selection of world-class restaurants just a few minutes ride away on your personalised bicycles – made from bamboo, naturally.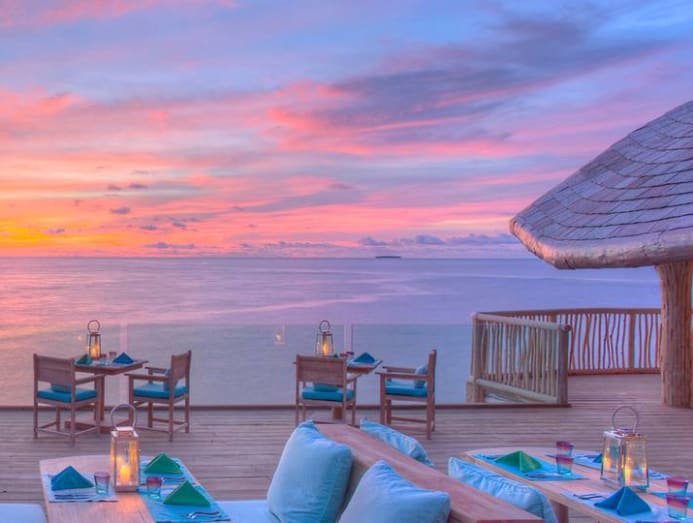 As you cycle the sandy tracks criss-crossing the island, avoiding the occasional iguana running across your path, you also notice a distinct lack of something: Mosquitoes.
That's thanks to yet another remarkable idea which became reality, namely a 95 per cent reduction in mosquito numbers on the island. Avoiding chemical-filled fogging and sprays that are typically used elsewhere, Soneva worked with world-renowned mosquito expert Dr Bart Knols to set up pioneering chemical-free traps across the resort.
The result has been a far safer and even more pleasant environment, the regeneration of native bees and butterflies, as well as the genuinely viable vision of extending the method to destinations all over the world that are plagued by mosquitoes – and with it, potentially massively impacting diseases like malaria and dengue.
It's a reminder that life in the Maldives, especially in the pinnacle of high-end resorts, can feel a long, long way from reality. But that's arguably the beauty – and the point – of travelling there in the first place.