Dog yoga and burpee vinyasas? 6 alternative yoga styles to try in Singapore
Sometimes you just need a break from doing sun salutations. From being suspended in hammocks to testing your balance on a longboard, here are some alternative ways to get your zen on.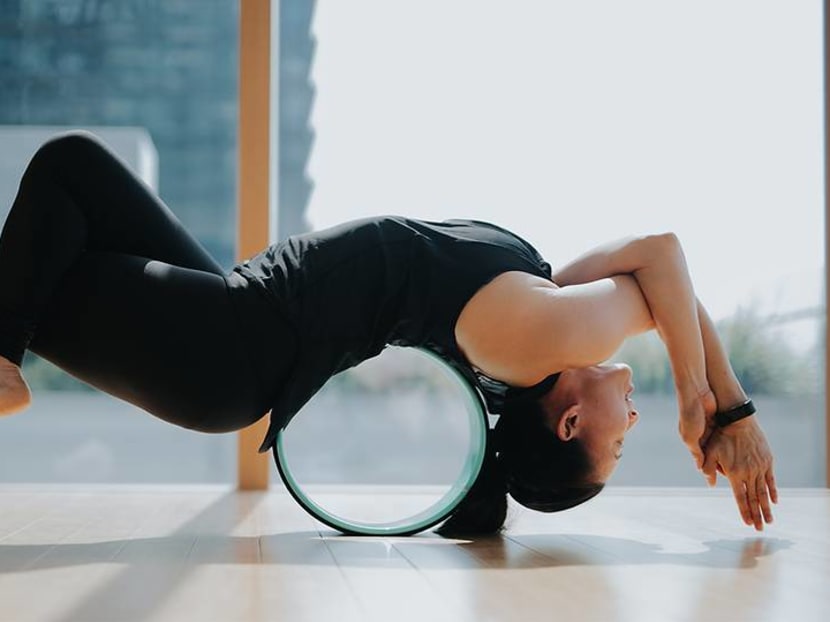 The practice of yoga may have been around for thousands of years but that doesn't mean you should be stuck doing the exact same thing over and over again. In fact, you can now do a pigeon pose while suspended in a hammock, lift up into a scorpion pose with the help of a wheel, or even stretch into a downward dog together with your pet pup. Here are new styles of yoga to add some spice to your fitness and wellness regimen.
AERIAL YOGA
Defy gravity with this very cool style of yoga where poses are done while suspended on a silk hammock. It is said that the support hammock helps to relieve pressure in the spine and joints to make it easier to get into challenging mat-based postures. Plus, you get to live out your dreams of being an aerial gymnast as you float in the air while bending and folding your body into postures and even inversions you never knew you were capable of doing. Benefits of aerial yoga include a stronger core, increased flexibility and relieving tension in the back and neck.
TRY IT AT: Upside Motion
DOG AND CAT YOGA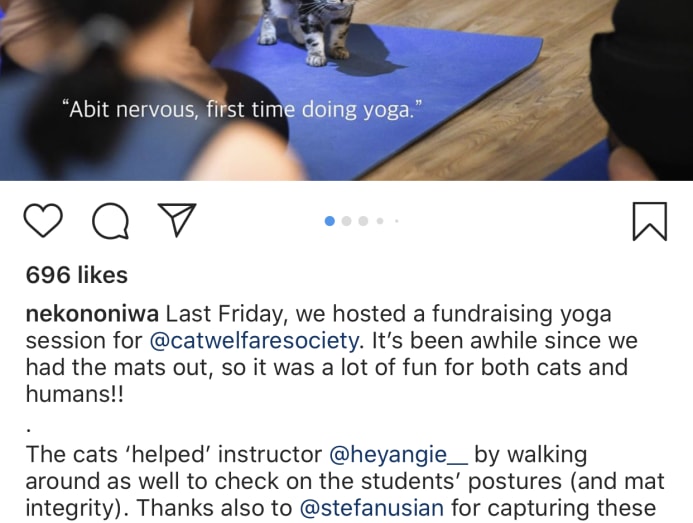 It may sound gimmicky, but do not underestimate the entertainment value of doing yoga with cute, inquisitive animals lounging around you. During dog or cat yoga, the teacher will typically give the humans instructions to get into various poses, while the animals are free to roam. However, while animals may not be adept at following yoga instructions, when they do decide to stretch out into a downward dog – or cat – their natural ease will certainly inspire your own practice too. Plus, it is undoubtedly calming to be in the company of these four legged creatures, which is the main aim of yoga in any case. Just try to leave the tummy rubs and furry cuddles to the end of class.
TRY IT AT: At the moment, there are no regular dog or cat yoga classes in Singapore, but keep a look out for pop-up events at cat cafes or yoga festivals. Or, simply roll out a mat at home and your pet will probably join in, whether you want it to or not.
HIIT YOGA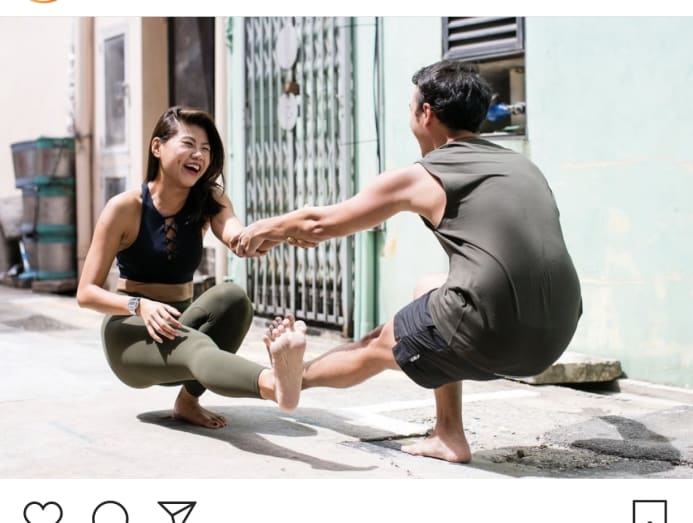 With calorie busting high intensity interval training (HIIT) workouts all the rage right now, it is no surprise that HIIT yoga is now a thing. This class is particularly suited for energiser bunnies who are accustomed to both the flowing style of vinyasa yoga as well as the high octane movements of circuit fitness classes.
Classes start with a flow yoga sequence to get things moving before high intensity exercises are added to the mix. This means you will have to do a mix of fast yoga poses together with interval repetitions such as jumps, lunges or even burpee vinyasas. The acrobatically inclined can even work on their handstands or arm balances during the session – if they are fast enough.
TRY IT AT: Yoga Movement
STAND-UP PADDLE YOGA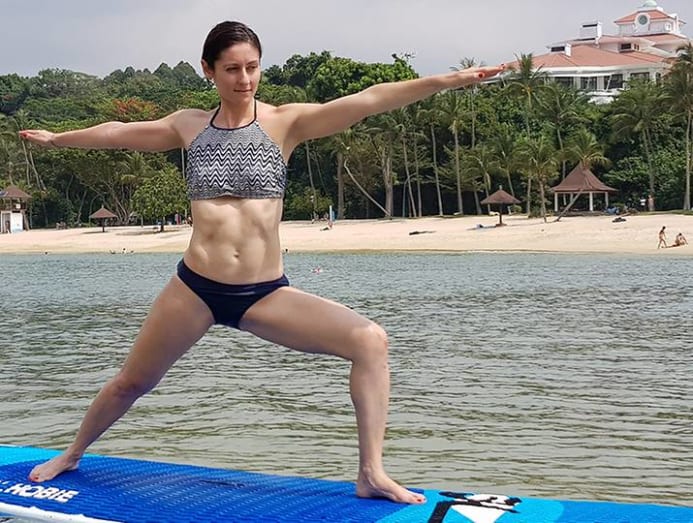 For a real challenge – and to give your core a good workout – test your sense of balance by doing yoga on a longboard on the water. While it is unconventional, this style of yoga is a great way to develop a better mind-body connection since you will have to be fully aware of your balance or you might just fall into the water. Expect there to be plenty of laughs during the session, since it is practically guaranteed that you will experience at least one wipe-out when trying out new poses.
TRY IT AT: SUP School
WALL ROPE YOGA
Doing yoga with props like ropes, pelvic swings and bars that are attached to a wall may sound like a weird form of torture, but they are actually a very effective way of assisting the body into deeper variations of poses. These props, which are attached securely to a wall, help to enhance traction and extension so that you can get into a better alignment to stretch and strengthen beyond what you might normally be capable of. This style of yoga is recommended for those who wish to gently and safely stretch themselves beyond their limits.
TRY IT AT: Pure Yoga
YOGA WHEEL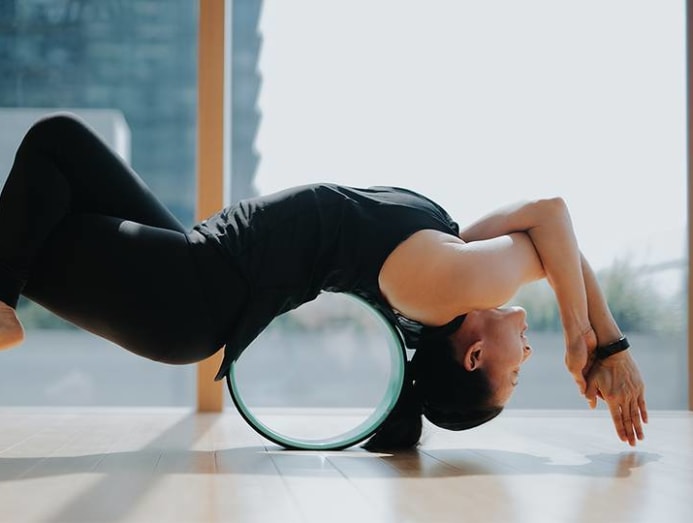 Over the past year, you might have seen Instagram pictures of yogis contorting themselves into seemingly impossible postures with the aid of a yoga wheel. Now, you can try this out for yourself too with classes that will ease you into these complicated poses. The yoga wheel is a unique prop can be used to "open" the back by supporting it as you go deeper into backbends, which is a common problem area for many practitioners. Besides stretching the spine, hips and shoulders safely, the wheel can also be used as a tool for relaxation in a similar way to foam rollers.
TRY IT AT: Pure Yoga