S$400 for a 'Made in China' wine: How does this top-dollar vino taste?
Ao Yun, LVMH's Chinese wine venture, is showing it has what it takes to produce world class Bordeaux-style wines in the foothills of the Himalayas. How does its latest vintage, the 2016, fare? CNA Luxury takes a taste test.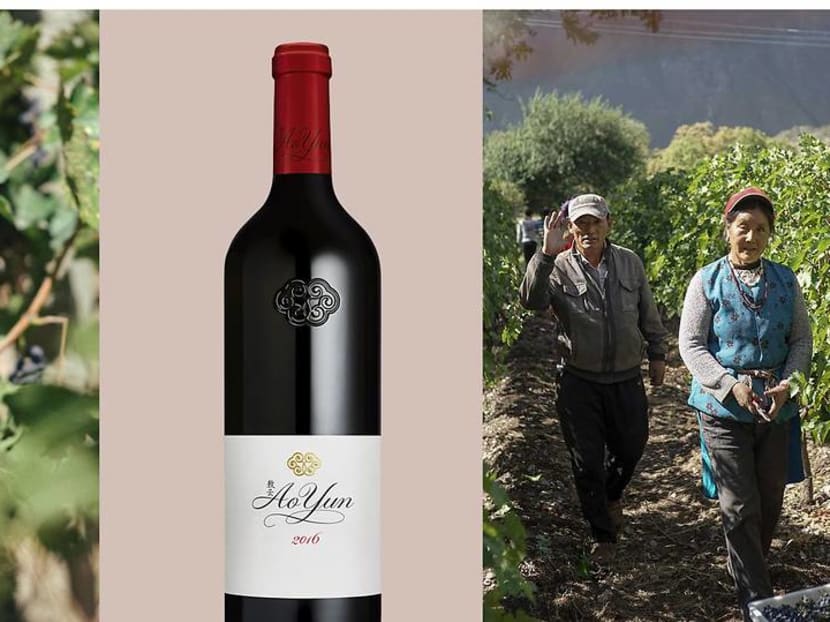 It's not a stretch to say that people who take on the Himalayas are gluttons for punishment. Harsh, inhospitable terrain. Dizzying, jagged peaks that claw the troposphere. And altitude sickness to boot. You'd better come to the unforgiving environment with good reason.
For Moet Hennessy, the drinks division of luxury goods conglomerate LVMH, they came for wine.
In 2008, LVMH, then having already acquired top brands like Krug and Glenmorangie, set their sights on making wine in China. It was a bold move since Chinese wines were unheard of outside of China, and many Chinese wineries were only too happy to blend their domestic wines with imported bulk wine.
Moet Hennessy sent Dr Tony Jordan, the late Australian winemaker and scientist, to look for suitable areas for viticulture in China. After a year of exploring dozens of regions, he realised that 99 per cent of the country would not be suitable for winemaking – the north presented harsh winters and frost risks, while the eastern areas had excessive rainfall and high humidity – save for the possibility of milder micro-climates in the southern regions.
He ended up in Adong, a village on the foothills of the Himalayas in Yunnan province, where the climatic conditions reminded him of Bordeaux. The area sits in the shadow of the Meili Mountain range, which rises to 6,740m.
The land wasn't virgin territory for vino: In the 19th century, Jesuit missionaries had planted vines on the steep slopes, likely for sacramental wine. In 2000, in an effort to boost the local economy, the Chinese government got local Tibetan farmers to plant vines imported from France – Cabernet Sauvignon and Cabernet Franc – to sell grapes in bulk to another winery in the area.
In 2013, Moet Hennessy planted Cabernet Sauvignon, Merlot, Cabernet Franc, Petit Verdot – varieties typical of a Bordeaux-style blend – and Syrah vines. They named their new enterprise Ao Yun, which means "flying above clouds", a reference to the high-altitude region.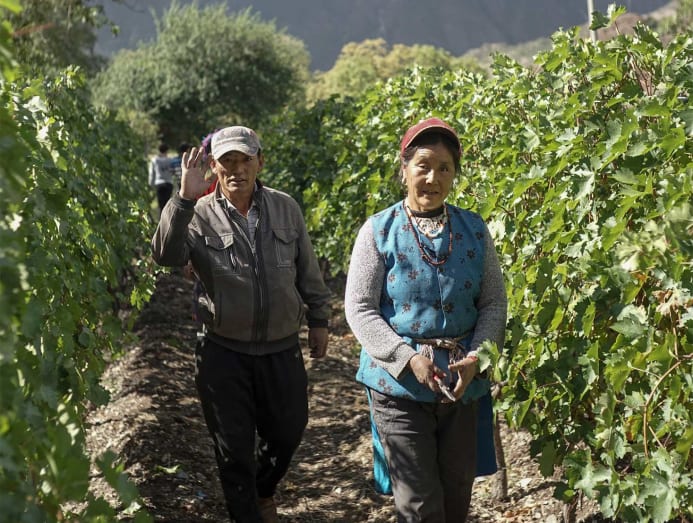 Ao Yun currently has 30 hectares of vineyards in four villages: Adong (where the winery is based), Shuori, Sinong, and Xidang, which all sit above 2,000m. All the land is leased from the farmers, who in turn lease from the government. Fifty per cent of the current acreage belongs to the plots planted by the farmers in 2000.
The remoteness of the winery proved to be difficult for logistics. The nearest town, Shangri-La, is a four-hour drive away, through rocky, mountainous roads.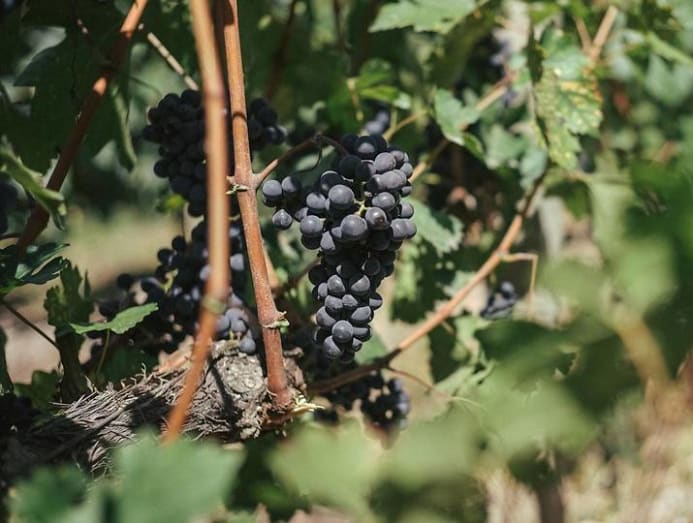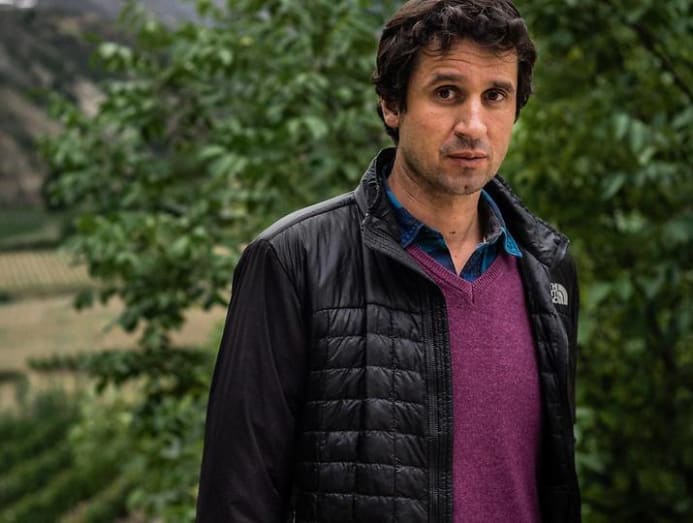 Moet Hennessy has made it a point to hire local farmers who have made the surrounding lands their homes for centuries.   
"In the vineyard, we work with local [Tibetan] farmers and chief villagers as the first level of optimisation," said Dulou. "They make up a big part of the team and consist of more than 100 families.
"For vineyard management, our team of Chinese winemakers are non-locals who are managed by Remi Vincent, our vineyard manager," he added. Communication between employees is a ping-pong between French, English, Mandarin, and Tibetan.
The local farmers' knowledge of the local terrain has been beneficial to Ao Yun's viticulture techniques, such as flood irrigation management. The steep slopes mean tractors can't be used – harvest is done carefully by hand.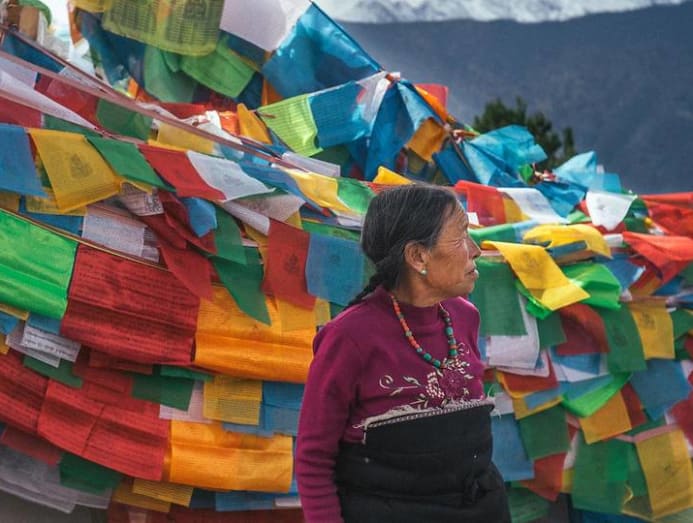 The vineyards nestle in a steep valley, in the shadows cast by the mountains, and thus experience shorter daylight hours. In winemaking 101, reduced sunlight exposure is disadvantageous as it affects grape growth. But Ao Yun's vineyards sit at high altitudes, which make them an exception.
"The shorter sunlight hours in the vineyards are partially compensated by the stronger ultraviolet light at high altitudes," said Dulou. "The vines are also compensated by a longer ripening period: Instead of harvesting in September, we harvest in October – and up till end-November for some of the cooler vintages."
Making wine in the cellar at 2,600m means dealing with 25 per cent less oxygen, a factor which can impact the taste of the wine (oxygen helps soften the wine and enhance its aromas). To make up for this, the team ferments some of the wine in porous baijiu clay jars, which allow for more exchange of oxygen than the standard steel tanks.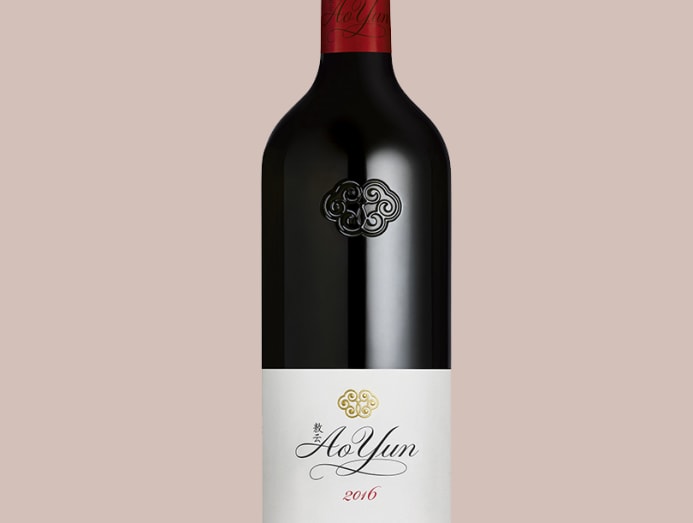 Ao Yun's latest vintage, the 2016, was unveiled in 2020, making it only the fourth vintage to be released from the winery. (The first vintage, the 2013, was released in 2016.)
The 2016 is a blend of Cabernet Sauvignon and Cabernet Franc, with small amounts of Syrah and Petit Verdot. It is perfumed and luscious, offering notes of plum, incense, spices, cedar and silky tannins. It is a more elegant counterpart to the 2015 vintage, which was produced in a warmer year, and thus packed grippier tannins and a fruitier mid-palate.
Since the release of its first vintage, Ao Yun's wines have been getting praise from top wine critics: Jeannie Cho Lee MW noted that the quality "is improving every year since 2013", while James Suckling awarded 96 points to the 2016 vintage.
A bottle of Ao Yun retails for S$408 (S$428 with a gift box) at The Moomba wine shop in Singapore, a price that some may baulk at for a "Made in China" wine. You may even argue that for that amount, you'd rather snag yourself a Second Growth Bordeaux. But the price reflects LVMH's belief in Ao Yun's quality and the potential of Chinese wine.
LVMH's faith isn't unwarranted. In December 2020, the Robert Parker Wine Advocate published its first comprehensive report on Chinese wines, including a review of over 100 wines – Ao Yun's 2015 vintage earned 94 points – a sign that the vino world is starting to pay serious attention to China's young but exciting wine industry. 
"I think Ao Yun is a good example of the Chinese wine ambition; its quality improved [a lot] last year," said Dulou. "Ao Yun is proving to the world that China can create an exceptional, luxury product."