Are gourmet Korean ingredients the next big thing in the culinary scene?
You already know all about top-quality French, Japanese and Italian ingredients. Now, get a head-start on what might just be the next buzzworthy trend in the dining world – premium Korean produce.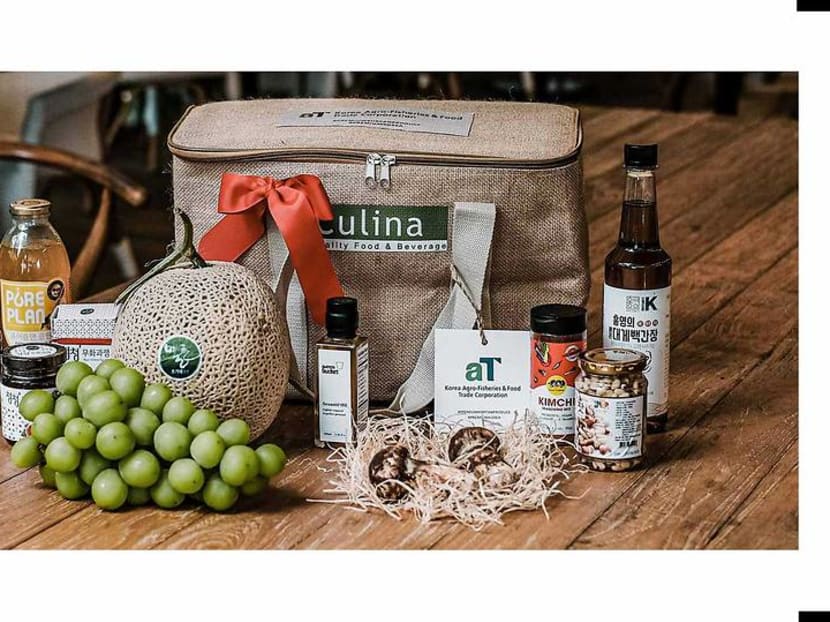 When it comes to Korean food, most people think about fried chicken, bulgogi and kimchi anything. But while this hearty comfort fare certainly hits the spot when the craving strikes, there is more to Korean cuisine than these K-popularised dishes.
In recent years, the growing fame of acclaimed fine-dining Korean restaurants in Seoul, such as Jungsik and Mingles, as well as Singapore's very own one-Michelin-starred Meta, helmed by Korean chef Sun Kim, has slowly awakened foodies to the potential of this underrated cuisine.
One thing that might help to propel this up-and-coming cuisine towards more widespread recognition is if there is better access to quality ingredients outside the country – just like how gourmet Japanese or French produce are closely associated with fine food.
"The Korean Peninsula is surrounded by sea and has an abundance of seafood. It also has fertile land. However the richness of Korean agricultural production — especially at the premium level – is not widely understood," said chef, television host and food author Olivia Lee.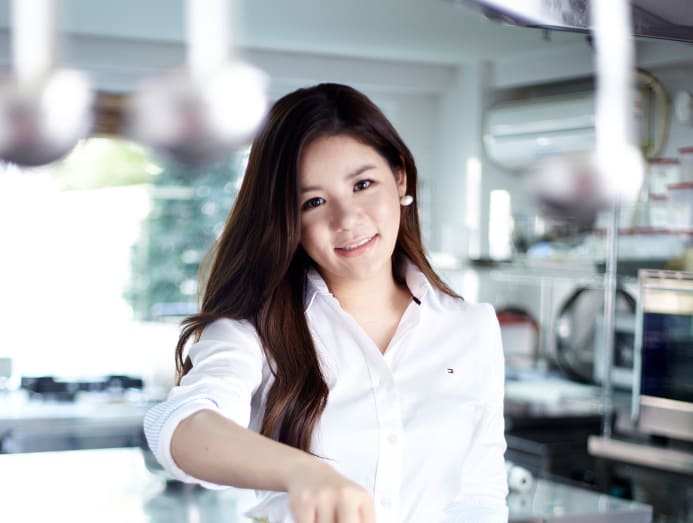 The Korean-born Lee, who is based in Singapore and married to Les Amis' executive chef Sebastien Lepinoy, first noticed how difficult it was to obtain quality Korean fruits when she was pregnant a few years ago.
"I had a craving for my favourite fruit and was disappointed that what was available at local supermarkets tasted nothing like what I was familiar with. The strawberries were unripe and the peaches were hard and not sweet," she said.
That was when she realised there was a gap in the market here for premium Korean produce.
"The fruits I grew up eating were nearly always delicious with the perfect balance of sweetness and acidity that I knew would appeal to both chefs and consumers," she said. To capture this business opportunity, she launched Brandfit, a consulting firm that exports and promotes Korean agricultural products, last December.
She is confident the ingredients will hold their own against other gourmet products. Lee said, "For example, while Italy and France are famous for their truffles, Korea has premium pine mushrooms or matsutake. They have a natural smoky flavour and a chewy texture which adds flavour and depth to any dish."
She does extensive research, which includes personally visiting farmers and producers in Korea, to ensure the ingredients she exports meet her exacting standards. Her experiences have imparted her with many interesting encounters with the country's most dedicated food suppliers.
"Many of my agricultural partners work with knowledge they have inherited from their ancestors," she added. "I work with an expert forager who has been digging pine mushrooms in the mountains for over 30 years while the Shine Muscat grape farmer only grows one to two bunches of grapes on each vine so that he gets the best grapes from each harvest."
The fruits, produce and artisanal sauces such as the grapes, Ok-dom (amadai) fish and snow crab white soy sauce are available at Culina. The company also supplies ingredients to restaurants and has collaborated with various chefs, including Sun Kim of Meta and Julien Royer of three Michelin starred Odette to showcase the potential of the produce.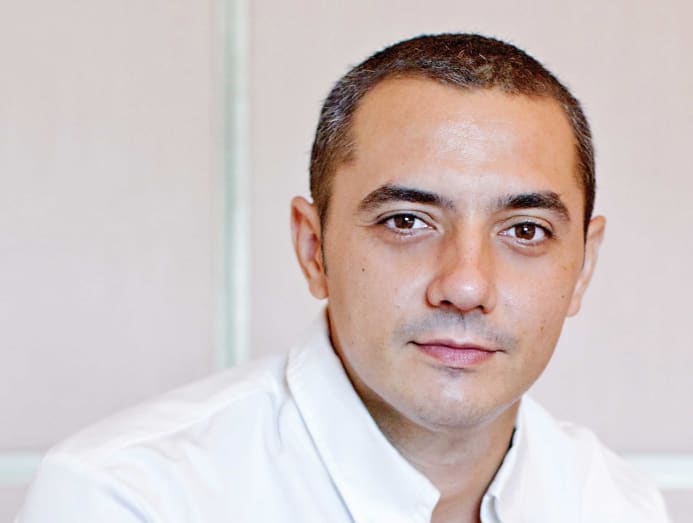 "Having access to these top-quality ingredients allows us to experiment with the flavours which I am familiar with back in Korea and flavours which I hope to achieve. The Badasoop Gamtae seaweed brings me back to the seas of Korea," said chef Kim, who is currently using some of Brandfit's ingredients – the seaweed is one of the key ingredients in Meta's Jeju abalone dish – in the restaurant's tasting and lunch menus.
Lee's other goal is to demonstrate that top-notch Korean produce is suited for more than just Korean cooking. "Premium produce in the hands of skilled chefs can be adapted to suit many cuisines," she noted.
To showcase the versatility of the ingredients, Brandfit worked with chef Julien Royer to create an exclusive five-course tasting menu that incorporates Korean produce in fine dining European cuisine. Dishes included a Songi mushroom & Jeju abalone duo and a Shine Muscat grape and Yuja (Korean yuzu) gourmandise cheesecake.
"While my cuisine is French in DNA, we've consistently infused a sense of place, carrying an utmost respect for seasonality, terroir and artisanal produce sourced from boutique producers around the region and the world. In this case, using artisanal Korean ingredients introduces distinctive textures and flavours to bring a sense of excitement," said chef Royer, who is looking into using Korean ingredients in future menus. Highlights for him included the naturally smoky flavour of the Songi mushrooms that were reminiscent of a forest and the clean flavour of the pine nuts.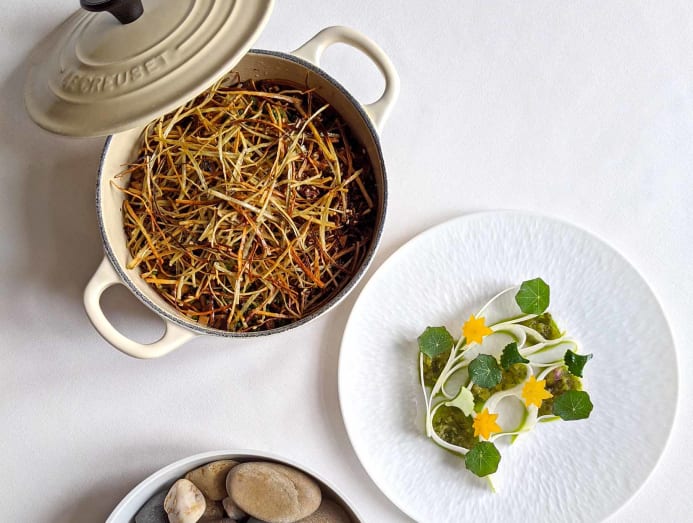 The coronavirus-induced travel restrictions have also led to a stronger demand for gourmet produce from different countries as Singaporeans continue trying to soothe feelings of wanderlust by splurging on their meals, whether at restaurants or at home.
Dylan Tan, who hosts live sales sessions for the 52,000-strong Facebook group Singapore Home Cooks (SHC), has noticed a surge in demand for fresh Japanese ingredients in recent months. 
"When we started selling air-flown Japanese products during circuit breaker, it immediately became a hit as many Singaporean residents who enjoy high-quality restaurant food could not have the same experience due to the restrictions," he said.
Their "Japan nights", he noted, feature highly sought-after fresh imports of Japanese uni, ikura, sashimi grade fishes, prized beef and pork and authentic desserts.
In September, the Okinawa International Logistics Hub partnered with SHC to launch rare seasonal produce from the country's different prefectures. At its first Live session, its curated range of premium products from Kagoshima, including Annou Imo sweet potato caramels and amberjack carpaccio (a prized catch served in top Michelin-starred Tokyo restaurants), were mostly sold out within 90 minutes.
Lee's Brandfit also reported an increase in sales by 20 per cent compared to figures from six months ago. "More people are cooking at home since the pandemic has hit. There is also more interest in fresh, immunity-boosting food and a growing demand for premium produce," she said.
For ideas on how to enjoy these new ingredients at home, take a leaf from Lee's book.
"We tend to have light, healthy meals consisting of simple dishes that rely on the natural flavour of good ingredients so we grill, roast or blanch our vegetables and meat. My husband and my two-year-old daughter like rice, so I cook the best Golden Queen short grain rice from Korea," she said.
"And my daughter loves it when I freeze fresh grapes, melons and strawberries, which she eats like ice-cream."