Are more expensive ergonomic office furniture better for your wellbeing?
WFH is probably here to stay in one form or another so you might as well improve your home office set-up for the sake of your health. We ask experts how to make the most of the office furnishings you invest in.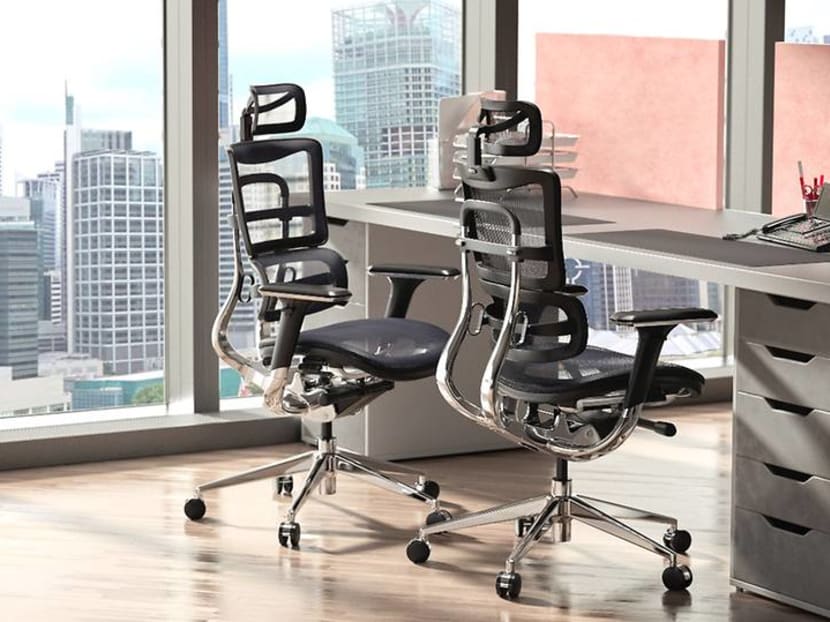 Over the past year of pandemic-induced working from home, have you, like many others, transformed your dining table or kitchen island into your "office desk"? Or worse, are you crouching at your coffee table or slumping in bed with your laptop propped on a pillow? If so, you might have already noticed a nagging pain in your neck, shoulders or lower back because of your bad posture or extended hours of sitting in front of your computer without moving around.
No surprises that the posture experts say WFH pains are one of the most common complaints that people have these days. But while the aches and pains might seem unbearable, fret not. There are ways to alleviate these issues simply by adjusting your seating posture and making a point to take frequent "movement breaks" at regular intervals in the day.
And if you have not already done so, consider investing in your wellbeing by setting up a dedicated workstation at home with a comfortable table and chair that helps you stay comfortable. If your budget allows it, why not splurge on some ergonomic furniture.
"Having one unit of properly crafted equipment – an ergonomic office equipment – can consistently help ensure the right alignment is adhered to," said Dr Seow Kim Seng, director and founder of MacQuarie Chiropractic Clinic.
"Also, this WFH situation is here to stay, at least for a period of time, so why not chip in a little to keep that one and only spine of ours at its best state and condition?"
We get three experts – Dr Seow; Dr Benjamin Tan, founder of Chirogenesis; and Rabia Shah, senior physiotherapist and clinical pilates instructor at Como Shambhala Urban Escape, Singapore to share how you can make the most of your fancy home office set up and to avoid pains from recurring. Plus, our edit of the most covetable ergonomic furniture to spruce up your WFH situation.
SIT THE RIGHT WAY
Remember to maintain what is known as a "neutral spine", where your lower back is neither too arched nor too flattened. Should you start to feel your body getting fatigued, move your bottom all the way to the back of your chair so that your thighs get maximum support on the seat, said Shah.
Avoid crossing your legs as you sit as this affects your centre of gravity, instead plant them firmly on the ground so that your weight is evenly distributed. If your feet cannot reach the floor, prop them up with a small stool or a stack of books. Finally, check that your ears, shoulders and hips line up. In particular, be aware of "text neck", where you tend to look down or stick your head forward to look at your screen. To alleviate this affliction, position your screen at eye level.
SET REGULAR MOVEMENT BREAKS
No matter how many desk-bound hours you might be clocking, remember the golden rule: Motion is lotion.
Said Dr Seow, "According to research, however good a posture is, not having any movement in a prolonged seated, or standing position, is just as bad." Set a timer to go off every 45 minutes to an hour so that you will remember to take a minute to move – it could be a stretch or a walk to the kitchen to fill up your water glass.
For the fitness-inclined, Dr Tan suggests starting the day with a good and safe, functional workout, especially if you know you will probably be sitting in front of a computer for hours on end. He also often advises his patients to fit in light and easy workouts in between sitting and standing intervals such as resistance band exercises.
USE A STANDING DESK
If you find it impossible to "sit up straight" for extended lengths of time, an adjustable standing desk could be your solution. "A standing posture reduces disc pressures which could be helpful in most cases and gives the users a higher probability of avoiding being 'stuck in one position' for too long. Similar to sitting, the ears, shoulder and hips ideally should line up whilst one is standing," said Dr Tan.
However, if you have lower back injuries or injuries around your spine, knee or ankles, it may not be feasible to stand for too long, added Dr Seow. You might also tend to favour one side of the body, which leads to an unequal distribution of weight, so do be aware of this when using a standing desk.
NOT ALL "ERGONOMIC" FURNITURE IS NECESSARILY GOOD FOR YOU
Just because something is advertised as ergonomic does not make it better for you. For instance, Dr Seow cautions against kneeling chairs where as the name suggests, seats the user in a kneeling position. "It basically does not provide any support for the spine in any way. If we are to work eight hours a day, imagine the fatigue that builds up from constantly tensing up our muscles."
OFFICE FURNITURE AND ACCESSORIES TO INDULGE IN
Herman Miller Embody Chair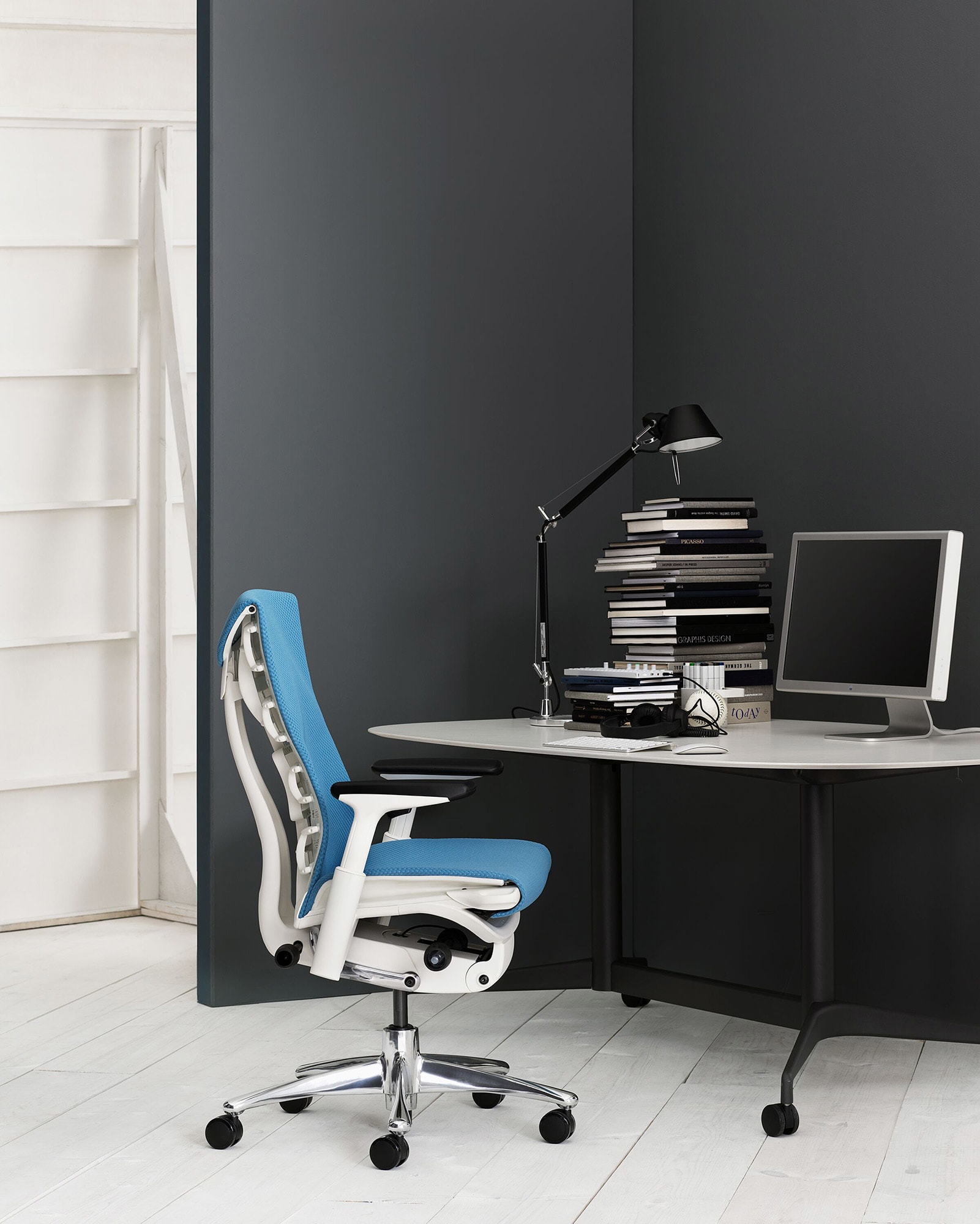 For a level up from the Aeron chair you are probably using in your office, check out Herman Miller's Embody chair, the most expensive in the brand's range (S$2,469 to S$2,529). Its matrix-looking BackFit spine, which automatically flexes to conform to your body's natural contours, helps to support your back while its Pixelated Support seat distributes your weight evenly for maximum comfort.
Ergomeister Faez8erg chair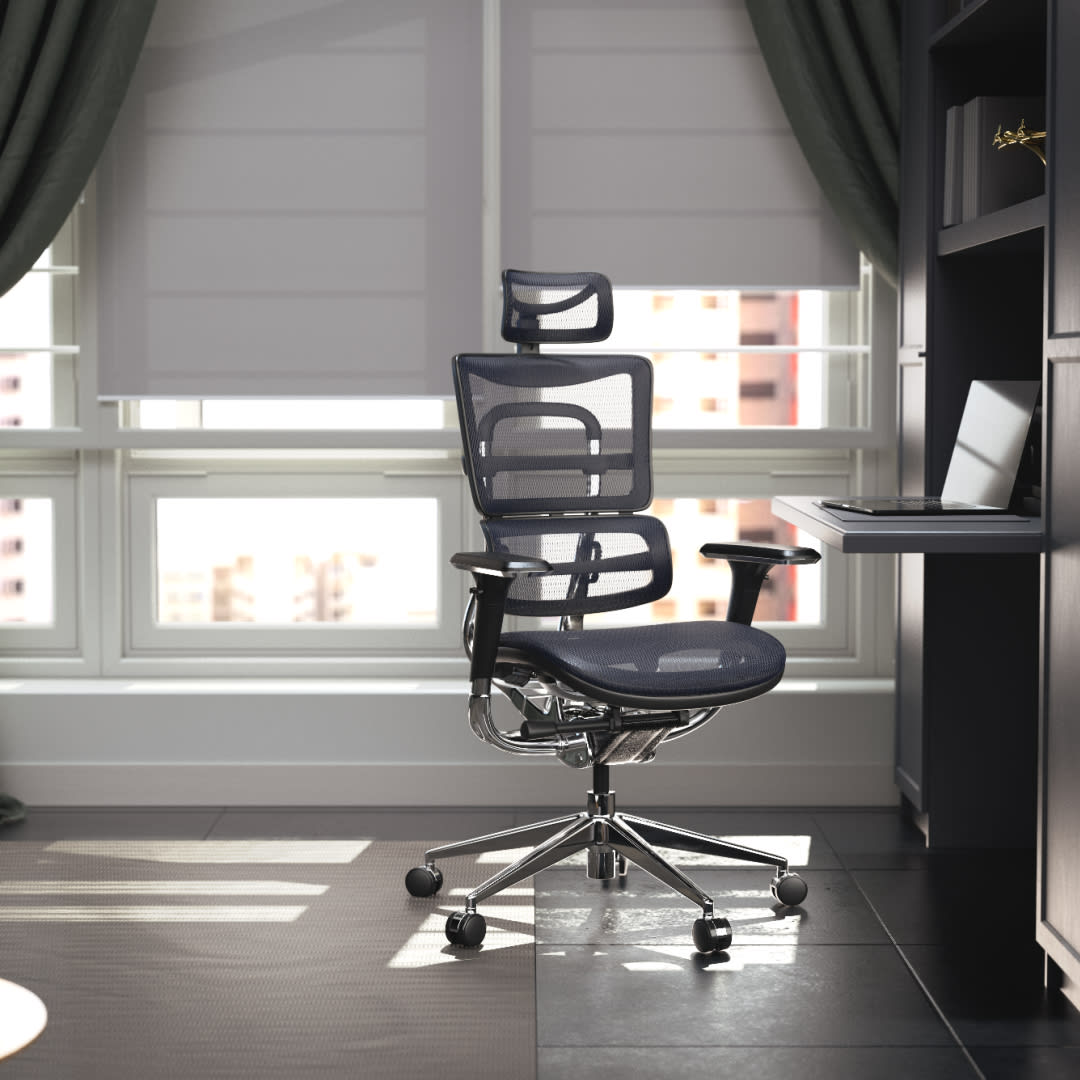 What makes this sleek office chair well worth its S$899 price tag is its comprehensive range of adjustable parts that will allow for even the most micro of tweaks to suit every body part – from the tilt of your head to the length of your thighs.
Highlights include its "elastic" lower back support, which helps to maintain the natural curve of the lower spine, which is of utmost importance for maintaining good spine posture. Plus, its ultra-comfortable mesh not only conforms and supports all contours of the body but also offers excellent airflow to keep you cool, an essential in humid Singapore.
Vitra NesTable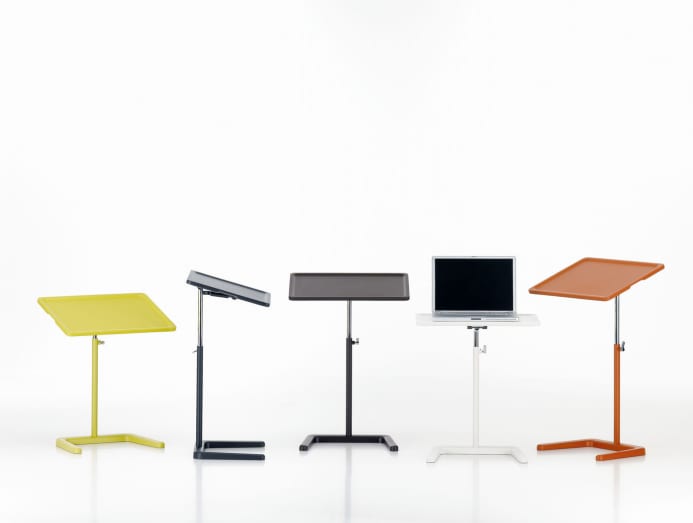 You already know about Vitra's amazingly ergonomic chairs. Now, add the NesTable (S$1,258) to your lust list. It is the rare piece of furniture that has been specially designed to allow for comfortable laptop use just about anywhere in the home – even a sofa or armchair.
Lightweight and portable, the height and angle of the tray platform are fully adjustable and the ultra slim base allows you to draw the table up close to you. Now, you can Zoom from your favourite (and most video-genic) spot in your home with ease.
Omnidesk Wildwood
This brand of electric height-adjustable desks make it a breeze to adjust your desk height to suit your standing or seating posture as you like it. When standing, remember to keep your weight equally distributed on both feet instead of favouring one leg or the other.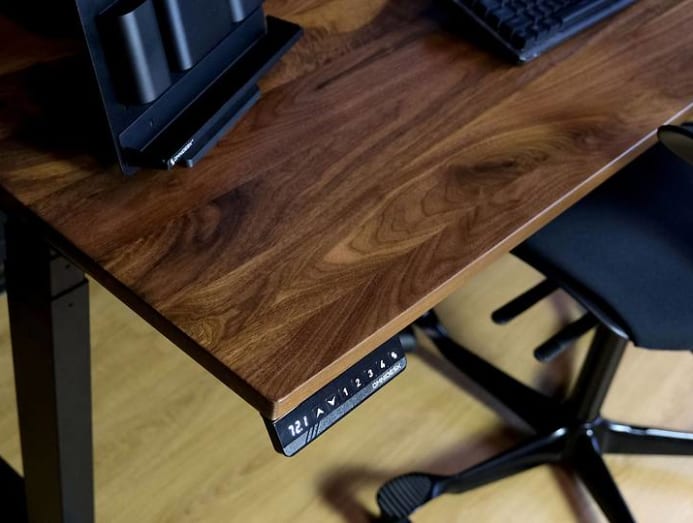 Its top-of-the line Ichi Collection (featuring solid rain tree or teak table tops with a natural edge) sold out in a jiffy but there are plans to expand the collection. Or, if you can't wait for a restock, check out the Wildwood Collection (from S$1,099) which features a range of solid wood table tops to bring a touch of visual interest to your workspace.
Steelcase Dual Evolution Monitor Arm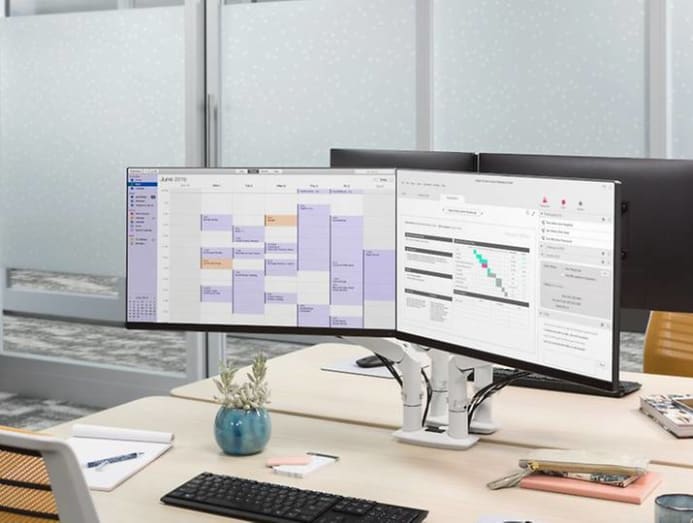 Give yourself an upgrade from that unsightly and cluttered stack of magazines you are using to prop up your screen with this futuristic-looking dual monitor arm (S$845) which mounts at the edge of your desk.
You read that right, it holds up not one but two monitors at your ideal eye level to reduce eye and neck strain. And you can easily rotate your screens from portrait to landscape viewing in a jiffy so you can toggle between watching Netflix and reading long documents with minimal fuss.
Ergoworks Desk Bike

If you are trying to burn some calories while you work, a desk bike (S$699) might be a good option. This one comes with an adjustable desktop for maximum comfort and different resistance settings for those who would like a bit of a challenge.
However, do be aware that you might start to round or slump you lower back with extended cycling, which would be counter-productive to keeping your spine neutral, so you might wish to set regular alerts to remind yourself to correct your spine's alignment.