Where to eat and drink in Australia's wine regions: Tips from Singapore's top sommeliers
Planning to visit wineries Down Under? Take note of these choice recommendations from the wine experts before you go.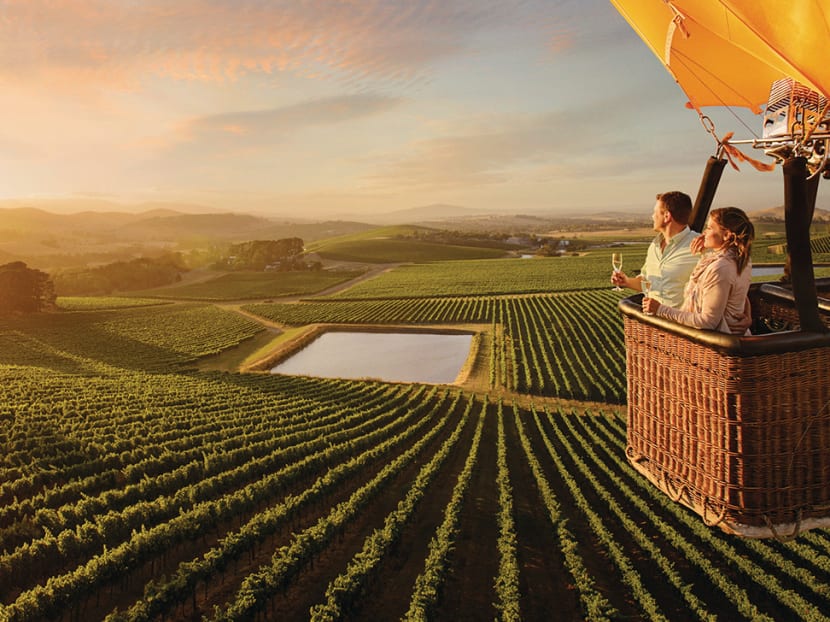 With Australia now fully open to vaccinated travellers, travel-starved Singaporeans are bringing their suitcases out of hibernation and getting ready for their gourmet adventures in the land Down Under.
And we bet wine is on their itinerary. After all, wine has always been a key part of the Aussie gourmet experience – wine regions like Barossa Valley and Yarra Valley are each only an hour's drive from Adelaide and Melbourne respectively.
Plus, being stuck in tiny Singapore for more than two years has given us a yearning for wide-open spaces. Wide-open spaces with great wining and dining, to be exact. Wine country checks that box.
Need some tips on what to do among the vineyards? CNA Luxury got three sommeliers in Singapore to share their experiences in some of Australia's popular wine regions.
BAROSSA VALLEY
Yeo Xi Yang, group wine director of Park90 wine bar
I visited Barossa Valley and McLaren Vale – both wine regions in South Australia and located not far from Adelaide – in the spring of 2015. I was there to compete in a young sommelier competition organised by Chaine des Rotisseurs, a gastronomic society with chapters all over the world.
Along with four other sommeliers, we rented a car to visit Two Hands, Torbreck, Penfolds, and d'Arenberg – these are some of the most famous wineries from the Barossa and McLaren Vale. It was also convenient to drive from winery to winery, amid the expansive landscape of gentle rolling hills.
Do try d'Arry's Verandah Restaurant, the winery restaurant of d'Arenberg in McLaren Vale. The food is driven by clean and simple produce. It was one of my most memorable meals during the trip: I have a fond memory of our group sharing a bottle of d'Arenberg's 'The Custodian' Grenache 1996; I was amazed at how it had matured so beautifully although it was considered something of an entry-level wine.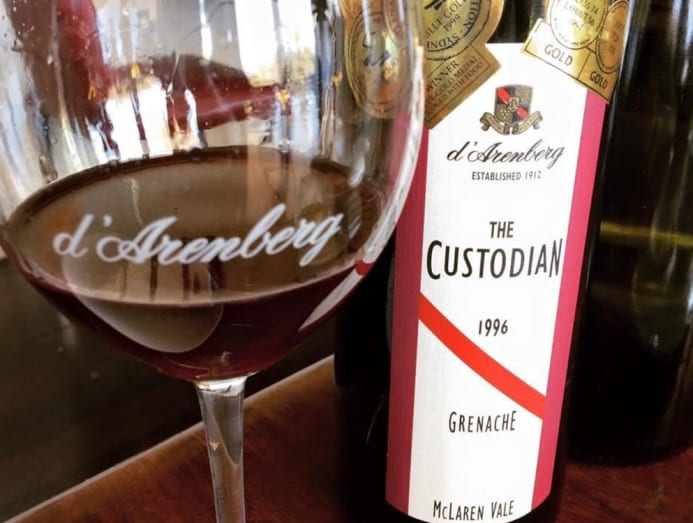 Shiraz is what put Barossa Valley on the winemaking map. The red wine is usually full-bodied, voluminous, textural, and rich in fruity flavours. You'd find a certain eucalyptus aroma in the Barossa Shiraz; a character that makes it quite identifiable among other wines.      
Apart from Shiraz, there are many different styles of wines you can find in the Barossa. For example, BK Wines makes delicious sips from Gruner Veltliner, a white grape; and Shobrook Wines makes a textural, aromatic wine from Semillon vines that are roughly a century old.
YARRA VALLEY AND MORNINGTON PENINSULA
Matthew Lamb, resident sommelier of Clink Clink and group beverage manager of The Lo & Behold Group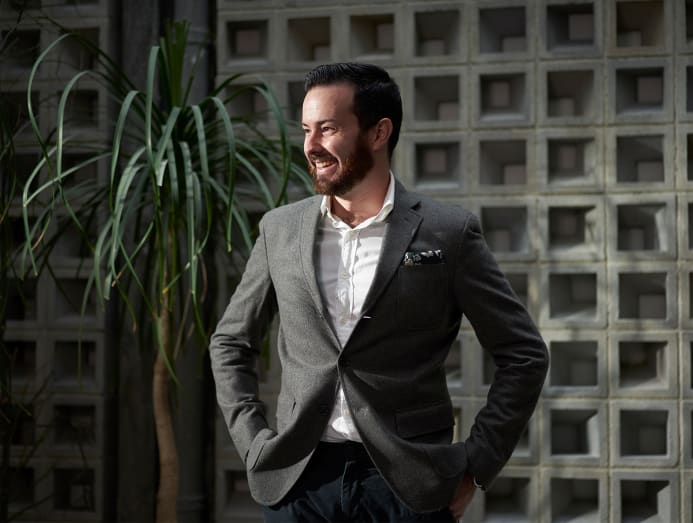 I grew up in Melbourne in the 1990s, which was the beginning of the thriving Melbourne that many know of today. The neighbouring Yarra Valley and Mornington Peninsula wine regions were starting to enter the modern era: Both regions were then a shadow of their present-day selves.
It's been amazing to watch Yarra Valley solidify itself by defining its diversity and individuality between sub-regions and developing amazing cellar door experiences, F&B outlets and other uniquely local experiences.
With the Yarra at my doorstep, I've visited enough wineries over the years to create a list that sounds like it was taken from a Rolodex. Some wineries I would revisit are Timo Mayer, Yarra Yering, Mac Forbes, and Seville Estate. They share a common thread of great people making amazing wines, from tiny producers to iconic multi-generation winemakers.
Because the Yarra Valley's sub-regions have enough climatic differences, certain grape varieties work better in particular areas: What works on the valley floor may not necessarily translate well in the Upper Yarra. A French influence can be seen in primary varieties across the Yarra – Pinot Noir, Chardonnay and Cabernet Sauvignon dominate – and these have led to the majority of "icon" wines from the cool climate region.
Apart from wine, there's gin! Four Pillars Gin has been a global success story of late for the Yarra. I should also tip my cap to the Melbourne Gin Company for making some delicious tipples.    
As for the Mornington Peninsula wine region, located south of Melbourne, it has certainly found its flag bearers in Pinot Noir and Chardonnay, despite its initial trials with Bordeaux-style (Cabernet Sauvignon with Merlot) blends.
I'd recommend you look at wineries like Ten Minutes by Tractor, Yabby Lake, Main Ridge, Crittenden Estate, Garagiste, and Nazaaray – they would make a great tour from the northern end to the southern tip of the region; you can taste examples from "up the hill" and "down the hill" from some of the top flights of the Peninsula's wine offerings.
If you plan to visit a particular winery, always make sure to call ahead as even big cellar doors can get incredibly busy and have to limit visitors.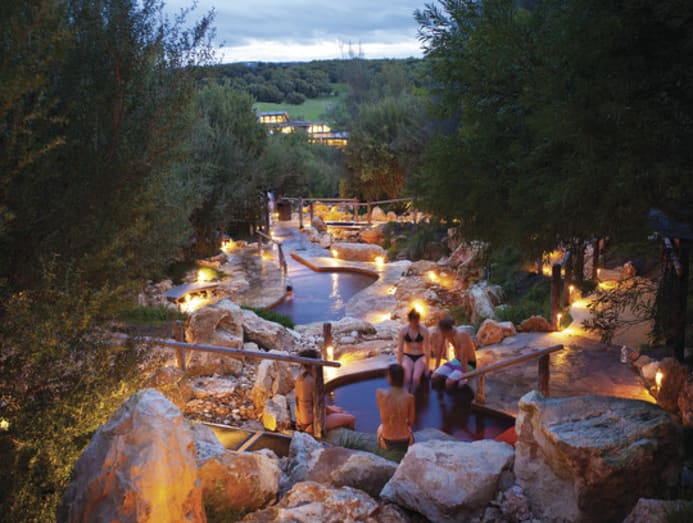 The peninsula is also blessed with several golf courses and most are open to the public. And after a day of running around, the Mornington Peninsula Hot Springs offer a great way to relax and unwind.
MARGARET RIVER
Amir Solay, head sommelier and operations director of Club Street Wine Room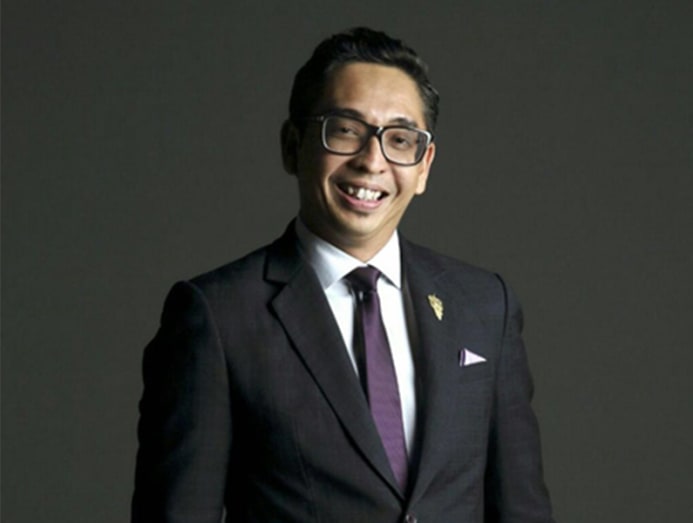 I have been to Western Australia's Margaret River more than 20 times – it's my most-visited wine region – and never get bored of it. The beautiful open landscapes and the amazing hospitality of the locals always captivate me. It's also not too far away from Perth.
One of the best things about Margaret River, for someone like me coming from hot and humid Singapore, is the climate, which is best described as Mediterranean. Summer isn't extreme, and being near the coast means you get to enjoy cool sea breezes. Because the climate is similar to Bordeaux, the region is known for making great Cabernet Sauvignon.
Many of the Cabernet Sauvignon wines I tried were not only delicious and well-balanced but also had the ability to age well.
Interestingly, while Margaret River produces only about 3 per cent of Australia's total wine production, it accounts for over 20 per cent of the country's premium wine market. The wine producers are consistent and always achieve what they set out to do – making terroir-driven wines.
One such wine producer is Amelia Park. Their wine collection, which ranges from Cabernet Sauvignon-blends to oak-aged Chardonnays, appeals to young and serious drinkers.
Amelia Park also introduced Pet Nat (short for the French term "petillant natural" or "naturally sparkling") to Margaret River with its G-Fizz wines. A Pet Nat is a sparkling wine made with Methode Ancestrale, a production method in which a wine is bottled before its fermentation is complete, creating a low alcohol bubbly.
In 2019, I was at Amelia Park as part of a trade visit organised by Grand Vin, a wine importer in Singapore. I assisted the winery with harvest chores and got to sample some wines from their barrels. I also had plenty of "me time", from strolling on the beach to enjoying an Aussie barbecue.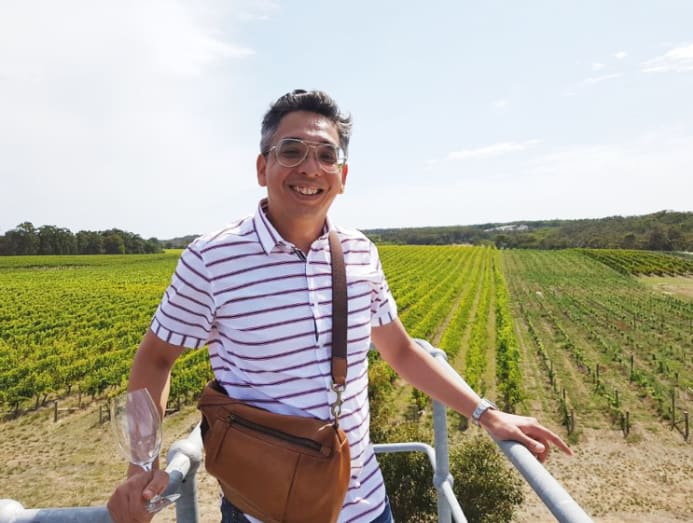 I dined at Yarri Restaurant and Bar in Dunsborough. The food was on point, showcasing some of the best seasonal produce from Western Australia. Do try the marron with salt and pepper butter, and the kingfish with ponzu and koji rice.
I stayed at the Pullman Bunker Bay Resort, which has direct access to the beach and a great view of the Indian Ocean. I'd recommend this resort to families and even solo travellers who are looking for inspiration.