Fish soup, sambal octopus: Local dishes get a creative spin at this new restaurant
Singaporean chefs Glen Tay and Alex Phan have come together to open Avenue 87 – a Modern Asian restaurant on Amoy Street where well-loved local dishes such as fish soup, sambal stingray and kueh pie tee get a contemporary twist.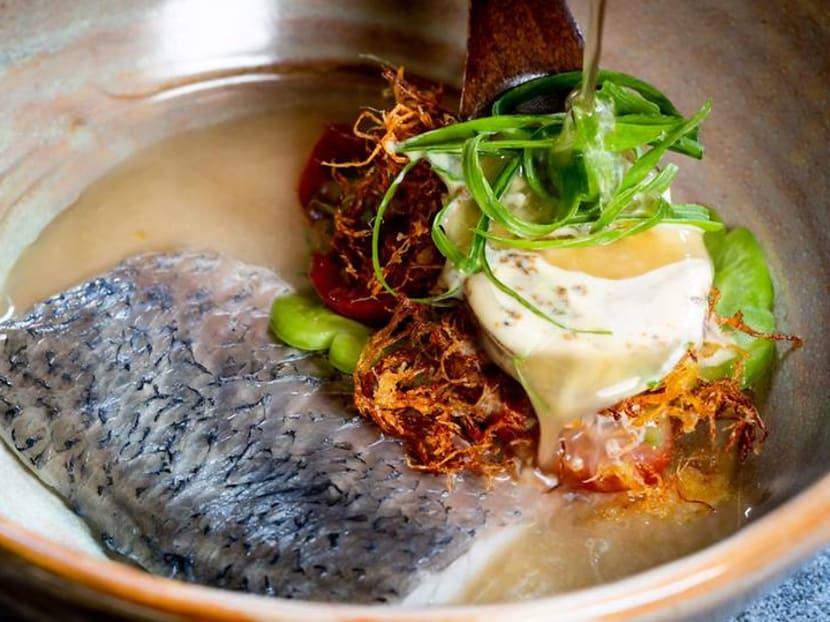 The local dining scene is back to its usual frenzy, and while Singapore certainly isn't lacking in excellent food spots, new kid on the block Avenue 87 is set to spice things up with an intriguing menu replete with all our local and Asian favourites.
The restaurant, which opened its doors on Sep 7 (Mon), is helmed by two Singaporean chefs and good friends, Glen Tay and Alex Phan. While both chefs started their careers at Tippling Club, Phan was most recently Executive Chef at Park Hotel Clarke Quay, while Tay was Executive Sous Chef at Shanghai's three-Michelin-starred restaurant, Ultraviolet by Paul Pairet.
Located in the heart of Amoy Street, Avenue 87 is a Modern Asian restaurant that embodies the two chefs' personal journeys – beginning with its name. "87" holds special meaning for Tay and Phan, who were both born in 1987. Both chefs also grew up in Hougang – Tay at Avenue 8, and Phan at Avenue 7.
At Avenue 87, Tay and Phan are serving up well-loved Asian favourites with a creative and contemporary twist. As advocates of local food, the duo works closely with Singaporean producers like Ah Hua Kelong, Farm Delight and Hong Spices to supply its foodstuffs. 
The restaurant also procures its spirits, coffee and tea from local and Asian growers and roasters, providing them a platform to showcase their products.
Dishes on the menu are inspired by childhood memories, travel experiences and professional discourse of the two chefs. The dinner tasting menu comprises either four (S$76++ per person) or six courses (S$98++ per person). 
Highlights of the menu include kueh pie tee. A meatless adaptation of its familiar flavours, the kueh pie tee shell is filled with piquant sauce and thinly sliced baby eggplants, lady's fingers, semi-dried cherry tomatoes, and curry leaves – a take on curry fish head, a favourite tze char indulgence of the two chefs.
The humble fish soup, a local favourite, is also given a contemporary twist, with each component made from scratch. The dish is prepared with freshly poached seabass from Ah Hua Kelong, while anchovies and roasted seabass bones are used to recreate the signature savouriness of this comforting bowl of soup.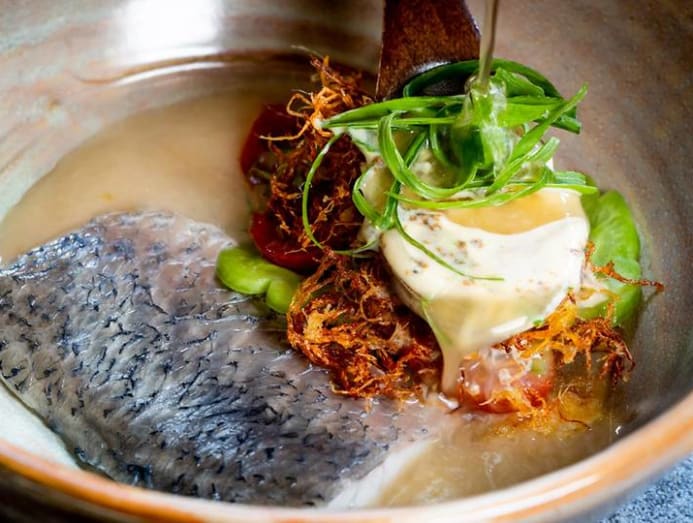 The chefs have also reimagined another local favourite – sambal stingray. The dish combines Tay's love for his Peranakan mother's spicy rempah and sambal, and the two chef's mutual love for Spanish octopus. The result is sambal octopus – a meaty tentacle meticulously tenderised and brined over three days.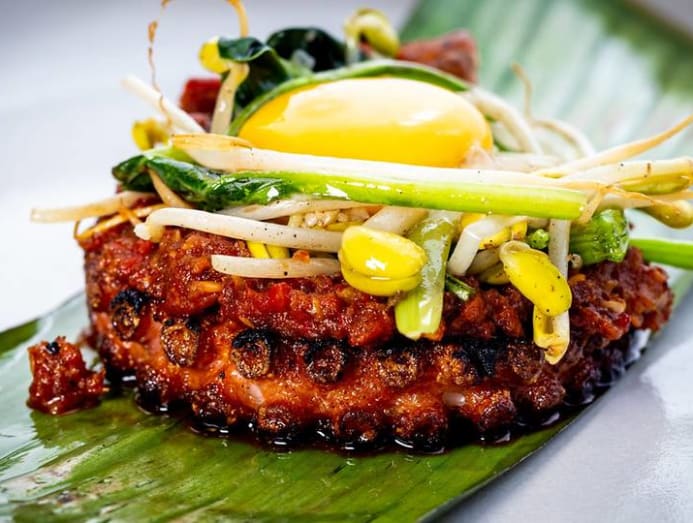 The main course presents an aromatic, succulent baby lamb rack served with charred eggplant. This dish is inspired by Phan's memories of street food during his travels to Vietnam. Here, New Zealand lamb is marinated with a Vietnamese-style blend of herbs and spices including lemongrass, shallot, garlic, galangal, and Chinese parsley, then cooked till medium-rare and served with sweet tangy sauce made from locally-sourced stingless bee honey.
Dessert offerings at Avenue 87 are worthy of mention too. "Pisang no goreng" is Phan's playful take on his favourite sweet snack. While regular pisang goreng is essentially deep-fried banana, in this twist, the deep-fried treat consists of coconut custard enveloped in a golden shell. Instead, the "banana" is presented as homemade ice cream on the side, paired with salted gula melaka.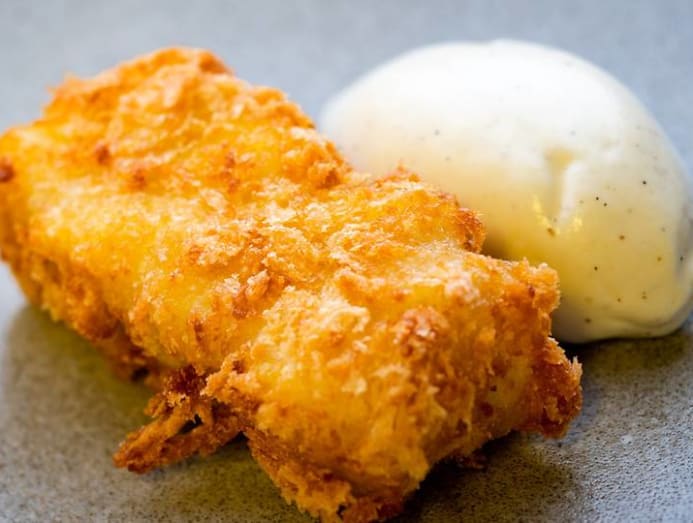 While dinner at Avenue 87 is an indulgent gastronomic affair, lunch at the restaurant is described as "simple" and "fulfilling". Choose either a two course (S$29++ per person) or three course (S$38++ per person) meal, with highlights such as tempeh salad, fried chicken with spiced polenta and baby spinach, Ah Hua Kelong seabass with potatoes and confit duck with yam rice and salted vegetable.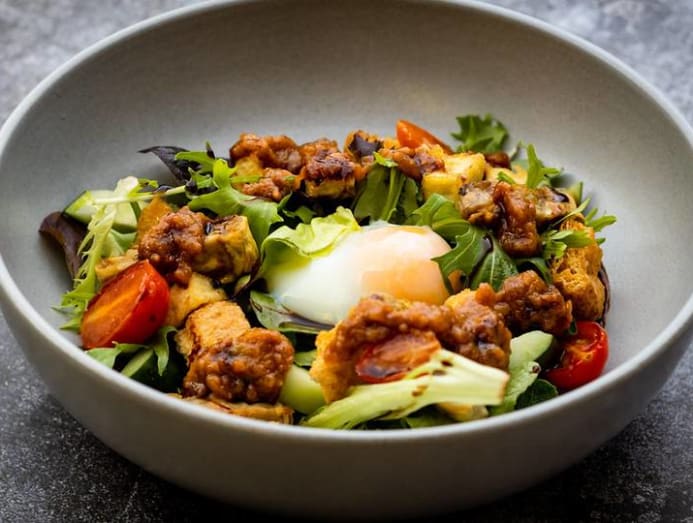 The food at Avenue 87 is also complemented by a drink experience. Helming the bar is Beverage Specialist Tan Si Hao, formerly of award-winning Native Bar.
In line with the restaurant's guiding principle of supporting artisanal producers, the beverage programme highlights spirits, coffees, and teas from producers in Singapore and across Asia.
All guests at Avenue 87 will be welcomed with a tasting portion of the house-brewed herbal blend of the day. The AVE87 Tea, a twist on the traditional eight treasures tea, while the refreshing Lotus Root Tea revitalises the senses with mild bitterness and astringency from aged Mandarin peel.
Cocktails are also given an Asian twist. Highlights include Kelapa Krub, an Asian-centric pina colada, and Mulan, a refined martini-style cocktail made with house-made vermouth and Impact Craft Gin.
For reservations, click here or email info [at] avenue87.sg