Remember drinking rum and coke back in the day? Rum has a new image now
Bacardi's new aged rums attempt to move the spirit away from its traditional image as a drink mixer.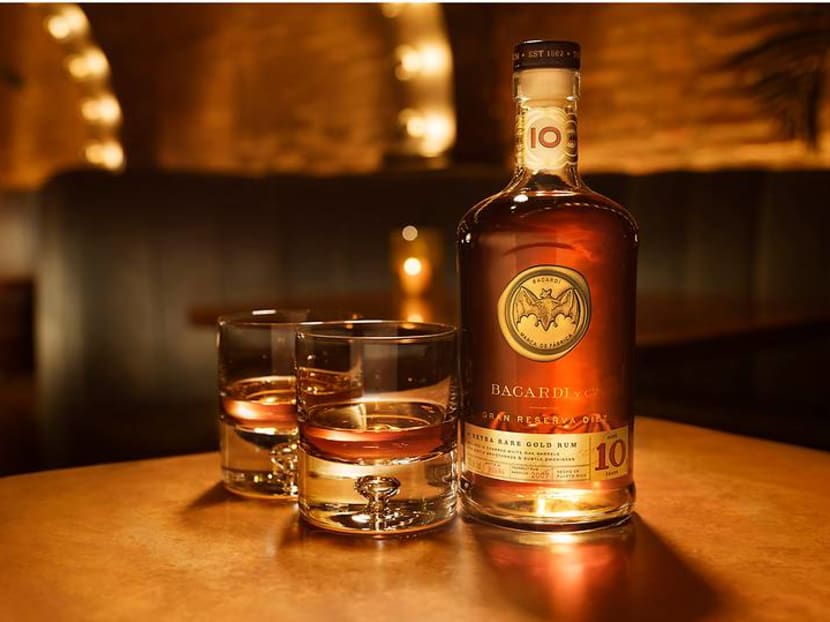 For those of us old enough to remember the local bar scene in the late-1990s, rum had a low-key, unsophisticated profile. It was used mainly as a base spirit in cocktails, especially in classics like Daiquiri and Pina Colada. Whatever nuanced character it purported to have was lost within the larger alchemy of the cocktail. It didn't help that rums, distilled from molasses or sugarcane juice, varied widely in quality. Few people drank them neat.
The craze back then was also mixing rum with soft drinks – sometimes, gasp, Red Bull – and served in jugs for revellers. (You have to forgive the bartenders then. This was before your modern-day mixologists arrived with their tricks, tattoos, and talk of reinventing Prohibition-era drinks.) The bartenders go-to rum for such mixes was, and still is, Bacardi.
Thus, when Bacardi invited CNA Luxury recently for a taste of their new premium, aged rums, with talk of "depth and complexity", we were, admittedly, a little wary.
Bacardi's Anejo Cuatro (4 Year Old) and Gran Reserva Diez (10 Year Old) were launched in Singapore in July. The two rums bookend Bacardi's Reserva Ocho (8 Year Old), which was released in 1996 after being kept as a personal reserve within the Bacardi family for seven generations.
"A lot of rums are mixed into cocktails," said Mike Cheong, trade ambassador of Bacardi-Martini Singapore, "but these days, there is a trend towards 'premium-isation': Consumers are willing to spend more for a higher quality base spirit in their cocktails."
The Anejo Cuatro, with its restrained notes of vanilla and honey, fits the bill as a cocktail mixer. Bacardi recommends rustling up a Highball, a concoction of two parts Bacardi Anejo Cuatro, two parts ginger ale, and a dash of angostura bitters.
The Gran Reserva Diez is a sipping rum, meaning you should drink it neat. After all, it has been aged for at least 10 years in barrels under the Caribbean sun, where the hot conditions help speed up its maturation and enhance its rich flavour profile.
Cheong notes that the lack of regulation in the rum industry means some age statements on rums can be misleading. For example, a rum that claims to be 20 years old may contain just 10 percent of a two-decade-old spirit in its blend, while the remainder comprises much younger rums. Bacardi, on the other hand, makes it clear by stating the youngest age of the rum as its age statement. "For the Gran Reserva Diez, it is a blend of rums from 10 years old – the youngest – to 12 years old," he added.
The Gran Reserva Diez is memorable: The spirit flaunts a deep, golden hue, and an aroma of dried fruit and butterscotch. The flavour profile offers layers of caramel, coconut, and banana notes. This is one rum we would love to nurse by the patio on a breezy evening.
It is still early to say if big players like Bacardi will spearhead a rum renaissance, given that there is an increasing number of producers releasing aged rums these days, even from markets like Asia. In the meantime, at least no one splashes the spirit with Red Bull anymore.
Bacardi's premium rums are served at top cocktail bars islandwide.