Smells Like Thai Spirit: Bangkok bars using local ingredients in their cocktails
The mixology scene in Thailand's capital has emerged as one of the region's liveliest, with the stars of the bars drawing on their own culture for inspiration.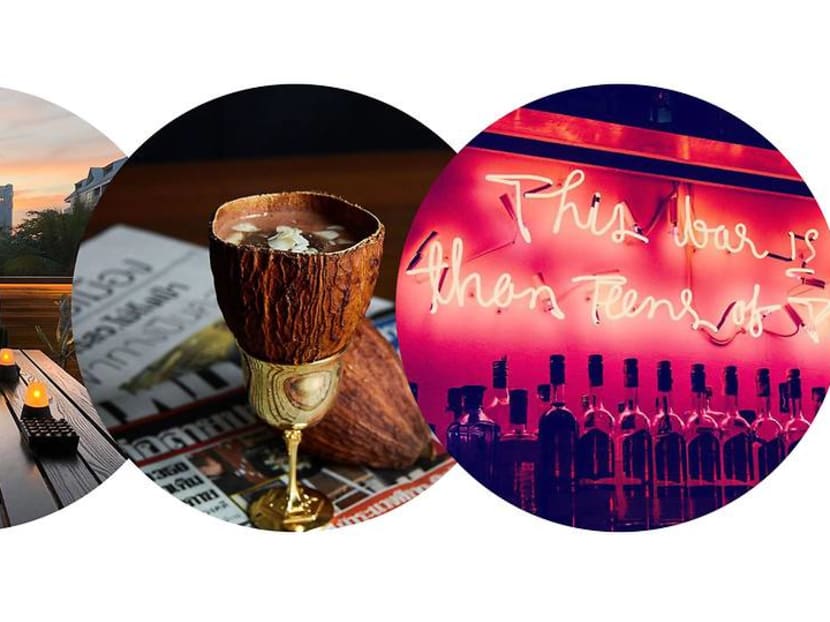 Bangkok is widely known for its riot of sights, sounds, and smells. And nowhere is this stew headier than in the city's more venerable enclaves.
On Soi Nana, a hip thoroughfare lined with shophouse bars and art galleries a stone's throw from the city's main Hualamphong Train Station, the smell of tuk-tuk fumes merges with the more inviting aromas of stir-fried food and traditional spices.
Indeed, the street's emergence as a nightlife hub is partly due to this olfactory extravaganza.

"There's a scent in this part of the city because of all the spice shops," said Niks Anuman-Rajadhon, co-owner, and bartender at Teens of Thailand and Asia Today, two of the hottest venues in the neighbourhood. "As someone who loves botanicals and infusions, that was of particular interest to me."
Gin is the thing at Teens of Thailand. Behind a heavy wooden door in a minimalist interior adorned with lascivious photography, where Anuman-Rajadhon and his team raid a vast contingent of bottles for bespoke cocktail concoctions.
Asia Today is even more experimental. Concoctions here are informed by Anuman-Rajadhon's travels in northern Thailand with exotic drinks components including wild honey, pickled garlic and leaves and herbs plucked from lush jungle-clad mountainsides.
This emergence of a fresh generation of Thai mixologists willing to put their own stamp on drinks culture in Bangkok by utilising native ideas and ingredients is not confined to the old city.
Over in Sathorn, another innovator, Bard Passapong – the owner and resident master mixologist at Junker and Bar – holds court with panache.
One minute he's behind the bar rustling up a margarita infused with fiery Thai chillies and green tea powder, the next he is at the table waxing lyrical about the complex flavours of Kristall G, a gin distilled in Chiang Mai.
Although he is as amiable a host as one could wish for, Passapong strikes a defiant tone when considering the growing contingent of homegrown mixologists helping to shape the scene in Bangkok.
"We [Thais] have our own hands and our own heads," he said. "Therefore, it is not such a surprise that the standard of bartending in Bangkok has improved so much. Thais are very trend-conscious people, so I think we are well aware of developments that are happening elsewhere. Nightlife is a strong focus in this city, so, naturally, things have progressed in the way they have."
Observing the current craze for cocktails in Bangkok, it is hard to believe that there was ever a time when hip young bartenders weren't on hand to offer advice on which type of small-batch bourbon to use in a whiskey sour.
Where once there was a paucity of places to sample an expertly mixed drink, Thailand's capital is now overrun by speakeasies, hole-in-the-wall cocktail bars and restaurants and bars where the drinks-list is as important a factor as any other element.
"The drinking scene went from zero to hero in a blink of an eye," said Sanya Souvanna Phouma, the creative director of legendary (now defunct) nightclub Bed Supperclub and the managing partner at some of the city's hottest nightlife addresses including Maggie Choo's, Funky Lam, Sing Sing Theater and the casual California-inspired Cactus on up and coming Soi Yenakart in Sathorn.
"I don't remember any bar in 2005 doing interesting cocktails. The key change occurred around 2010 when real cocktail guys like Joe Boroski [the New Yorker behind the drinks list at a score of bars and five-star hotels in Bangkok] came to town. His collaborations with [designer] Ashley Sutton at venues such as Iron Fairies and Clouds raised the bar for drinks in the city and it has gone from strength to strength since then."
Perhaps the most uplifting aspect of this evolution is the role being played by native Thai talent.  Where once it was chiefly foreign bar owners and mixologists who were driving up standards, now a growing contingent of locals – many drawing deep from their own culture for inspiration – is taking the scene to a new level.
A venue with a pronounced Thai stamp is Q and A. A collaboration between a collective of Bangkok mixology whizzes including self-styled "potion master" Attapon De-silva, the speakeasy-style bar has earned a formidable reputation for its drinks.
While the owners like to stick to a philosophy of keeping things classic and simple, there's no shortage of innovation on display. Especially striking are the twists provided by the use of Thai spirits and ingredients.
One such creation is Peach, Kaffir, and Sriracha – a bold and spicy number that features (as the name suggests) peach, Thai kaffir limes, and Sriracha hot sauce.
"I always love to play around with local stuff such as herbs, spices, seasonal fruit, and Thai spirits," enthused De-silva. "It is cheap, easy and the quality is very consistent. What's more, it helps to support local producers and farmers."
Another factor in the emergence of Thai bartenders from the shadows of their often-expatriate mentors has been the success of international competitions such as Diageo's World Class bartending contest where local talent from the likes of Q and A have held their own against the best in the world.
Back at Junker and Bar, Passapong is showing off one of his homemade infusions. A giant glass beaker is filled with cinnamon sticks, cloves and star anise. The secret ingredient too – a healthy dosage of Mehkong Rum – is unmistakably Thai.
"We live in a very globalised society now," he said. "If I want to learn a new technique or trend I can check out YouTube or go to the Monocle website. I do think it is important to stick to your roots. We have so many interesting ingredients here in Thailand that it would be stupid not to."
THE BARS
ASIA TODAY
Located down a tiny alley a stone's throw from Niks Anuman-Rajadhon's other bar, the gin-focused Teens of Thailand, Asia Today is a highly intimate affair. A few pews at the downstairs bar take care of seating arrangements, while an upstairs area is slated for a chef's table feature, but with fancy tasting menus substituted for cocktail ingredients.
35 Soi Maitri Chit; Tel: +66 97 134 4704
CACTUS
A California-inspired vibe fits with the laidback atmosphere on Soi Yenakart: One of Bangkok's leafiest areas. The formidable cocktail-list here draws on prime Thai ingredients in drinks such as the Californication, which mixes pandan, passion fruit, and chili with Havana Club rum. It's a refreshing little number that goes down nicely with the pleasing views over the surrounding greenery.
15 Yenakart Road; Tel: +66 83 437 3515
JUNKER AND BAR
Located on the emerging Suan Phlu strip in Sathorn, this unassuming hang-out serves some of the most fairly priced cocktails in Bangkok. With over 60 bottles of gin on display, it is clear what the speciality is here.
454 Suan Phlu Soi 1, Tel: +66 85 100 3608
Q AND A
This speakeasy-style bar is the brainchild of some of the city's top local cocktail specialists. The intimate space allows customers to pull up a pew and allow the barmen to pour personalised drinks.
235/13 Sukhumvit Soi 21; Tel:+66 2 664 1445