Going back to the classics at Bangkok's old-school restaurants
Sitting somewhere between street food and fine dining, these long-established venues serve up some of the most authentic traditional food in the Thai capital.
For those seeking out a heady hit of authentic Bangkok food culture, it pays to go back to the classics: The long-established restaurants where appearances and customer service play second fiddle to flavour and cooking experience.
Intrinsically linked to the city's street food heritage, many of the city's oldest restaurants were established by upwardly mobile vendors whose success allowed them the financial wherewithal to set up in more permanent premises.
Such security also allowed some of them to expand their repertoire. Michelin-star winner Jay Fai (whom you might recognise from Netflix's Street Food), for instance, started out cooking only chicken noodles before graduating onto complex, fiery soups like tom yum, fluffy crab omelettes, and stir-fried treats.
Other traditional restaurants, meanwhile, have tome-like menus listing everything from curries to seafood specialities.
Diverse they may be, and aesthetically appealing they usually are not, but the best of these old-school venues are uniform in their commitment to culinary excellence.
JAY FAI
In her trademark set of heat-resistant goggles, essential protection from the searing inferno of ingredients she oversees, Jay Fai cuts a distinctive figure: A street-food superhero, if you like.
A kitchen dynamo whose energy belies her septuagenarian status, the proprietor/chef at one of Bangkok's most renowned shophouse restaurants – the eponymous Jay Fai – has become one of the city's most recognisable food personalities.
And her fame has only been enhanced by her recognition by the Michelin guide judges, who awarded her with a star in the French foodie bible's inaugural Thailand edition in 2018.
Indeed, waits of up to three hours for a table are not uncommon these days for walk-up customers. We advise sending an email to jayfaibangkok [at] gmail.com well in advance.
Her lofty reputation is founded on the alchemy she produces from her scalding wok, with stir-fries such as pad kee mao (drunkard's noodles) and other dishes like fluffy khai jiew poo (crab omelette) and a complex tom yam gung (hot and sour shrimp soup) more than justifying the steep prices.
327 Maha Chai Rd, Khwaeng Samran Rat, Khet Phra Nakhon
METHAVALAI SORNDAENG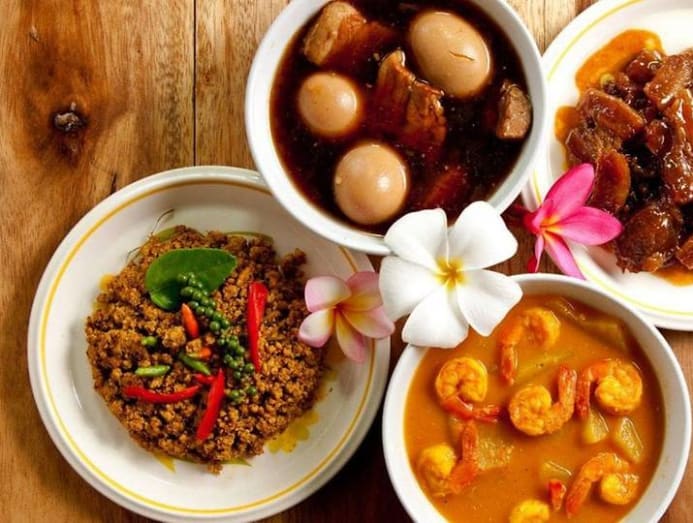 With an army of stiff waiters kitted out with white jackets and dated floral decor, this stalwart doesn't even try to square with perceived ideas of hipness.
For the wealthy grandpas and their big-haired wives that flock here to dine off crisp-white linen while being serenaded by a live band, it's as cool as it needs to be.
And if you are not bowled over by the soothing tones of the resident band's vocalist, there's a good chance that you will be by the food.
A tome-like menu offering hundreds of dishes is tricky to negotiate. Unlike other places where variety is often a substitute for quality, this place has had over 60-experience of perfecting the dishes in its repertoire.
All-time favourites include krathong thong (crispy golden pastry cups filled with spicy minced pork and sweet corn) and khao tang na tang (rice crackers with minced prawn and pork dip.)
facebook.com/methavalaisorndaeng
SANGUAN SRI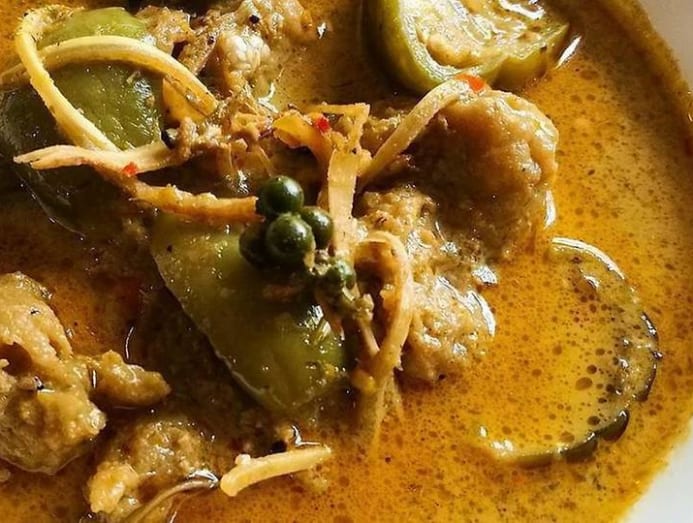 In a city where style often takes precedence over substance, it can be refreshing to note how little mind is taken to appearances in some of Bangkok's older restaurants.
For example, Saunguan Sri – a huge favourite with the lunch crowd from the offices that line leafy Witthayu Road – is housed inside a squat concrete building that looks like a nuclear bunker. Its interior, meanwhile, could double up as an army mess hall or a school canteen.
It's a striking contrast to neighbours and near-neighbours that include Central Embassy, one of the city's most luxurious malls, and tony condominiums, embassies and office buildings.
Food is always a great leveller in Thailand and fragrant curries such as the gaeng kia wan nuea (beef green curry) are a testament to the enduring popularity of the venue. Arrive before midday to be sure of a seat.
59/1 Witthayu Rd
Nearest BTS station: Phloen Chit
SOEI
Although his everyman appearance makes him easy to overlook, Soei – the owner/chef at another of Bangkok's self-named restaurants – is no shrinking violet in the kitchen.
Unlike many other chefs at the traditional Thai restaurants in Bangkok, Soei did not graduate from the street. Instead, the sports-mad chef honed his culinary skills by cooking for his rugby teammates following matches.
His airy venue in the Ari neighbourhood of Bangkok is packed with families and friends of the chef, who wash down his potent dishes with lashings of whisky and soda.
Thailand's reputation for having some of the spiciest food on the planet is sometimes overplayed, but this is one venue where having an iron-clad palate is a definite advantage.
While undoubtedly fiery, the cuisine served here is among the most inventive and skilfully presented traditional Thai food in Bangkok.
Big hitters here include the shu shee plaoo tod (fried mackerel in fresh coconut curry) and gung chae nam pla (shrimp in fish sauce). Another dish to try is kaem pla too tud (Indian mackerel cheeks), which are deep-fried to a satisfying crisp and served with garlic and salt.
"I like to have fun when I'm cooking," said Soei. "And I like my customers to enjoy themselves and my food."
Phibun Watthana 6 Alley, Khwaeng Samsen Nai, Khet Phaya Thai
Nearest BTS station: Ari
YONG LEE
This shophouse restaurant just off bustling Sukhumvit Road has been around for decades and nobody could argue that it's not showing its age.
Weather-beaten picture menus display an array of wonderfully archaic Thai fusion dishes such as beef tongue stew and deep-fried slabs of fish coated in a thick garlicky syrup.
The shabby decor inside the restaurant majors in contrasting shades of deep brown, while the packed tables of elderly Thai-Chinese customers seem to highlight its anachronistic appeal.
In an area where trendy new dining spots appear with the regularity of a ticking metronome, Yong Lee may seem like an anomaly. For those who prize Bangkok's long-standing culinary mores, however, the presence of such venues is a source of comfort.
"Restaurants like this serve food that is a far cry from the corporate one-size-fits-all Thai food that you get at some of the chains and tourist-friendly restaurants in Bangkok," said blogger and author Chawadee Nualkhair.
Other culinary trips down memory lane here include yieldingly soft tongue and Anglicised chicken curry that could well have been pinched directly from the pages of a 1950s UK cookery book.
213 ปาก ซอย ร่วมใจ Khlong Toei Nuea, Watthana
Nearest BTS station: Asok