A step back in time: Sailing from Bangkok to Ayutthaya on a luxury cruise boat
Temples, rice paddies, history – CNA Luxury takes an evocative trip down Thailand's Chao Phraya aboard the grand Loy River Song.
"Does Bangkok ever end?" asked my crewmate on Loy River Song, a four-cabin luxury cruise boat that is among the grandest ways to journey between Bangkok and Ayutthaya: The present centre of power in Thailand and its predecessor.
Our ship set sail from its home berth at the city's venerable Anantara Riverside Hotel around an hour ago. The verdant rice paddies and sleepy riverside communities that mark the transition between urban Bangkok and rural Central Thailand have yet to materialise.
My crewmate is a visiting Australian unacquainted with Thailand's capital. I'm a Bangkok resident for more than eight years, and I'm well versed in the city's inexorable spread. Still, its unwillingness to quit never fails to amaze me.
In its early years, the boundaries of the city were heralded by landmarks such as The Grand Palace and Wat Arun. But as the boat meanders beyond these showpiece sites and up the chocolate-brown waters of the river, shiny condominium complexes, and other newcomers like Thailand's gargantuan parliament building loom large at the water's edge.
Observing the city's unstoppable outwards creep from Loy River Song is far from a hardship. Indeed, leaving Bangkok by the river – especially on a vessel that offers butler service, a private chef, and beautifully appointed cabins fit for a stately tour – is a far more uplifting experience than battling through the urban dystopia by taxi or car.
As the buildings thin out and the banks are reclaimed by lush greenery, the boat's expansive outdoor deck proves to be an optimal spot to watch the landscapes evolve. The fact that it's an exit route imbued with meaning makes the journey even more memorable.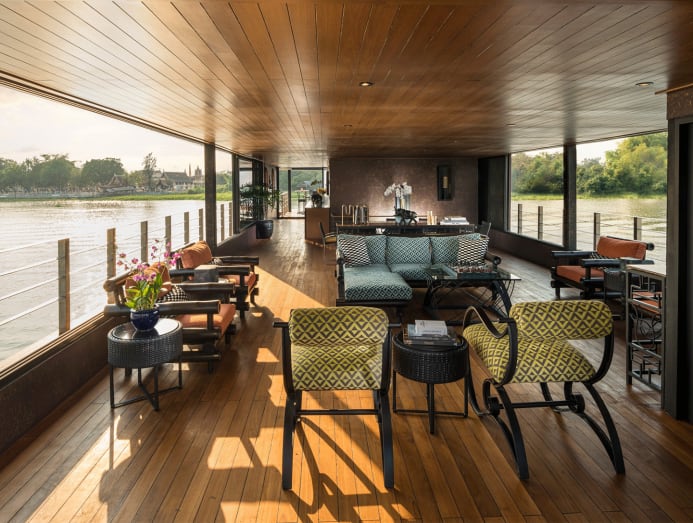 The Chao Phraya has been a barometer of Bangkok's – and by extension – Thailand's progress since the city's formative era. When the Burmese army ransacked Ayutthaya in 1767 and razed it to the ground, the Siamese kingdom moved to establish their new seat of power downstream. Bangkok was then built around a network of canals fanning out from the river.
Its status as Thailand's most important hub was cemented in 1782 when King Phutthayotfa Chulalok (Rama 1) established his capital on Rattanakosin Island – still the epicentre of royal Bangkok – and it has barely paused for breath since then.
Nowadays, greater Bangkok sprawls over roughly 1500 sq km in the Chao Phraya delta and is home to at least 9.5 million souls according to recent estimates. Yet while the capital has grown to become Thailand's powerhouse, the Chao Phraya itself exerts considerable sway on the national psyche.
The Chao Phraya originates in the central Thai province of Nakhon Sawan – where several tributaries stream down from the kingdom's northern hills. The river then flows for just under 400km before emptying into the Gulf of Thailand at Bang Pu. It's not especially long (or deep), but its importance cannot be understated.
All current and former Thai capitals are situated along, or linked to, the river, which nurtures the fertile agricultural heartland of central Thailand and over half of the population with it. It's no surprise that Thais view it as the lifeblood of their civilisation.
We take a leisurely first light lunch on Loy River Song – resident chef Suthat "Ton" Aim-anan setting a righteous culinary tone for the voyage with a zingy Thai beef salad followed by creamy coconut ice cream. During our repast, I quiz Phun, one of the boat's butlers, about the emotions the Chao Phraya evokes among Thais.
"The river is the origin of life," Phun explained. "From being born and getting old to getting sick and dying, we rely on the river throughout this process. So, we should cherish the river and protect it at our best."
Certainly, there are few better ways of gaining an appreciation of the sacred waterway than on Loy River Song. The open and airy main salon is defined by exquisitely handprinted wallpaper, original hardwood surfaces, and low-slung furniture upholstered in sumptuous Thai silk. It opens into the elegant dining room and out onto a spacious deck, which – on our trip – starts the day as a space for sunrise yoga and ends it as the perfect spot to investigate the full scope of the drinks list.
Below the main deck, the ship's four cabins are appointed with dark teak floors, antique ceramics, and handpainted walls.
The traditional craftsmanship and regional influences at play on board are purposefully evocative of the elegance of old Siam. There's a state-of-the-art stereo system tucked away in one of the reading nooks, but that's about the only nod to modernity onboard.
It all feels very classic. And our "Journey Through Time" tour is aptly named. With only around approximately 100km between Bangkok and Ayutthaya, we don't exactly cover a huge amount of ground distance-wise throughout the three-day/two-night itinerary. But as we follow in the wake of kings, traders, and mighty armies past gold-spired temples and lavish palaces, the scent of history is as heady as the spicy aromas that occasionally drift in from riverside restaurants as we cruise by.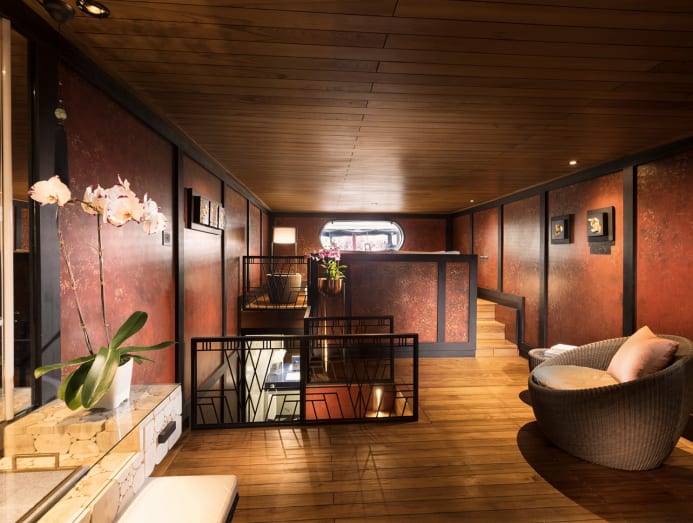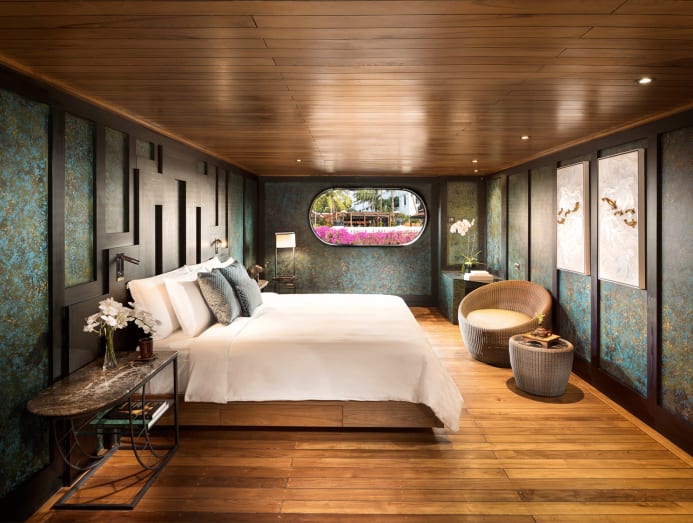 On the way out of Bangkok, we take informative pitstops at Wat Arun and the National Museum of Royal Barges. Wat Arun, the missile-shaped Buddhist site known as the Temple of Dawn, is significant for several reasons. Not only is it beautiful to look at – whether up close or from one of the restaurants or bars on the opposite side of the river – it has also played a hugely significant role in Bangkok's history. It was here that King Taksin stumbled upon a small local shrine and interpreted the discovery as such an auspicious sign that he decreed that it should be the site of the new capital of Siam.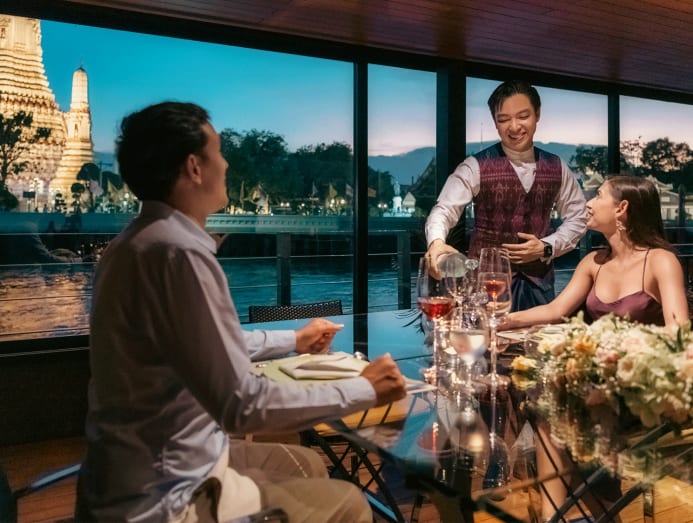 At the Museum of Royal Barges, the star attraction is the fleet of ornate barges used by the Thai family to move around their realm. Each one is long and slender, carved from a single, massive piece of teak and dripping with gold, gems, and colourful glass.
On the first evening, we moor beside an old royal temple called Wat Niwet Thammaprawat, which is incongruous for its European style. Famously in thrall to western culture, King Chulalongkorn commissioned Italian architect Gioachino Grossi to design it in 1876. An altarpiece that holds a polished-gold statue of the Buddha dominates the chapel.
If that feels jarringly "un-Thai", the following day's excursion – deep into the UNESCO-protected historical core of Ayutthaya – returns a sense of place to proceedings. Utilizing a long tail boat to negotiate the network of canals that were once the city's arteries, we stop by ruined wonders such as Wat Chaiwattanaram and the Khmer-style Wat Ratchaburana. The temples may no longer be fully intact, but the beauty of Ayutthaya is. However, it's a melancholy allure: One steeped in the violence of centuries-long conflict between Thailand and invading forces.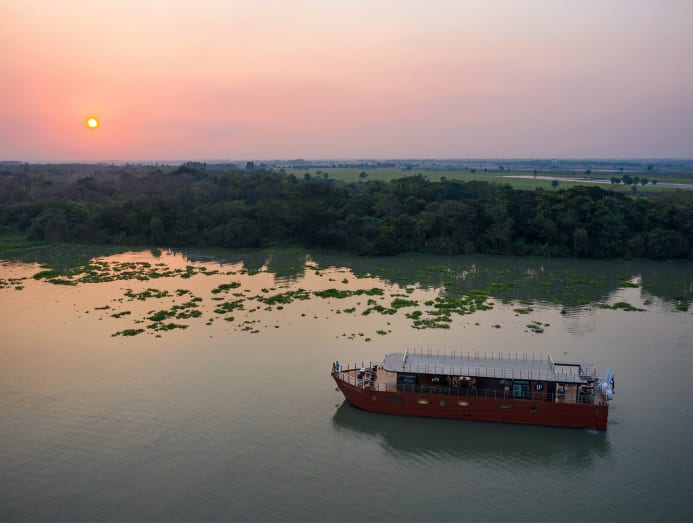 Immersing in Thailand's history is intoxicating. For me, the best part about the trip is being treated like modern-day royalty onboard Loy River Song. Meals onboard are lavish affairs with Chef Ton's menus drawing heavily on refined court recipes. Highlights include chuchee pla gao (grilled grouper with red curry and cucumber pickle), kaeaw waan nue (braised beef short rib with green curry risotto and pea eggplant), and pla neng manao (steamed seabass fillet with crushed Thai garden herbs and chili lime dressing). Between meals and excursions, I take a pew on the outside deck and meditate on my surroundings as Loy River Song ploughs through sheets of hyacinths on the water's surface and passes the rice barges that still ply the route.
On our final morning, the rural scenery reassembles its urban shell as we cruise slowly back into Bangkok. Chef Ton prepares a lavish brunch banquet as a last culinary hurrah. Between sips of Champagne and slices of prime rib, I marvel once again at Bangkok's widescreen dimensions as fresh additions to the riverside scene like Icon Siam crowd the view alongside grand dames like the Oriental Hotel. It's a memorable end to an epic journey.
For more information, visit https://www.loypelavoyages.com