The latest hangover remedy in Bangkok? An IV drip therapy
At the VIVID by Verita wellness centre in the Anantara Siam Bangkok Hotel, CNA Luxury gets a first-hand introduction to the restorative potential of this new health fad, which is said to cure everything from hangovers to jet lag.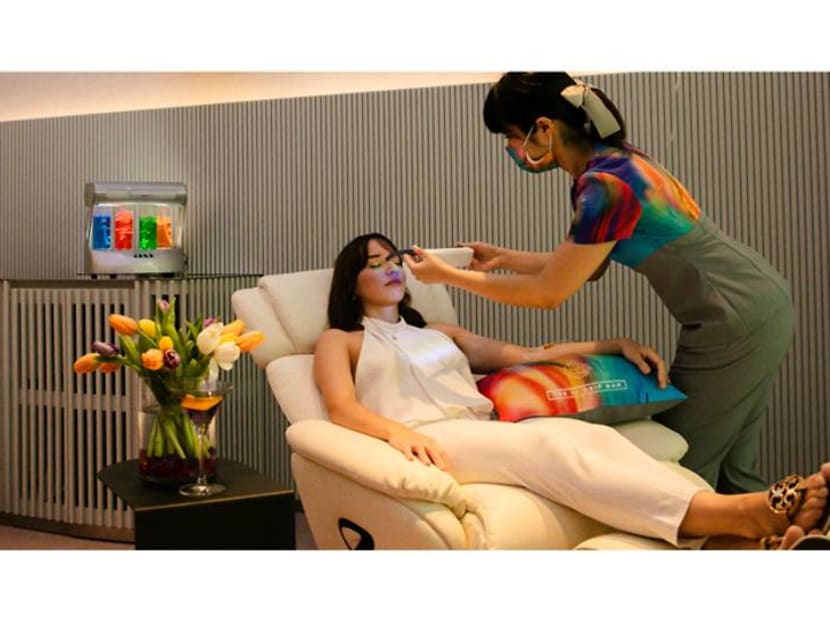 The nurse moves towards me, a knowing grin on her face. "You're not scared of a little jab are you?" she teased. "A bit," I replied. "Me too," she answered as she slides the needle into one of my veins.
Hangover cures come in weird and often not so wonderful forms. In Ancient Rome, deep-fried canary was regarded as an effective restorative. In Mongolia, meanwhile, some locals swear by the efficacy of a pair of pickled sheep's eyeballs in tomato juice. I'm happy to say I've never tried either of those.
But as a Scotsman with a propensity towards a wee dram or two, I'm certainly acquainted with some of the more traditionally accepted methods of numbing the pain of the morning after.
From Irn Bru with aspirin to a full Scottish breakfast washed down with a hair of the dog, I've conquered many a comedown over the years by fair means or foul. Never before have I had the pleasure of having an IV drip plugged into my bloodstream in the annexe of a Bangkok luxury hotel.
Repeat offender that I am, I'm never averse to finding new ways of combating self-inflicted pain. And so it is that I find myself in a darkened room just off the garden courtyard of the palatial Anantara Siam Bangkok Hotel praying for salvation.
The scene of this lifestyle experiment is VIVID by Verita, a recently-opened IV drip bar, anti-ageing and aesthetics hub that – according to its marketing blurb – provides "therapies and treatments designed to return vigour, energy and balance to busy modern lives".
All manner of maladies and motivations can be addressed at the clinic. There are drips for jet lag, for beauty and mental enhancement. Among the most popular, though, is the one specially tailored for soaks like myself.
"It's been a massive hit with people attending the champagne brunch at the Anantara Siam," said Caitriona Gaffney, director of PR for Minor Group, which has unveiled VIVID as the first of a string of collaborations with Singapore-founded healthcare group Verita Health.
"They come and drink their bubbly and then go directly to VIVID for a drip. It really sorts them out."
I'm intrigued. As the nurse withdraws and leaves the bag filled with vitamins and nutrients to empty into my bloodstream, I'm in a state of suspense.
A preview of a swanky new concept bar the previous evening has left me with that all too familiar sinking sensation. Will I remain a victim of my proclivities? Or will the treatment provide the proverbial – and literal in this case – shot in the arm?
Health fads, as we all know, come and go with the regularity of a ticking metronome.
If you jotted down a list of wellness trends from the last couple of years alone, you'd end up with a tome as weighty as War and Peace.
We've embraced (and often just as quickly dismissed) numerous vogues. Highlights include toothpaste made with activated charcoal  and "goat yoga" where clients pet adorable animals between stretches and poses while turning a blind eye to the poop on their yoga mats.
A more durable-seeming rage has been a boom in oxygen bars. Here, instead of hard liquor, craft beers or mixology cocktails, patrons pick their poison from a list of flavour-enhanced oxygen infusions designed to offer a boost of energy and clarity.
Now it's the turn of IV drip bars to claim a place in the sun. With influencers including Adele, Chrissy Teigen and – you guessed it – Gwyneth Paltrow extolling its merits, IV drip therapy has all-important celebrity cache.
As establishments pop up in cities around the world, oxygen bars have secured a niche as a zippy addition to the wellness sphere. Whether IV drip therapy – complete with its association with hospital sick wards – will have the same appeal remains to be seen. Nevertheless, VIVID by Verita Health is proving to be an intriguing addition to the range of wellness offerings in Bangkok.
Indeed, the Thai capital – its reputation as an adrenaline-charged haven for party animals balanced by its status as a hub for wellness in the region – may very well be an ideal testing ground for the IV drip therapy trend in Southeast Asia.
"Bangkok is always on the go with non-stop hustle and bustle," said Zoe Wall of MSpa International, Minor's spa brand. "As the city's first and only IV drip bar and aesthetics hub found within a five-star hotel, VIVID by Verita Health allows visitors and residents alike to keep up with the pace while enjoying a less clinical, more bespoke experience."
I'm certainly buying into what's being offered. The initial pin-prick of the needle causes fleeting discomfort. After that, it's just a case of kicking back on a comfortable reclining chair and letting the bag full of vitamins and nutrients – key active ingredient: Tryptophan – absorb into my body.
On the other side of a divider, my partner is also soaking it all in, with a Vitamin-C packed "beauty" grip designed to aid the skin's natural regeneration process, which helps repair damaged cells and promote healthy collagen.
After 30 minutes or so, the process is over and I emerge, blinking, back into the light. With my system freshly pumped full of rehydrating and re-alkalising goodness, I can say with certainty that I feel much better than I did before the IV drip.
Whether or not some water and a few Tylenol from the local 7/11 would have done the same job is a matter of conjecture. With a single 40-minute session of IV drip therapy retailing at around S$222, it certainly would have been cheaper.
No matter. I can enjoy without a headache the Siam 2482 signature treatment at the Anantara Siam spa and then dinner at the hotel's excellent Madison steakhouse. These are things to be grateful for. So too is the fact that I didn't have to opt for the sheep eyeballs. I'll save that for my next trip to Mongolia.