A staycation on Sentosa – with a side of Singapore colonial history
While on a staycation at The Barracks Hotel Sentosa, this writer gets a lesson on Singapore's colonial military history. 
Stepping onto the grounds of The Barracks Hotel, I almost forget that I'm in Sentosa. While other hotels on the island – such as Capella Singapore, Sofitel Singapore Sentosa Resort and Spa, and Amara Sanctuary Resort Sentosa – promise an escape into a tropical paradise, The Barracks has an altogether different draw.
Housed in a former British military base, the hotel was once the home of drafted soldiers. Built in 1904, it was known as the Blakang Mati Military Barracks, with Blakang Mati referring to Sentosa's old name before it was changed to something less ominous. The building is now completely converted and began a new life as a luxury hotel in 2019.
Over one weekend, I checked into The Barracks at the invitation of the hotel. To enhance the guest experience on the property, the hotel launched two tours this year – the Barracks Heritage Tour and Colonial Charm Tour – that allow staycationers to rediscover a piece of Singapore's history, dating as far back as the 1800s.
While the Barracks Heritage Tour is complimentary for all guests, the Colonial Charm Tour is part of a staycation package available for booking till Dec 31.
As a history buff myself, I was intrigued. After all, staycations in this pandemic age are all about rediscovering Singapore, so why not learn a thing or two?
STUNNING HOTEL GROUNDS
The Barracks Hotel comprises two blocks which house a total of just 40 rooms and suites. With fewer rooms as compared to other hotels on the island, this means a more intimate, personalised experience.
In the vicinity is a third block that houses the Mess Hall, where restaurants and eateries can be found. These include French restaurant Le Faubourg, Japanese restaurant Hide by Hide Yamamoto, Eurasian restaurant Quentin's Bar & Restaurant and Indian restaurant Royal Taj.
The grounds of the hotel are stunning. Once a parade square, there's a beautiful, verdant lawn, flanked by majestic palm trees.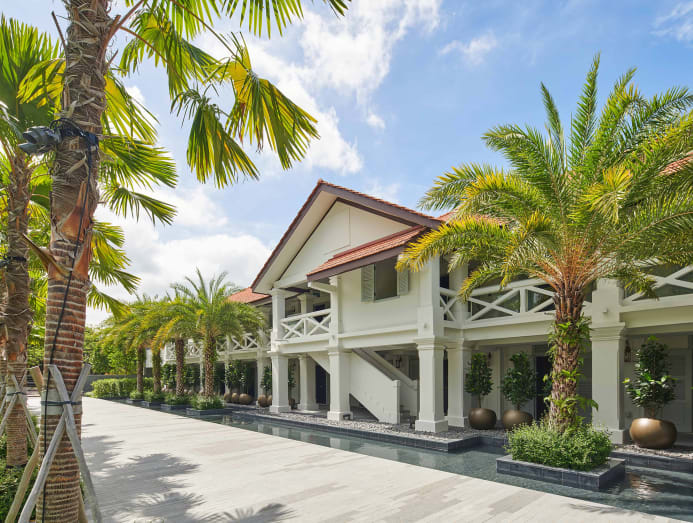 During the stay, my guest and I were put up in the Premier Pool Access Room. At 39 sq m, the room isn't large by any means, but features all the creature comforts one might expect of a luxury hotel.
The design of the room pays homage to the building's rich history. Furnishings are inspired by original pieces once used by the military. These include a vintage-looking desk and a mini bar reminiscent of a travel trunk, as well as timber sliding doors separating the bedroom from the bathroom.
The spacious bathroom features a standalone Apaiser bathtub along with a separate shower area and his-and-hers vanity sinks. Adding a contemporary modern touch are marble details and rose gold fittings.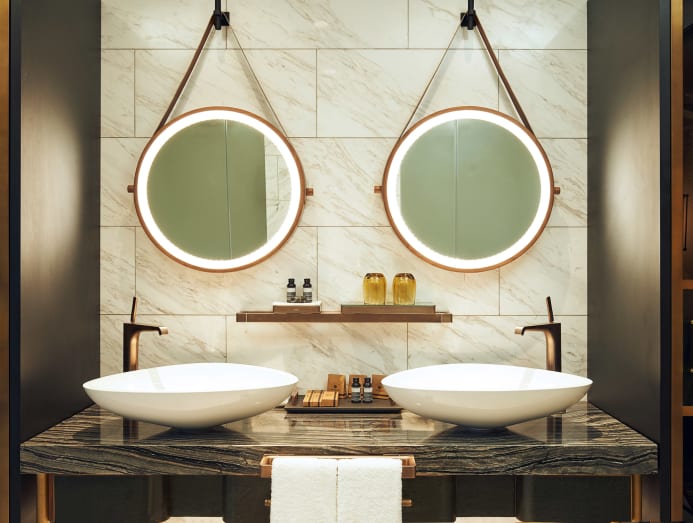 A back door directly leads to an outdoor patio and the hotel's lap pool, where we enjoyed evening and morning dips. Breakfast, all-day refreshments and evening canapes are served at The Living Room, a central glasshouse situated between the two blocks. The Nasi Lemak came highly recommended by hotel staff for breakfast, and certainly did not disappoint.
Amenities-wise, the offering isn't as wide as other Sentosa hotels. For one, the hotel doesn't have its own spa, though we were happy to while our time away at the beautiful lap pool.
Notably, mosquito patches were thoughtfully left for us in our room, a friendly reminder that this was the tropics, after all.
A TRAVEL THROUGH TIME
An hour after check-in on day one, we embarked on the first tour on our itinerary – the Barracks Heritage Tour. Curated by heritage specialist Jerome Lim, the tour is guided by two friendly and personable army veterans, Winston Wong and Khor Sing Hong, armed with several stories to tell. Both in their 70s, Wong and Khor used to serve and stay at The Barracks back when it was still a military base.
Wong started off the tour with a quick lesson on the military history of Sentosa, taking us through Sentosa's lines of defence and its four forts, Siloso, Connaught, Imbiah and Serapong. He even whipped out a hand-drawn map, which helped us to visualise how the area looked like back in the old days.
The map detailed features such as the former kampung area located just outside the Blakang Mati Military Barracks, and how soldiers forged friendships with the locals. Wong himself was good friends with the pengulu's (village leader) daughter, and still keeps a photo of her till this day.
Khor then took us on a walking tour of the Barracks, detailing aspects of the building that have been retained or restored. He shared how soldiers would sleep in bunks without any doors, and how the hotel's lap pools were once where the soldiers' washrooms were located.
Along the way, Khor shared light-hearted stories about the breakfast served in the canteen (lots of curry and fish), showing us personal photos of his time serving in the army.
The next day, we embarked on the Colonial Charm Tour. We were informed prior to our stay that there would be some walking involved, and to dress comfortable for the tour.
A little intimidated by the amount of walking needed, our fears were put to rest when we were picked up in a Mercedes-Benz by our tour guide and a driver. It was a rainy day, but thankfully, the skies cleared up just as we reached our first stop, the Fort Siloso Skywalk.
While it's typically an 11-storey climb to the top, we opted instead to take the shuttle bus. Once up, we were greeted with a scenic view over Sentosa and it was hard to believe that I had never been up here before.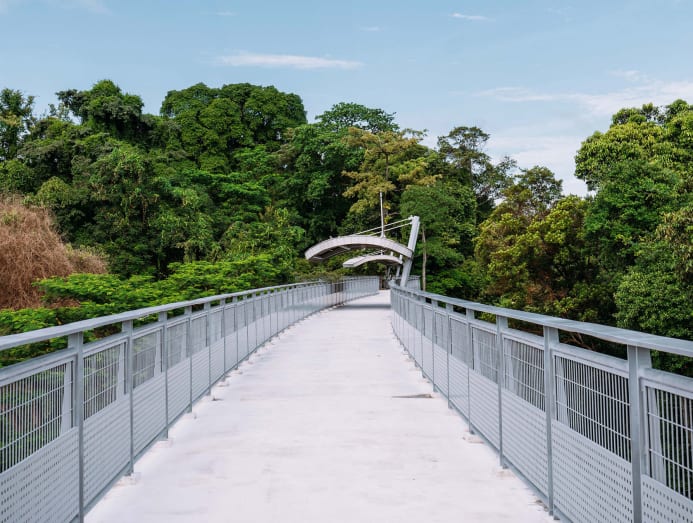 The next stop on our tour was Mount Imbiah, where we visited the Mount Imbiah Battery. This defence post was built in the 1880s as part of Singapore's coastal defence and was last used in the 1930s. Despite all the redevelopment works to turn Sentosa into a recreation island, the remains of the battery have been largely preserved.
After spending the afternoon in Sentosa, we were then driven over to Gillman Barracks, Dempsey and Seletar Estate. Gillman and Dempsey are both former colonial barracks, while Seletar Estate was once home to Royal Air Force personnel and their families.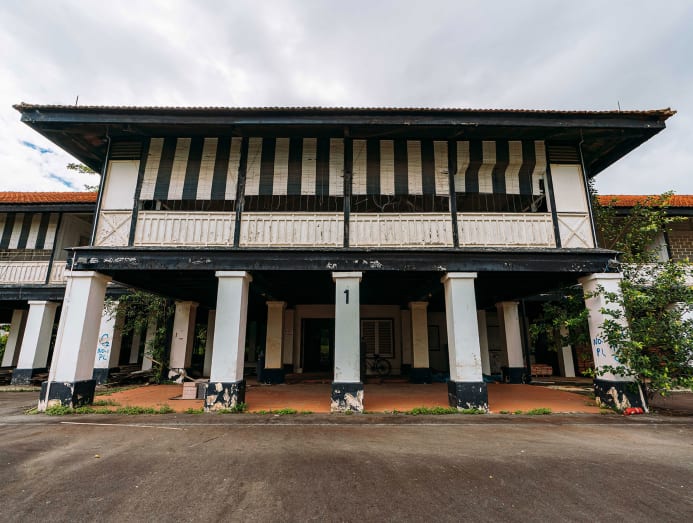 Along the way, we also visited St George's Church, a garrison church built by British troops in the 1910s. Its architecture is quite unlike any other, built with red bricks and featuring a beautiful stained glass window above the altar.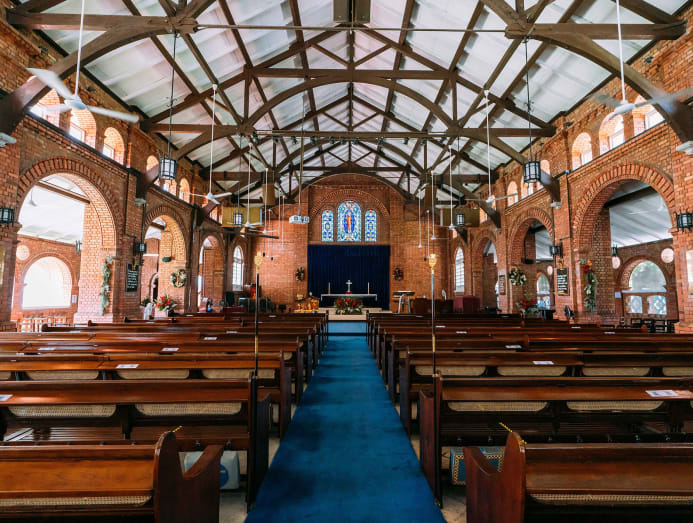 Throughout the tour, one thought crossed my mind – had it not been for this staycation, I wouldn't have taken the time to relearn Singapore's colonial and military history. Sentosa is known as a beach getaway today, but it's easy to forget that it once played a vital role in Singapore's defence.
More than just a stay at a fancy hotel, the Barracks staycation turned out to be quite a revelation. It felt a little bit like picking up my history textbooks again, and one thing's for sure – there's always something to learn when it comes to stories of Singapore's past. 
CNA Luxury was invited for a 2D1N stay at The Barracks Hotel Sentosa
To book the hotel's Colonial Charm Tour staycation package, click here