Customising a suit or gown? How bespoke services will change in Phase 2
Safety measures will be implemented at bespoke ateliers as they reopen today (Jun 19), but designers and artisans are hoping to preserve as much of the personal aspect as possible.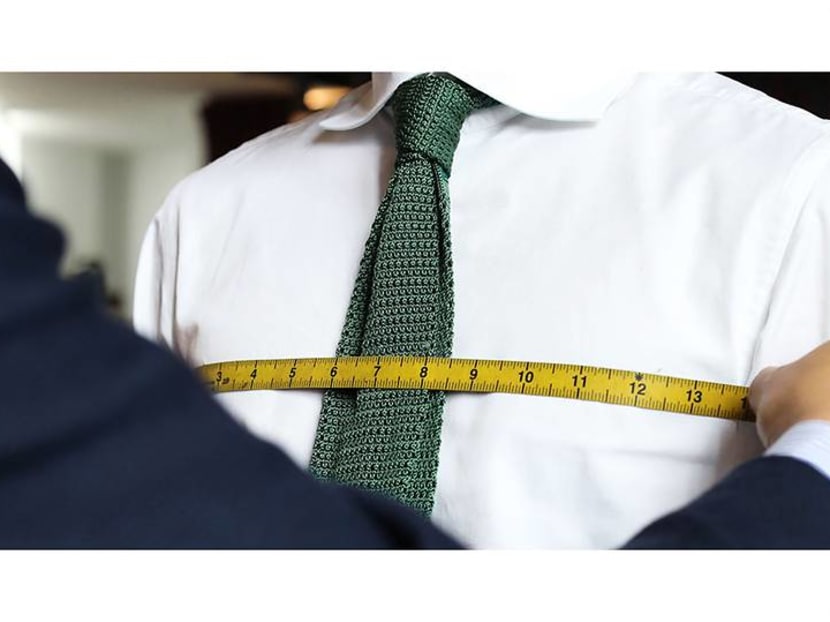 When Singapore first entered the circuit breaker period, it was dark times for many businesses. With physical retail stores forced to shut, bespoke ateliers were plunged into uncertainty, and forced to find new ways to stay afloat.
Though the arrival of Phase 2 is a welcome reprieve, it also brings with it new challenges for Singapore's bespoke businesses. Safe distancing is required, so how will in-person appointments take place? What about taking measurements, which requires some form of body contact?
CNA Luxury spoke with several bespoke designers in apparel, jewellery and footwear to find out how they're reopening. With measures put in place to distance both staff and clients, will the bespoke business, which relies heavily on personal contact, ever be the same again?
A DIGITAL PIVOT
While various industries, such as fashion and horology, have been affected by a digital revolution in recent years, bespoke businesses have so far managed to preserve their traditional way of operating. Clients appreciate the face-to-face interaction that comes with tailoring a suit, or customising a pair of shoes.
But the COVID-19 pandemic has since forced bespoke businesses to fully embrace digitalisation. "Since the pandemic, we've had to rethink our business and review the way forward," shared Glenn Lee, Atelier Manager of Kevin Seah Bespoke, a tailoring house that offers bespoke and made-to-measure suits. To work around the restrictions of the circuit breaker period, the brand began offering virtual consultations for clients.
The lack of face-to-face appointments greatly affected bespoke bridal gown and wedding dress label Jessicacindy. "The COVID-19 pandemic definitely impacted our business greatly in terms of sales, as most clients were not keen to commit to orders without meeting face-to-face, especially for a wedding, such an important once-in-a-lifetime occasion," said Jessicacindy Hartono, founder and Creative Director of the label. 
To soften the blow, the label began offering video chat consultations to its local clients. Previously, video consultations were only offered to overseas clientele.
Bespoke jewellers have also begun to ply their trade online. Homegrown label B P de Silva launched a virtual concierge, allowing clients to make online appointments with its jewellery specialists.
"Since the beginning of 2020, the brand has been building up its digital presence and capabilities so when COVID-19 hit, it became exceptionally clear to us that the best way to weather the storm is to remain connected with our clients through digital platforms," said Shanya Amarasuriya, Creative Director at B P de Silva Jewellers.
For shoemaker Joshua Leong, pivoting online meant coming up with innovative ways to sell products, and get client measurements. Leong owns two labels, bespoke men's shoe brand Josh Leong Shoes, and women's shoe brand Palola that offers a made-to-measure service.
For the latter, Leong launched Advance Purchase Made-To-Order Shoes, where customers can purchase shoes online at a small discount, then get their measurements taken when the store reopens. Palola customers could also purchase a 24 hour Fitting Kit. The kit consisted of four pairs of fitting shoes in varying styles, sizes and widths, as well as leather sample swatches, delivered to their homes. Customers will then have 24 hours to try the kit, before a courier comes to pick it up.
"We understood that buying shoes online from a brand you're unfamiliar with is difficult, and that no amount of sizing advice would be better than allowing customers to try on the shoes in person," said Leong.
BY APPOINTMENT ONLY
Now that Phase 2 has arrived, these bespoke labels are still being cautious with letting clients and customers through their doors. "We will continue to have appointments via video chat for clients who still prefer to have appointments virtually and wherever possible, we will recommend virtual appointments," said Hartono.
While Kevin Seah Bespoke and B P de Silva previously accepted walk-ins prior to the COVID-19 outbreak, they will now operate by appointment only to limit the number of people within the store. Kevin Seah Bespoke will allow only one customer at any time. B P de Silva will allow a maximum of 10 people inside its atelier.
In terms of overall safety measures at all ateliers, they appear pretty much the same as other retail stores. Hand sanitisers will be provided, both customers and staff will have to don face masks, and safe distancing measures will be implemented inside. At the Kevin Seah Bespoke, Josh Leong Shoes and Palola outlets, customers will have to check in and out with SafeEntry.
NO 'SKIN TO SKIN' CONTACT
The biggest change for Phase 2 is that when it comes to taking measurements, body contact will be minimised. If a client needs her measurements taken for a gown, Jessicacindy's staff will wear gloves. Josh Leong Shoes and Palola will adopt the same protocol.
"Previously when I measured a customer's feet for a bespoke commission, I would ask them to remove their socks and I would use my bare hands to measure. Moving forward, all customers will need to wear socks at all times, whether it's when their feet measurements are being taken, or whether they are having a fitting appointment or trying on shoes. My staff and I will also be required to wear latex gloves at all times when measuring a customer's feet, to eliminate the chance of any 'skin on skin' contact," said Leong.

As for tailoring suits at Kevin Seah Bespoke, "Our measuring tools will be sterilised before every fitting," said Lee.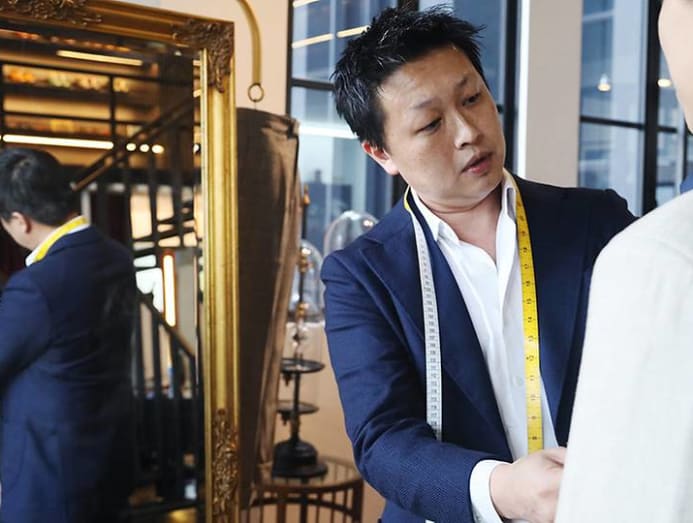 SEE NO TOUCH?
Trying on products and apparel will also be a slightly more complicated process, albeit for the labels' employees. Whether it's a suit, gown, shoes or a piece of jewellery, the ability to touch and feel the product is an important aspect of the bespoke experience, and is not something the labels are keen to take away from customers.
"Trying on Jessicacindy gowns will be allowed, but we will disinfect every gown touched or tried on after each appointment," said Hartono.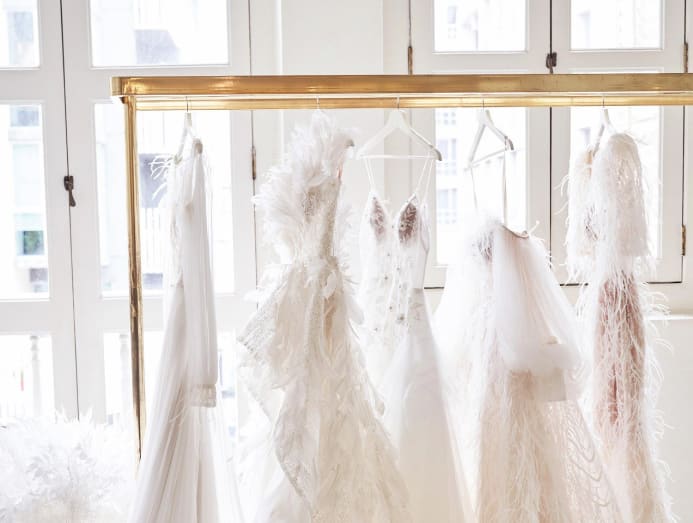 For Kevin Seah Bespoke, "We will ensure that all apparel and our fitting room are sterilised regularly, whether through ironing and steaming, before and after a customer touches or tries them on," shared Lee. "It is important for clients to feel the cloth during fittings for it to be a true bespoke experience. Examining the colour, texture, and weight of a fabric digitally can never be completely accurate."
"I believe that with the necessary precautions taken, it is perfectly safe for customers to try on (Josh Leong and Palola) shoes in store. The inside and outside of every pair of shoes that has been tried on by any customers will be disinfected immediately using an alcohol-based disinfectant after a customer has worn them," said Leong.
Jeweller B P de Silva will also adopt the same precaution. "Jewellery is so personal – being able to explore and try on jewellery in our atelier in person is an intrinsic part of the B P de Silva experience. Our jewellery is always sanitised before and after each appointment," said Amarasuriya.
"Our jewellery specialists will assist our clients who would like to try any of our jewellery. We serve our clients with their own personal trays so we can keep track of the jewellery they want to try on, or have tried on," Amarasuriya added.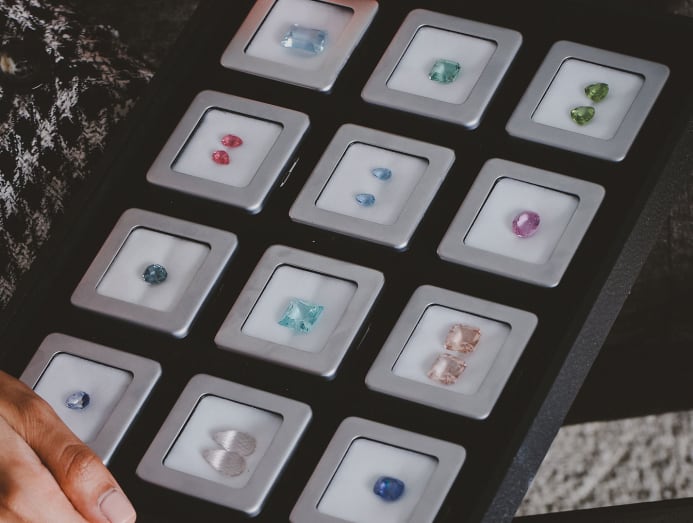 IS THE BESPOKE EXPERIENCE HERE TO STAY?  
Safe distancing and bespoke services are two terms that don't seem to go together, which begs the question, can bespoke labels survive a post-pandemic world?
There's a sense of optimism amongst the labels that CNA Luxury spoke to. Despite the added measures, clients will still seek out bespoke services, the labels believe.
"Procedures will be slightly different in order to ensure the wellbeing of both staff and client, but I don't think it will majorly affect the experience as the luxurious aspect and exclusivity of it will not diminish," said Hartono.
"A bespoke B P de Silva piece is a commissioned jewel from scratch, and our bespoke journey continues to be one of our most sought-after services, where we are privileged to tell stories of life's sweetest memories through jewellery," said Amarasuriya.
"Oftentimes the keepsakes we craft are engagement rings and wedding bands, sometimes it's to celebrate milestones like anniversaries, or a request to redesign a family heirloom. For these reasons, we find that there will always be stories to tell and celebrate."
"One positive outcome of this global pandemic is the shift in spending habits," said Lee. "There's been a renewed focus on long-standing value, purchasing locally, and sustainability. Clients have come to realise that there is more value in being physically present, instead of shopping online for their needs."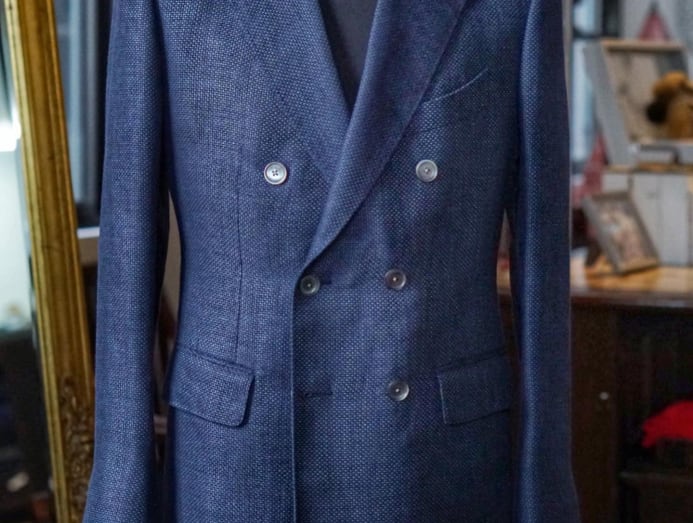 In fact, the bespoke experience can even be enhanced by embracing digital methods, Leong believes. "We're deeply entrenched in the digital age, and our customers are just as, if not more technologically-savvy than us. Communicating with them over WhatsApp or Zoom has become the 'new normal'. These digital communication channels have allowed us to continue developing our relationships with bespoke customers," he said.
"At the end of the day, when you really look at the core of what bespoke is all about, you'll realise that it's about the relationship between maker and customer. As long as that relationship is always at the heart of everything we do, I believe that the demand for bespoke services will continue to thrive in the years to come following this pandemic."

"At the end of the day, when you really look at the core of what bespoke is all about, you'll realise that it's about the relationship between maker and customer." – Joshua Leong