Why Wallawwa in Colombo is possibly the best airport hotel in the world
Wallawwa hotel in Colombo will make you want to stay longer than your layover.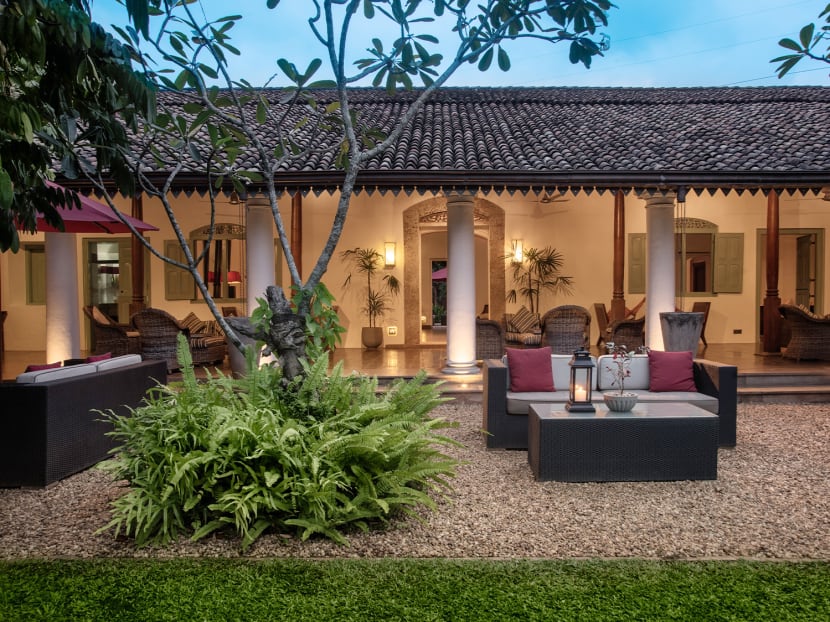 Ask anyone what the worst part of travelling is, and chances are they'll say it's a long layover. Specifically, one that requires an overnight in an airport hotel. Almost without exception, they're awful, the ones in Europe and America, especially. Nondescript concrete blocks by a dusty triple highway, bored staff, blah lobbies and badly-lit rooms that could easily double as sets for an episode of Dexter, terrible food and even worse coffee.
Occasionally, a rare gem surfaces and for some years now, I've believed the Crowne Plaza at Singapore's Changi Airport has been the one to beat with its terrific outdoor pool and landscaped terrace, every detail a carefully crafted illusion that you're anywhere other than smack in the middle of one of the planet's busiest airports.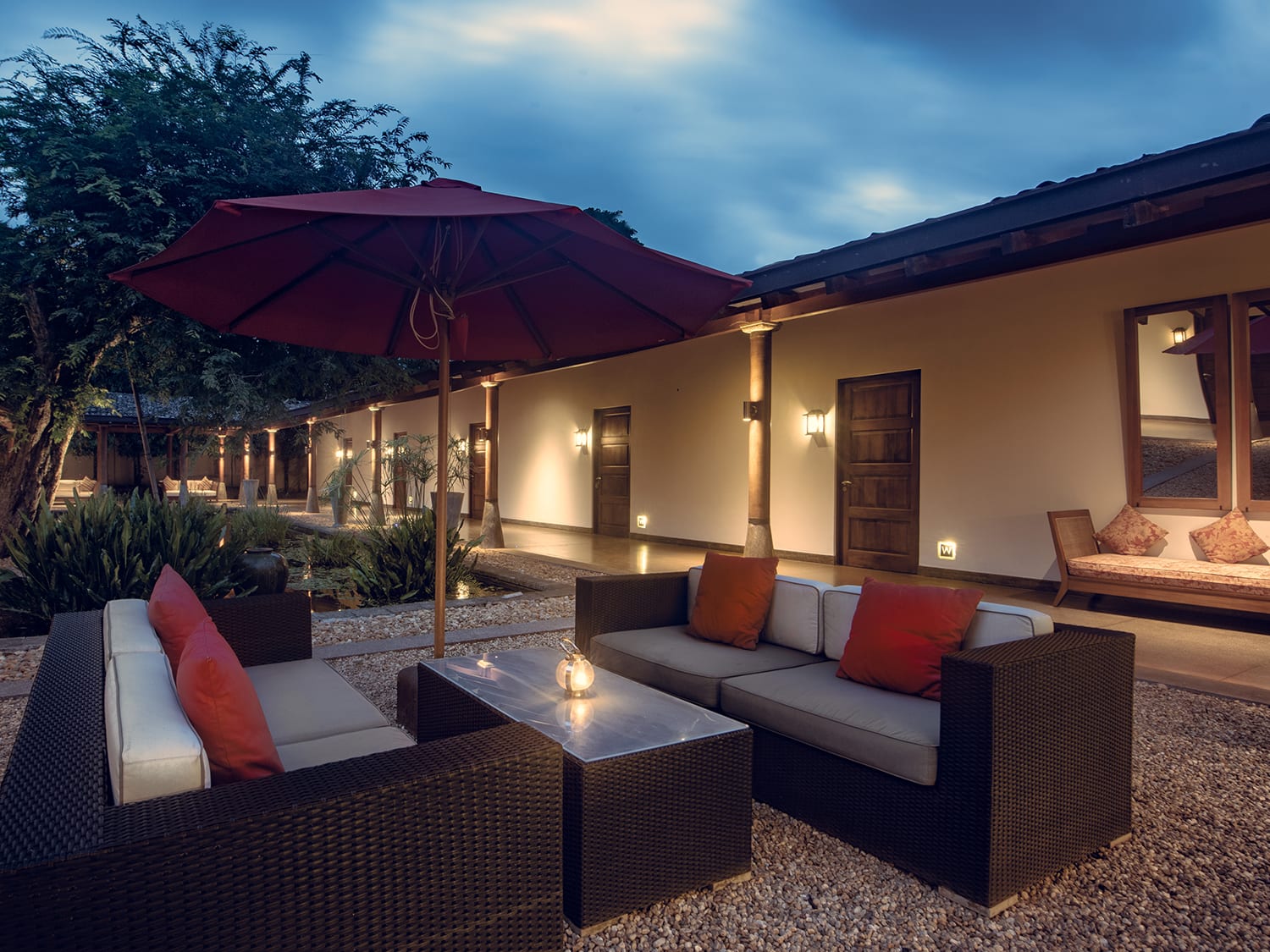 But then, a few weeks ago, I checked into Wallawwa in Colombo and I can now say, hand on heart, that this is the best airport hotel in the world. I'd go so far as to say that I would actually come here specifically to stay for a holiday. When was the last time anyone said that about an airport hotel?
Right off the bat, Wallawwa (literally, 'manor house' in Sinhalese) does everything right. Pick up your luggage from the carousel of Bandaranaike International Airport and 15 minutes later ‒ perhaps 10, if you tell your taxi driver to channel his inner Max Verstappen ‒ you're checked into one of the hotel's 18 garden suites.
The word 'hotel' doesn't quite fit, simply because the central building was originally the home of one Nicholas Dias-Abeyesinghe, the area's head chieftain under the Dutch in the 18th-century. During the Second World War, the manse was requisitioned by the Royal Air Force. The original rooms have since been converted into a library and sitting room, furnished with comfy sofas and books, lazily twirling ceiling fans, rattan furniture and hessian rugs. It's the OG in Dutch colonial chic.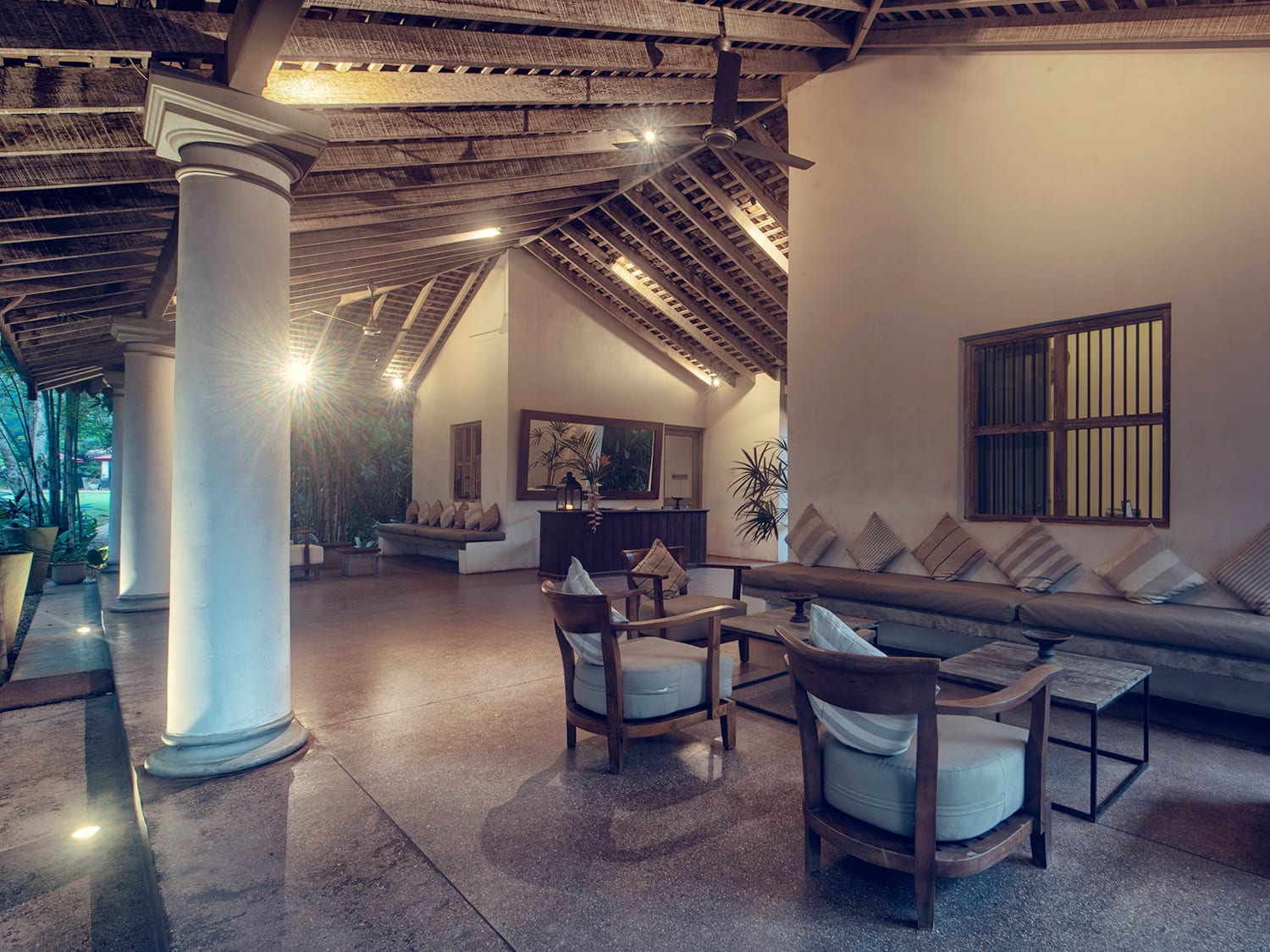 All the suites ‒ each opening into a little shaded garden or leafy nook ‒ are arranged along a U-shaped wing whose wide eaves wrap around a central rock garden and pond festooned with mini-trees and potted ferns. Flooded with light and shadow, it's a glorious set-piece ‒ the silence occasionally broken by rustling trees and the soft croaking of frogs.
Not that I heard any of it in our cloistered bedroom. 
We'd stumbled in at 1am, a little punch-drunk after the red-eye from Singapore, but even at that hour, the arrival pavilion ‒ a modest timber-rafted space serenaded by crickets ‒ was littered with guests checking out with too much luggage. Milling around them, the staff, wreathed in smiles, quietly coordinated taxis and the last bits of paperwork.
Our room was unusually large, though, at 35 sq m, it was just the entry level category. The others zoom up to 90 sq m for the family suite and 162 sq m for the Mountbatten Suite which comes with a plunge pool.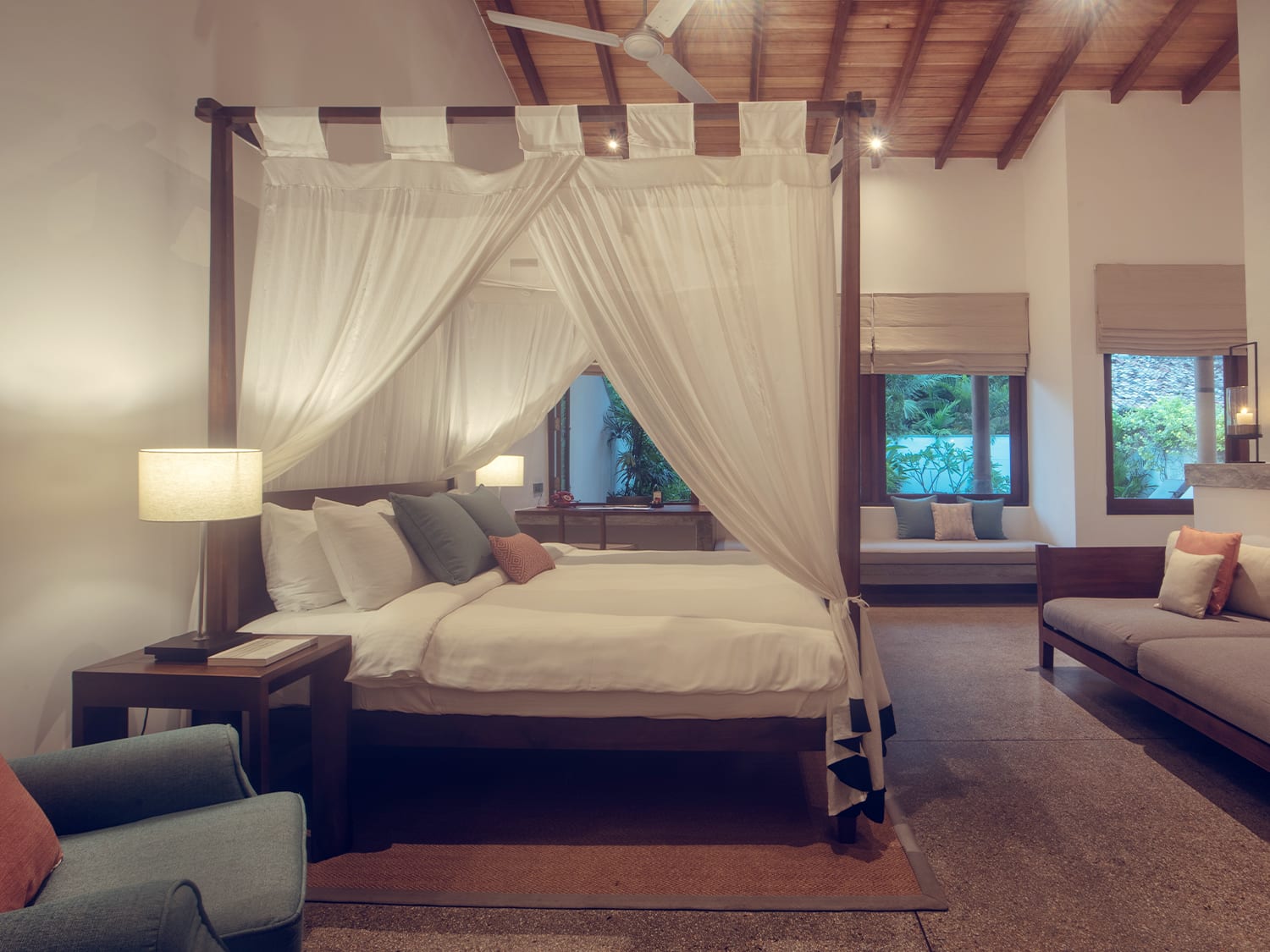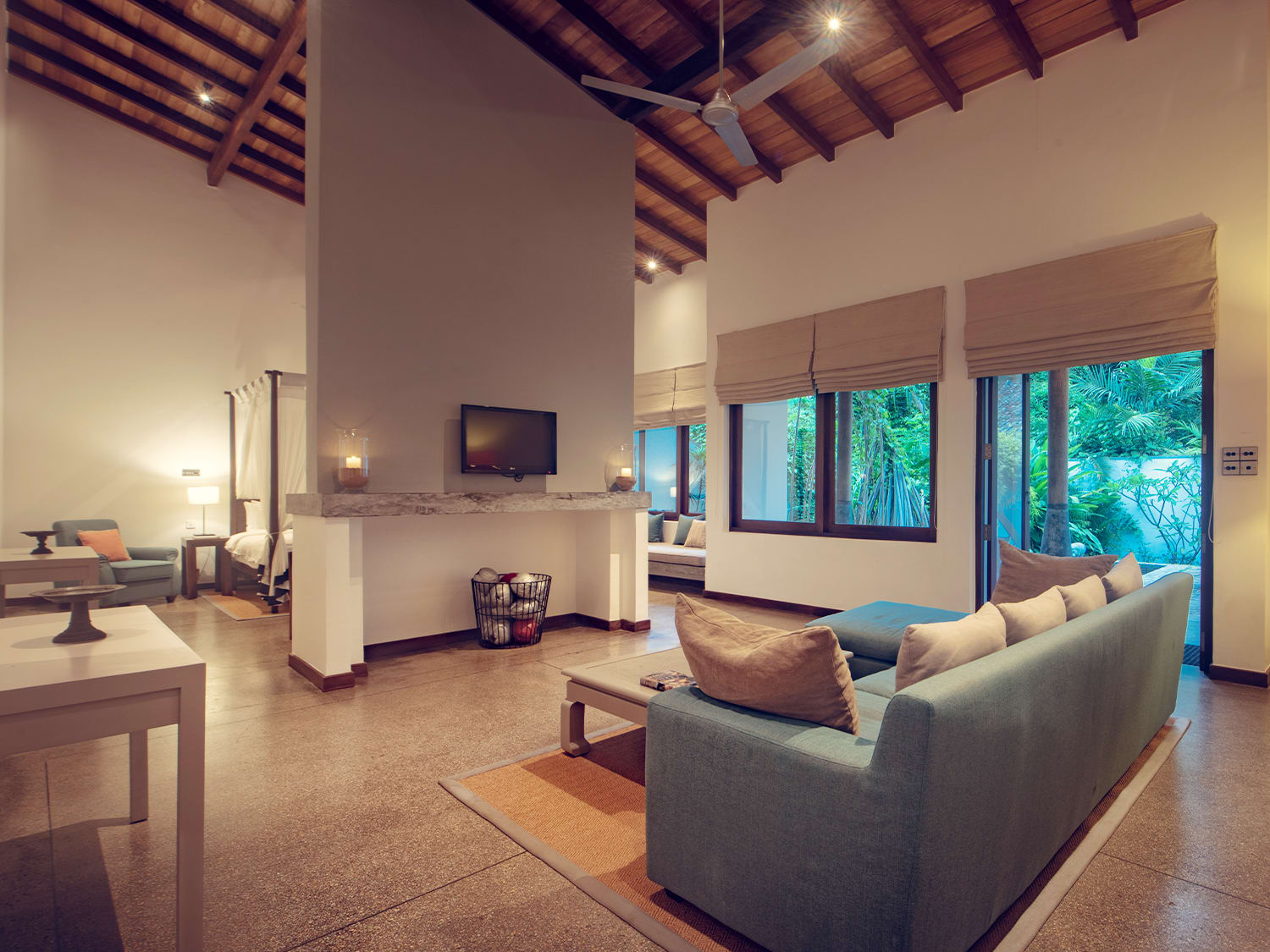 My bathroom was larger than my bedroom at home. A vast space with a skylight, it was anchored by a wooden deck separating the huge open rain shower from a double sink of polished concrete, above which sat enormous twin timber-framed mirrors. The whole thing wouldn't have looked out of place in an Aman, and that's the highest praise I can give any bathroom. 
But Wallawwa isn't quite done. It's like Serena Williams at the peak of her power, fully intent on wiping the floor with a 6-0, 6-0 score line. Because what really sets the hotel apart from the pack is the garden ‒ a massive 7-acre green haven that includes a proper spa, an organic farm, a jungle festooned with native flora, pineapple and banana trees, and an emerald-blue tiled pool sheltered from the day's heat by a towering, lush-green forest.
In a way, all this extravagance is completely wasted as most guests just overnight at Wallawwa ‒ they're either on their way to the high tea country or hightailing it for the coast, or just cooling their heels for a late flight home. Those who stay longer could sign up for a Negombo fish market tour or slide into Colombo, 40 minutes away for a last minute reservation at the Ministry of Crab.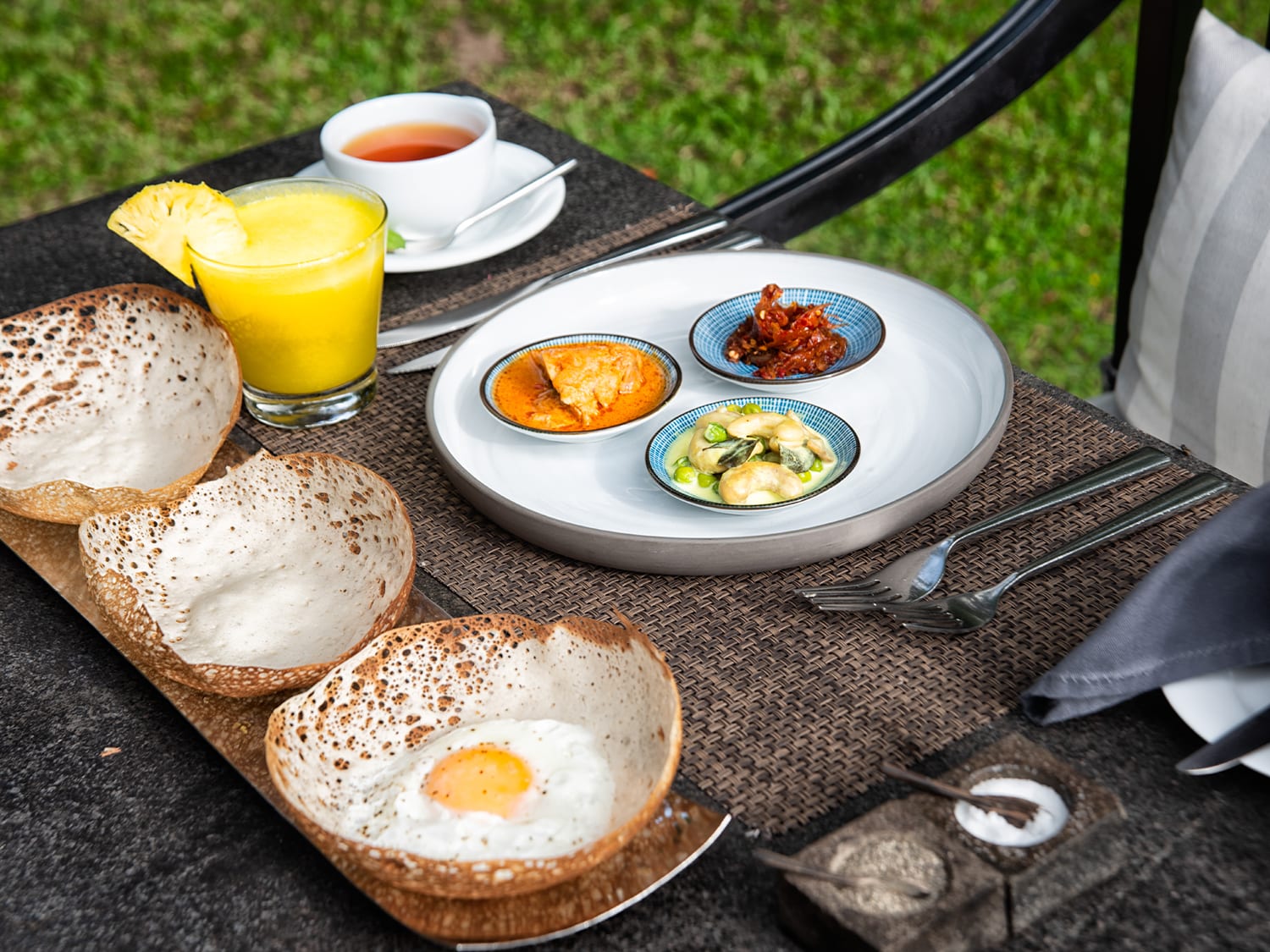 But really, why would you bother, especially when Wallawwa's kitchen is so good? The feathery light, golden egg hoppers at breakfast just about made me weep when I thought of all those dreadful Continental breakfasts of stiff scrambled eggs and papery hash browns I've had dished out at the airport hotels of Heathrow and Dallas. 
This, I decided, as I sipped fresh watermelon juice and spooned cumin-scented curry onto the paper-thin hopper, is what revelation tastes like. 
Rates at Wallawwa hotel are from US$265 (S$359) per room on a bed and breakfast basis.