For the loaf of bread: Where to get the best artisanal bakes in Singapore
Where to turn to when you want a warm loaf of well-made bread to enjoy in the sanctuary of home.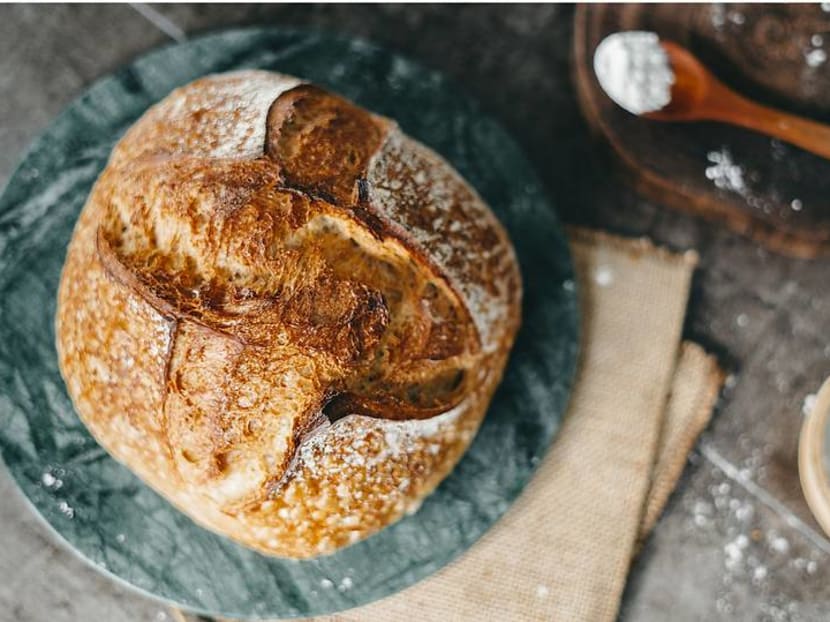 Among the many joys of staying home is the act of hugging a loaf of fragrant, crusty bread in your comfiest clothes and scarfing it down like no one's watching.
Thanks to the boulangerie boom of the past few years, Singaporeans are no strangers to the gentle tang of hearty sourdough loaves, Japanese-style cottony baguettes, and rustic whole grain boules upon which we can channel our deepest comfort-sandwich desires.
Whether it's an Insta-worthy avocado on toast (add an artful sprinkling of dukkah for extra likes), a good-old grilled cheese sandwich, or a fat hoagie dripping with mayo, the breads from these fine bakeries and restaurants make excellent vehicles to hold your favourite ingredients together.
Of course, there is something to be said for the soul-soothing comfort of a cold pat of good salted butter on a warm slice of toast. Pull on your PJs, because there's no better time than now to go on that bread binge.
BAKERY BRERA
This neighbourhood gem is synonymous with their standout cruffins, but the stalwarts of their range are ambrosial offerings like crispy baguettes (S$4.20), pain au levain (S$8.50) and walnut onion bread (S$5.50).
To keep the crowds at bay during the Circuit Breaker, Bakery Brera has set up an online platform where customers can pre-order their bakes for queue-free, contactless collection.
We never leave without a quartet of their rich and fluffy chocolate hot cross buns (S$8), which are available all year round.
BAKEHAUS
Bakehaus' 10-year-old sourdough starter, Ace, boasts the honour of having a piece of him living in the Puratos Sourdough Library in Belgium.
Here in Singapore, he contributes to the bakery's popular pain au levain (S$8) and a rather special brown butter polenta loaf (S$10). Those feeding a large, bread-loving family will benefit from the bread and pastry bundles that start at S$55 for a loaf of rustic white sourdough, whole wheat sourdough, nine-grain sourdough, traditional baguette, pain de mie, 250g of salted French butter, and a specially selected soft cheese.
Add S$12 to that and you'll also get a pair of croissants and two pain au chocolat. Order through the Bakehaus Facebook or Instagram pages.
BURNT ENDS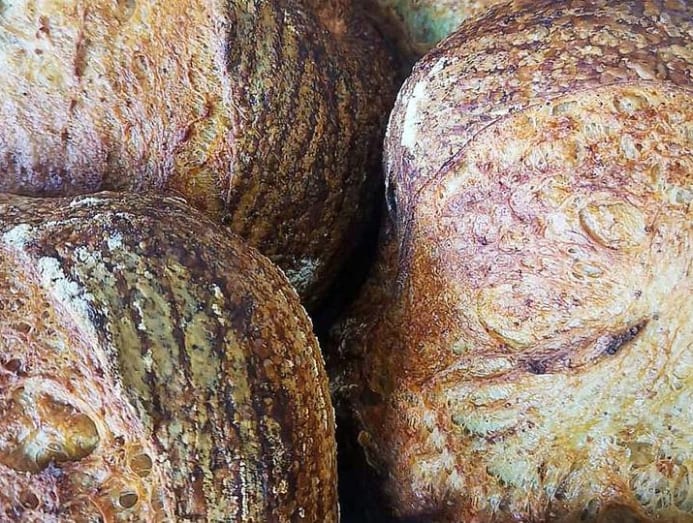 Buying bread from Burnt Ends used to feel like an insider exclusive. This popular restaurant had been selling its rye and wholemeal-blend loaves to regular diners on an ad hoc basis and was working on an online bakery before the Circuit Breaker hit.
Cue the mad dash to redefine its business model and bread has evolved to become a regular item on its takeaway menu, much to the delight of anyone who's tasted one of their rustic, aromatic loaves. Using a 14-year-old starter whose claim to fame is that it was made by the baker who established the bread programme at Noma, Burnt Ends' sourdough loaves (S$12.90) call for a 72-hour notice, with pick up between 12pm to 5pm daily. While you're at it, might as well pick up a couple of chocolate or jam donuts too.
FIREBAKE
Dense, old-soul breads fly out of the impressive hand-forged wood-fire ovens at this East Coast bakery.
Pick up one of their six sourdough loaves – we adore the white-and-rye Valley loaf (S$13), richly studded with dried fruit and scented with cinnamon and honey – or their croissant-esque buns flavoured with the likes of chocolate or cheese and marmite (S$4.50 each), that are available on weekends.
If you need a sampler before you go in for a whole loaf, order the bread board (S$10) of five assorted slices that comes with a good pat of French butter and Greek extra virgin olive oil.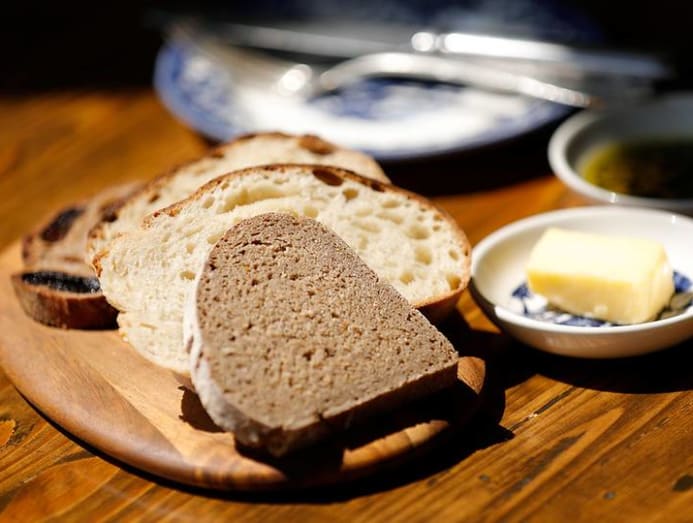 Their beautifully formed country loaves (S$9) are mildly tangy with an airy crumb, but the flavoured breads are the stars at this hole-in-the-wall bakery, whose second branch sits in the historical Red House along Katong.
Try the herb olive oil focaccia (S$10) or the lovely kanelbullar (S$10 for two), a sweet sourdough twisted bun enriched with cardamom and milk.
MOTHER DOUGH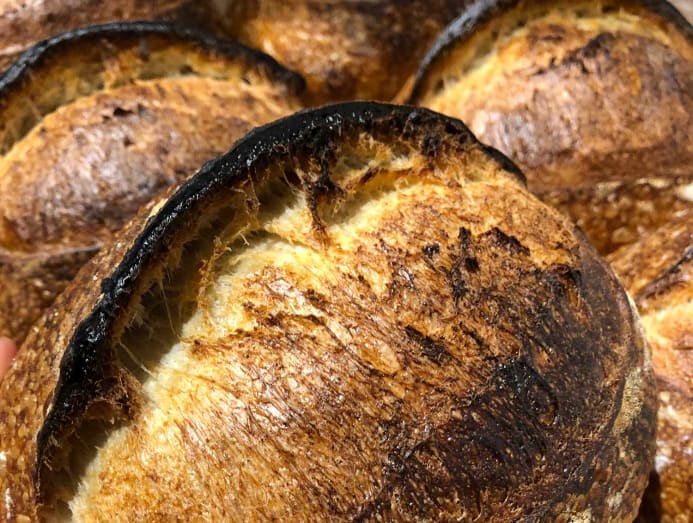 Already exceedingly popular, the circuit breaker has propelled demand for sourdough loaves and croissants at this jewel box of a bakery.
Instead of a regular menu, bakes are posted on Mother Dough's Instagram stories two days before they are available, while orders are taken a day in advance via WhatsApp.
Check out the sourdough baguettes (S$3.80) and the five-seed rye loaves (S$12) that take a good 24-hours to rise and ferment in the chiller, giving them great structure and nuanced flavour.
Anyone who's ever bitten into one of Mother Dough's sourdough croissants (S$4) would also advise that you reserve a batch of those as well. Weekends bring with them special treats like olive and cheddar whole wheat bread (S$10) and butter sourdough brioche (S$8).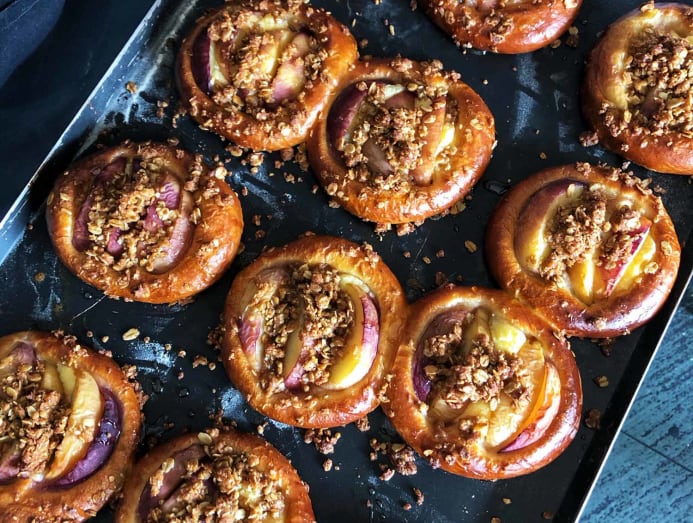 Nouri's crusty rye loaf served with soft-set nutmeg cheese and warm vegetable broth always felt like a nourishing start to what never failed to be a mind-blowing meal.
This same soul-soothing combination (S$24) is available for takeaway on the restaurant's online store, which purveys easy-to-appreciate dishes, fresh produce from its farm in Cameron Highland, and of course, bread.
Nouri's no-knead, slow-ferment sourdough loaf (S$16) is one for those who love an ethereal lightness in the bread's crumb and crust, with just the barest hint of a tang. Fun fact: Their starter named Shella was born with a bit of pineapple added to it and has been donated to several restaurants in Singapore who now have their own popular bread programmes.
SALTED & HUNG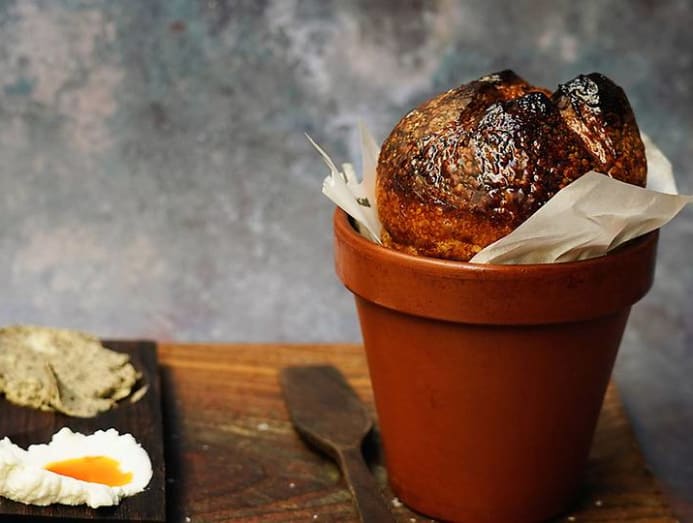 You won't find a whole hunk of Salted & Hung's utterly delicious sourdough loaf (S$15) on its delivery menu, but if you call the restaurant to order two days in advance, you'll be amply rewarded.
The loaves' friable crusts shatter with a cheerful crisp while their feathery insides hold that gorgeously delicate perfume of flour and natural yeasts. For a "lighter" option, go for the mini loaf that comes with kelp butter and whipped lard (S$8). Word of advice: You'd do well to order two portions… just in case.
STARTER LAB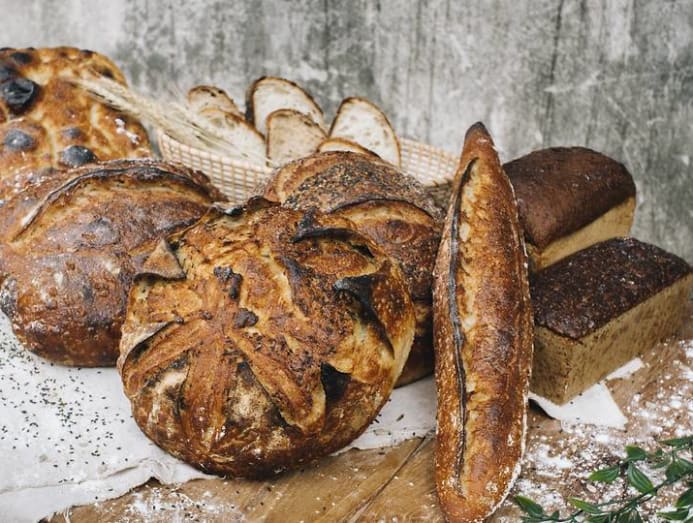 This Balinese import's San Francisco-style sourdoughs come in a lip-smacking array, including the rugged, blistered country loaves (S$10) made with 25 per cent whole wheat and slender miso baguettes (S$6) with a sharp tang and chewy cracker-like crust.
The rosemary, lemon and sea salt white loaf (S$10) is a joy to eat – squishy within, boldly salted and encased in a fine crackly crust. Order here.
TIONG BAHRU BAKERY
Golden crusts, chewy crumbs and deep flavours characterise Tiong Bahru Bakery's sourdough (S$7), a fine all-purpose loaf that is as good eaten on its own or dipped in a bowl of soup when the weather calls for it.
For added fibre and flavour, go for the rye sourdough (S$8.50) or the rye cereal sourdough (S$8.50) with its mix of sesame, flax seeds and sunflower seeds. Also available for takeaway, the Liege waffles (S$23), made from a 158-year old sourdough starter, make for a hearty meal with bacon, maple syrup and ricotta, if you have calories to burn.