The best cocktail bars in Paris, amid tech companies and co-working spaces
In Paris for fashion week or a meeting with a tech startup? A drink (or five) is in order in the city's newly-crowned tech hub that's now buzzing with cocktail bars.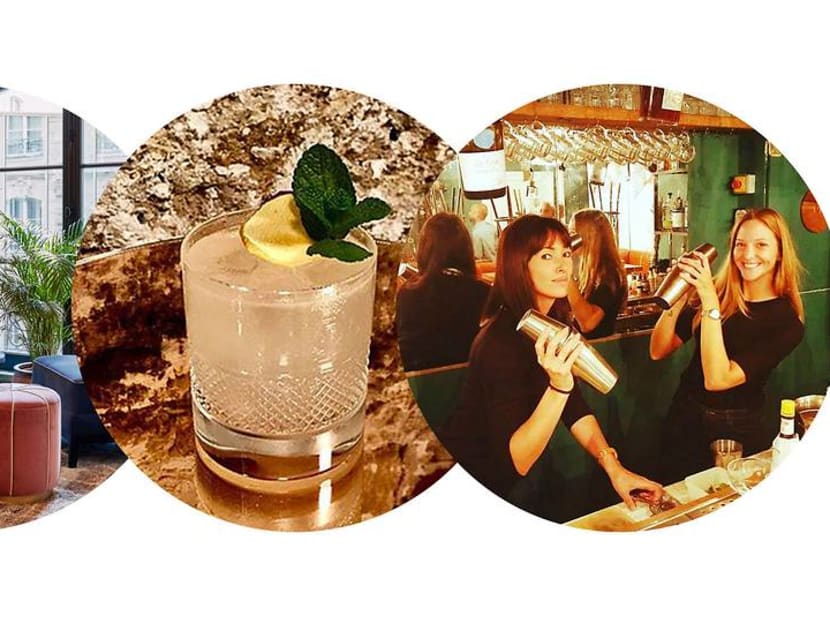 Paris's second arrondissement likes to think of itself as the heart of the rebirth of cocktail culture in the city. This arrived in 2007, with the opening of the speakeasy-style Experimental Cocktail Club, on a side street off Rue Montorgueil, a pedestrian area that is one of Paris' permanent market streets.
At that time, the city's best cocktails were typically found in the bars of the magnificent – and magnificently expensive – Palace hotels. The Experimental Cocktail Club and its imitators that followed began to change all of that, bringing accessible prices and audacious combinations of exotic ingredients. It heralded a new informality in the French capital's cocktail scene.
A decade later and there's now a raft of trendy cocktail haunts to choose from in the second arrondissement, on the right bank of the River Seine. The area has always been an important business district; it was the centre of France's textile industry in the 19th century, and it is home to the former Paris Bourse (stock exchange), now Euronext (Europe's second-largest exchange) and many other financial companies. Meanwhile since the late 1990s, the district has reinvented itself as Silicon Sentier, nicknamed in a nod to the arrival of fast-growing tech companies and, more recently, co-working spaces serving start-ups and freelancers.
This has brought with it a younger crowd of business people and residents, drawn by the second's central location and reinvigorated energy. A flurry of independent cocktail joints and trendy boutique hotels such as The Hoxton, the Hotel Bachaumont, and the Hotel Grands Boulevards have sprung up, their in-house bars a destination in themselves for both Parisians and international visitors, offering a relaxed alternative to the Palace hotels.
LE DISTRAIT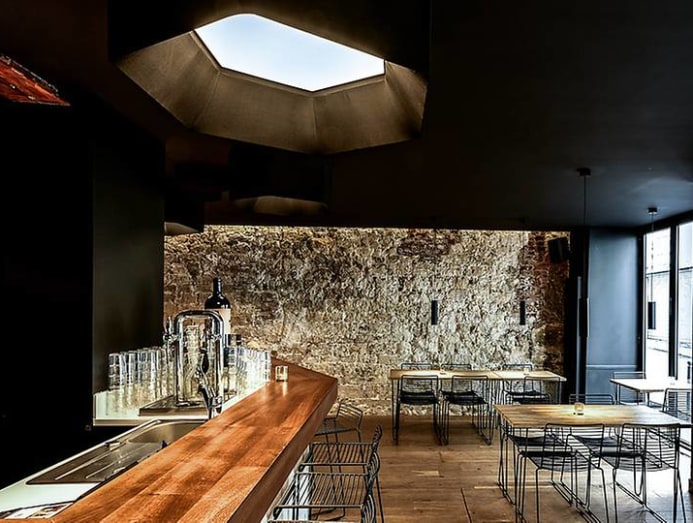 When friends Guillaume and Paul opened Le Distrait in 2015, it started out as a small wine bar on a quiet road with stools at the bar, a few tables and a limited selection of cocktails. They soon found that their cocktails were proving to be the biggest draw, so they decided to focus on refining their cocktail menu, prioritising simplicity and high-quality ingredients.
"It's a big trend to make more and more complicated cocktails," said Guillaume. "We like to keep things simple." As a result there's never more than five elements in a drink on Distrait's menu. Among the most popular, and a staple since the start, is the Marmule, a refreshing take on the classic Moscow Mule, made with gin rather than rum. If you're feeling peckish, enjoy dishes such as generous helpings of burrata di bufala, or hunks of pata negra Iberico or jamon serrano, thinly sliced before your eyes behind the bar.
Expect a hip, Parisian crowd; the customers are friends, and friends of friends. For a similarly relaxed and Parisian vibe, aveK cocktail bar on Rue Saint-Sauveur is just a 10-minute stroll away and is also worth a visit.
Good for Order a croque monsieur and put your feet up in the back sitting room, which is kitted out with a Nintendo 64.
Not so good for Summer nights (no outdoor seating) or serious meetings; it's dark and sultry inside and the jazzy playlist means that this is not the place to talk shop.
FYI Closed on Sundays and Mondays. Accepts reservations.
Le Distrait, 26 Rue de la Lune, 75002 Paris
JACQUES' BAR (Upstairs at the Hoxton Hotel)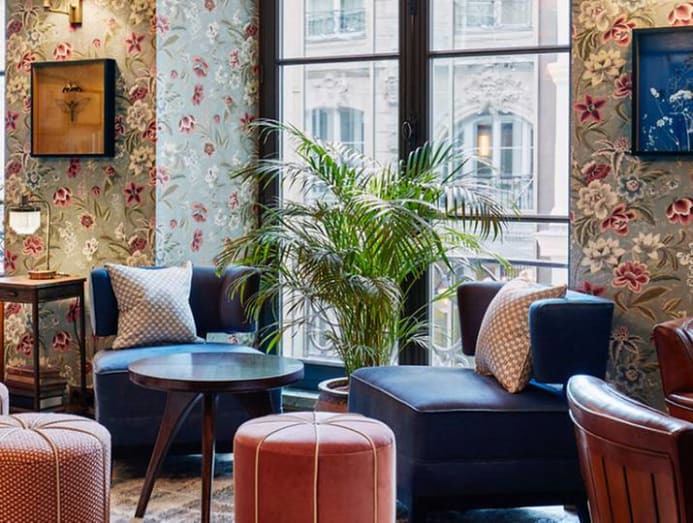 Dodge the millennial crowds who congregate in the cobblestoned courtyard at the Hoxton Hotel – a trendy hotel which opened in 2017 – and head straight upstairs to Jacques' Bar. This cosy cocktail den is an intimate mishmash of velvet stools, floral wallpaper and orientalist paintings, inspired by the Majorelle Garden in Marrakesh, created by Jacques Majorelle.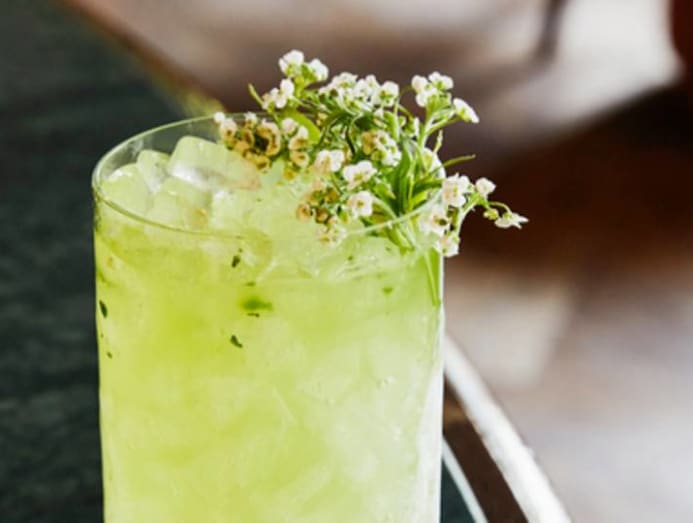 The eight specially designed cocktails were dreamt up by the team behind popular Paris nightspots Candelaria and Mary Celeste (both in Le Marais). These creations also have a Moroccan influence, with spices and citrus flavours that invoke faraway lands – Tea Julep (rum, grappa, tea-infused syrup, peppermint,) or Tikiztate (tequila, harissa-spiced pineapple juice, lime, ras el hanout spice). The bar draws a mixture of hotel guests and young professionals.
Good for A discreet tete-a-tete.
Not so good for Arriving at the Hoxton, you can feel like you've stepped into a hipster cliche.
FYI Open every day, except for most of August. No reservations.
Jacques' Bar, 30 – 32 Rue du Sentier, 75002 Paris
LOCKWOOD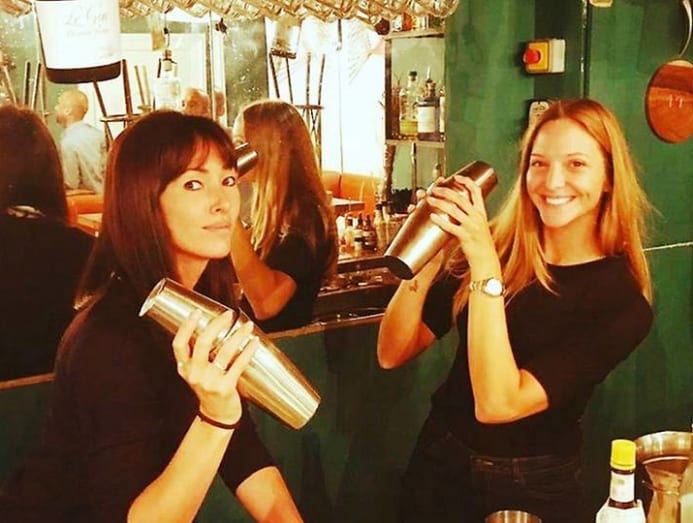 Award-winning cocktail bar Lockwood, which made its name with an extensive range of Italian spirits, changed hands a year ago. Its new owners have since moved the focus to gin: Evidence of which is clear from the bottles of English, Japanese and even French gin hanging from bungee cords above the bar.

Nevertheless, one Italian tradition remains: The aperitivo hour, where, between 6pm and 7.30pm daily, free Mediterranean-style nibbles are served. Brunch on weekends draws an expat crowd; Lockwood is now open all day from 11.30am until 2am.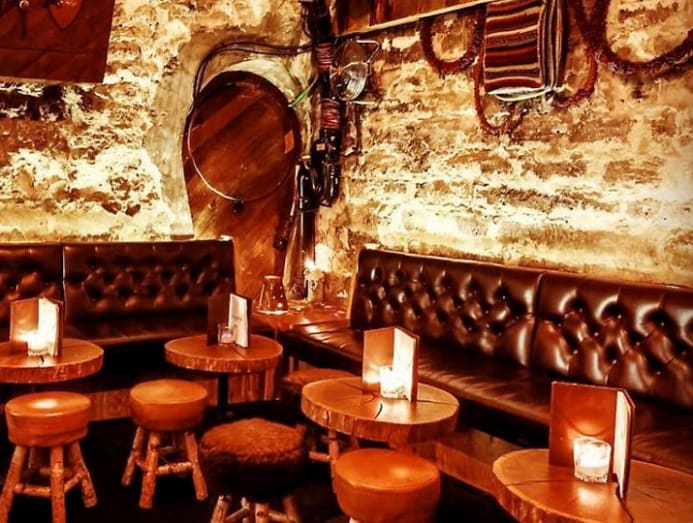 For those in the know, the real action happens downstairs, where beneath the exposed stone arches a 200sqm basement with a wall of whisky bottles beckons. "It's to give customers a change of bar – without changing the bar," said Sonia Thirard, one of the co-owners. "There's a hidden aspect; people often don't know there's a bar in the basement."
Good for Basement booths for 10-15 people are the perfect place to privatise for a group gathering.
Not so good for Anyone watching their waistline: The menu is a feast of greedy delights such as cheeseburgers, french fries and quesadillas.
FYI Open every day except Monday; downstairs bar open Thursday, Friday and Saturday evenings only. Accepts reservations.
Lockwood, 73 Rue d'Aboukir, 75002 Paris
THE SHED, HOTEL DES GRANDS BOULEVARDS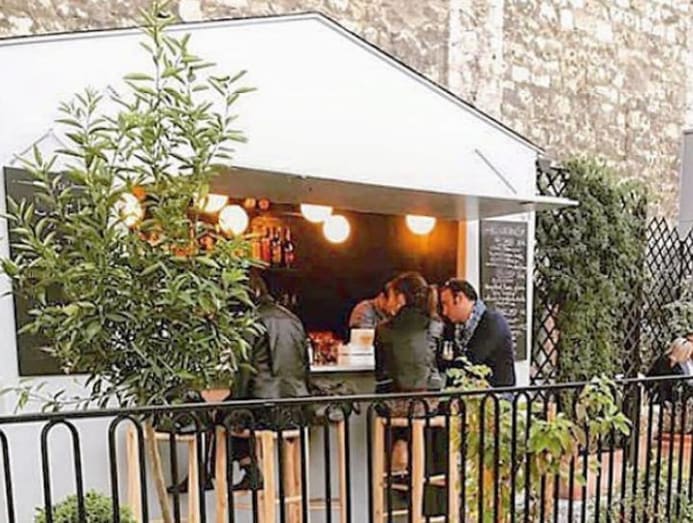 Basking on the sunny rooftop at The Shed, it's easy to forget that you're in central Paris. Perched on top of the Hotel des Grands Boulevards, this plant-lined bar is the hottest new addition to the fast-growing Experimental Group's collection (whose empire spans seven destinations globally from New York to Ibiza) and is a welcome oasis on an otherwise rowdy street.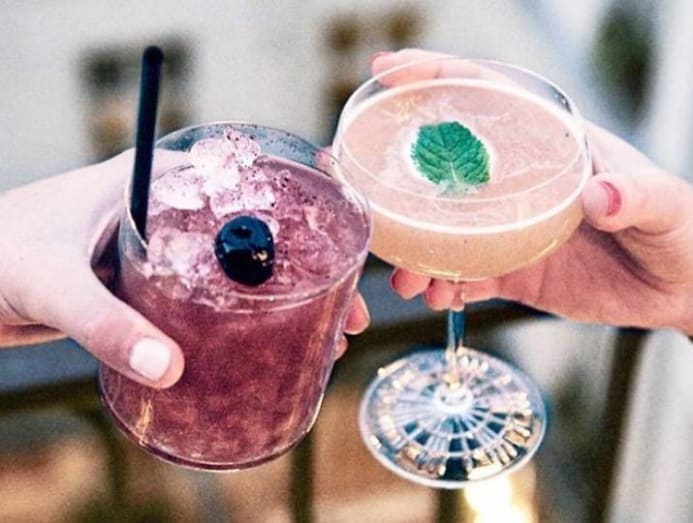 The cocktail menu is seasonal and is organised by strength: From "no shed" (no alcohol) to "two shed" (a thirst-quenching Old Cuban). According to assistant manager Paul Biwand, the most popular choice is the two shed cocktail called de notre potager ("from our kitchen garden"), a daily special that pairs up hard liquor with seasonal ingredients grown on site.
"There's also a growing trend for alcohol-free or low-alcohol cocktails," said Paul. "People like to drink more and more cocktails, but they don't want to get too buzzy." Outdoor heating allows for year-round enjoyment, and a snack menu has recently launched.
Good for Long summer nights; and for smokers, who can puff en plein air undisturbed.
Not so good for Organisation freaks who are pressed for time.
FYI You can't book a table.
The Shed, 17 Boulevard Poissonniere, 75002 Paris
COINSTOT VINO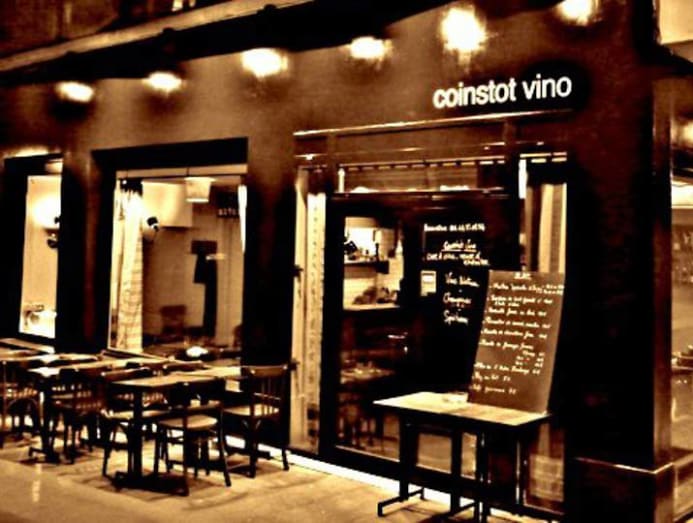 No visit to the second arrondissement is complete without a trip to Passage des Panoramas, the oldest covered passage in Paris. There you will find Coinstot Vino, a buzzy and laid-back wine bar. Featuring red walls, a black facade and a covered terrace, Coinstot Vino has an extensive cellar and a rather grown-up wine list of organic wines.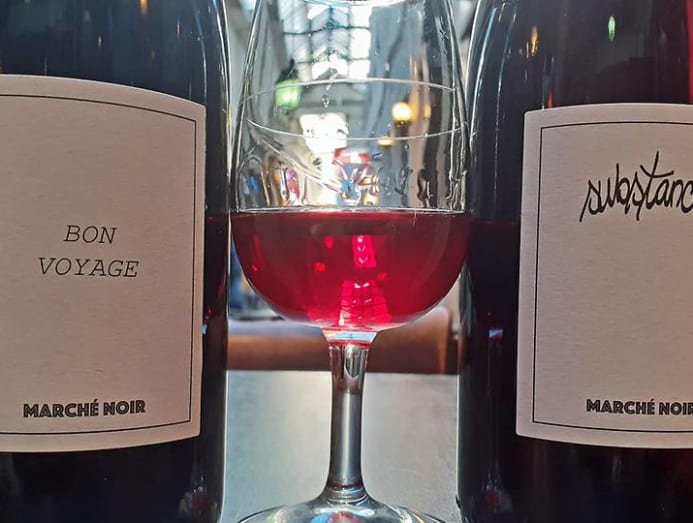 "The ambience is that of an old-style bistro, with lots conviviality," said Philippe Chevrier, who animates the evening service. Drop in for a glass of Bourgogne after work, or stay for pluma Iberique, pave de thon, Aberdeen Angus beef, and even (surprisingly good) pizzas.
Good for When it's not a cocktail kind of night and you need a hearty glass or two of red wine.
Not so good for The clue is in the name: If you're looking for a dry martini, you've come to the wrong place.
FYI Open Monday to Friday, lunchtimes and evenings. Open Saturday evenings and closed on Sundays.
Coinstot Vino, 22-30 Galerie Montmartre, Paris 75002
By Harriet Agnew, Paris correspondent © 2019 The Financial Times