Meat-lovers guide: Where to indulge in the best dry-aged beef in Singapore
Our favourite places in Singapore to indulge in dry-aged beef and why the dry-aging process makes beef better.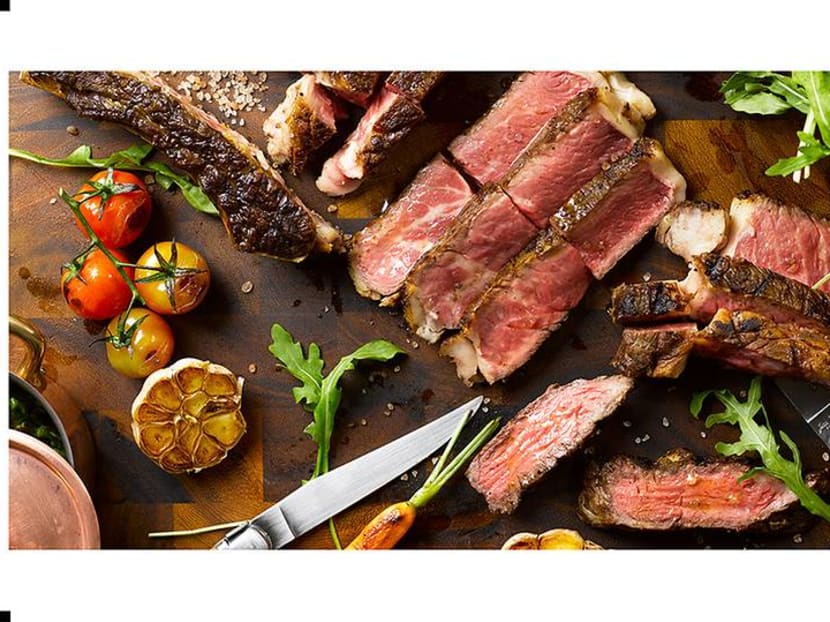 There are scarce instances where age and dehydration improve flesh. In fact, we can think of only one: Dry-aging. Of beef, that is. The process of leaving hunks of beef out to dry in a temperature- and humidity-controlled room is as time-honoured as pickling and canning. It was how beef was prepared before modern food hygiene rules and business interests gave rise to wet-ageing, where beef is vacuum-sealed in a bag and left to mature before sale.
All fresh beef is aged for a least a few days to allow its enzymes to break down the muscle tissue, resulting in improved texture and flavour. Wet-aged beef ages faster, which means meat gets to the market quicker. It also retains more water weight – and heavier meat equals bigger profits.
Dry-aging is a costlier endeavour. It produces a lesser yield compared to wet-aging as the moisture loss results in shrinkage as the beef ages. By the time the meat is fully dry-aged, up to 60 percent of it is lost.
Dry-aging is essentially controlled decomposition, said executive director of Huber's Butchery Andre Huber. "Before a cut of dry-aged beef can be used for cooking, the rotten crust that forms around the surface of the meat must be carved out," he explained – which further lessens the yield.
A MATTER OF CHEMISTRY
Peek into a dry-aging cabinet and you'll see much of the meat covered in a creamy, yellowish mould. While that doesn't make for an alluring image, the aroma in these facilities is surprisingly appealing, like a subtle mix of cheese, sage, earth and blood. All this is proof that some delicious chemistry is at play.
Like curing pork for ham, dry-aging beef is as simple as letting the meat hang out to dry and allowing time and microbes to work their magic. Over time, the meat's enzymes work themselves free, breaking proteins down into amino acids, which in turn deepens the flavour of the meat.
As inherent carbohydrates slowly turn into sugars, they weaken the connective tissue around the protein strands so that the meat becomes more tender and sweet. Meanwhile, as the water inside the meat works its way out, the meat begins to shrink and its flavours begin to concentrate.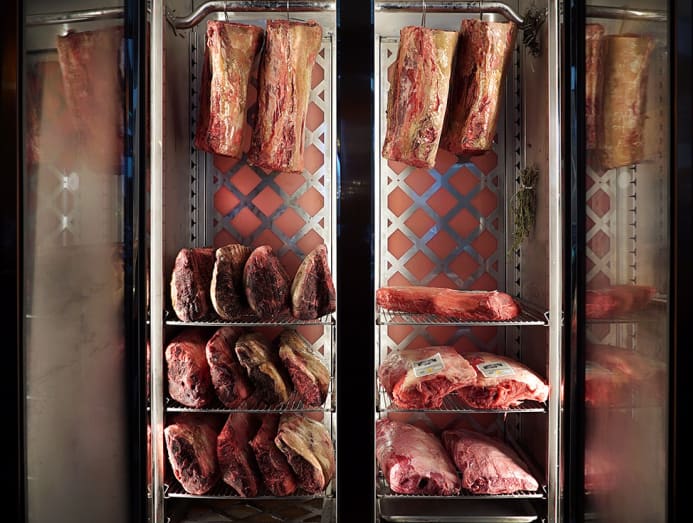 While most restaurants and butchers say that they dry-age their beef for between 30 and 45 days, there really isn't a precise formula. It all depends on the type and size of the meat, and the flavour you want to achieve. Fattier beef, for example, can require a longer aging before the effects are noticeable.
At Huber's Butchery's factory in Pandan Loop, dry-aging is done in a slow, controlled process. "We take about 60 days to age what others would usually do in 28 days because we think (the slower process) is safer and yields beef with better flavour and texture," said Huber. The company has a customised dry-aging programme that allows customers to order various cuts of meat, including a whole prime rib that typically weighs between seven and 12kg, and dictate how long they would like it to be dry-aged for.
"Most importantly, you have to start with a good quality product," said Huber. "You need meat that has a higher fat content in terms of marbling so that it will keep sufficiently moist even after the dry-aging process."
Naturally, the longer the beef is dry-aged, the more intense and pronounced its flavours. Ask most chefs and they will tell you that dry-aged beef tastes nuttier, "musky", "like mushrooms", or "like blue cheese". Most restaurants say they sell beef that is aged up to 45 days because any longer and the flavour becomes too pungent for diners to appreciate.
"We take about 60 days to age what others would usually do in 28 days because we think (the slower process) is safer and yields beef with better flavour and texture." – Andre Huber
WHO'S GOT THE BEEF?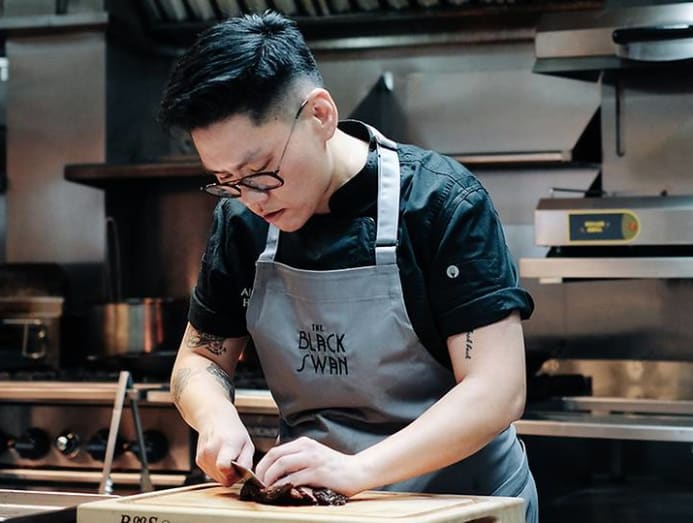 Those yet to experience the joys of a fine dry-aged steak should hotfoot it to The Black Swan where chef Alysia Chan serves a Vintage Beef Porterhouse MBS 3+ (S$152 for 800g). Made from 60-month-old breeding cattle that are turned out to pasture for retirement, the beef is dry-aged for 30 days to enrich its intrinsically deep flavours before it is deftly grilled and served with the options of nduja butter, chimichurri, lobster bearnaise (our recommendation), green peppercorn or truffle butter sauces.
Opus Bar & Grill at Hilton Singapore has its own Himalayan salt-lined aging cabinet, which offers the added benefit of reducing humidity, deterring bacterial growth and infusing the meat with a whisper of salt. The restaurant serves a 14-to-36-day dry-aged Australian Rangers Valley Angus OP ribeye for S$110.
Skirt at W Hotel introduced the first salt-lined dry-aging cabinet in Singapore when it opened in 2012. It serves an 800g dry-aged Aberdeen Angus T-bone steak for S$120 and a 1.2kg dry aged Red Poll cote de beouf for S$228, with bone marrow and watercress.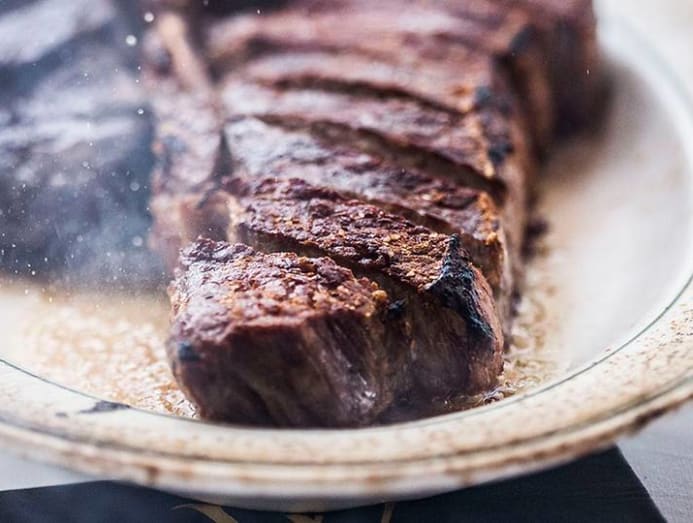 At the Singapore outpost of New York's Wolfgang Steakhouse, sub-primal cuts of USDA Black Angus beef are dry-aged for 28 days before an in-house butcher carves the meat to size for cooking. These are grilled to order at a searing 870ºC, giving them a beautifully blistered crust that gives way to succulent, deeply flavoured meat within.
Australian Black Angus beef fills the dry-aging fridge at Ginett Restaurant & Wine Bar where executive chef Sylvain Royer ages the meat for between four to six weeks before grilling them over a charcoal oven. Ginett's dry-aged specials start from S$46 for a 250g Australian Black Angus MB3+ striploin.
Since its inception 11 years ago, Bedrock Bar & Grill has been serving excellent dry-aged cuts like the USDA Prime ribeye (S$108 for 300 grams) and Irish grass-fed ribeye (S$98 for 300g). The latter has a particularly earthy flavour not only from the dry-aging but as a result of the cattle's grass feed.
Finally, at Culina, diners can buy dry-aged Margaret River Angus Bone-in Beef Striploin and Black Onyx Angus Beef OP Ribs MBS3+ to cook at home exactly the way they like it. Alternatively, the bistro chefs will happily cook it for you for a S$15 to S$25 service fee and serve it a selection of sauces including bearnaise, Bordelaise, pepper, horseradish cream or chimichurri.