You can go on a luxury holiday without worrying about your carbon footprint
At these swish resorts around Southeast Asia, you can take a vacay and do your part to save the Earth at the same time.
If you think going to an eco-resort means having to give up a daily change of crisp, clean sheets and towels, sleeping in non-air conditioned rooms or going on a green juice diet, think again.
The latest crop of high-end green resorts not only offer you all the creature comforts that a luxury hotel ought to have, they take care to incorporate sustainable principles into multiple elements of the property from the construction of the building to using green energy and conserving the local environment.
Many also have community programmes to give back to the locals too. For example, Alila Hotels and Resorts recently launched a "zero waste to landfill" programme at its four resorts in Bali, where there is a pressing need to deal with the island's overflowing landfills. The company is also encouraging local primary school children to bring their waste to to school and in return, will contribute to their school funds. Up next are plans to replicate this system at other Alila properties.
Here are some of the newest or recently refurbished eco-luxe resorts in Southeast Asia where you can have a plush holiday while helping to keep the planet green at the same time.
ALILA VILLAS KOH RUSSEY, CAMBODIA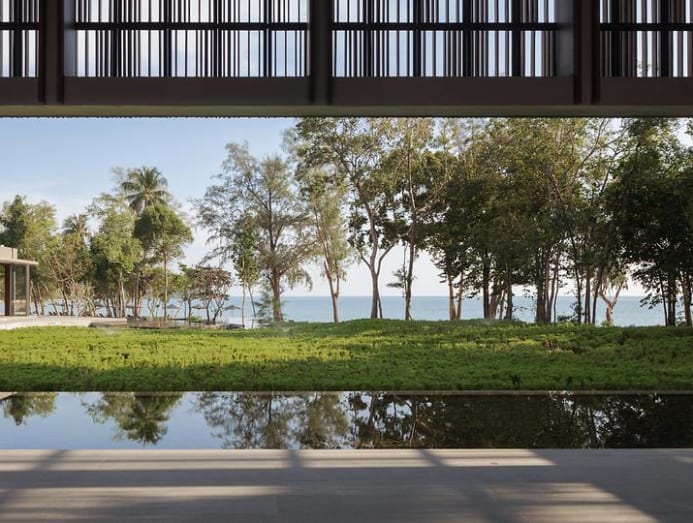 The newly opened Alila Villas Koh Russey, located on the Cambodian Riviera, features minimalist cubic buildings with flat roofs and vertical striations to reflect the resort's Khmer Krama theme, which blends effortlessly into the jungle setting of the private island.
To keep power consumption low, the villas automatically adjust lighting and temperature when occupants enter or leave. To keep the natural environment as pristine as possible, something which guests are sure to appreciate, there is a fishing exclusion zone of 200m around the resort to preserve the marine environment and a nursery to protect over 20 species of indigenous trees.
With a host of sustainable practices implemented to minimise the resort's impact on the ecosystem, it has also become the first resort in Cambodia to receive the highest level of certification from Australia-based tourism advisory group EarthCheck.
CAPELLA UBUD, INDONESIA
Located within a lush rainforest, Capella Ubud's stunning tented camp was constructed without chopping down a single tree in the property. Instead, the structures were built around the fauna – there are even trees growing straight through some of the accommodation, restaurant and spa tents.
Water is served in glass bottles in the tents and vehicles to eliminate single-use plastics. This green ethos also extends to the resort's farm-to-table F&B policy, with an onsite organic garden as well as a crayfish farm and beehives. Other meats are procured from small, local farms, where the animals are raised on ethical principals too.
Plus, Capella Ubud runs a scholarship programme to train kids from the village in hospitality skills and runs English classes where classes are "paid" for by bringing in empty plastic bottles, which will subsequently be recycled.
SHINTA MANI WILD, CAMBODIA
Fancy going on a luxury safari that's just a hop, skip and jump from Singapore? Now you can at Shinta Mani Wild, an exclusive tented camp in the heart of South Cardamom National Park – where bears, tigers and elephants roam – located three hours' drive from Phnom Penh.
Designed to be a "utopia of sustainability", the resort offers a slew of conservation and community programmes that guests are welcome to take part in, while leaving the lowest possible impact on the land. Visitors may join rangers on anti-poaching patrols in the rainforest and help in tracking previously unrecorded wildlife activity.
Foodies can go on foraging walks with in-house naturalists to learn to identify local edibles like moringa, krasang and kuy. For the ultimate in R&R, the spa not only offers chemical-free treatments but guests can truly go au naturel by enjoying a river stone foot massage while soaking in a waterfall pool. Bliss!
THE DATAI LANGKAWI, MALAYSIA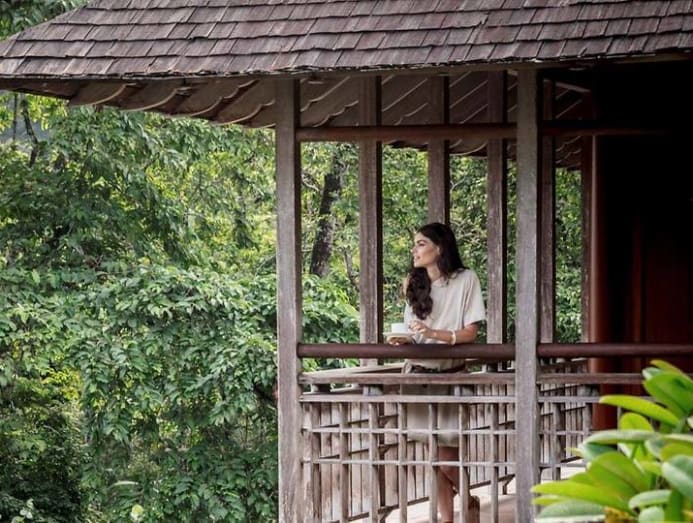 In Langkawi, most resorts are built right by the beach so guests may have easy access to the water. But at The Datai Langkawi, which opened in 1993, the hotel is located within the jungle so as to protect the natural coastline of the beachfront.
At that time, sustainable construction methods that were used – such as incorporating the felled wood in the buildings and replanting of new trees – were considered groundbreaking. Today, these initiatives are far more commonplace.
Last year, the resort reopened following a year-long, US$60 million (S$81.3 million) refurbishment, featuring even more green initiatives such as its own composting centre. The resort now has a new Nature Centre led by renowned naturalist Irshad Mobarak, which will offer guests the opportunity to go on nature walks in the forest and mangrove. Throughout the resort, stainless steel drinking flasks and sustainable bamboo toiletries are provided too.