Michelin Guide Singapore 2022: Cloudstreet and Thevar get two stars, 3 restaurants dropped from list
The highly anticipated Michelin Guide Singapore star revelation returned to a physical event this year, held at the iconic Marina Bay Sands. For 2022, a total of 52 restaurants received their stars. 
It's one of the most exciting nights in Singapore's culinary scene and after two years, the Michelin Guide 2022 has returned with a physical event for the sixth edition of its annual star revelation.
Fittingly, this year's ceremony took place on Tuesday night (Jul 12) at Singapore's iconic Marina Bay Sands. The last physical event for the guide's release was in 2019 at Capella Singapore. For 2020, the star revelation was cancelled due to restaurants' prolonged COVID-19 closures and in 2021, the guide was revealed online via a livestream.
This year, 52 restaurants were awarded their stars, up from 49 last year. Seven new restaurants made it onto the one-star list. These included Burnt Ends (which relocated to Dempsey in December last year), Raffles Hotel's La Dame de Pic, Japanese restaurant Hamamoto and French-Japanese restaurant Reve. 
Also gaining their first one-star were gastro-botanical restaurant Euphoria, helmed by chef Jason Tan (formerly of Corner House fame), and modern Korean restaurant Nae:um, helmed by chef Louis Han. Han was also awarded the Young Chef Award for 2022. 
Located at Gardens by the Bay, Marguerite, led by chef-owner Michael Wilson, also got its first star.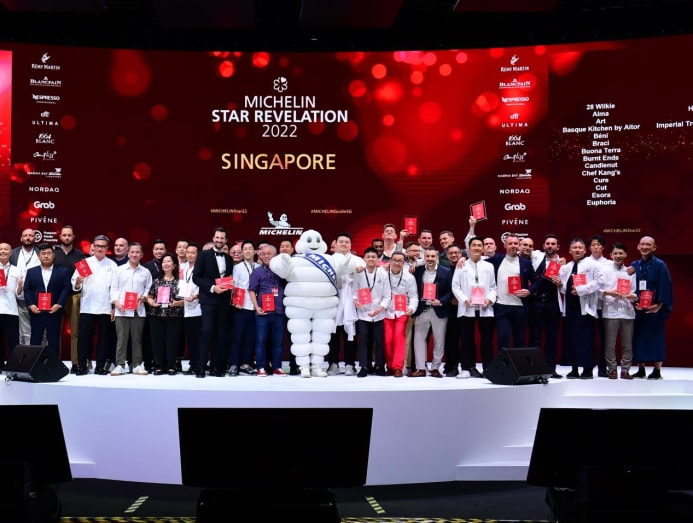 A total of 35 restaurants maintained their one-star, including Hill Street Tai Hwa Pork Noodle, the only hawker on the list.
Dropped from the one-star list were Italian restaurant Garibaldi, French-Asian restaurant Corner House and Shinji by Kanesaka's at St Regis (its Carlton Hotel outlet retained its star).
All five of last year's two-star recipients maintained their status. Cloudstreet and Thevar also moved up the ladder into the two-star category. Both restaurants received their first one-starred distinction only last year.
"It's actually unreal to be up here with all these guys," said Cloudstreet's chef-owner, Rishi Naleendra. "It's an unreal feeling. It's not a lot to do with me. I have an amazing, amazing 24 people who rock up to work every day and push themselves to an extreme. So thank you very much, our customers, and our industry peers that help us."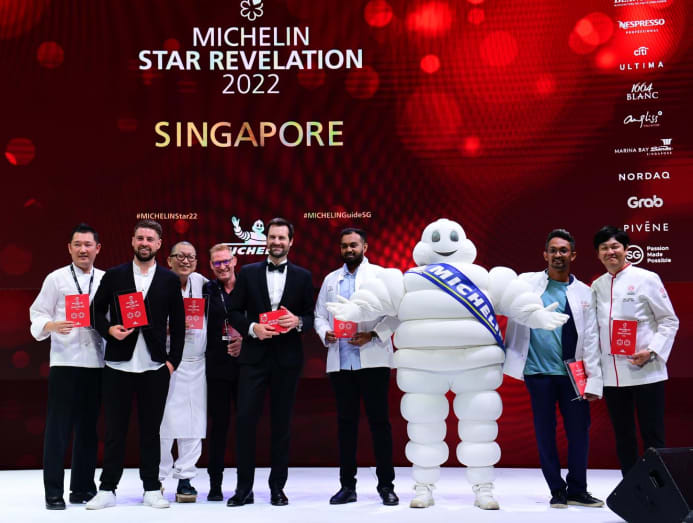 There were no surprises in the three-star category, with Odette, Les Amis and Restaurant Zen retaining their three stars.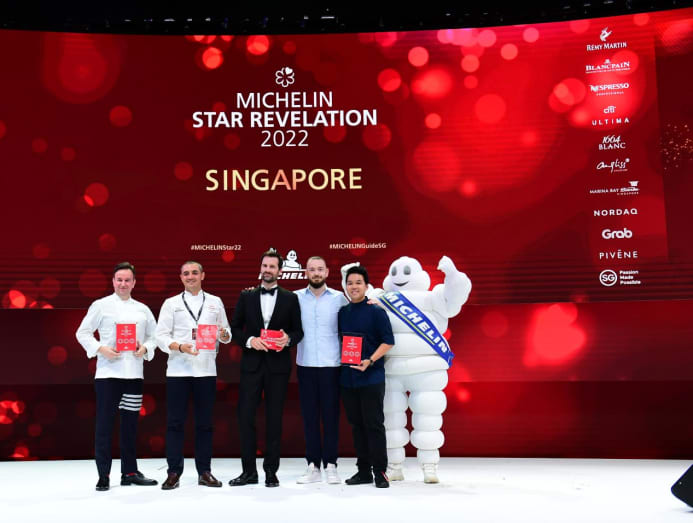 This year, two new awards were introduced to recognise professionals in the dining industry. The Welcome & Service Award, which recognises the talent and passion of service staff, went to Samantha Goh of Saint Pierre. Eric Eu of Les Amis received the Sommelier Award. 
Here's the official Michelin Guide Singapore 2022 list.
THREE MICHELIN STARS RECIPIENTS
Restaurant Zen
Les Amis
Odette
TWO MICHELIN STARS RECIPIENTS
New entrants:
Cloudstreet
Thevar
***
Jaan by Kirk Westaway
Saint Pierre
Shisen Hanten
Shoukouwa
Waku Ghin
ONE MICHELIN STAR RECIPIENTS
New entrants:
Burnt Ends
Euphoria
Hamamoto
La Dame de Pic
Marguerite
Nae:um
Reve
***
28 Wilkie
Alma
Art
Basque Kitchen by Aitor
Beni
Braci
Buona Terra
Candlenut
Chef Kang's
Cure
Cut
Esora
Hill Street Tai Hwa Pork Noodle
Iggy's
Imperial Treasure Fine Teochew Cuisine (Orchard)
Jag
Labyrinth
Lei Garden
Lerouy
Ma Cuisine
Meta
Nouri
Oshino
Putien (Kitchener Road)
Rhubarb
Shang Palace
Shinji (Bras Basah Road)
Sommer
Summer Palace
Summer Pavilion
Sushi Ichi
Sushi Kimura
Table65
Terra
Whitegrass
More on Michelin starred chefs and restaurants