10 Sichuan hotpot hotspots: Because baby, it's cold (okay, rainy) outside
If you're craving mala steamboat, these are Singapore's best joints to head to. Highlights include Hai Xian Lao's premium range of ingredients (kurobuta pork belly, Alaskan king crab) and Da Miao Hotpot's novel mala oil ice cream for an unusual fire-and-ice combo.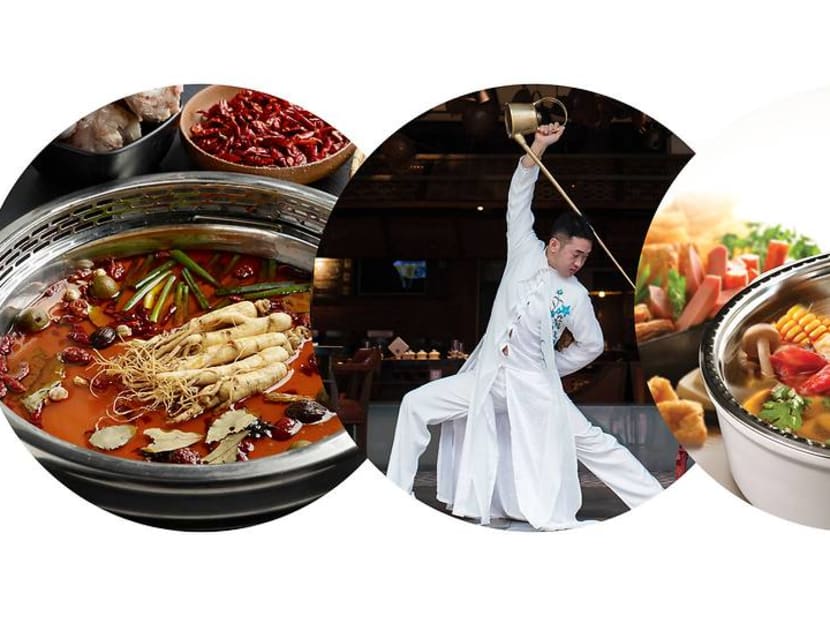 Mala broth with health perks? Sign us up! As Beauty In A Pot's name suggests, its soup bases tout nutritional and beauty benefits thanks to the inclusion of Chinese herbs and tonics. The signature Spicy Nourishing Soup is made by simmering pork bones with Chinese herbs, including red dates, angelica root, wolf berries and a whole piece of ginseng. Varying splashes of Sichuan chilli oil to the broth allow for mildly spicy, spicy and extra spicy options.
CRYSTAL JADE LA MIAN XIAO LONG BAO (HOLLAND VILLAGE)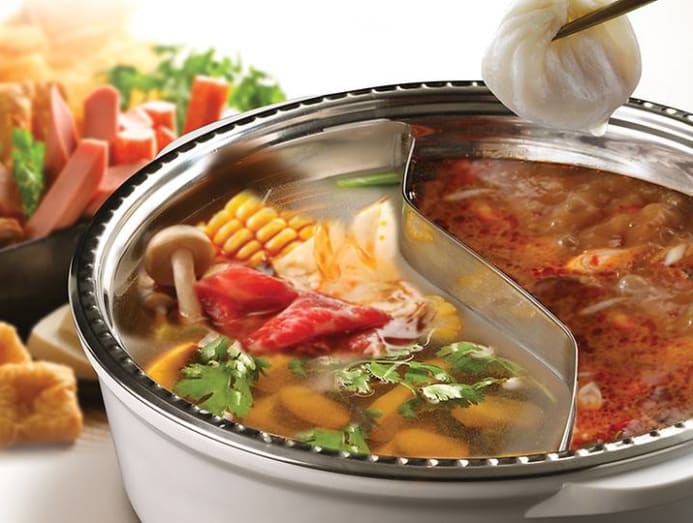 The daily Xiao Long Bao and Steamboat Buffet at this Crystal Jade outlet is an excellent opportunity to indulge in a comfortingly over-the-top meal. Come on weekdays if you're the sort that likes to linger over your meal because on weekends, the buffet is so popular that reservations are limited to three sessions between 5pm, 6.45pm and 8.15pm.
Load up on almost 50 ingredients like meats, cheese tofu, vegetables and prawn balls, along with desserts like osmanthus jelly and as many xiao long bao (soup-filled dumplings) and deep-fried mantou (buns) as you can eat. The Sichuan mala soup base is as fiery as you'd expect, but there's also the option of other soups like tomato and chicken with Chinese wine.
DA MIAO HOTPOT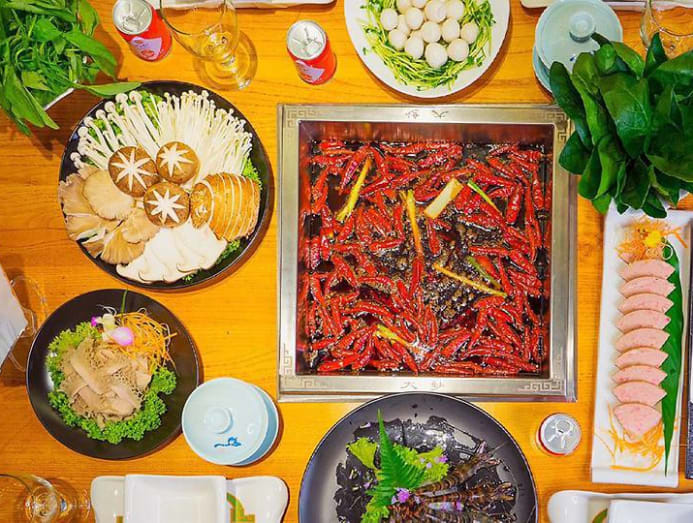 This Chengdu import doesn't just serve a mean mala hotpot, it also provides entertainment in the form of short cultural performances like kungfu tea ceremonies and Sichuan bian lian (face-changing) opera to keep you distracted while your food simmers.
The Special Spicy soup, made with top-quality rapeseed oil from Chengdu, is touted as one of "the most authentic" mala soups in Singapore. If your spice tolerance is meek, tell the staff who will adjust the soup's spice levels. Otherwise, there are other options, the newest of which is a Beauty Collagen broth made with pork bones, fish maw, chicken feet and pumpkin. Then expand your mala horizons with a scoop of Sichuan peppercorn oil ice cream for dessert.
GUO FU HOTPOT STEAMBOAT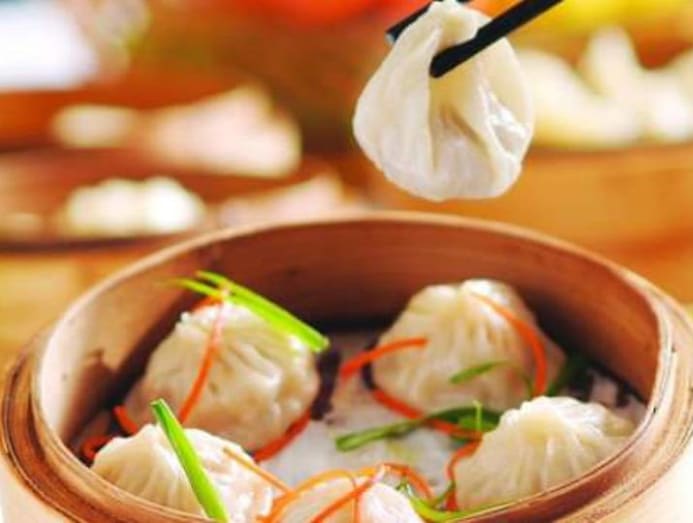 The affordable buffets here are a real draw, with more than 60 different ingredients to graze on and 10 soup options including kim chi, herbal, vegetarian, spicy, "elderly tonic" and "male vitality".
The free-flow of broth-filled xiao long bao is a bonus. Beyond the usual fish balls, sliced meat, veggies and tofu are more esoteric options like pig skin and liver, beef tripe, mutton and rice cakes.
HAIDILAO HOT POT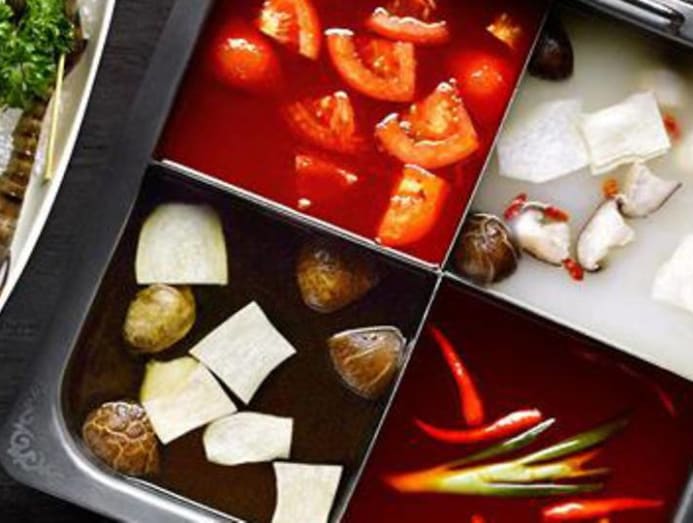 You can't talk mala huoguo without mentioning Haidilao. Anyone who's ever eaten at its cacophonous outlets knows that the food is just a mere sum of its very popular parts. If you show up without a reservation, odds are you'll have to wait in line for up to several hours before you can sit down to your meal.
But people don't mind because the wait comes with free snacks, ice cream, wifi, and even complimentary manicures. If your kids act up, usher their tantrums along to the children's play area where Haidilao's nannies will keep them entertained. And when your table is finally ready, the food is actually worth the wait. Order up to four hotpot soup bases and a whole host of ingredients to dunk into them. The mala (numbing and spicy) soup base truly lives up to its name. So if you're not into the spice, ask for our other favourites: The tomato and prawn soups.
HAI XIAN LAO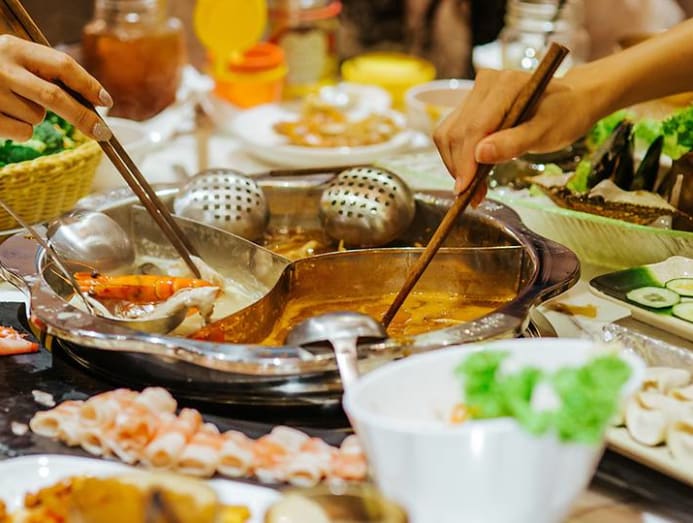 With a spread of about 70 ingredients and dishes, this is a great spot for large groups with diverse appetites. All the usual suspects flood the menu – slivers of quality beef and pork, seafood, vegetables, tofu, luncheon meat, etc.
But if you're feeling lavish, order from the premium range that includes kurobuta pork belly, US wagyu striploin, oysters and Alaskan king crabs. Besides the punchy mala soup base, choose from the likes of laksa, tom yum, chicken and collagen soups. The service at Hai Xian Lao's outlets is pretty awesome too.
LITTLE SHEEP HOTPOT
This Inner Mongolian concept from No Signboard Holdings boasts a soup base made from a whopping 36 ingredients, including black cardamom pods, jujubes, ginseng and herbs imported from China.
You can choose a mala version of the original "white" soup base or ask for a pot of "half and half". The slivers of fresh, well-marbled meats, including cuts of high-quality lamb, are the stars here. And if you prefer your meats grilled, there's a whole host of meat skewers including grilled lamb hearts, black pepper beef and lamb kebabs.
LONGQING RESTAURANT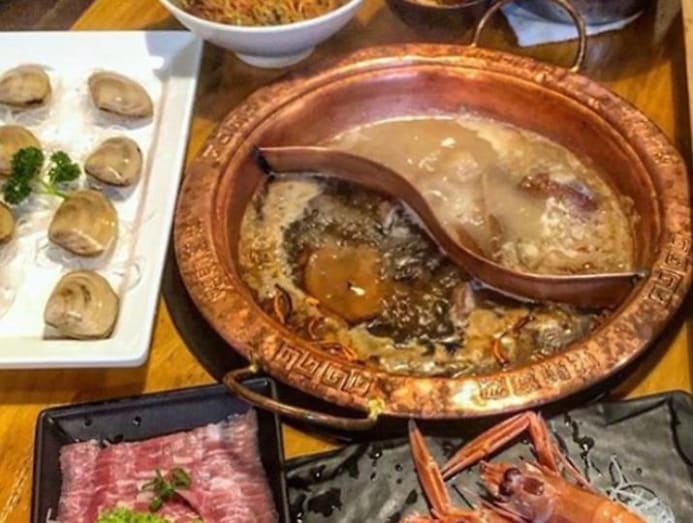 Zero MSG is part of the marketing spiel at LongQing Restaurant, which makes a mean mala soup. Split pots are available so you can choose more than one soup base if you're dining with friends with differing tastes. The spicy prawn broth here is exceptional, made with Sichuan dried chillies, belacan and a boatload of prawn heads. Shiok, lah!
SPICE WORLD HOTPOT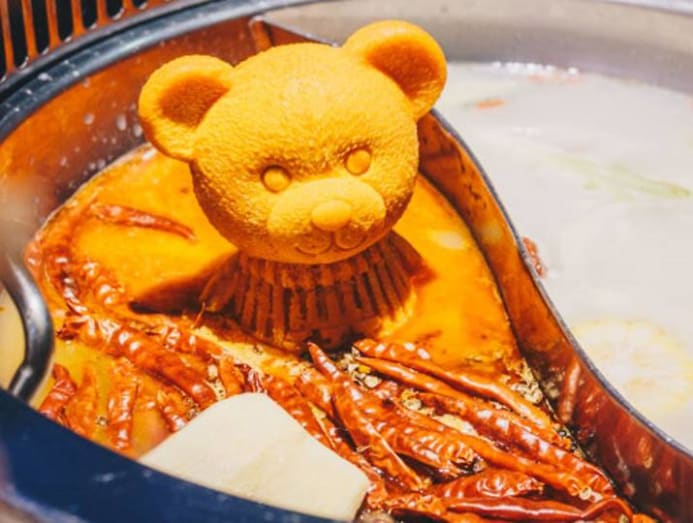 Mala hotpot isn't the most Instagrammable of meals, except when there's mala butter shaped like a teddy bear or Hello Kitty perched in your pot. At Spice World Hotpot, pour the scalding broth over the moulded butter and witness cuteness melt into the macabre as the bear or cat disintegrates into a puddle, lending some real kick to the soup.
Then there's the doll in a meat dress ala Lady Gaga that you can peel off layer by layer to dunk into the broth. Exactly the kind of kooky shenanigans we're likely to appreciate after a night of partying at one of the neighbouring establishments in Clarke Quay.   
TAIKOO LANE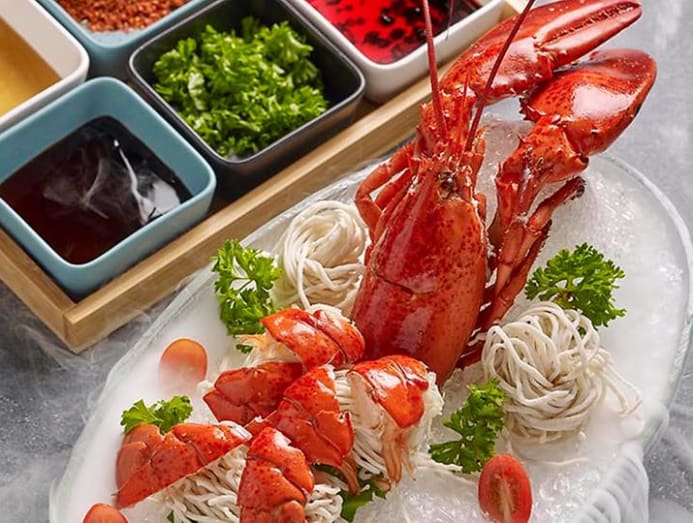 This newcomer to Singapore's mala scene dishes out individual and shared pots, as well as two varieties of spicy broths and non-spicy fish, pork bone and pumpkin millet soups. Its Sichuan spicy broth is made the traditional way, using beef tallow rather than oil to give it deeper flavour, while the Chengdu green pepper broth takes its cue from the restaurant's best-selling fish with green peppercorn soup.
The latter boasts sharper heat as peppercorns are fried over low flame with chillies, minced garlic and fermented soybean paste. Superior soup stock gets added to that before the whole shebang simmers for several hours. Some unique ingredient options include the DIY lobster noodles and "magical growing mushrooms" served with vegetables.