Craving beef? These steak at home meals should satisfy your yearnings
Missing your favourite steakhouse? No problem. Singapore's finest grill shacks are bringing their impeccably cooked meats right to your doorstep.
A thick, succulent steak, dusky pink in the centre, yielding to the knife and saturated with warm, juicy flavour. It is the stuff of our gastronomic dreams as we veg out on the couch re-watching the likes of Ugly Delicious and The Chef Show.
Good thing, then, that Singapore's finest steak and grill houses are offering their steaks, cooked to your specified doneness, for takeaway and delivery. In most cases, they come as an irresistible set, with sides, dessert and a bottle of wine, if you are so inclined. Solo diners will find excellent options too.
ARTEMIS GRILL
For S$40, the 200g marinated striploin from this CBD restaurant really hits the spot. It comes with a brightly flavoured chimichurri and a rocket and parmesan salad on the side.
A heartier 400g Black Angus ribeye steak (S$70) with a side of cherry tomato salad will feed two, especially if you order one of the restaurant's low-carb or gluten-free dishes to go along with it, like the roasted Fremantle octopus salad (S$28) or the olive and rosemary focaccia (S$10).
BEDROCK BAR & GRILL
The steak sets at this longstanding steakhouse are great value for money. To wit: S$78 will buy you a wood-fire grilled tenderloin with potatoes, onions, foie gras and shallot sauce, along with your choice of starter such as truffle mushroom soup or Caesar salad.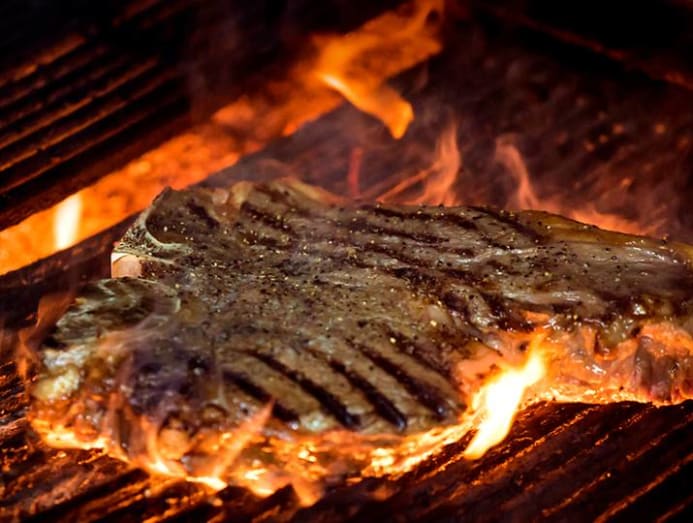 The Tomahawk Steak Set (S$268) is a lovely treat for the family – it includes a choice of two sides such as Bedrock's mac and cheese or beef drippings garlic rice, and four sauces. For an extra S$20, you get a bottle of Voyager Estate wine with all that. While you're at it, be sure to order the freshly baked flatbread with roasted garlic and butter. You'll thank us later.
BISTECCA TUSCAN STEAKHOUSE
A 1.1kg hunk of chargrilled Fiorentina steak (S$175) cooked to your liking? That's a resounding yes from us. This Tuscan steakhouse delivers free of charge if you order over S$100 or if you live within 2km of their restaurant on Mohammed Sultan Road.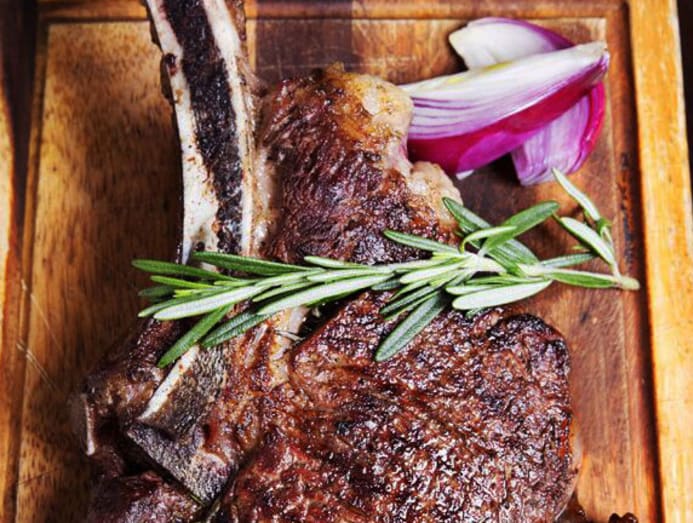 The menu of steaks is expansive, with options such as a 200g, 420+ Days Grain-fed Australian MBS6 Filet Mignon (S$55) and a 600g Costata bone-in ribeye (S$82). Salads and sides are also available, including grilled asparagus with olive oil and lemon (S$14), and fried wild mushrooms (S$16).
L'ENTRECOTE THE STEAK & FRIES BISTRO
This classic French bistro's delicious steaks are available as part of a set for two (S$80) or four (S$150). Each comes with that supremely tasty L'Entrecote sauce with which you can drench your meat and crispy skinny fries in.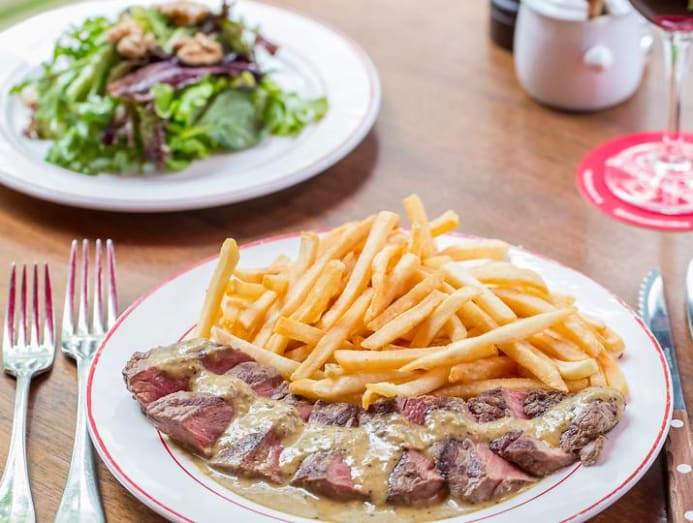 The sets include a cheese platter (think Comte, Sainte-Maure, camembert and bleu d'avergne), a mixed salad, chocolate mousse and tarte tartin with sour cream. Delivery is free with a S$75 minimum spend.
MORTON'S THE STEAKHOUSE
Date night at home is easy with Morton's Table For Two (S$158), comprising a pair of 170g centre-cut filet mignon, a duo of cold water lobster tails, a house salad, a choice of sides, and a New York-style cheesecake. There's also a 450g centre-cut ribeye that comes with a side dish and dessert for S$138.
Those who prefer cooking themselves can pick up the To-Go Steak Kits (S$138) that come complete with the restaurant's signature seasoning, house-made jus, side dishes, salad and a dessert.
OPUS-TO-GO
This bar and grill at Hilton Singapore has an extensive menu that include 250g single cuts of 150-day grain-fed Argentinean Angus tenderloin (S$68), American ribeye (S$58) and Tajima wagyu ribeye (S$82). Bolster them with sides like broccoli with garlic, garlic mashed potatoes (S$6 each) and truffle wedges (S$10).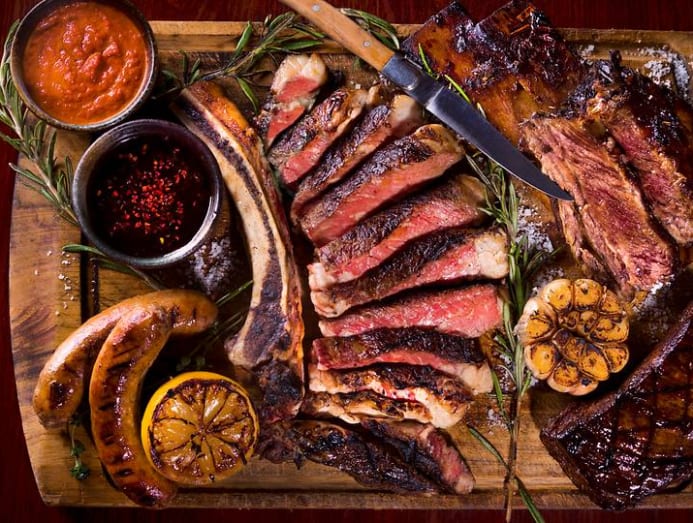 Alternatively, the Steak & Wine combo (S$170) makes for an appealing option with a 1.2kg whiskey-aged Rangers Valley wagyu tomahawk, two sides of your choice, and a bottle of wine. Order two hours in advance, with delivery charged at S$25 per location. Or pick up your meal at the hotel's drive-through and get 20 per cent off your bill.
WOLFGANG'S STEAKHOUSE
It will be a while before we can jump on a flight to The Big Apple. Until then, a Taste Of New York (S$58) is but an order away thanks to Wolfgang's Steakhouse's  signature 350g cut of sirloin. Naturally, the popular Porterhouse (S$206) is available too, along with all the trimmings like a Caesar salad (S$25), German potatoes (S$24) and cream of corn (S$17).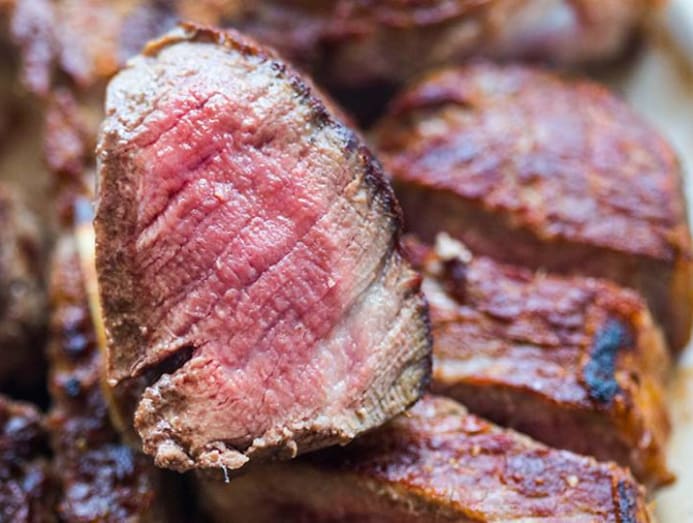 A luscious New York-style cheesecake (S$18) seems like the right thing to order for a sweet end to what promises to be a hearty meal. This is one of the few restaurants that offers free delivery for a low minimum order of S$35.
WOOLOOMOOLOO STEAKHOUSE
The steaks at this Hong Kong import can now be had at home as part of a four-course set for two. For S$138, you get a 340g Australian grass-fed sirloin or 150-day grain-fed ribeye along with a choice of soup, pasta, side and dessert. A Gourmet Meal Box (S$220) is packed with "five meals for two people", which also means you can feed more people with it in one or two sittings.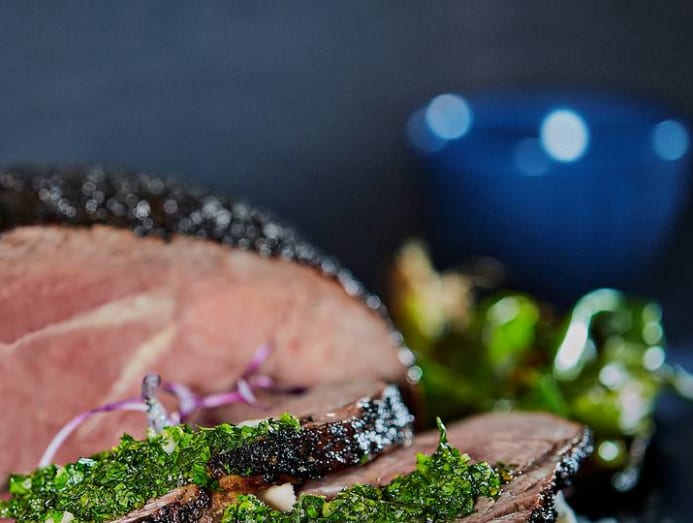 In the box are a pair of 340g USDA 250-day grain-fed ribeye, a pair of 340g Australian grass-fed sirloin, four 180g wagyu burger patties, two portions of fusilli Bolognese, two onion focaccias, and a portion of onion jam. Dust off that grill and get the family BBQ going.