Bangkok's best street food: From oyster omelettes to crispy pork noodles
The Thai capital's status as one of the world's most electrifying places for great-value dining is alive and well and in the hands of capable custodians.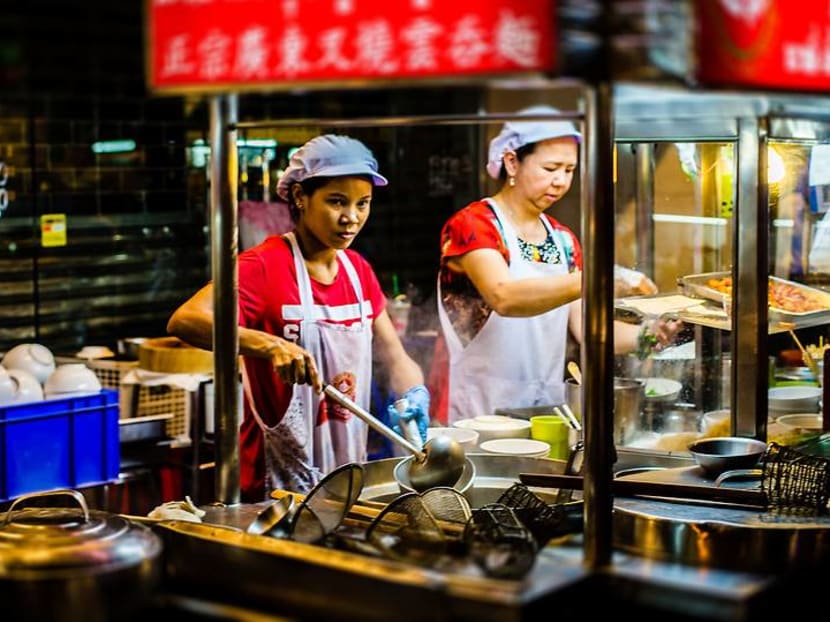 Bangkok's reputation as one of the world's most incredible culinary destinations is largely founded on its options for hawker food.
Street chefs produce a fantastic array of Thai food classics, whipping up everything from Chinese-inspired stir-fries to spicy salads, pungent curries and grilled meats.
At popular stalls, the chatter of excitable conversation is only occasionally drowned out by the sound of loud, satisfied slurps.
It's little wonder, then, that the Thai capital is often cited as the planet's street food Mecca. Therefore, investigating the cornucopia of fantastic banquets to be sampled curb-side is an integral part of the Bangkok dining experience.
Some visitors are squeamish about the hygiene standards at these venues. They needn't be. Any hawker stall worth its nam pla prik (fish sauce infused with blindingly hot bird's eye chilis) will have freshly cooked food.
Look out for long lines of local diners and you'll know that you are onto a good thing.
PAD THAI SALADAENG
SPECIALITY DISH: PAD THAI (STIR-FRIED RICE NOODLES)
When it comes to pad thai, there are few better options than this underrated gem – often overshadowed by the more famous Thip Samai in the old city.
From her makeshift kitchen in the front yard of an old Thai villa, Pranee Thanee doles out giant portions of the stir-fried rice noodle dish, which typically includes eggs, tofu, dried shrimp, tamarind along with a slew of other components.
Despite its status as one of Thailand's signature street food classics, pad thai can be a tricky thing to get right. Even aficionados would agree that many vendors in Bangkok either overdo the sugar or scrimp on ingredients.
Thankfully there are no such issues here. Pranee is especially proud of her homemade tamarind sauce, which she concocts at the weekend (the stall is open Monday to Friday) by simmering tamarind, sugar and salt for hours.
For THB50 (S$2.25), you'll be presented with a plate of beautifully silken sauce-coated noodles brimming with goodies. Especially abundant is a pad thai goong (pad thai with shrimp), which is packed with plump, juicy crustaceans.
47 Sala Daeng Soi 2 (behind Silom Complex), Bangkok. Open daily from 7am to 2.30pm
SOM TAM JAY SO
SPECIALITY DISH: SOM TAM (SPICY PAPAYA SALAD)
While Jay Fai's runaway success has made her the doyen of Bangkok's street food cooks, she isn't the only goggle-wearing matriarch cooking up a storm on the sois.
At Som Tam Jay So, the presiding chef, easily identified by her distinctive eyewear, pounds out the makings of som tam (spicy papaya salad), one of Thailand's most loved dishes.
With her goggles protecting her from the potent splashback, she hammers together the essential components of the dish: Shredded fruit, garlic, fish sauce and lots and lots of chilli.
While the array of different som tam versions are all essential – try the som tam sua (papaya salad with thin rice noodles and crab) – there are plenty of other highlights. A gargantuan barbecue produces beautifully smoky chicken wings. Other classics from northeast Thailand such as fluffy fried catfish and kaw moo yang (grilled pork neck) are also present and correct.
Soi Phiphat 2, Silom, Bangkok 
NAY MONG
SPECIALITY DISH: HOY THOD (OYSTER OMELETTE)
There are countless contenders for the crown of Thailand's favourite comfort food. Some opt for kao ka moo (stewed pork leg on rice), others err towards the warming qualities of a bowl of jok (Thai-style rice congee).
Another dish that rarely fails to hit the spot is hoy thod (oyster omelette), a gooey, decadent thing of beautiful simplicity that is as addictive as it is unhealthy.
Of all the vendors specialising in the dish, few are better known than Nay Mong. One of the most renowned stalls in the city's Chinatown – no mean feat considering the competition in the area – Khun Mong has been serving up his greasy treats for over 30 years.
Unsurprisingly, given all that experience, his team have got the dish down to a fine art. Grab a pew on the street, choose your style of omelette – awlua (crispy) or awsuan (gooey) – and take your pick between the plump, juicy oysters or mussels (or have both) then ascend towards street food heaven.
39 Thanon Phlap Phla Chai, Bombrab Sathupai, Bangkok
MAE VAREE
SPECIALITY DISH: MANGO STICKY RICE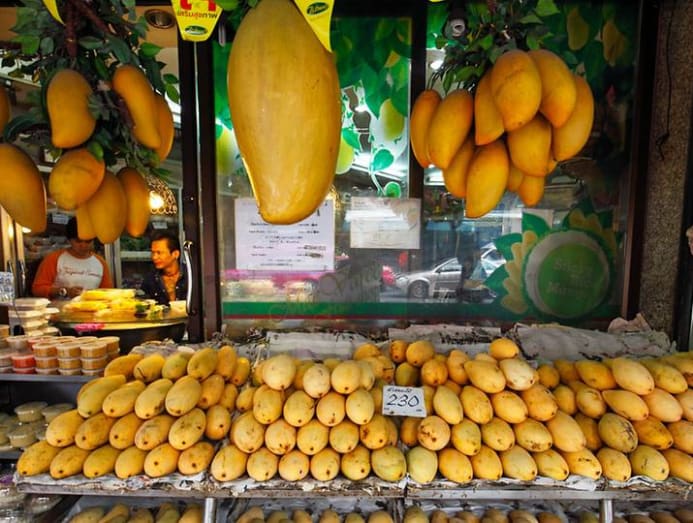 Change is inevitable in a city as dynamic and fast-moving as Bangkok. And such is the case with Mae Varee, which has undergone something of an upgrade in recent times.
Although it is still one of the city's go-to venues for mango sticky rice (take-away only), the fruit is no longer presented in haphazard piles stacked in front of a beat-up old store.
Instead, customers pick their juicy, sweet poison from photogenic, bright wooden baskets and pay at the counter inside the newly-refurbished shop.
It's a little less characterful for sure, but thankfully there's been no tinkering with a dessert recipe that has had crowds flocking here for the last 35-years.
Good mango sticky rice is all about the ingredients and the ones utilised by owner Varee Jennsuwan are exemplary. Nam Dok Mai or golden mangoes are paired with rice from the northern province of Chiang Mai and a salty-sweet cream topping made with coconuts from Surat Thani in the south. It's a combination that unites the disparate parts of the nation in deliciousness.
1 Soi Thong Lo, Sukhumvit 55, Bangkok 
GUAY JUB MR JOE
SPECIALITY DISH: GUAY JUB (ROLLED RICE NOODLES WITH CRISPY PORK)
Gastronomic pilgrims come from all over Bangkok to worship at Mr Joe. It's not the guay jub that they are here for though, although there's no doubting the beautifully-balanced, peppery qualities of the broth.
No, the star attraction at this little venue tucked away in the depths of Sathorn is its moo krob (crispy pork). The version here features crisp skin surrounding rich layers of soft pork.
Par for the course for any good vendor you might think? But the golden crown on top of every slice of salty, yielding pork belly is so deliciously crunchy that it's almost miraculous. Indeed, it's not uncommon to see even the supplest of customers give in to their primal urges and make repeat orders.