12 non-vegetarian restaurants in Singapore serving excellent vegetarian fare
No meat? No problem. These are the restaurants offering delicious plant-based dishes that would tempt even the most dedicated of omnivores.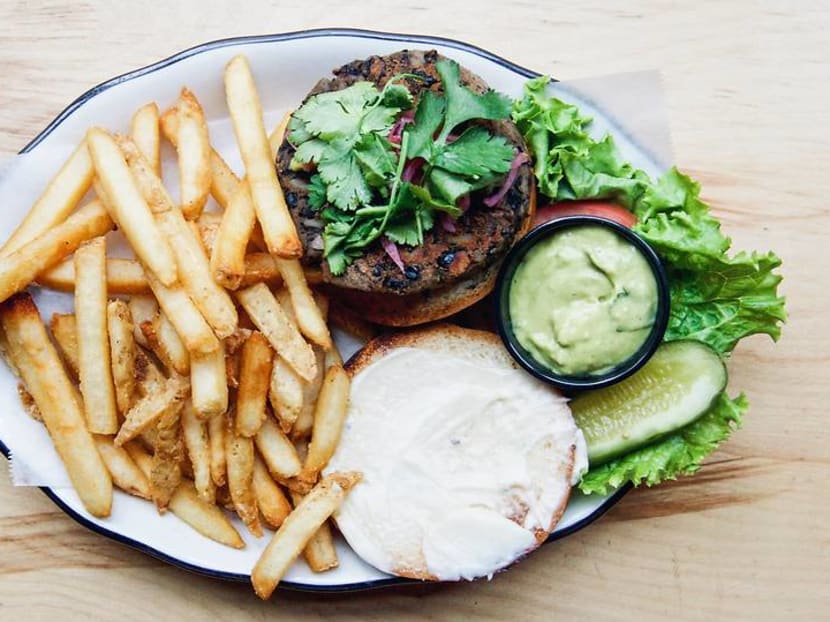 As the appeal of a plant-based diet grows, an increasing number of vegivores are taking their appetites to the streets. In response, restaurants are offering more quality and crave-able vegetarian dishes, from simple pizzas and salads, to beautifully complex dishes comprising vegetables carefully cooked in a myriad of ways, to mock meats made of ingredients like wheat gluten and soy.
These days, there's a veritable garden of plant-based options out there that would tempt even the most dedicated of omnivores. Here's a dozen at which you can start with.
JADE
The star of this gorgeous Chinese restaurant's plant-based menu is Omnipork, a vegan protein made from peas, non-GMO soy, shitake mushrooms and rice. Chinese Executive Chef Leong Chee Yeng parlays it to all sorts of delicious dishes like an old cucumber soup with seaweed vegan-meat wantons, and braised vegan-meat with capsicum, mushrooms and eggplants.
The latter sees the vegetables neatly diced, mixed with the minced "meat" and tossed in a wok with a piquant sauce reminiscent of a spicy sweet-and-sour pork. To mimic the lush mouthfeel of fatty pork, Chef Leong uses peach gum, which also endows the dish with glorious depth of flavour.
These dishes are served as part of Jade's five-course plant-based menu (S$68 per person) called Taste The Future. 
YARDBIRD SOUTHERN TABLE & BAR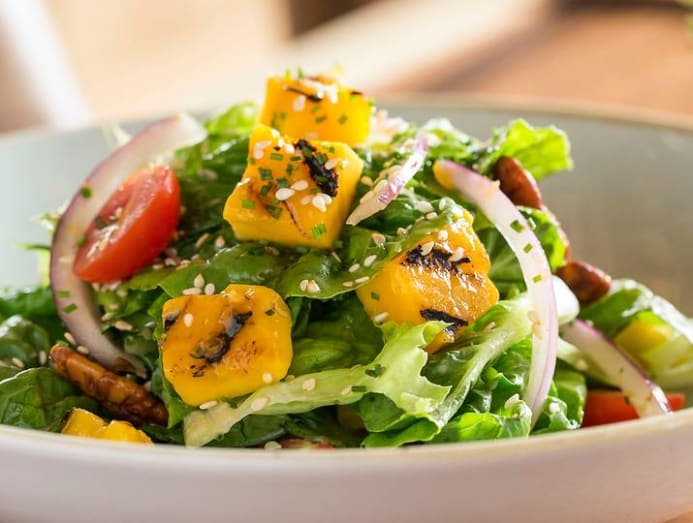 A restaurant that specialises in Southern fried chicken is hardly one that comes to mind when you think vegetarian. Yet, Yardbird boasts an impressive vegetarian menu that's as hearty and rib-sticking-ly good as its meaty brethren.
Nibble on fried green tomatoes with pimento cheese, smoky tomato jam and pickled lemon vinaigrette, or ask for the whole roasted cauliflower with pickled mustard seed chimichurri, brown butter and shaved Parmesan.
Even the snacks are deliciously appealing – crispy Brussels sprouts drizzled with spiced honey, anyone? 
CURE
Clever cooking is always in force at Irish chef Andrew Walsh's Cure, be it in his salubrious take on classic Singaporean dishes like laksa or in the irresistible pre-meal snacks based on his personal narrative (chicken liver Jammy Dodgers, anyone?).
So it's no surprise that Walsh serves a great five-course plant-based menu (S$120) that's worth a gander whether or not you're vegetarian.
Like all his other tasting menus, the plant-based one is anchored by the season's best ingredients. Diners might find the likes of "potato, seaweed and soil", a silky mash served with crispy potato skin and a dusting of chocolate soil, or grilled aubergine glazed with sanbaiju vinegar and accompanied by a mushroom and kombu broth. 
BLACK TAP
Just because you're in an all-things-over-the-top joint doesn't mean you can't play with the meat-eaters. At this temple of oversized burgers and more-is-more milkshakes, veggie munchers can find salve in Black Tap's vegan burger, featuring a black bean patty, or the falafel burger served with tahini, pickled onions, feta and hummus.
There are plenty of other vegan and vegetarian options, like guacamole and chips, fried pickles with dill, and teriyaki broccoli.

AMO
Delve deep into the supremely crusty pizzas at this casual Italian restaurant with options like the Margherita slicked with buffalo mozzarella, San Marzano tomatoes and basil, or the deceptively simple yet flavour-packed Ciccio topped with garlic, oregano and extra virgin olive oil.
But for a truly satisfying indulgence, ask for the mushroom and truffle pizza, sloppily slathered with mascaporne and Tuscan percorino. It is a sinfully cheesy, earthy concoction set on a delectably blistered crust.

​​​​​​​OLA COCINA DEL MAR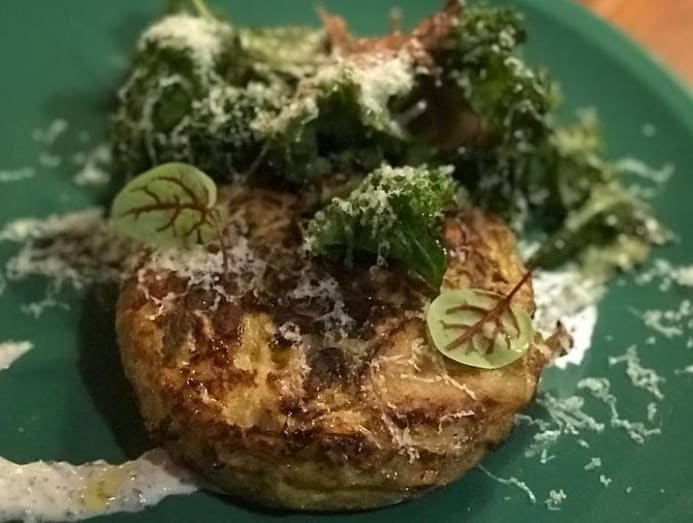 At this underrated Spanish gem hidden away in Marina Bay Financial Centre, Chef Daniel Chavez serves a tight menu of scrumptious vegetarian fare. Between sips of sangria, nibble on the likes of beetroot carpaccio with burrata, balsamic vinegar, truffle honey and hazelnuts, or the surprisingly delicious grilled spring vegetables with romesco sauce and almonds.
The larger options like artichoke fideua – a traditional paella dish made with broken vermicelli and strewn with artichokes, green beans and baby peas – are also immensely tasty.

​​​​​​​MIN JIANG AT GOODWOOD PARK HOTEL
Multi-generational families of every dietary ilk can enjoy a wholesome meal together at this Sichuan-Cantonese restaurant. There are two vegetarian set menus priced at S$48 and S$58 per person (with a minimum order for two people) that come with mock versions of indulgent Chinese ingredients.
These include steamed spinach with vegetarian ham dumpling and vegetarian goose, and braised mock abalone, mock sea cucumber and gluten puff with broccoli in vegetarian oyster sauce. 
CHEEK BISTRO
Having shed its Michelin star and given itself a smartly casual transformation, the restaurant formerly known as Cheek By Jowl is serving even better food and a more congenial dining experience.
On its a-la-carte-only menu are some spectacular vegetarian dishes like a lush mound of melty burrata crowned with a fermented green chilli relish, much like the sambar typically found atop Indian dhosai; and a head of roasted cauliflower on a velvety bed of comforting buttermilk-spiked amaranth porridge.
To end the meal on a sweet note, ask for the ethereally light goat cheese parfait with berries and white chocolate.

JAAN
British chef Kirk Westaway's pretty interpretation of an English garden on a plate is but one of a myriad of vegetarian dishes that truly impresses. Along with a breathtaking view of the South China Sea framing the city from its 70th-storey perch, Jaan serves a vegetarian menu (S$268) that's worthy of any special occasion.
Among Westaway's ode-to-Britain offerings are a salt-baked celeriac with pickled mustard, Devon potato showered with Baron Bigod white truffle, and a nourishing barley risotto with pumpkin.

LIME
You've heard of Impossible burgers and Omnipork. Now brace yourselves for fish-less fish and chips. Available on Lime's recently introduced vegan menu, the fried fillets of Gardien fish substitute (made from non-GMO soy protein, algal oil and pea protein) are crisp, succulent and even flake like fish.
There's also a crab cake option served with vegan wasabi sauce.
If mock meat is more your jam, the restaurant serves arrabiata pasta with Omnipork meatballs and the popular Beyond Burger.
ALMA BY JUAN AMADOR
Singaporean Executive Chef Haikal Johari dishes out some amazing food at Alma, parsing Spanish flavours with modern European sensibilities and distinctly Asian influences. His vegetarian menus are no different.
Come at lunch, when S$55 will buy you four courses that might include a dish of daikon with Toki apple, passionfruit and garden sorrel, or angel hair pasta with hijiki seaweed. Desserts feature sweet, fresh flavours in the likes of Japanese Amaou strawberry with vanilla, lychee and elderflower.
THE BOTANIC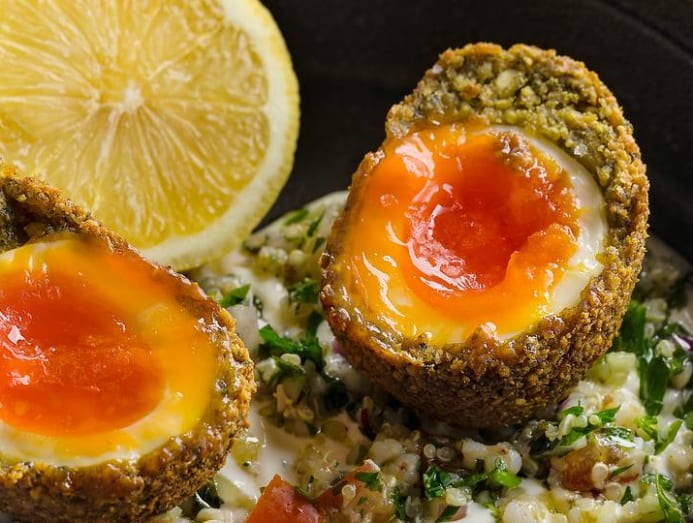 There are plenty of meat dishes at this mod-Oz concept, but the vegetarian and vegan options are the real stars.
Australian chef Shannon Binnie, who turned vegan two years ago, serves some artfully flavoured gems that draw from produce grown as close to home as possible.
Crunchy wing beans and baby asparagus are strewn across seared pillows of tender gnocchi; runny yolk-ed eggs are enrobed in falafel to yield vegetarian Scotch eggs; and aquafaba – the viscous water in which chickpeas are soaked – are whipped with sugar into a fluffy meringue that forms the base of a vegan chendol pavlova. Inspiring stuff.